Nike unveils the Lionesses' brand new World Cup kit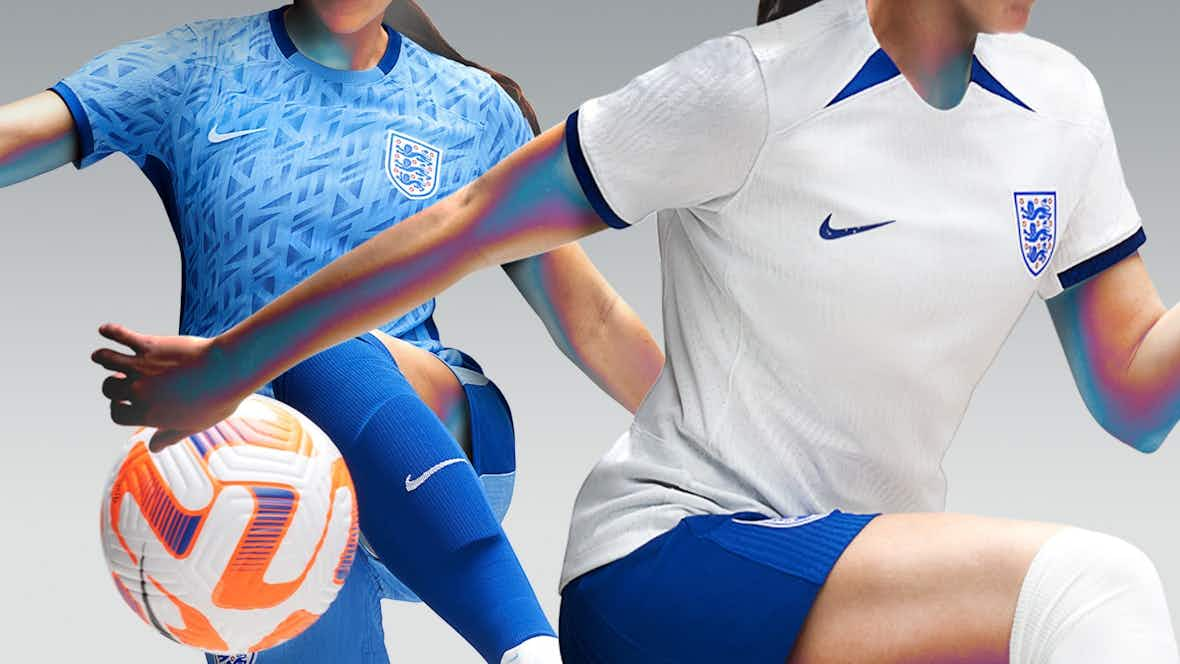 Specifically designed to cater to the female form, the England women's kit is just as agile as the players that will be wearing it.
Proper football kits, the ones designed for champions, should keep athletes cool, stretch as they sprint across the pitch and be as agile as the players that wear them. And obviously, kits need to look good – not only to stand out on the turf, but also to become a special bit of merch that fans will proudly wear down the pub.

The Lionesses' new kit, created for the World Cup this summer, ticks all of these boxes, and then some. Taking inspiration from Wembley Stadium's 100-year anniversary, the freshly-unveiled women's kit breaks from the men's team tradition by using blue for the away kit, while incorporating subtle nods to the nation's football legacy.

There's some impressive new tech involved in the design, too – Nike's largest-ever investment in women-specific innovation. Using the latest body-mapping technology, 4D data and the swankiest digital design tools, the big brains at Nike worked directly with the Lionesses to create a kit that works with the female body, not against it. Take the new blue shorts, for instance, which have replaced the white ones from the last world cup to combat the team's concerns about playing during their periods. Worn over a new separate liner product, the colour change means the Lionesses will have one less thing to worry about on the pitch.

Oh, and it's one of Nike's most sustainable football collections yet. The kits are composed of 80 per cent recycled material, while the polyester is made from recycled plastic bottles. And for the first time, every single crest, swoosh and trim on the pieces has been made from Nike Grind, the brand's collection of recycled materials that's composed of manufacturing scraps, recycled kicks from the Reuse-a-Shoe program and unsellable footwear.

A fair bit to wrap your head around, eh? THE FACE caught up with Nike's senior designer Charlotte Harris and design director Lee Murphy to find out more.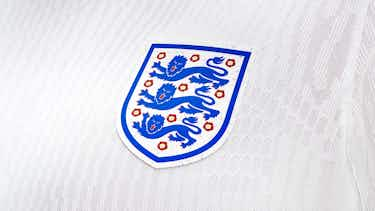 What was the first thing you thought about when you began designing the kit?

Charlotte: Me and my team start pretty much as the last World Cup finishes. We're assessing the athlete, the female form and the performance benefits needed from our elite athletes. We're assessing the data and insights, and building that into the design and creation of all of our kits. So we really are assessing everything that she needs in this space. We're looking at an all-new fit and all-new material platform specifically for this next World Cup and really understanding the material innovation, which is focused on mobility and breathability. Sustainability is also really important for us across all aspects of the collection. Then, when we get it to a point where it's ready for Lee's team to take it and work with the specific Federation designs, we partner throughout the process.

Lee: Once we receive the new innovations, we then look to craft a new story for England. How do we represent her in the next major tournament, the World Cup? We look at the past couple of bespoke shirts, and even some of the men's, to make sure that we're not going to repeat what's being done. Obviously, England has some traditions: we're always going to play in a white home shirt. But this time we really wanted to ensure that we brought the blue shorts back.

We wanted to look at artistry on and off pitch, what an art within a particular country looks like, and how we could interject that in some of the kit. For England, we were looking at some of the anniversaries we had available to us; one of them was 100 years of Wembley, which was in 1923. It felt almost like a rabbit hole – you start to become a historian and take yourself back to that time and look at why it was built, and obviously what Wembley looked like during that time. It was this coveted crown of global football. International footballers from all over the world [have always] wanted one thing: to play at Wembley. Pelé called it ​"the hallowed turf". And when you think of things like [the] Live Aid [benefit concert in 1985] and everything it actually did for a nation and the world, hosting those events and then, in turn, hosting some of the greatest attendances for women for women's football. The 1920s gifted us art deco as a movement to look at and get behind, and then we used some of that to create a graphic identity, which is what you see on the away kits.

You were influenced by the 1920s and yet the kits look bang on-trend. How did you get to that point?

Lee: Looking at the geometry of the ​"ENG", which is in the negative space and creates almost a code or a pattern on the away kit, it doesn't feel like something from 100 years ago. It feels like something on-trend, like a ​'90s football shirt that you want to wear. Then [we thought about] shifting the colour palette slightly and not immediately jumping to a red kit for the women at a World Cup, which is a tradition in the men's game. [It was about] how to allow them to step out of those shadows and carve their own futures, which they're currently doing having won the Euros.

In the industry [the trend is] definitely retro, because [those shirts are] hard to get hold of. But there's also a nostalgia attached to it. I think a challenge to design is almost, if you took that Federation's badge off that shirt, with everything else that's left on there, does that still feel like [it represents the] nation, whether it's through colour, pattern or trim? I think we've managed to do that on the retro kit.

A very thorough process, then! Charlotte, you mentioned you were looking at data from the last World Cup. What did you learn from that?

Charlotte: When it comes to data, we're assessing the game and understanding what she needs to be able to perform her best. She's running up and down the pitch for 90 minutes, so we know that she needs to breathe, to be able to move, but also to make sure that her sweat is being absorbed by the shirt, so that she doesn't have any distractions while she's playing. We're analysing our athletes, understanding where sweat maps on their bodies, so we can move that sweat away from, for example, the centre [of the] back or just underneath the chest. We know, as well, that when we're thinking about the fit specifically, her legs are the engine that she needs to be able to move around the pitch, so we're obsessing and crafting all the details around when she needs to breathe and move. She had a new gusset construction, too, which is increasing the stretch and removing the distraction away, so she can continue to stay focused. We really do obsess and craft every single detail to really make it that pinnacle level product.

Do the Lionesses have any input into the design?

Charlotte: Yeah, we do extensive testing to make sure that we are able to deliver on this pinnacle level. That's the process that I'm involved in, as well as communicating with our Federation and athletes for input. And then there is Lee's process, where he gets to work more directly with the team and the Federation on that storytelling.

What are some of your favourite design details on the new kit?

Lee: I really loved coming up with that pattern. I think the ENG, where we're just using those negative spaces, which becomes a code and gets us into those ​'90s jacquards almost, but creating England's identity within it. I'm really proud as well of the Nike Grind crests that we've managed to achieve across all of our Federations, where we've continued that sustainable charge into now looking at trims, so really dissecting that uniform and then asking ​"Can we do a better job and make this even more sustainable?" We used to have this little flag in the background, which proves that it's made of Grind, little bits of waste material. And I'm proud of how broad the collection is. It's something that's grown with the women's game. Six to eight years ago, we started our journey with the women's team and now we're broadening that as there's more momentum behind the game. We're seeing more shirts sold than ever. I think [people are] almost taking gender out of the equation and thinking of this as just another World Cup.

Charlotte: We've approached every single aspect of the collection with sustainability in mind, from the recycled bottles and utilising the material to more-marker efficient patterns, which means less waste on the cutting room floor of our factories, to the Grind-crested swooshes. We've listened to the athletes and have been able to apply it to almost every single aspect of the collection, which is really exciting for us.

It's an exciting time for women's football, especially after they took home the trophy last year. How do you see it growing over the next few years?

Lee: I think the national team is there – the games sell out. Now, how do we take that down through all the levels? How do we get those attendances and interactions happening at a club level? It happens at some of the bigger games, when it's Spurs vs Chelsea, or Man City vs Arsenal. But there are teams below that. And I think it goes all the way down to grassroots and even schools. It's the Lionesses that were petitioning at Downing Street to have that game time for girls in school.

Charlotte: Being a woman and knowing that women and girls generally drop out of sport in their teenage years, I think this is showing women that you can continue to stay involved in a sport, from that grassroots everyday level all the way up to an elite level. It's really opening the doors and driving a new future for women in sport. I'm so proud to be a part of it.


More like this