Vaped Crusaders: inside Europe's largest vaping fair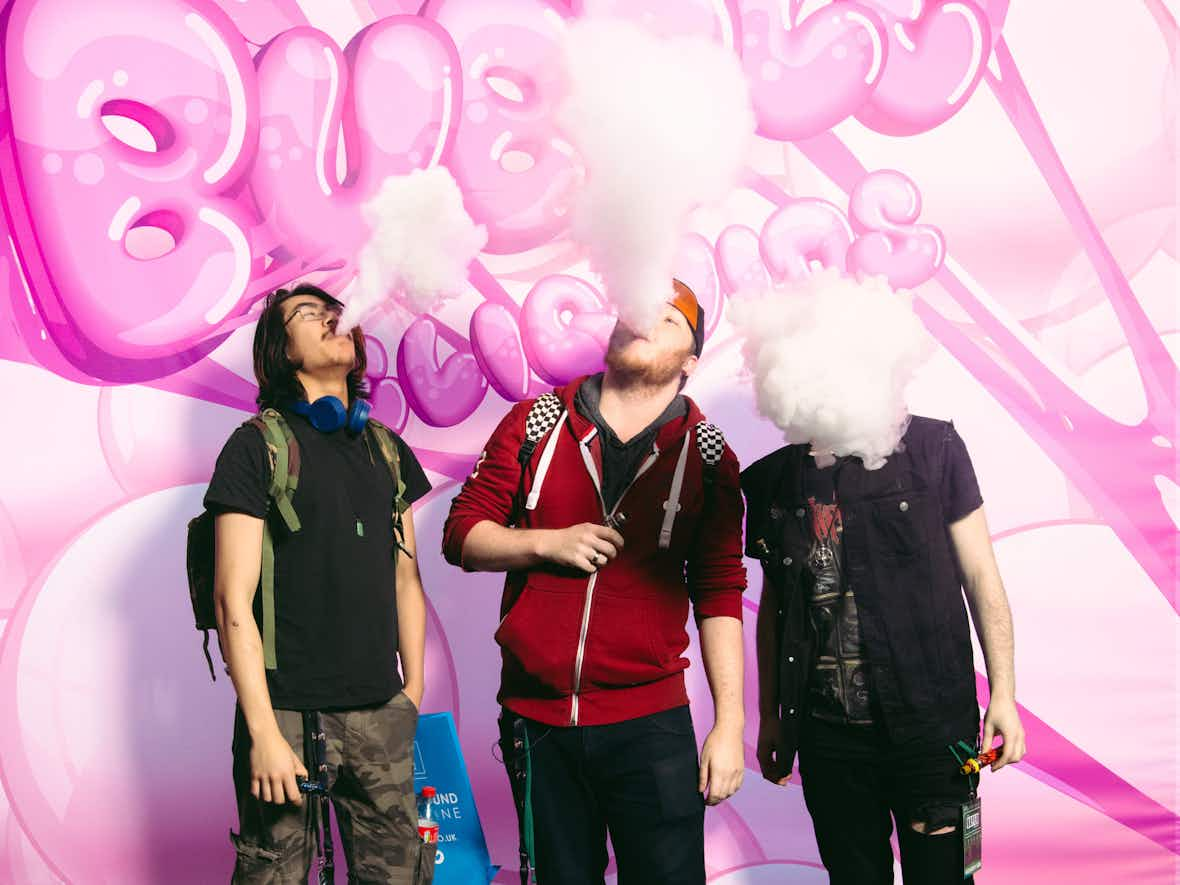 Is the vape scene running out of steam? Or is it all smoke and mirrors? The Face meets vaping's most evangelical defenders.
It's not even midday and London's fifth annual Vaper Expo is going off. Five men wearing shutter shades and fake ginger beards are performing Gangsta's Paradise to a 50-strong crowd.
"When I say hobo, you say juice," ad libs the ringleader, while others toss Hobo Joe's vape juice freebies at elated onlookers.
Vaper Expo is Europe's largest vaping fair. Established in 2015 by two former smokers, James Cox and Lee Skelding, the biannual event sees exhibitors from over 40 countries pack out Kensington's Olympia Exhibition Centre to sell e‑cigs (vapes that look like cigarettes), e‑hookahs (vapes that act like hookahs), mods (a rechargeable device that holds the vape's e‑liquid) and flavoured pods (like mods, just more lightweight).
Attendees enjoy tasters, freebies, demonstrations and, this year, a live performance from British rapper Professor Green, who's at the event to promote his premium e‑liquid brand Unruly.
For anyone who's been living under a cloud for the past decade, vapes are handheld, battery-powered devices that change nicotine filled (and usually sweet flavoured) liquid into a vapour that's inhaled. Although vaping entered the European and US markets in 2006, the formerly niche scene has recently gone mainstream. In the past couple years, Juuls' sleek USB-shaped vape has become somewhat of a lifestyle accessory for Gen Z, with more than one in every four high school students using electronic cigarettes in 2019.
What was once marked as a safer alternative to smoking is now being taken up by those who have never even touched a cigarette. While Public Health England has hailed vaping as 95 per cent safer than smoking, last year saw 33 vape-related deaths recorded across America.
According to Vaper Expo's managing director James Cox, ​"the deaths have been traced to illegal THC liquid and, although used through a vaping device, they are completely different to the e‑liquids bought for vaping or use in e‑cigarettes."

Understandably, however, many are now questioning how safe vaping really is. In the US, certain flavours of e‑cigs were banned as of this month. While in 2019 over 2,200 cases of vaping lung disease were reported, a condition which sees patients fall unwell with pneumonia-like symptoms.

So is the vape scene running out of steam? We headed to the expo to meet vaping's most evangelical defenders.

How long have you been vaping for?
Three years.
What was the scene like when you first started?
It was a hell of a lot smaller and a lot more ostracised. It was a lot more on the sidelines rather than being up front. It seems to be dipping again. We'll see what comes round in May because apparently there's new regulations for tobacco coming in [then].
Why has there been a dip?
It's all the false media. So with everything coming out of America – the FDA stuff. The main thing you've got to look at is that we're on the NHS and they want us to vape whereas America is privatised and they want people to keep smoking.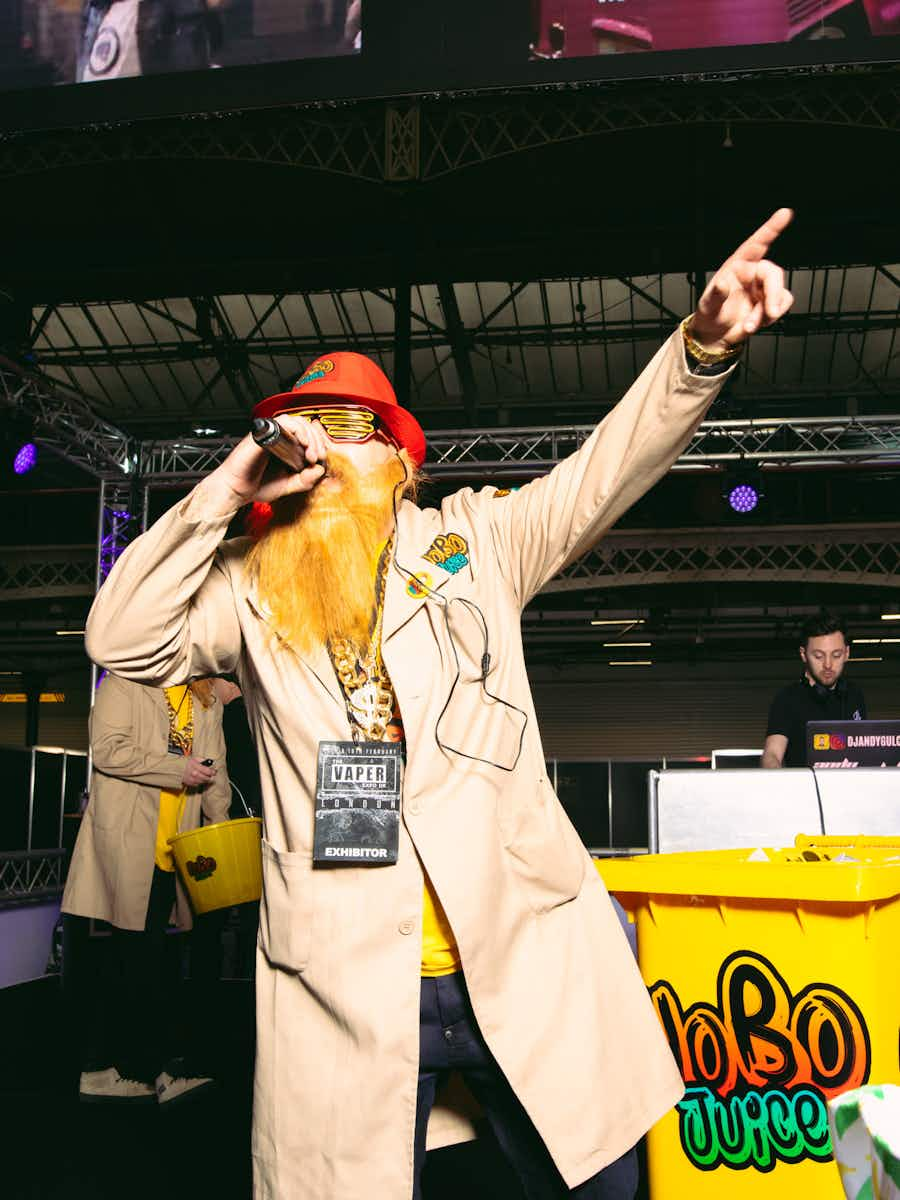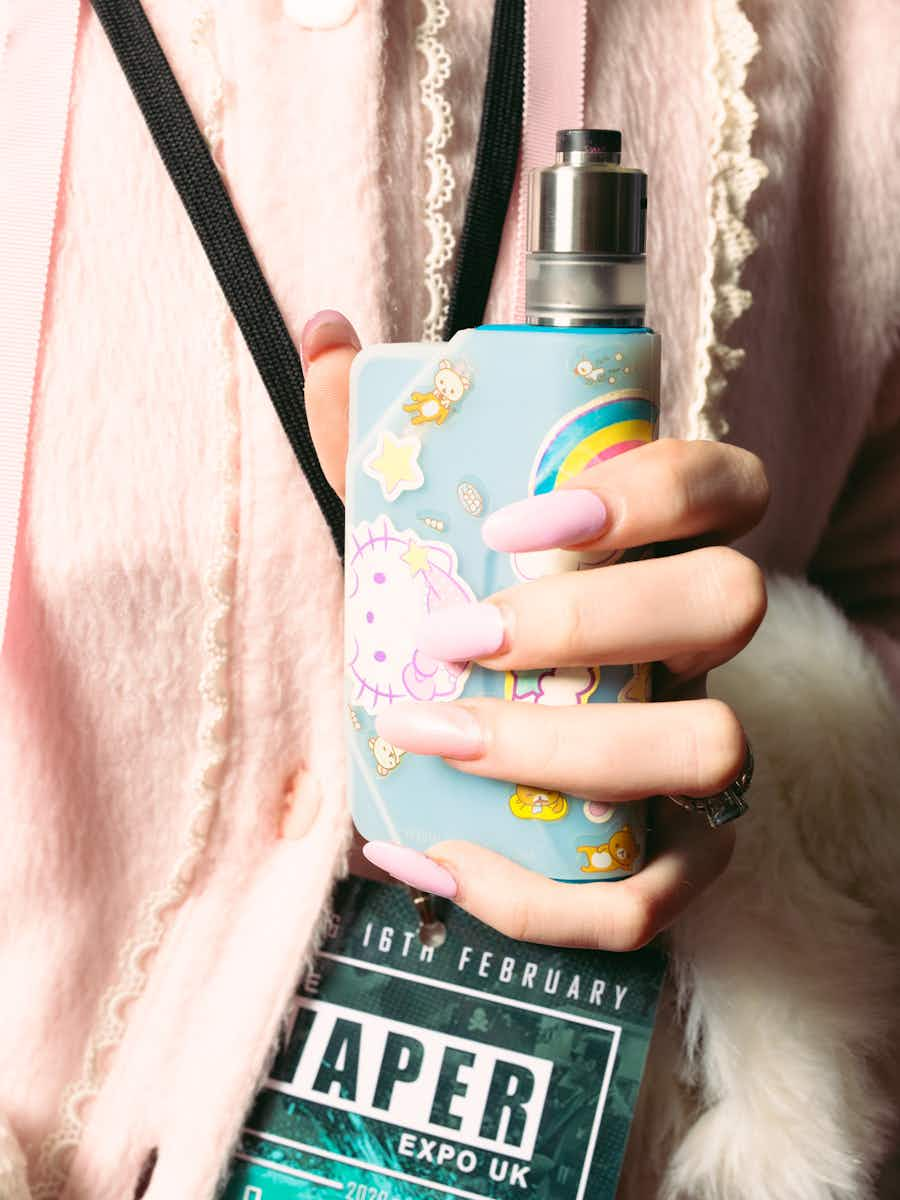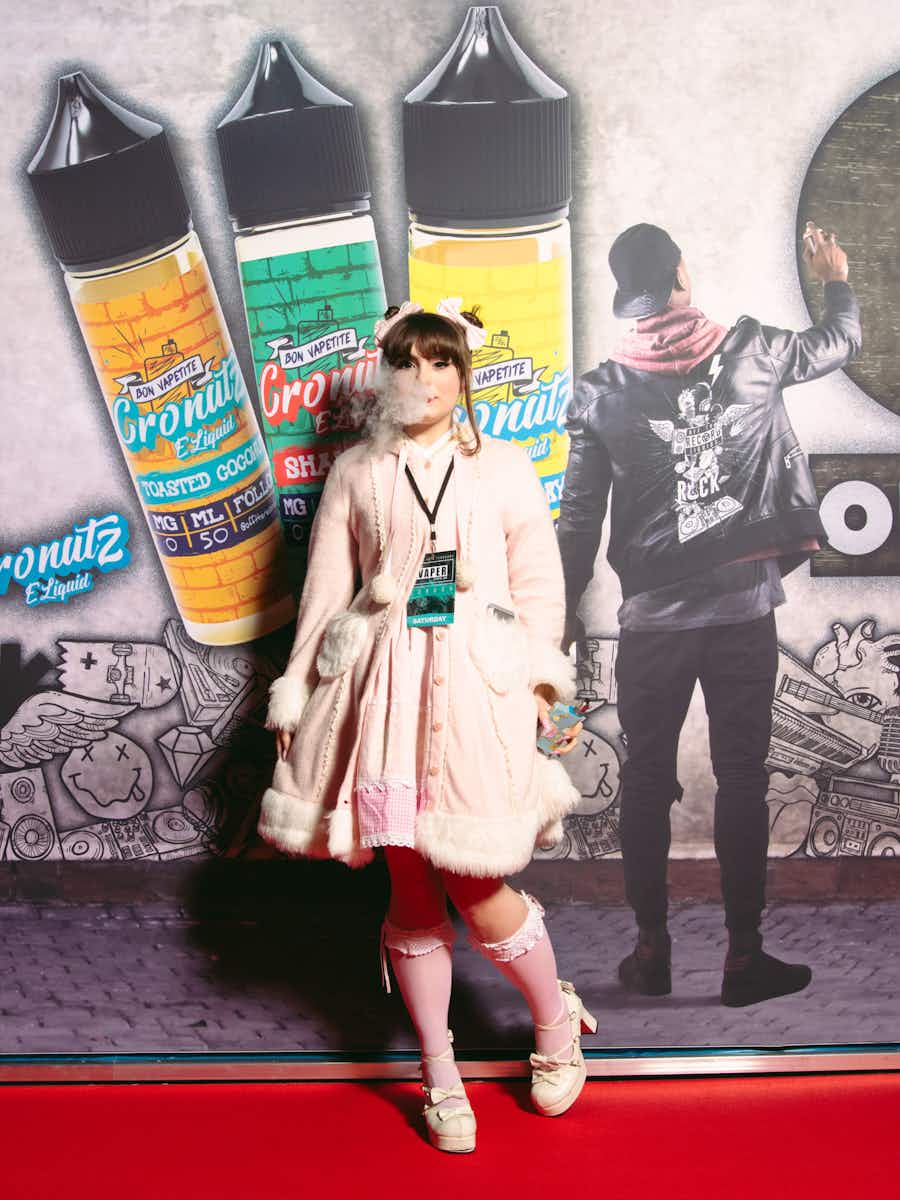 About three people lost their lives because of vaping but 17,000 people died last year because of the flu in the UK only. And I'm not going to mention the coronavirus – well, I just did. But don't panic, just make sure your local vape shop has got some of that squirty anti-bac stuff.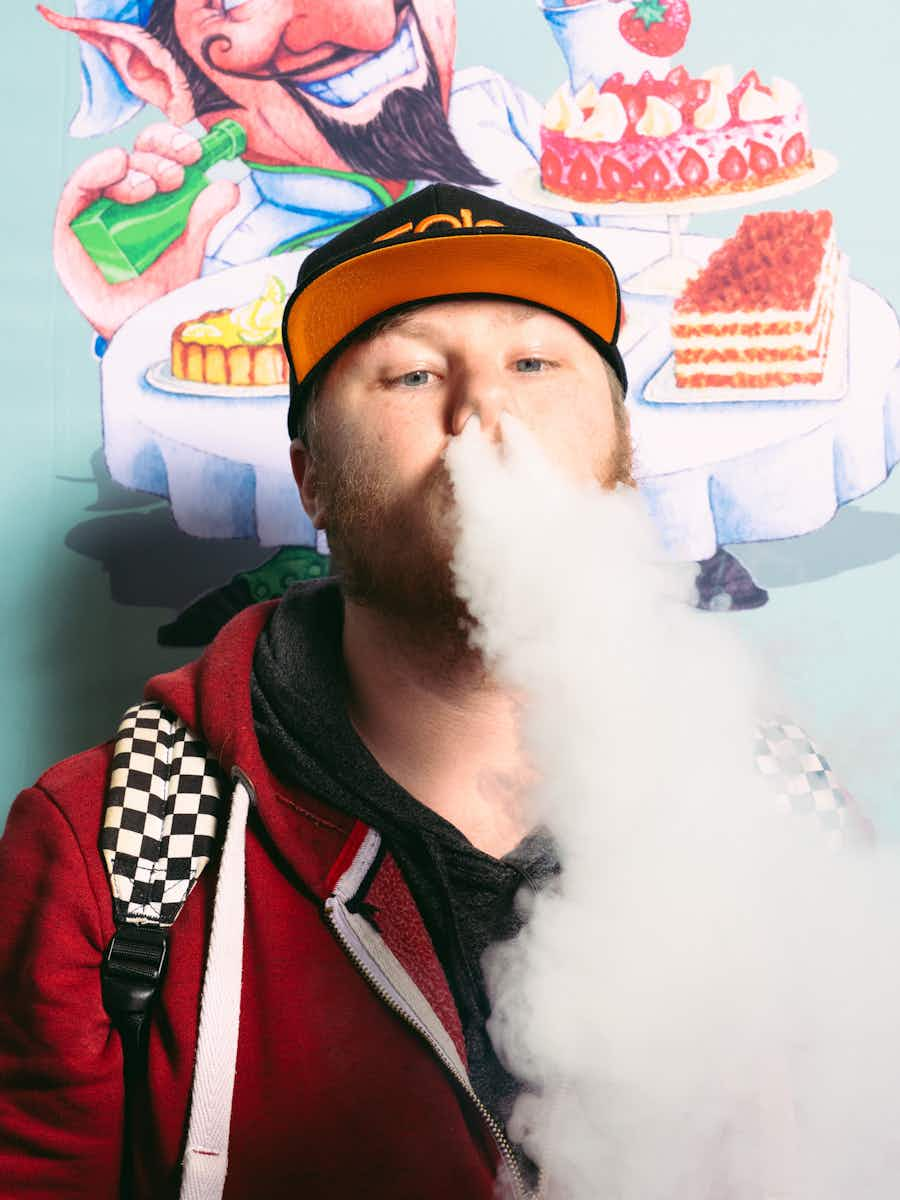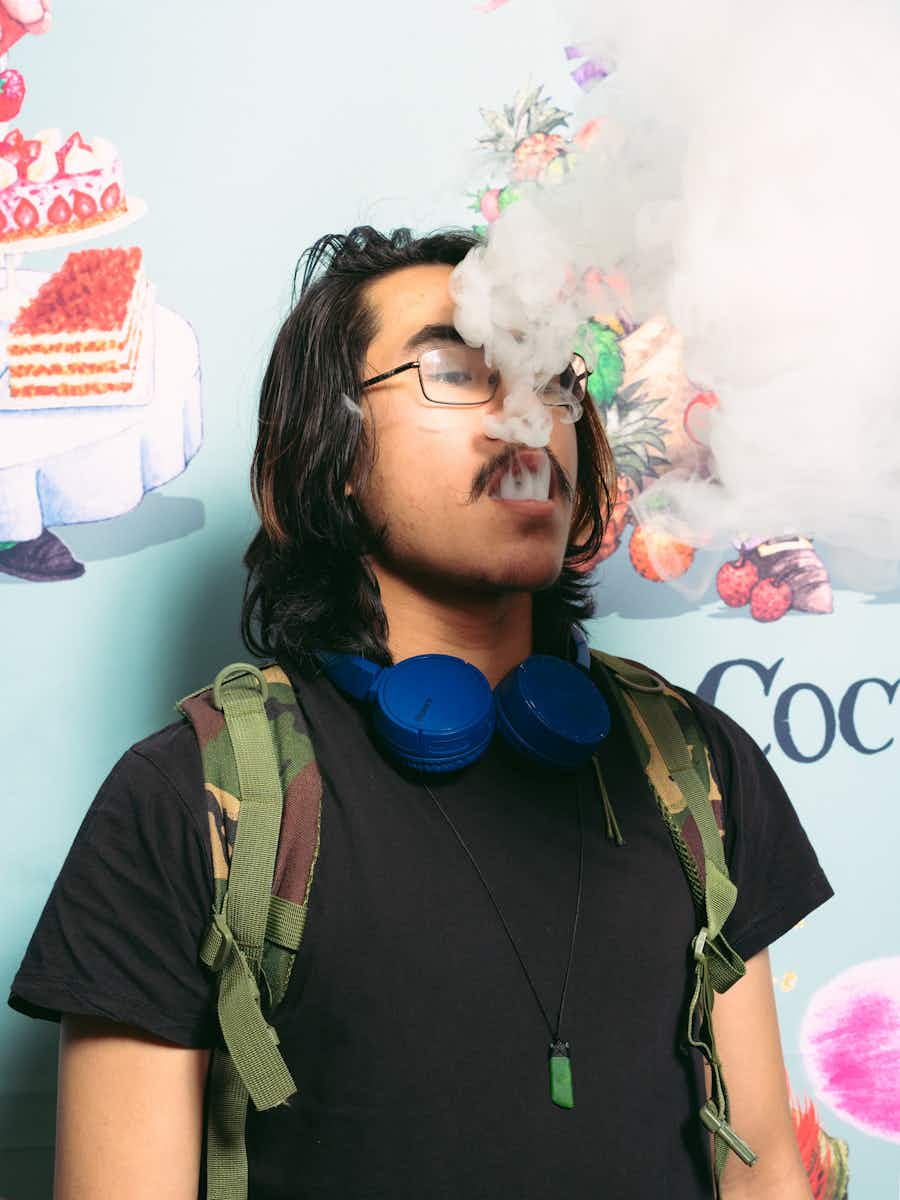 How come you started vaping?
Michael: Get me off the cigarettes which led into cloud chasing. I thought vaping was cool, like: ​"Oh, look at the clouds and the flavours."
What about the safety element?
Starky: With Juuls, it's all because of black market pods. If you know where to go and actually get them in a proper store and talk to professionals and do your research then it's safe.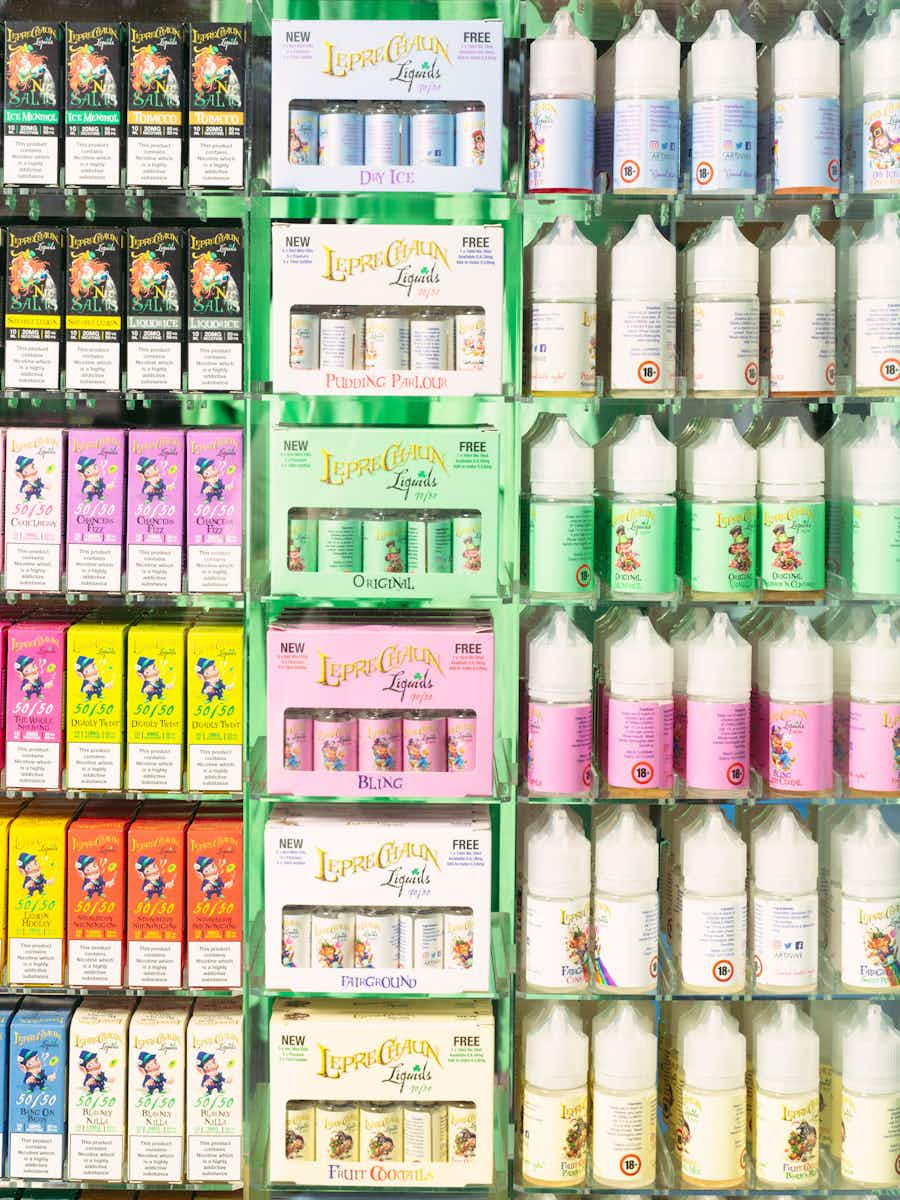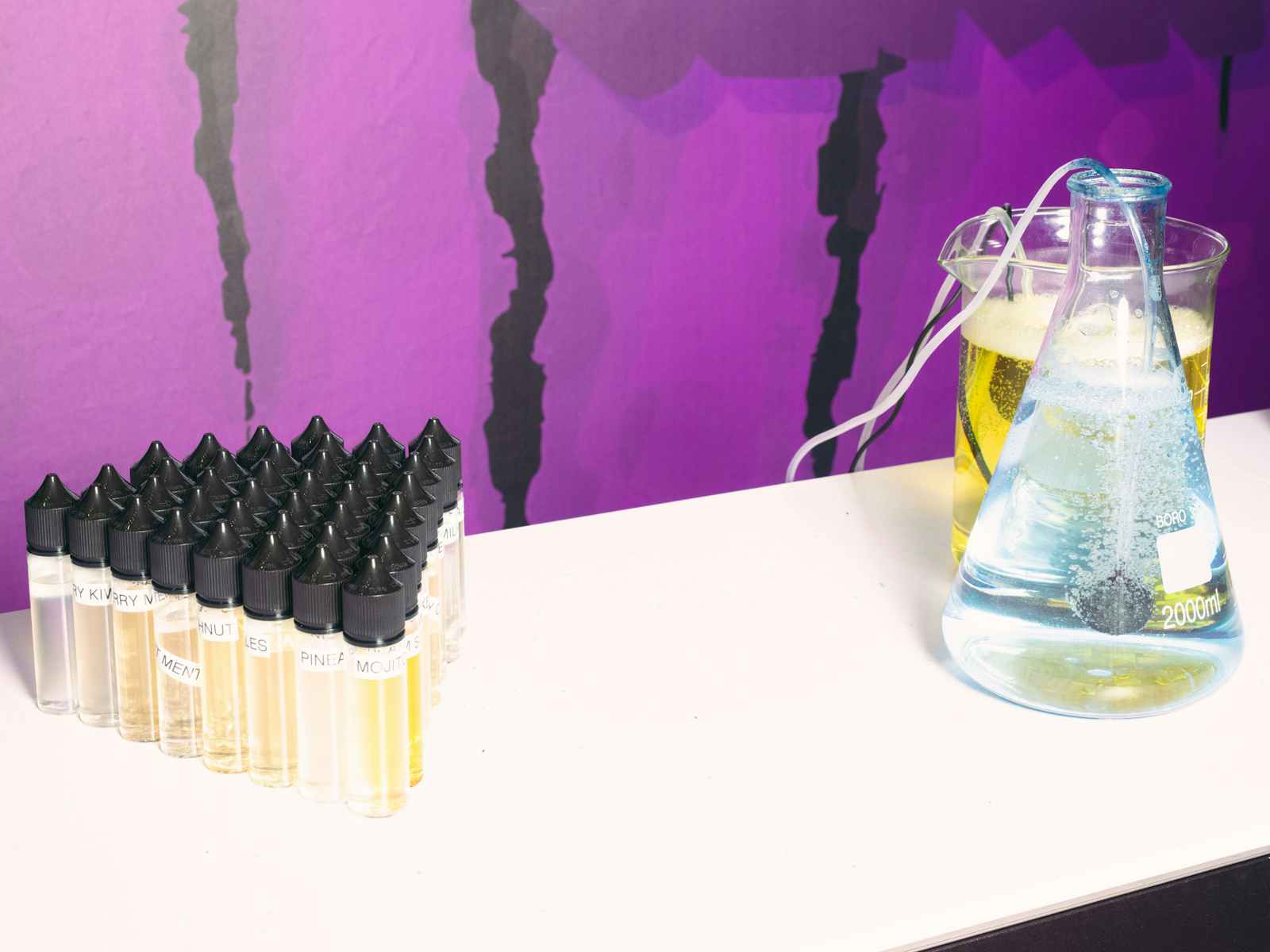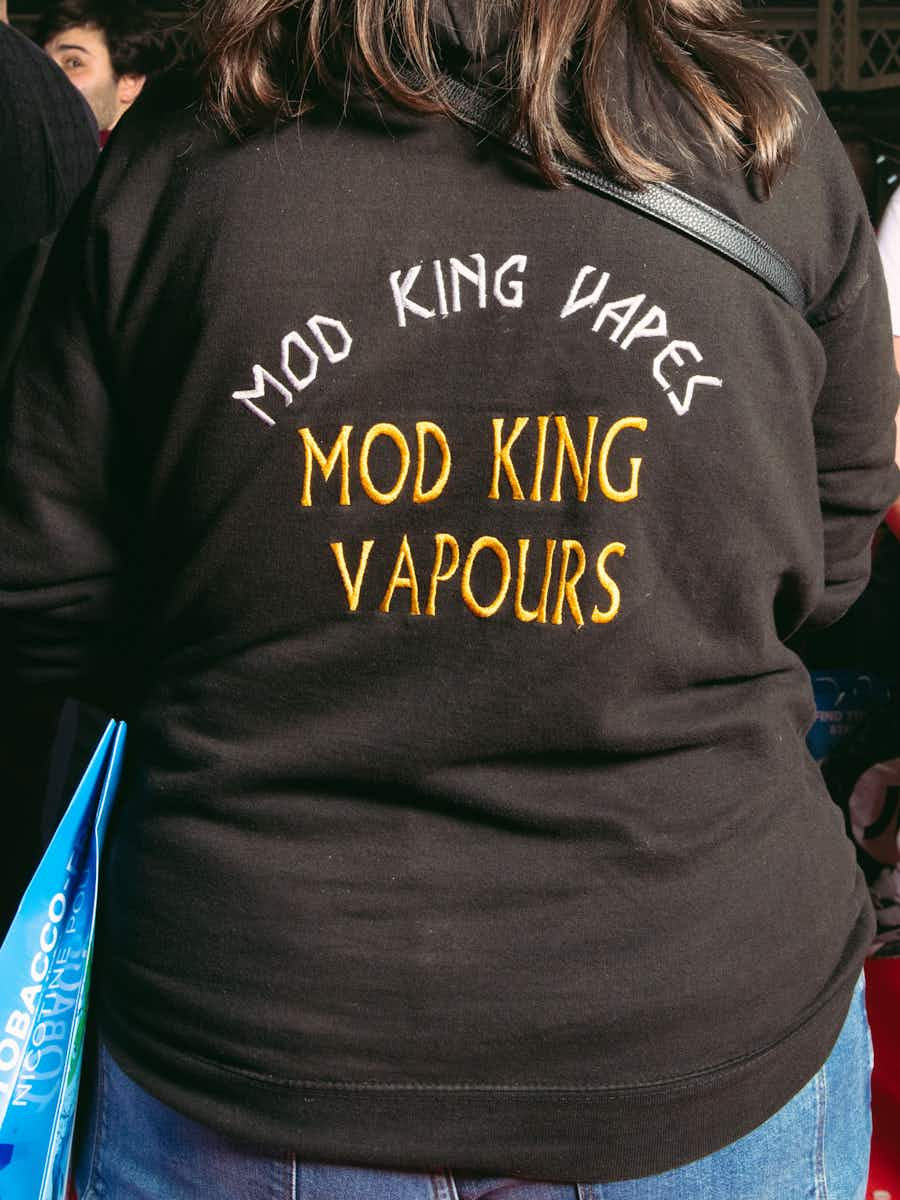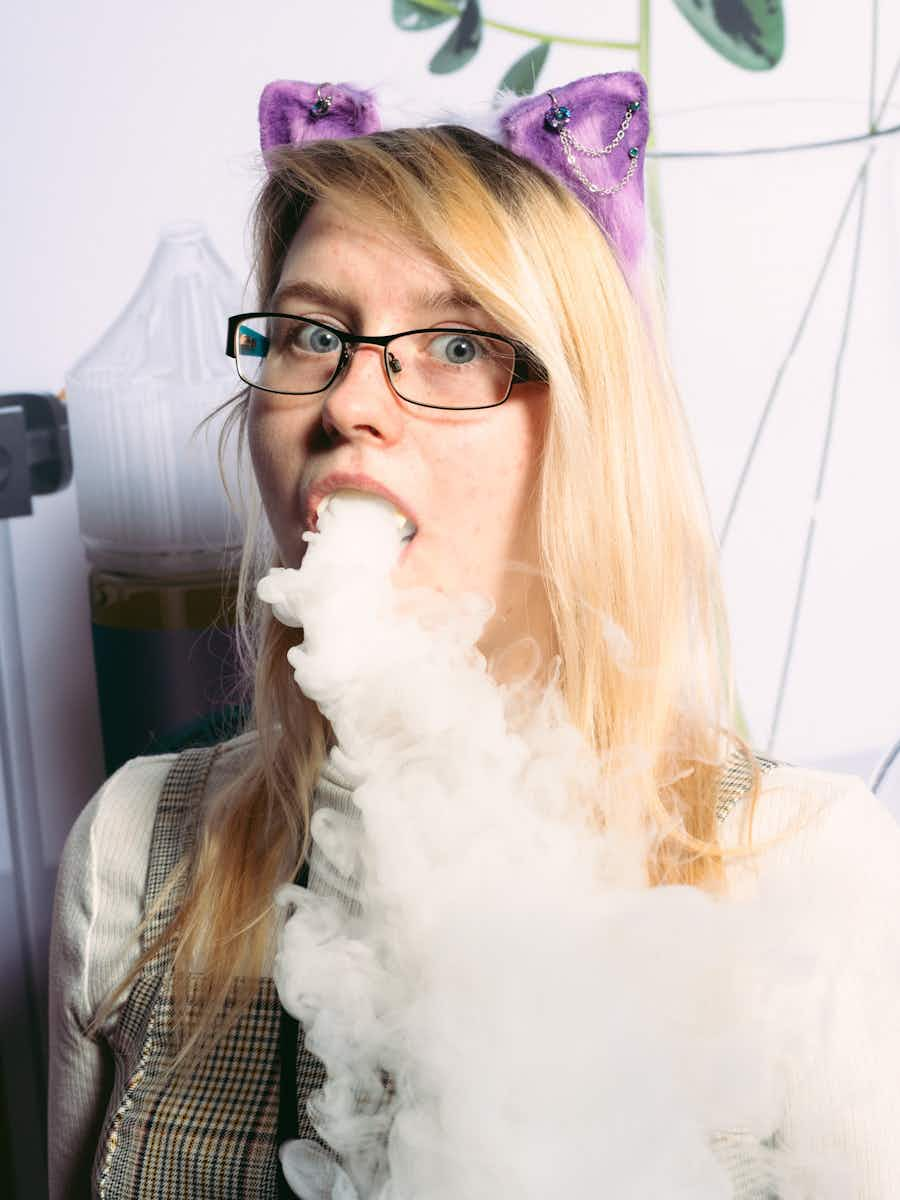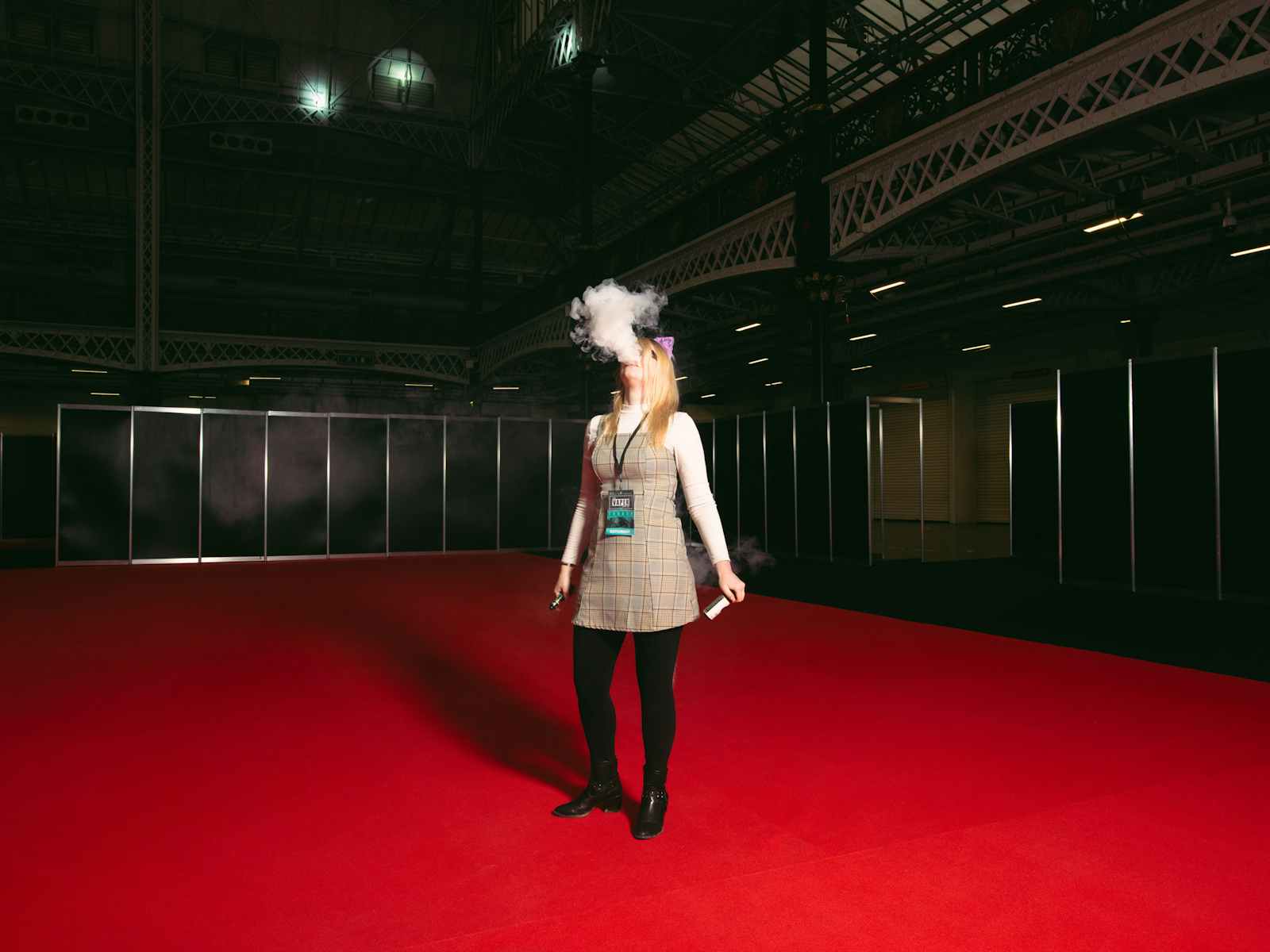 The Juul deaths were due to people vaping oil [vegetable glycerin]. If you put vegetable oil it's not going to do you any good. If you vape Tabasco, if you vape the most stupid things that are not designed to be vaped, it's going to cause you harm. In the same sense, drink too much water, you can drown yourself. Eat too much salt, you can cause kidney failure. It's all in moderation.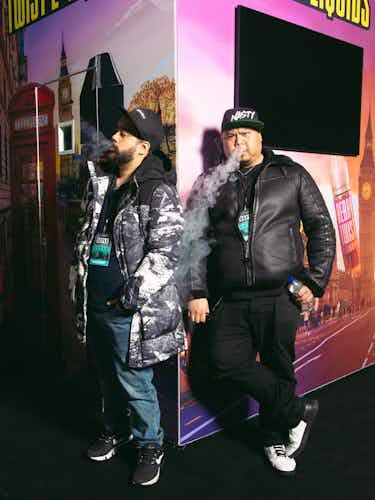 How would you describe the vape scene?
The vape scene right now is starting to die down because of the scaremongering from the US and it's starting to filter down here. Last year the NHS prescribed you a starter kit, now they're all scared. When we started years ago, things like this would be packed. The foot traffic here isn't what it used to be because of that.
Do you encourage people to vape?
I'm not saying you should vape in general. I think you should quit smoking if you can. But if you can't, vape. To be honest, if you die, you die. That's the bottom line. So whether you die from smoking, or die from vaping, or you die from not vaping, you're gonna die.
Remember, kids, all views vapers' own. For more information on vaping and lung disease visit Public Health England here.

More like this