Why do footballers love conspiracy theories?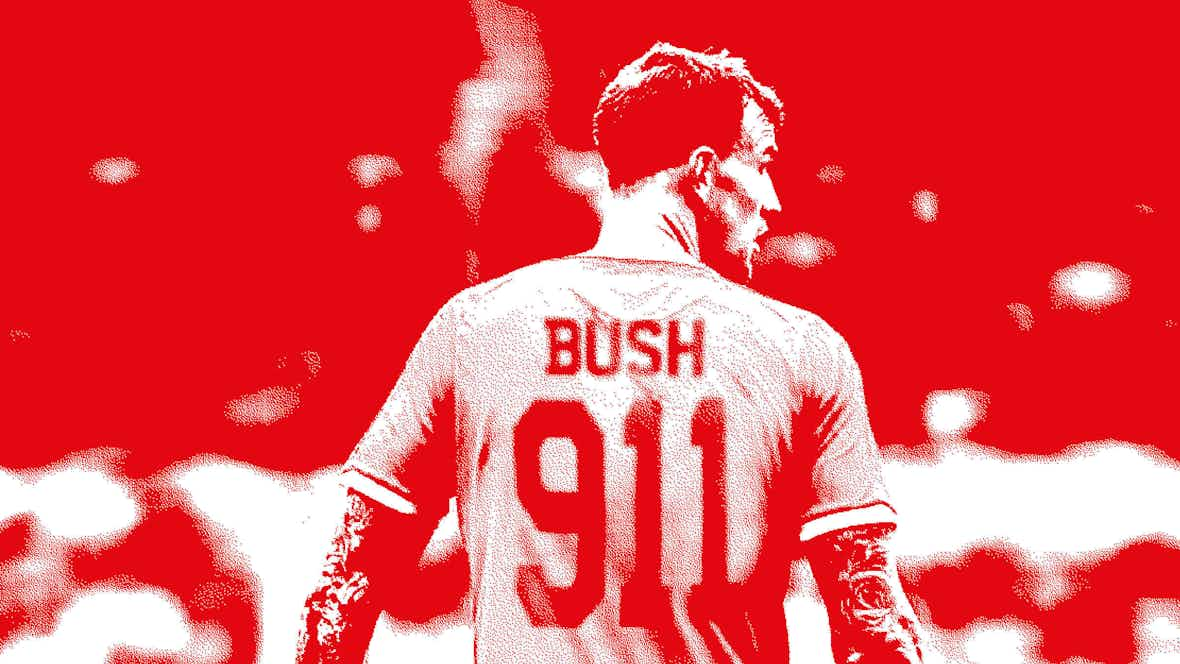 Ex-footie stars have been getting wrapped up in some pretty wild theories online. Beware of the goalie to moon landing denier pipeline.
Outside of Portsmouth, few bad words were ever shared about the Southampton FC legend Matt Le Tissier. Arguably the most underutilised player in the history of the national side, perhaps a football genius, his precision point passes, his loyalty to the Saints and his 161 goals in red and white are the stuff of Premier League legend.

But that was in the before times, before Covid and before Matt Le Tissier would sit at his laptop, open Twitter, and question the legitimacy of vaccines, Black Lives Matter and the accepted narrative surrounding the Bucha massacre, to date the ugliest moment in the war on Ukraine. The last incident led him to resign from his role as a Southampton FC ambassador in April. He'd already been sacked from his long-running punditry gig on Sky Sports Soccer Saturday in August 2020.

Matt Le Tissier still has fans. There's Laurence Fox, who he sometimes chats with on GB News. There's the cartoonist Bob Moran, sacked by The Telegraph in October 2021 for tweeting that palliative care physician Rachel Clarke deserved to be ​"verbally abused" for advocating the use of face masks. There's the controversial vaccine opponent Professor Dolores Cahill.

Matt was apolitical in the old times – he's said he never once voted in a general election. But Covid changed many of us, and Matt admits that it was ​"lockdown boredom" that led to him going down wormholes. He became interested in Covid conspiracy theories, many of which are in truth, no longer conspiracy theories at all. Professor Mark Woolhouse, an expert on infectious diseases at Edinburgh University and author of the acclaimed The Year the World Went Mad: A Scientific Memoir, argues credibly that nationwide lockdowns did much more harm than good.
But the problem with wormholes is that they're steep. They're easy to fall down. You might start at a rational place – maybe the belief that taking children out of school for a long period of time is possibly bad for their development. But you could very well later end up telling The Times that some of the photos of hospitalised people published during the apex of the pandemic weren't sick people at all, but actors, as Le Tissier did in the April of this year.
Le Tissier isn't the only football personality to emerge from Covid a changed man. Capped 24 times for the Wales national side, David Cotterill's tweets make the Southampton icon's views seem quite quaint. David thinks that the moon landings were fake, that the narrative on climate change is flawed and that and that the world is governed by a global paedophile ring. In May this year, in the wake of the Robb Elementary School shooting that claimed 21 lives, the majority of them small children, he claimed on Instagram that ​"crisis actors" were used. What's tragic about Cotterill's descent into conspiracy is that as recently as 2018, he was widely praised for sharing his history with mental illness, a taboo subject in the macho world of football.

When it comes to the proliferation of conspiracy theories, Covid only added fuel to the fire. In 2017 the Journal of Experimental Social Psychology published a report that suggests an interest in conspiracy, as well as superstition, may well be caused by ostracisation. A belief in conspiracy means a connection to community, as well as a feeling you're establishing some autonomy over a life that might be lacking purpose elsewhere.

Footballers are finding refuge in conspiracy might be explained by the ample free time they find at their disposal. Outside of pre-season, the average footballer will train just a few hours each day. For most there is golf, but for some, that leaves an awful lot of time for thinking and perusing.

England manager Gareth Southgate, one of the sport's more measured public speakers, believes this to be the case. Last year he spoke to the Evening Standard about why some of his young squad had decided that they didn't want to be vaccinated – or didn't want to confirm that they had.

"At their age they are more open to some of these conspiracy theories because they are reading social media more, they are perhaps more vulnerable to those sorts of views," he said. ​"There is a bit of confusion around. If you're receiving messages when you support the programme that say, ​'You could be up in front of a Nuremberg type trial in 10 years,' and people are quite vicious with comments, it does make you think twice about speaking out."

But footballers have long had form when it comes to thinking off-grid. In 2018, Iker Casillas, formerly of Real Madrid and Spain, and unquestionably one of the greatest goalkeepers of all time, went on record with his belief that the moon landings were fake. (Last week, Casillas also tweeted that he was gay, apparently as a joke, then a few hours later deleted it and claimed he'd been ​"hacked", suggesting that despite spending a large amount of his life in close contact with it, the 167 cap really, urgently needs to touch grass).

Maybe goalkeepers are just more prone to this sort of thing. In 1999, 30-year-old Carlos Roa, the Argentine number one, walked out of his LaLiga side Mallorca, a year after being part of the side to break English hearts at the 1998 World Cup. Convinced that global armageddon was imminent, he returned to his home country and practised charity work. When the world didn't end, he re-signed for Mallorca.

And it's worth remembering that before he went public with his belief that an inter-dimensional race of reptilian beings, the Archons, had invaded Earth and were squatting in the ​"skin suits" of the global elite, the King of Conspiracy himself, David Icke, kept goal for Hereford United 37 times.

Consider this a warning from history, Matthew Le Tissier. Once you've fallen down the wormhole, it's almost impossible to get back up.

More like this