100% BAYLI: Meet Brooklyn's genre-defying rising star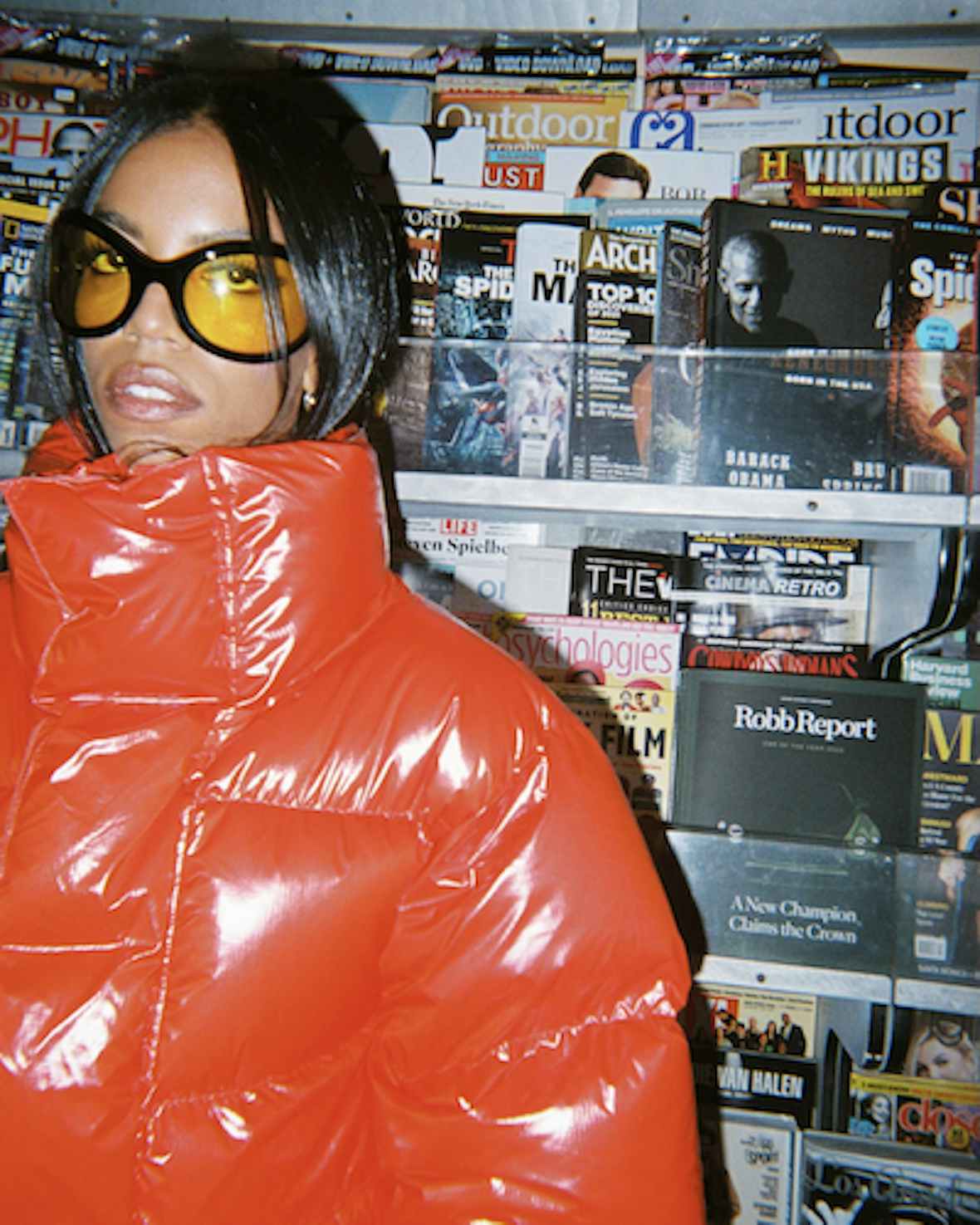 She sings about her love for sushi, isn't afraid of being vulnerable and makes bops for the it-girl that resides in all of us. Now, BAYLI is back with another intimate single, Think of Drugs.

Following her time as the frontwoman of The Skins, a band who combined rock and soul, BAYLI has been carving out her own distinctive sound with her solo releases. The Brooklyn native draws on a wide range of musical inspirations, from classic rock legends of the ​'60s to jazz heroes like Ella Fitzgerald and Nat King Cole. BAYLI isn't afraid of making listeners uncomfortable either; ​"I like poking the bear", the 24-year-old says.
Her track TELLY BAG, released at the start of last month, took inspiration from Telfar's motto, ​"not for you — for everyone", extending her target audience beyond the ​"girls and the gays". ​"But you're so straight /​And I'm so gay," she sings on the feel-good pop song. Next time you want to post a fit pic with your telfeezy, consider ​"Burner in my telly bag, that's a beeper" as your caption. You are your own it-girl, after all.
BAYLI's new release Think of Drugs takes on a more poignant tone. The lyrics are like an open letter about addiction, love and the blurry lines where the two meet. ​"My parents did the best they could," she says, ​"but I definitely did see them struggle with addiction and different things."
So as you familiarise yourself with BAYLI's music (you can also look forward to hearing her on Mura Masa​'s forthcoming album demon time), get to know her a little better with her 100% interview below.

10% Where were you born, where were you raised and where are you now based?
To most New Yorkers, if you weren't born in the five boroughs, you're not really a New Yorker. I was born in Long Island, which is the suburbs, but I moved to Bed-Stuy, Brooklyn with my family in second grade. I'm still in Brooklyn with my family.

20% What kind of emotions and experiences influence your work?
My music is internal but also existential, sometimes it feels provoking, as though I'm poking the bear because I like using words and talking about subjects that you don't hear in mainstream media, especially in music. That's almost a practice of mine, to go in and talk about subject matters like hooking up with girls, that a lot of people don't touch on, or haven't touched on as much as I like. I like to sing about anything that is off-limits.

30% What piece of advice changed your life?

My mum always [told] my siblings and I to always work for ourselves. Start your own business, build something for yourself. It takes a little longer and it's harder, but it's always worth it in the long run, so I always have my mum in the back of my mind. She was very blue-collar, an essential worker in the US and immigrated here, so it feels very special to have my own company and leave my mark in that way.

40% If you were to rule the world for a day, what would it be like?

Unlimited accessibility! If you need water, if you need food, if you need a couple of dollars to go on a staycation, you would be able to access it. It would hopefully be a utopia.

50% If you could travel back in time to see an iconic music act perform, who would it be, and in what era?

I love old music so I'm going to name a few people. I love jazz so Nat King Cole in the ​'30s-'50s. And then I would say Led Zeppelin in the ​'60s or ​'70s. The last person is Amy Winehouse. Amy's a major inspiration, I have a tattoo of one of her songs. I still think she's one of the most special artists of the century.

60% Love, like, hate?
I love my family – I'm very much a family person. I like downtime, alone time, to meditate and process; that's something I wish I could have a little bit more of. I really, really don't like liars. I have a deep-rooted fear of liars. I'm too gullible. Sometimes I even can't tell when someone's being sarcastic, but anyone who's just lying maliciously, I hate you, wholeheartedly. I'm terrified of you.

70% Number one holiday destination?
Florence, Italy. I'm actually going this summer. I went to a performing arts school and I did fine art and visual art. Florence is where so much modern art originated so I think it's the most inspiring place for someone like me who is obsessed with art, culture, design and that type of history.

80% What was the strangest DM you received?
There are a lot of creepy ones so we're not going to talk about those, the nudes and all. A special DM that struck me was from Yebba Smith. My song 16 is about my mum. Unfortunately, my mum passed away in 2020. She also lost her mum and she DMd me saying, ​'we need you, please stay truthful, please stay vulnerable, listeners need this.' For one of the best vocalists and writers of our generation to reach out and say that was incredible.
90% At what point did you realise you'd be able to do what you do for a living?
I've been doing [music] since I was 16. It's been an amazing journey so far, I've worked hard to grow a community not just in the US and New York, but with listeners around the world. I don't know when I realised, but I see the growth every day, and it makes me want to continue, it makes me think I have a purpose.

100% What do you think artists can do to help save the world?
Your art can actually be functional. If your music has a message, that helps transform people's minds. And I think a lot of that is just being vulnerable and sometimes talking about the hard stuff. That's why in my music I love to touch on conversations that might be traditionally difficult or cringe because I think we need to get to those conversations in order to get past them. So, the most important thing we can do as artists is to be vulnerable and really challenge ourselves to have deeper messages in our art, not just being arbitrarily hot people making music.


More like this