How Mura Masa fell in love with fun

By the age of 21, the producer had gone from making beats in his bedroom in Guernsey to winning a Grammy and performing with A$AP Rocky at Coachella. After a few left turns and lockdown lethargy, he's stopped overthinking things and embraced mischief for his new album, demon time.
For Alex Crossan – that's Mura Masa to you – the lockdown era was a two-act play. He spent the first half depressed, watching back-to-back episodes of Curb Your Enthusiasm and making ​"a bunch of ponderous and introspective music that was, quote unquote, my "'lockdown album'," he remembers. ​"But I didn't really want to release it".
He was on the verge of buying a pottery wheel and giving up music altogether. Then he remembered 3 of a Kind's chart-topping UKG track Baby Cakes from 2004. Something about the ​"don't overthink it" joy of the one-hit wonder reignited his passion: ​"I thought, ​'what if someone did a drill flip of 3 of a Kind?!'"
We're sitting at a big wooden table in the 26-year-old's South London flat, perfect for late-night putting the world to rights sessions. He beams as he describes making a beat from the iconic late-stage-garage bubblegum belter that took all of twenty minutes. The end product – his track bbycakes – finds PinkPantheress, Shygirl and Lil Uzi Vert all taking a turn for the cutesy, over sped-up, maximalist and drill-adjacent beats. It's at-once highly addictive and faintly ridiculous.
"It flipped a switch in my head," Crossan says, head dipped, a mini half-smile creeping in, as it does regularly while we chat. ​"I started remembering what it felt like to be excited about music where the essence of it is just [having] a good time, that doesn't have to say something remarkable about the human condition". The sugar-rush song is both the lead single and spiritual heart of demon time, Mura Masa's upcoming third album.
An 11-track, head-spinning fun fest, demon time is fidgety and unapologetically hyperactive, full-to-bursting with guest verses from musical edgelords. ​"I wanted to soundtrack the weird 1am to 5am time when you're up to no good," Crossan explains. It's no coincidence that the album's title sounds like the Haribo-addled younger cousin of the anti-aesthetic goblin mode trend; chaotic good on the alignment chart.
If Mura Masa's self-titled 2017 debut studio LP – which boasted a bevy of bigwigs that included A$AP Rocky, Charli XCX, Christine & The Queens and Damon Albarn – was born in the Insta-era of sun-drenched aspirationalism, then demon time is a child of TikTok – frenetic, DIY, warts-and-all.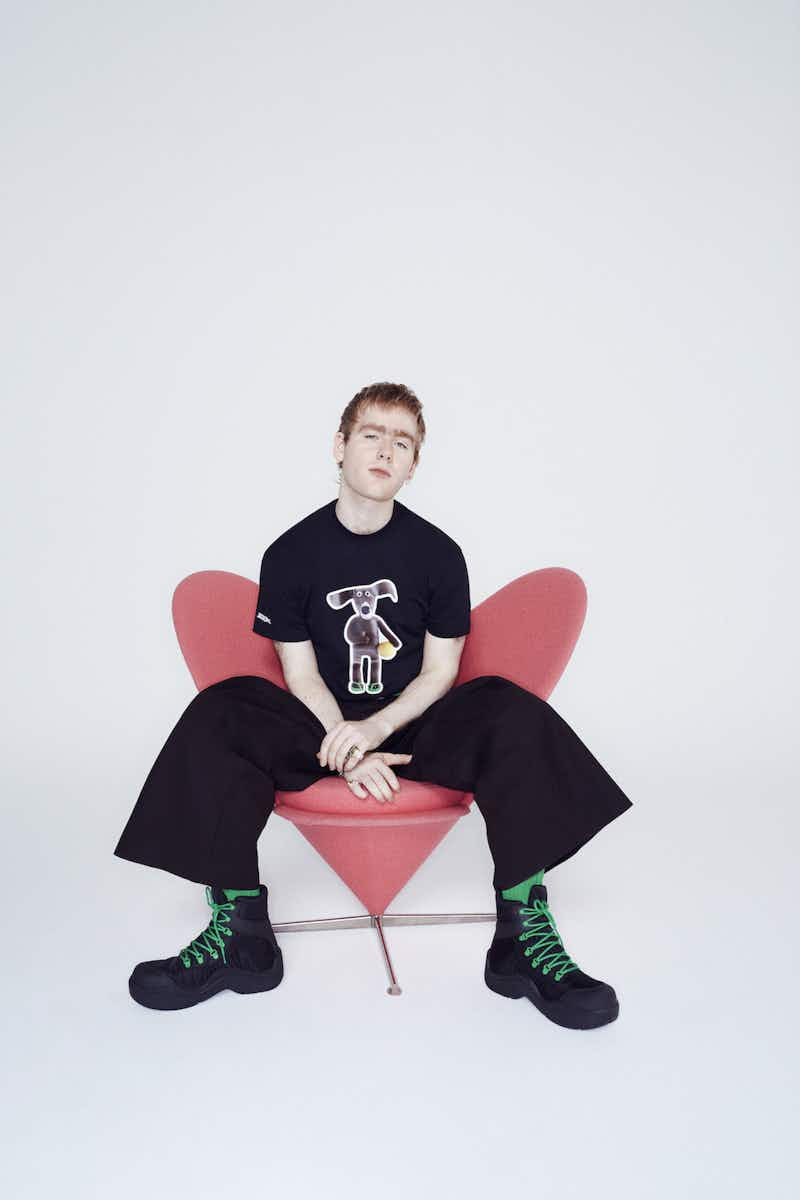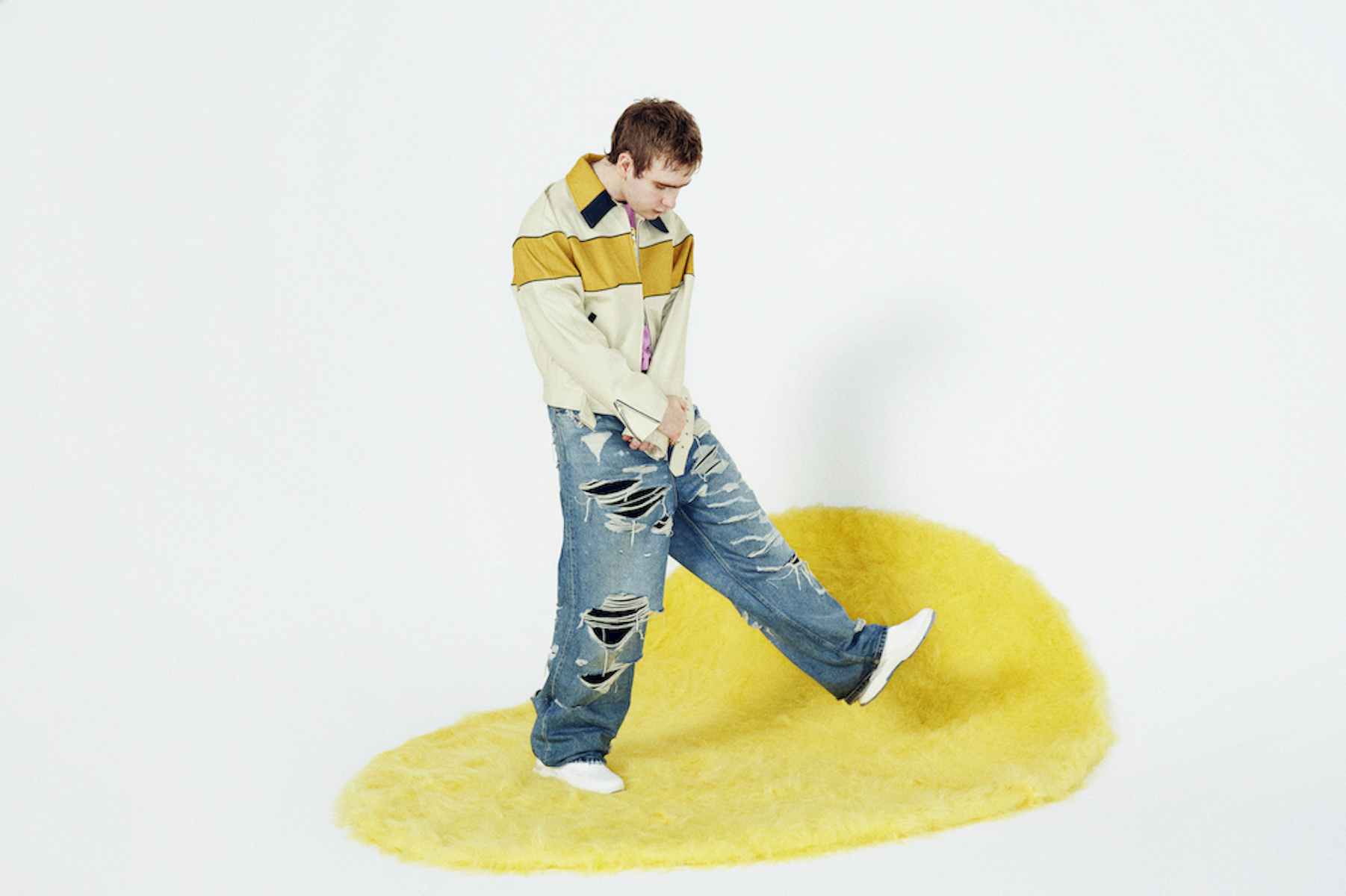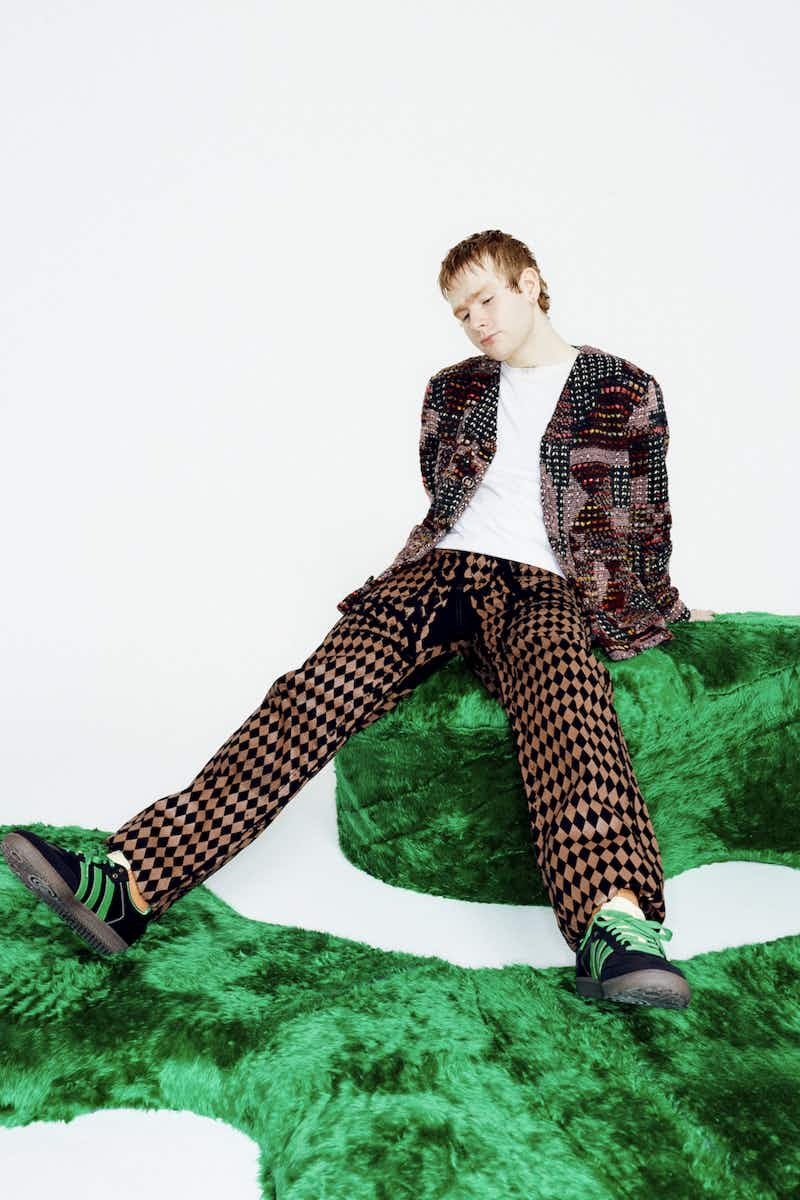 Crossan is decked out in signature rave kid wide leg jeans and kids' section tee. There are a few tell-tale signs of success around his South London basement flat: expensive candles, a bath that could easily house a threesome, a ship-sized squishy sofa that's definitely not from Ikea. These things don't happen to 20-somethings in London without a trust fund or record sales and awards. Crossan has the latter in spades.
He was born and raised in the island of Guernsey, just off the coast of Normandy, France, on a musical diet of exemplary cream, The Smiths and Gorillaz. Discovering leftfield electronic acts artists like Hudson Mohawke, SBTRKT and Mount Kimbie a little later, he started tinkering with production software Ableton to make his own tunes. By the time he went off to study English at Brighton University, his track Lotus Eater had already been picked up by Radio 1. ​"Shout out to Jo Wiley who was the first person to play me on the radio," he says. ​"She interviewed me in my uni halls."
By 21, Crossan had released his first studio album, been nominated for a Grammy (he won one the next year, for his remix of Haim​'s Walking Away), played a sold-out headline show at Brixton Academy and bagged a great slot at Coachella, the world's most content-ready festival – in 2017, Beyoncé's year, no less.
A few years earlier, Disclosure had increased the appetite for shiny dance-pop and, at this point, Jamie xx was still riding high off his album In Colour, which had transformed him from a shy kid in The xx to one of the biggest breakthrough DJs of the 2010s. The industry was ripe for dance producers as mega-stars; audiences were well-accustomed to introspective white boys soundtracking summers.
During Crossman's Coachella set, the likes of Charli XCX and A$AP Rocky bowled out onto the stage to perform their collaborations with him. ​"It was such a wonderful train wreck," he remembers of the show. ​"People were arriving on planes during the set, getting there just in time to play. I remember walking off thinking, ​'I don't know if I'll ever do anything like that again'. It felt like the apex moment of this particular era.'"
So what did Crossan decide to do next? He made a guitar album.
"Dropping a second album like I did was suicidal," he laughs. Pitchfork called 2020's R.Y.C. ​"nostalgic guitar anthems for the bummer generation". The Guardian​'s Ben Beaumont-Thomas seemed personally vexed with Mura Masa when he, in a one-star review, described Crossan's vocals as ​"a bland instrument better suited to a podcast about natural wines" and the production as ​"offensively ersatz, like a Tory in a punk band."
But Crossan has absolutely no regrets. ​"It was a mission statement!" he says, a small twinkle in his eye. ​"It was me saying: ​'Look, you're not going to get what you think you'll get out of me from here on out'".
"I think the confidence came from the fact that the first album was just me doing what I wanted to do anyway," he explains. ​"If you think about it in an industry sense, we've always known that sequels outperform originals, that's just the data. But does that mean we have to sequelise absolutely everything? Heath Ledger is the best screen villain of all time, did we really need to reboot The Joker?"
Instead, Crossan opted for making his own version of a brand-new indie flick. Faced with a crossroads, he thought: ​"I've got two choices. I can one up myself or I can do whatever the fuck I want to do and take the odd bad review." His first taste of backlash came rolling in (it's also worth noting that R.Y.C. earned him a five-star review from Rolling Stone) and he lived to tell the tale. ​"Now I don't feel like I have anything to prove anymore, which is a nice feeling".
demon time sounds exactly like the reckless abandon of an artist unfettered by concerns of what fans or critics will think. ​"Normally, when I'm coming up with what the hell an album is meant to be about, I write myself a big brief document," Crossan says. ​"It's a lot of mood boarding, references… But this time I just wrote the word ​'fun' in lower case at the top of a word doc."
The album opens with the menacing female vocal of Brooklyn alt-popper and Ruck Rubin mentee BAYLI whispering ​"it's demon time" on repeat over beats, bleeps and car revs. From there, it's a genre-hopping waltzer ride. But as demon time veers from UK garage to French touch to cumbia, the one thread that ties it into a cohesive whole is its spirit. ​"That was the constant question when I was thinking about what music to make or who to work with: is it fun?" Crossan says. ​"Does it serve the purpose of being… mischievous? I just let that guide me towards what you hear."
Take, for example, the album's stand-out, hollaback bitch. It sounds nothing like anything Crossan has ever done before. ​"It feels old school in the right way, where it has pangs of that early 2000s R&B production but it's got this vogue‑y house thing as well," says Crossan. It finds Shygirl (again) channelling early-2010's Azealia Banks, alongside LA rapper and smooth house producer Channel Tres. ​"I came up with the concept of the song, wrote the hook and the verses and brought it to Shy. It's so fun writing in that completely sexual voice for someone else and it delivering completely." We both agree that it's our favourite on the album.
Midway through the album, his longtime collaborator slowthai comes in on up all week. ​"It reminds me of an era of UK music that you don't hear so much any more," says Crossan. ​"It feels like a Skins advert. You know, when nu rave was happening and Bonkers was out". It's a track so inherently slowthai – all early-Nokia phone bleeps and dilated pupils – it acts as proof of one of Crossan's greatest skills: getting to the essence of his artists and facilitating creative chemistry between collaborators.
"The longer I go on with this artist project, the more I realise that it is really a curatorial role," he says, like a kind of Andy Warhol of the social media era.
Crossan's big table is strewn with architectural drawings, plans for a new studio he's working on. ​"There are three main rooms on the ground floor, then several work rooms on the top and a big emphasis on social space," he says, pointing at the plans for a new studio that he's working on, proudly walking me through the space, pointing from 2‑D room to 2‑D room. ​"Someone [will be] having a session in one of the rooms, people are having coffee here and suddenly there's a meeting that wouldn't have otherwise happened. Artists, producers, directors, all meeting".
Mura Masa's equivalent of Warhol's Factory, perhaps.
"My big dream is to have all the album collaborators photographed together," Crossman says, chuckling to himself, that mischievous twinkle back in his eye. ​"With me at the back, rubbing my hands!"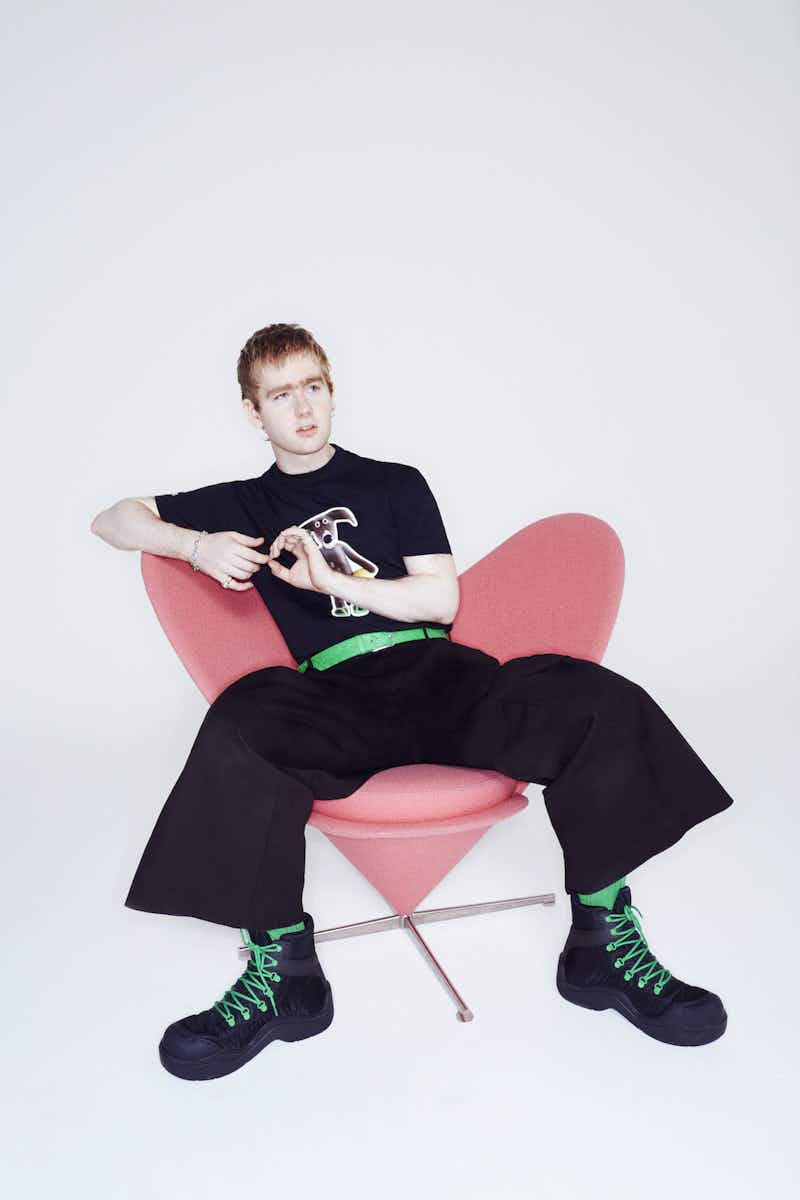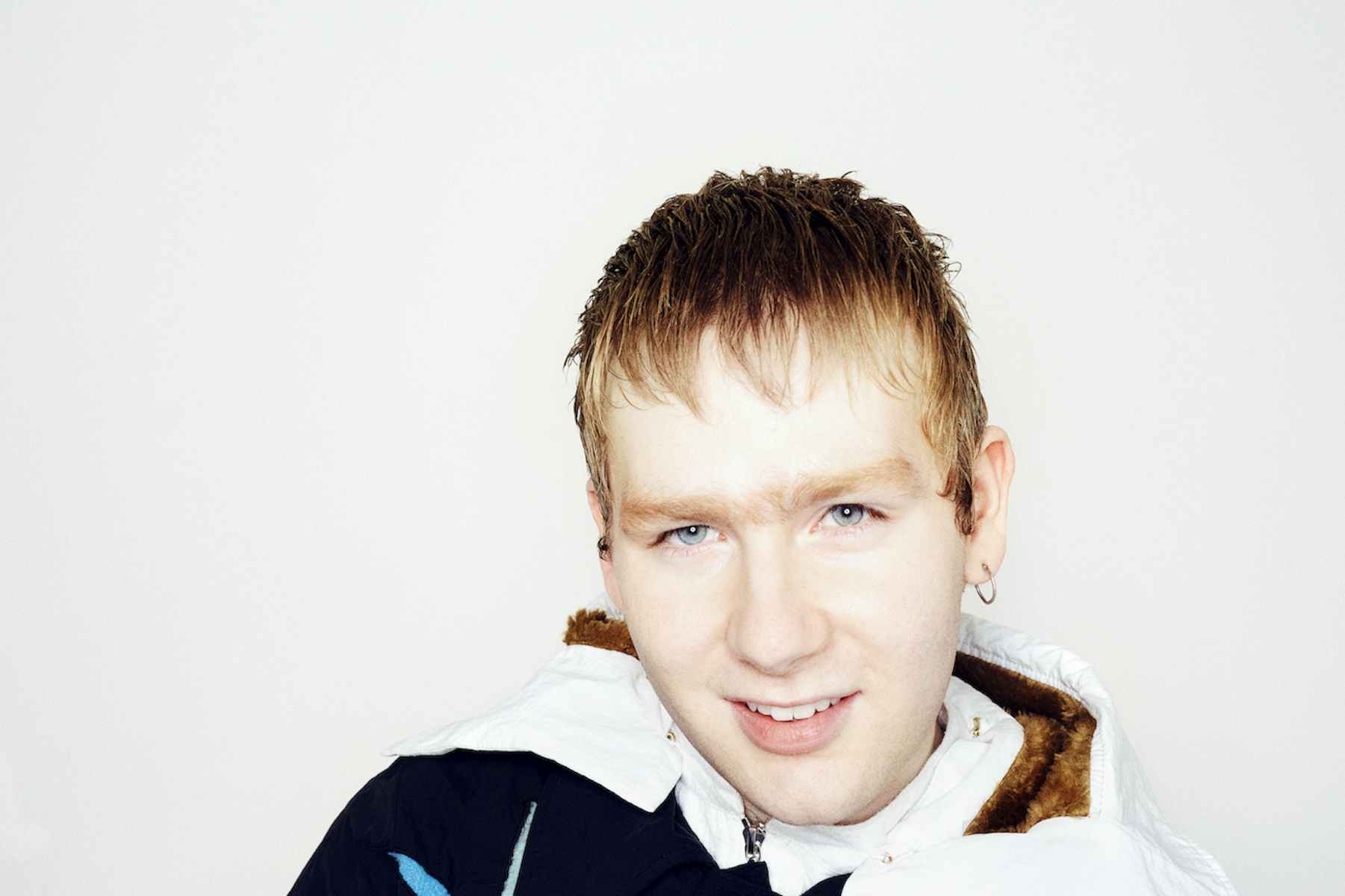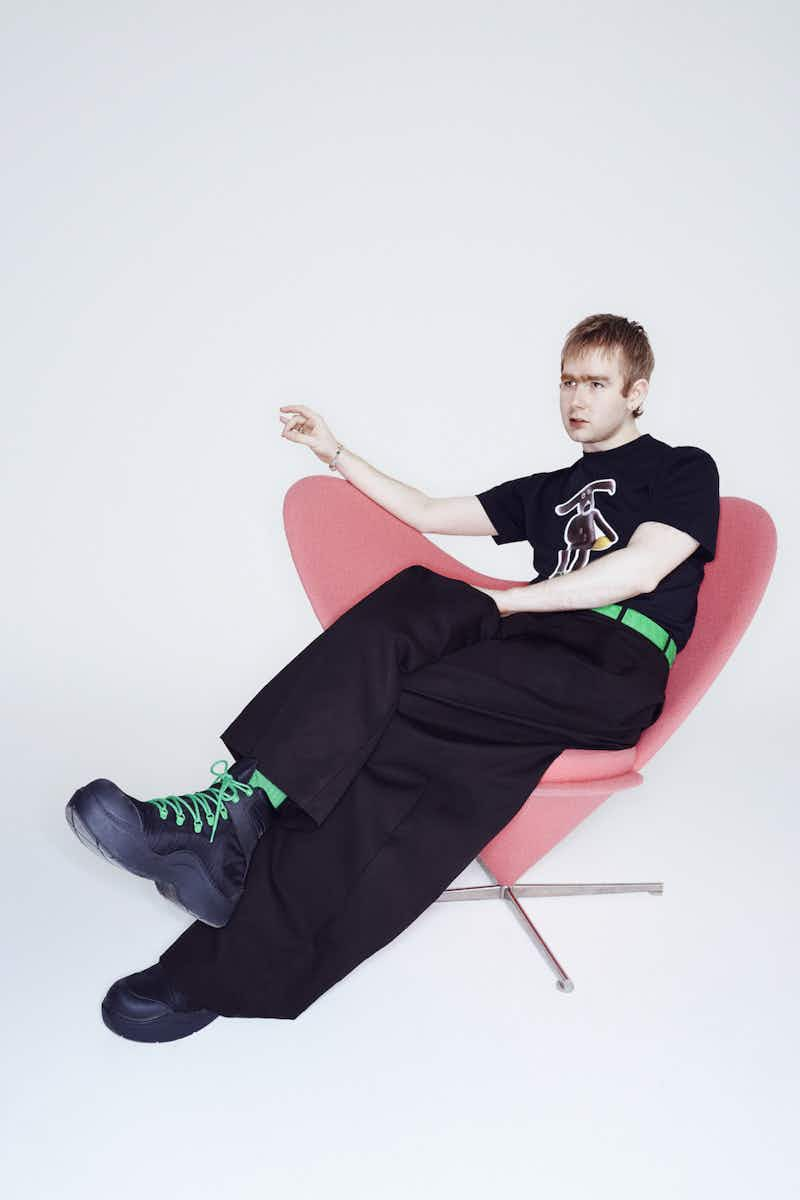 MEET THE COLLABORATORS

MEET THE COLLABORATORS

MEET THE COLLABORATORS

MEET THE COLLABORATORS

MEET THE COLLABORATORS

MEET THE COLLABORATORS

MEET THE COLLABORATORS

MEET THE COLLABORATORS

MEET THE COLLABORATORS

MEET THE COLLABORATORS

MEET THE COLLABORATORS

MEET THE COLLABORATORS

MEET THE COLLABORATORS

MEET THE COLLABORATORS

MEET THE COLLABORATORS

MEET THE COLLABORATORS

MEET THE COLLABORATORS

MEET THE COLLABORATORS

MEET THE COLLABORATORS

MEET THE COLLABORATORS
"I've been blasting to Mura Masa ever since I was in sixth form when I was in charge of the speaker in the common room. I also once signed up for one of his lectures when I was growing up, so Alex asking me to be on the album really was an incredible full circle moment.
Alex has a thing where he likes to hang out on the first session to get a feel for each other's energy and it totally helped us in the long run, because now there's no element of making music with him that feels like work. He can incorporate any inspirations you give him into his music.
I think what works well between me and Alex is our cultural similarities – we were both emos in our younger days. So things like little flairs to lyrics or a particular niche drum pattern is something that we can decipher together, because we both truly get where the other person is coming from contextually."
"I felt blessed [to work with him on the album]. Alex is my brother, my family. Every time we link up it's banging. We just chill and it's always beautiful ​'cause we have so much to share with each other. Never a dull moment, more just realising that we never make bad song together. He brings out the best in people and has a good ear. I have faith in his decisions and trust his process. I dunno ​'bout anyone else, but we just have fun and that makes it more special. [It's about] the memories we have making [the songs] and how funny it was to make ​'em."
"Getting in the studio with Alex is a masterclass. He introduces me to new videos he's been watching during the week and it just sets the vibe for an inspirational session, the most recent being ​'Every F‑word in Slipknot's self-titled album in three minutes'. When it comes to what works and what doesn't, we save a lot of time in sessions by not overthinking, because he encourages you to trust yourself and keep the focus on just being in the moment of what feels good."
"I think everyone admires Alex's taste in who he collaborates with, so being asked was really flattering. He messaged me out of the blue one afternoon asking if I was about to record the vocals for this demo I'd heard of his, [for the demon time track] 2gether. Alex is very instinctual when making music decisions. It's like they aren't really creative decisions but obvious answers to him. That can make it a little daunting to really new artists like me, but it's so impressive. Also, he knows where each person's strengths lie and will happily just leave you to do what you're good at."
"Alex has impeccable taste and a good sense of how to bring out the best in people. It's nice being able to trust in that. I always end up using Alex's studio like a confessional and he kindly absolves me of my sins. [Making the tracks] I felt super free in bouncing ideas back and forth, but I also love his attention to detail. I'm more inclined to be rough around the edges and a little raw, but I love how I sound working with Alex. He's pretty persuasive when he has a vision in mind. It's been interesting leaning into the potential someone else sees in you."

More like this