The story behind A$AP Rocky's game-changing debut mixtape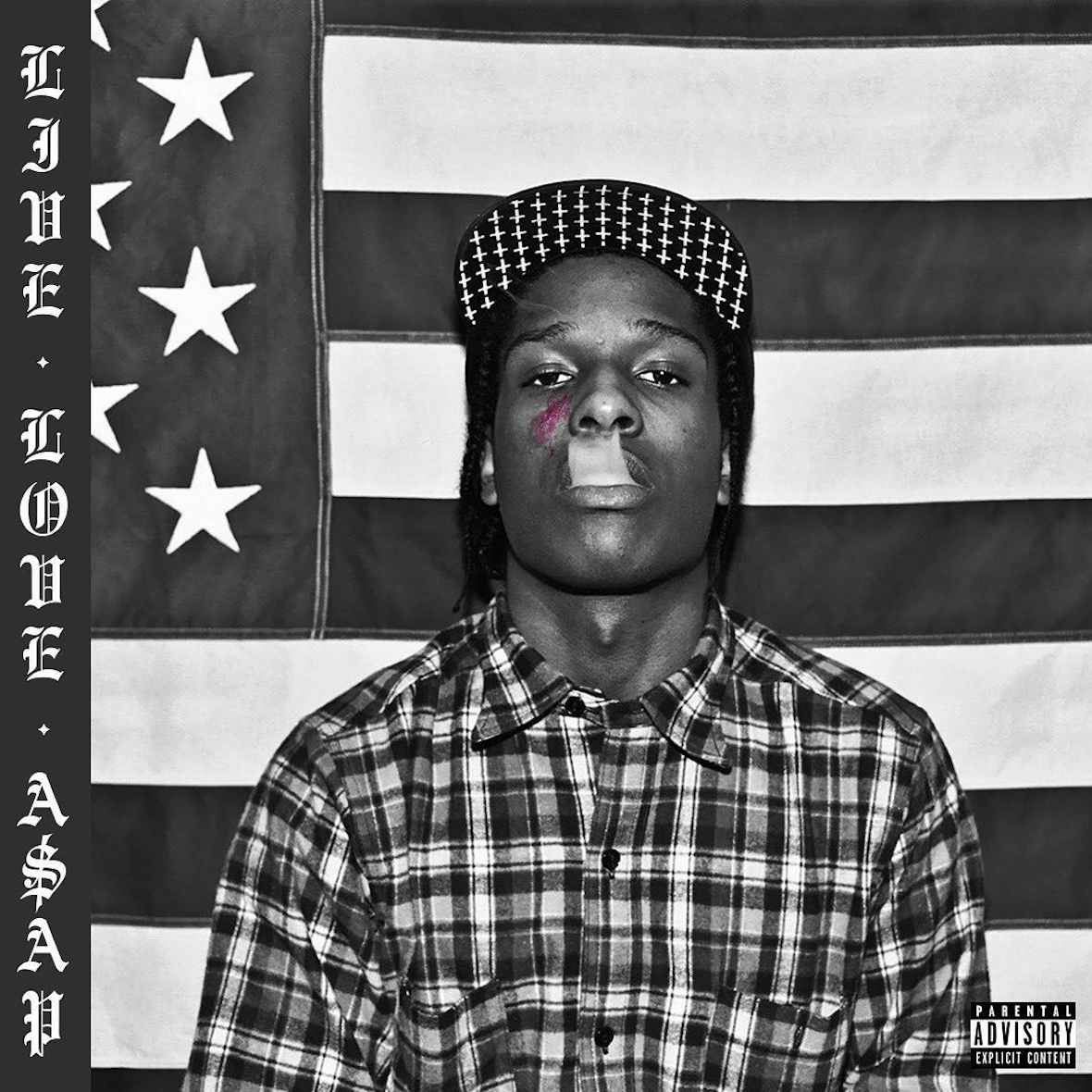 Live.Love.A$AP was the Harlem artist's statement of intent, breaking away from traditional NYC rap to embrace Southern styles and helping bridge the gap between hip-hop culture and high-end fashion. 10 years later, Rocky's cultural impact can still be felt.
Live.Love.A$AP, the debut mixtape from then unknown 23-year-old Harlem rapper A$AP Rocky, was the product of a mini musical revolution.

Released on 31st October 2011, it embraced post-geographical internet culture, pulling different sounds and styles to create a new innovative one; Southern rap subgenres, entwined with a grittiness that harkened back to Rocky's Harlem heroes, including his namesake Rakim. In parts it's gauche and luxurious too, as Rocky name checks high-end and up and coming fashion brands with a flamboyance of New York greats like Dipset and Dapper Dan.

The discovery of Rocky, (previously, he was ​"self-employed, a street pharmacist" – a wink and a nod to his drug-dealing past) provided a vessel in which a generation of kids could find their own unique form of expression. The self-proclaimed ​'pretty motherfuckers' braggadociousness matched with a hedonistic approach to moral decay, a considered respect for fashion, and a new kind of inclusivity that, aided by the far reaching climbs of the internet, blew apart of hip-hop tribalism and favoured experimentation – towing the line of appreciation over appropriation.
Explaining the success of the mixtape requires looking at the years leading up to its release. With the bulk of the hip-hop industry being based in New York City, the East Coast had a cultural stronghold on the genre from its inception. But by the late ​'00s, traditional NYC hip-hop was experiencing a dry patch, and Atlanta trap was surging towards mainstream domination, and so New York was eagerly looking for a local star to embrace.
Around this time, the internet was a fruitful place for open-minded musicians, with an influential blogosphere bypassing traditional media gatekeepers, MySpace encouraging music discovery and file sharing software like MegaUpload helping budding producers and vocalists to confer and experiment without ever having to meet face-to-face.

One such experiment paved the way for Live.Love.A$AP. In 2009 the free-spirited, oddball rapper Lil B released the epic track I'm God, produced by a new name, Clams Casino, who was then studying physiotherapy. Sampling Imogen Heap's Just For Now, the song felt genuinely subversive: it's unmistakable hip-hop drums encircled by spacious ambience – what would be dubbed ​'cloud rap'. ​"I remember not really thinking much of it," said Clams to Red Bull. He'd sent the instrumental to a number of people before Lil B, but ​"he was the first one that had the reaction of like — he freaked out, he heard something in it that I didn't really even hear myself. He immediately knew it was a special one before I did."

While I'm God influenced a wave of soothing, spaced-out hip-hop instrumentals, another hazy sound emerged on the darker end of the musical spectrum. In Miami, a young, elusive producer and rapper had begun making ripples underground with his haphazard releases, first as Muney Jordan, before settling on the moniker SpaceGhostPurrp by 2011. His murky and lo-fi music was heavily inspired by ​'90s and ​'00s hip-hop, in particular Houston's chopped and screwed, Three 6ix Mafia's gothic era, and G‑funk, with lyrical content that mirrored the regional dialects of artists (keeping it trill, bring back the ​'phonk', tales of drinking lean). He began to gather a large collective of rappers, also dressed in black and with a retro fetish, going by the name of the Raider Klan.
Purrp's dark, grizzly was starting to pique the interest of an online audience, eventually landing in the orbit of the late A$AP Yams. Having started A$AP Mob in 2006 along with A$AP Bari, A$AP Kham, and A$AP Illz (Rocky joined in 2008), Yams was the crew's behind-the-scenes string puller. A mutual respect formed: Rocky and Yams at SGP's fresh take on southern hip-hop, propensity for beat making ("SpaceGhostPurrp and Ty Beats taught me how to produce in 2011. They taught me how to make beats," said Rocky) and aesthetic, and SGP's at the growing influence of A$AP Mob as a cultural force. Their camaraderie was evident. In an early filmed interview with The Fader released a few months before the release of the mixtape, along with other Mob members sit in communion with SGP, Rocky even introducing him as his twin.
Having produced five tracks on Live.Love.A$AP – including highlights like Wassup and Bass and Demons (featuring another Imogen Heap sample) – it's difficult to overstate the influence that Clams Casino had in creating the sonic universe of Live.Love.A$AP. Alongside producing just one track (Keep It G) and having two guest verses on the original release, SpaceGhostPurrp's aesthetic influence is arguably all over the tape – if you are to believe, as Purrp has claimed in recent years, that he Southern rap references were largely his idea.

On the single Purple Swag, Rocky pays tribute to lean – the codeine-laced cocktail traditionally associated with Southern rap scenes – with an open ended character brief that appeals to the hedonistic and rebellious. ​"This is for my niggas getting high on the regular, this is for my bitches getting high on the regular," he raps with a cool crudeness. Rocky's New York lilt is unmistakable despite the fact his voice has been deepened, or chopped and screwed in the style of that Houston sub-genre that influenced SGP so greatly.

Rocky released three videos to support the project, with Purple Swag and Peso garnering the most attention. The former in particular is confronting and controversial. A white, cherub cheeked blonde girl raps along to the lyrics, not censoring the n‑word, ironically adorning a heavy gold grill on her bottom teeth that are usually worn by Black ​"bad boys".
Both videos keenly presented Rocky's unfleeting love of fashion: ​"I'm going to be a fashion icon, I mix streetwear and high fashion…it's never been seen before," said Rocky in an early interview. A bold statement since it's almost impossible to separate streetwear from high fashion these days, but in the years leading up to Live.Love.A$AP it felt new and genuinely disruptive to the status quo of that time.
Where rappers before Rocky carved out space for themselves by launching clothing lines like Sean John and Roca-Wear ("Clothing lines created by rappers are corny," he'd say at the time) he chose to align himself with high end fashion houses (in Peso he raps, ​"Raf Simons, Rick Owens, usually what I'm dressed in"), and up and coming streetwear trendsetters like Virgil Abloh who shared his vision (Virgil would also go on to design the merch for Rocky's first tour). Hanging out in New York's Soho would lead him to meet edgy trendsetters like Luka Sabbat and Kerwin Frost, and window shop streetwear, namely at Prohibit, which sold pieces from Blackscale – a line that essentially became the Mob's uniform for a time, as seen in Purple Swag and Peso videos.

The mixtape and the videos were met with acclaim; Pitchfork declared Live.Love.A$AP ​"a triumph of immaculate taste." But, in tandem with his success came the souring of his relationship with SGP, with a public falling out ensuing less than a year since the mixtape's release. Rocky's virtually immediate and exponential success uncovered an underlying bitterness, with SGP claiming to have taught Rocky ​"everything he knew – from his sound, his ability to rap and his fashion. Rocky would deny this, claiming that their interest in Southern rap and purple drank went as far back as 2006, and as for fashion, ​"I've been into fashion since birth," he'd say.

But while the similarities between the two are clearly there, it's evident that SGP's quirks were better suited for the margins, while Rocky was the conduit for something greater. On Demons, he raps ​"hipster by heart but I can tell you how the streets feel." He marketed himself and his collective for the defiant and insubordinate; rich white rap fans with a taste for danger and Black kids who were cast as outsiders in their communities. So, first came the $3 million solo and ASAP Worldwide deal with Sony RCA, then a super star cosign (Drake), then a superstar girlfriend (his pipeline from Iggy Azealia to Rihanna is nothing short of remarkable).

Soon, Rocky and A$AP Mob would establish themselves as the ultimate endorsement. Seeing him dressed in Hood By Air or Been Trill dictated that his army of fans followed suit. ​"If it wasn't for A$AP, man, there wouldn't be no Hood by Air like there was Hood by Air, there wouldn't be no Pyrex, Off-White," Rocky said in an interview two years ago. As Rocky's star power grew, he became something of an A&R, recognising and elevating others in the Mob, namely A$AP Ferg and Playboi Carti who moved on from Atlanta collective Awful Records to sign with A$AP's AWGE label.

It hasn't all been smooth sailing – from Rocky's controversial comments in interviews, his arrest in Sweden, Yams' untimely passing and A$AP Bari's sexual assault case. In some ways, Rocky seems more out of reach, perhaps more aware of his sphere of influence and maybe in part from the backlashes to unpopular statements he's said in interviews that will live on the internet in perpetuity. Either way, he's now an elder, respected statesman of hip-hop whose influence isn't waning.

"My music is tastemaker shit… it's the future," Rocky said, speaking to Interview magazine just a few months after Live.Love.ASAP​'s release. With hindsight, he was right. The project still sits as the 7th most downloaded mixtape on DatPiff.

Listening to the mixtape today, around its 10th anniversary, it feels like an archive of an exciting time in pop culture; the early rupturing of the status quo to some extent, but also the discovery of a true star power with the ability to straddle the mainstream and the margins. It's the hood-hipster pied piper starting his journey, rapidly accumulating a global legion of loyal followers.


More like this