Kerwin Frost: ​

"

I'm just trying to catch the next wave"

From a 2012 internship to being one of fashion's most in-demand personalities, the new dad-of-one and thrifting king is one of adidas Originals' newest creators.
"People in Harlem always did have a different outlook on doing things," says street style icon, talk show host and adidas's newest ​"creator", Kerwin Frost.
A man whose sense of style was formed on the streets of his New York borough, and one of the fashion industry's most unusual and in-demand creatives, the campaign with the sportswear giant features Kerwin modelling as a Yeti, an alien and the Hunchback of Notre Dame, with the outfits all stamped with the iconic three stripes.
Even for a brand known for choosing creative collaborators, the campaign is one of weirdest to come out of the adidas's Originals line-up, and means that Frost follows in the footsteps of his heroes Missy Elliot and Jeremy Scott.


The New York Times once described Harlem as ​"the American saga packed into one neighborhood". As the birthplace of Dapper Dan, the Diplomats and the A$AP Mob, its influence as one of the cultural capitals of Black America looms especially large over fashion.
It could be argued that some of streetwear's early origins can be traced back to Harlem in the 1980s, when Dapper Dan emblazoned the logos of Louis Vuitton and Gucci onto the leather jumpsuits and jackets that he tailored for local drug kingpins Alpo and Rich Porter.

Later on, rap legends such as Eric B and Rakim, who wore his designs on the cover of 1987's groundbreaking Paid In Full, would help to further popularise the look.
When Frost was growing up there in the early ​'00s, drug dealers were still as influential as rappers when it came to serving the most outlandishly flamboyant looks.
"I remember seeing one of the local drug dealers in Harlem wearing the Moncler X Pharrell jacket that had all the little trees on it, but with a tank top and some fur Ugg boots," remembers the 25-year-old, as we speak over Zoom from his home in Los Angeles.
"I was like: ​'What the hell is that?' Firstly, how did you even get the jacket? I'd never seen anyone wear it like that before. That's when I knew that I could get away with murder in Harlem," he adds (read: he could wear whatever the hell he liked).

Frost credits these early experiences with inspiring his bold sense of style, which has helped him become one of the most unusual and influential street style personalities on social media. He's come a long way from standing all night in the queue outside Supreme as a 16-year-old to flip gear to tourists at a profit, while also hanging out in SoHo streetwear stores like BAPE during the day.
A 2012 internship at online fashion Mecca VFiles helped him form friendships with photographer Kevin Amato and designer Heron Preston, who co-founded the streetwear brand Been Trill with Virgil Abloh. The arrival of Instagram during this period was another stroke of luck, with the platform seemingly precision-tooled to broadcast his avant garde streetwear sensibility to the widest possible audience.
"It was like we're all like Pokémon spread out all over, all with different stories and kind of figuring it out," says Frost, who also formed his own merch/​DJ crew the Spaghetti Boys (they disbanded in 2018).
Soon, he was being tapped by brands to repurpose, wear and/​or advertise their designs. An iconic Frost ​'fit was served at the 2019 Moncler Genius show in Milan: an insanely oversized white puffer ensemble designed by Craig Green, in which Frost almost resembles a human bouncy castle.
"My take on Moncler really came from Harlem and seeing that drug dealer wearing the Pharrell collab," says Frost. ​"So when I saw the Craig Green look, I really knew what it would mean to the ​'hood."
The accompanying caption on his Instagram read: ​"Wore this 100lb suit on the plane to Milan to prepare for the Moncler show, where I would have to wear this in a crowded space for 2 hours! Was it worth it? YES, it was my pleasure!"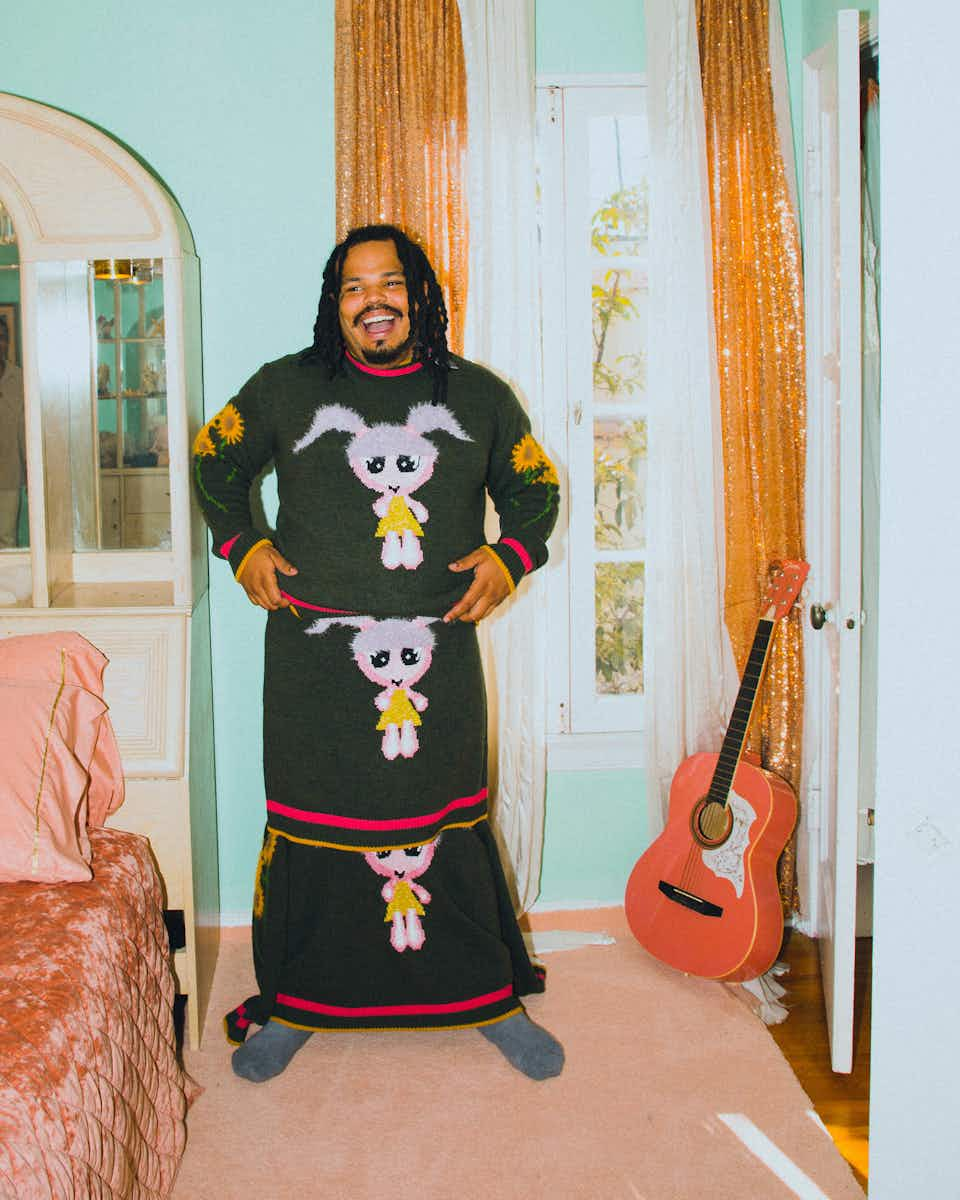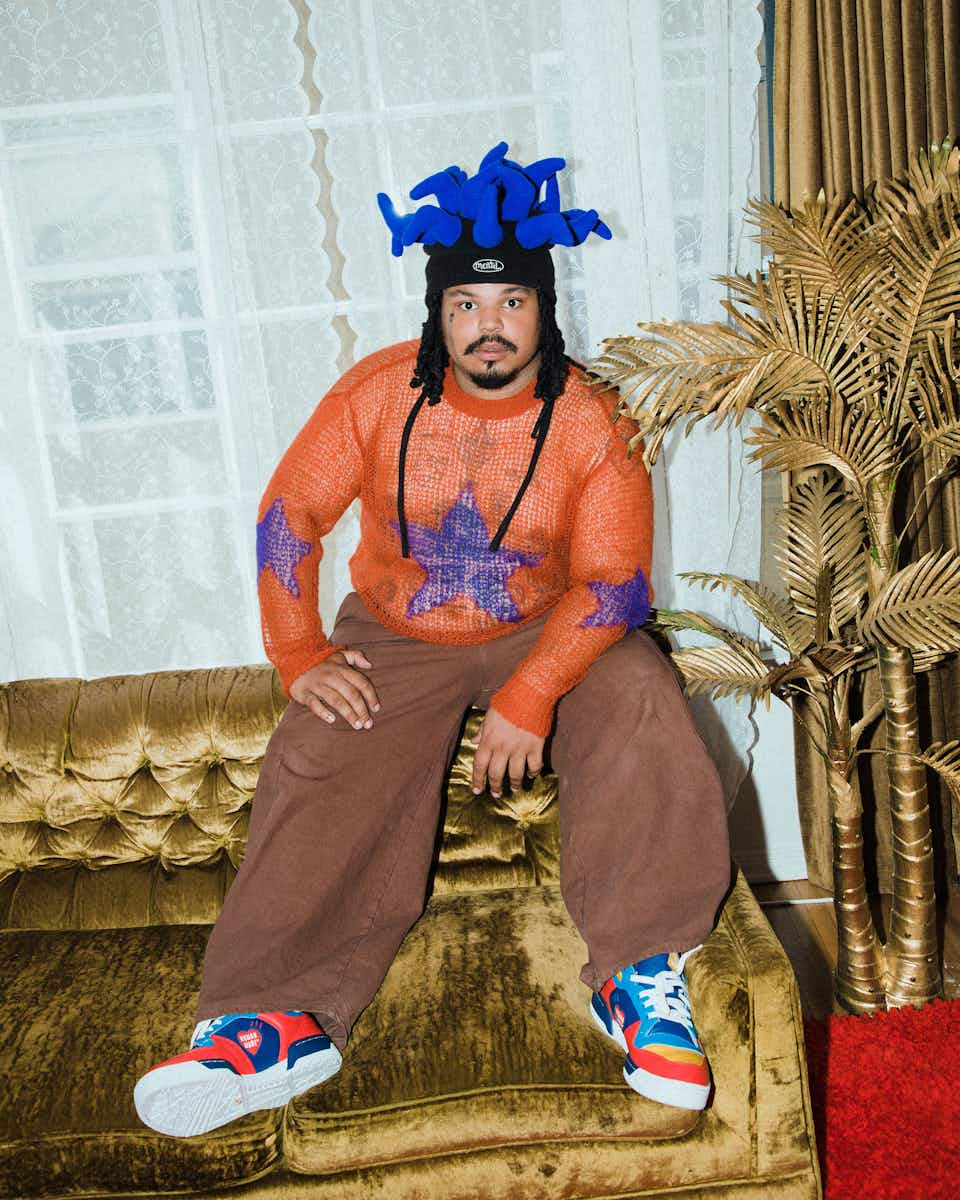 When given a standing-room-only ticket for the AW 2019 Dior catwalk presentation, Frost decided to steal the show by accessorising a thrifted, grey double-breasted suit and a Hood By Air Sinead O' Connor T‑shirt with a pair of huge angel wings by New York designer, Luar.
While some of his outfits are definitely worn as Insta-stunts to gain attention, Frost takes an almost archival approach to fashion connoisseurship, and talks with great knowledge about members of the Antwerp 6 and his favourite designers from the latest crop of Central St Martin's graduates.
But Frost was already rubbing shoulders with Harlem's fashion legends way before he found fame. ​"This was before he had the whole comeback," he says of meeting Dapper Dan in his brownstone on 35th Street in Harlem, after making friends with his grandson. Dan was, at that point, a hugely influential figure who'd fallen into obscurity, after being sued by Louis Vuitton and Gucci in 1992 for copyright infringement of their logos.
He shot back into prominence in 2017 after Gucci mimicked one of his jacket designs from the ​'80s for a cruise collection. In the ensuing social media controversy, Gucci finally acknowledged Dan's influence on fashion and entered into an official partnership with him on a ready-to-wear and accessories line.
"I knew about him, of course," continues Frost, ​"but his grandson took me there and I was like: ​'Holy shit…'
"I went to the basement and I got to play with all the fabrics and wrap myself in Gucci and Louis Vuitton leather prints. When I went upstairs, it was him and Busta Rhymes in his living room. This was before anyone knew me. A lot of flavour came from there."


A quick glance at the biographies of fashion designers often reveals how creativity and fantasy were means by which to escape a difficult childhood and reclaim a sense of paradise lost.
"One hundred per cent," shoots back Frost, who now lives in LA with his wife, Erin Yogasundram, and one-year-old daughter, Waffle. He's dressed up for our chat, wearing a huge piece of foam merchandise from the American fast food chain Popeyes as a hat, with a Ralph Lauren rugby top and a pair of jeans. Just visible is his distinctive face tattoo of a pencil running down his cheek, one of some 19 pieces of ink art scattered over his body.
His outfit seems to represent the dual identity of the man he is today. On one hand the hat screams ​"Kerwin the zany fashion meme", while the practicality of the bottom half shows that he is a dad with lots of dad stuff to do. Conducting the interview in his sunny backyard, Frost seems at home in a familial scene that's idyllic, comfortable and middle class. It's a long way from his own troubled background. As he puts it, ​"My childhood holds so much pain and a lot of it ties back to wanting acceptance."
It was Frost's father – whom at that point, he'd only met two or three times as a child in his life – who turned him onto scouring thrift stores for clothes.
"He said that thrift stores were like Macy's and that stuck with me forever. I would go crazy," he remembers with a bittersweet laugh. ​"I mean, I would even go to the Salvation Army with $20 and change the tags all the time to make things $1. I was down bad. I cared that much."

The young Frost used thrift store finds to recreate designer looks he couldn't afford. In doing so, he'd end up with something much weirder and, in many ways, much more interesting (and more Kerwin) than the original.
Case in point: ​"Calvin Klein had the neoprene cloud collection, which I really wanted, so I ended up getting a neoprene bodysuit from the Salvation Army and then wore that with a construction helmet."
Despite an abundance of unusually fashionable drug dealers, Harlem remains an extremely dangerous neighbourhood in which to wear crazy clothes. During its pre‑A$AP Mob era, just wearing skinny jeans was considered extremely controversial, especially if you were Black or hispanic.
"I just had the arrogance of walking out like that at one in the morning in Harlem coming home from something," says Frost, remembering how he navigated the mean streets in those outfits. ​"And this super big OG hood dude, like, drug dealer, elementary school teacher that I knew there pressed me like: ​'What the fuck are you wearing?'"
Frost replied simply. ​"I'm just trying to catch the next wave."


The drug dealer laughed uproariously, leaving Frost to live and dress another day.
"I would always get away with wearing crazy stuff and kind of serving people with one-liners. They love that."
Later, having connected with the SoHo fashion crowds, Frost parlayed all that – the unique sense of style, larger than life confidence and street smarts – into a portfolio career that made him more than just another Insta-influencer.
Key amongst those was 2019's launch of his YouTube talk show, Kerwin Frost Talks, on which he interviews people such as Tyler, The Creator, Post Malone, his best friend Luka Sabbat, and Fear of God designer, Jerry Lorenzo, who refers to Frost as the ​"Oprah of streetwear".
There's a moment in the A$AP Rocky episode when the pair spend a few moments sharing shoplifting tips. Rocky would take the items home and break the security tags, while Frost preferred to use a pair of scissors to cut around them. When asked now about this period in his life and his approach to fashion, he sums it all up by quoting another famous former Harlem resident, Malcolm X: ​"It was kind of ​'by any means necessary.'"

Now, with the whole fashion world at his fingertips, the thrift store and that early Harlem flavour are never far behind. ​"To me, thrifting is almost better and has more character," says Frost when asked to think about how he defines ​"luxury". ​"When I thought I was making something that looked like ​'luxury' from scraps, that to me is more ​'luxury' than actually getting to pull clothes from the greatest designers in the world. It's what you make of it that's important."
For all his out-there style (and face tattoo), Frost seems like a pretty regular dude. In the context of the fashion industry, that's probably the most radical thing you can possibly be. Nonetheless, the hardest part of fatherhood for Frost seems to be to figure out how to dress appropriately.
"I think becoming a dad was like a big moment of, like: ​'OK, well dads don't dress like this…' So what's the balance of being a dad and dressing up?"
True to form, it didn't take long for Frost to come to a conclusion, which manages to be simultaneously rather sweet while remaining true to his fashion mad persona.

​"You just have to match your swag and make sure she's on point with it, too," he says of his daughter, who, like her father, has a penchant for Gucci. It's really, really interesting finding those things and you end up mixing it all together." Not even fatherhood can stop this man's love of freaky fashion.

More like this