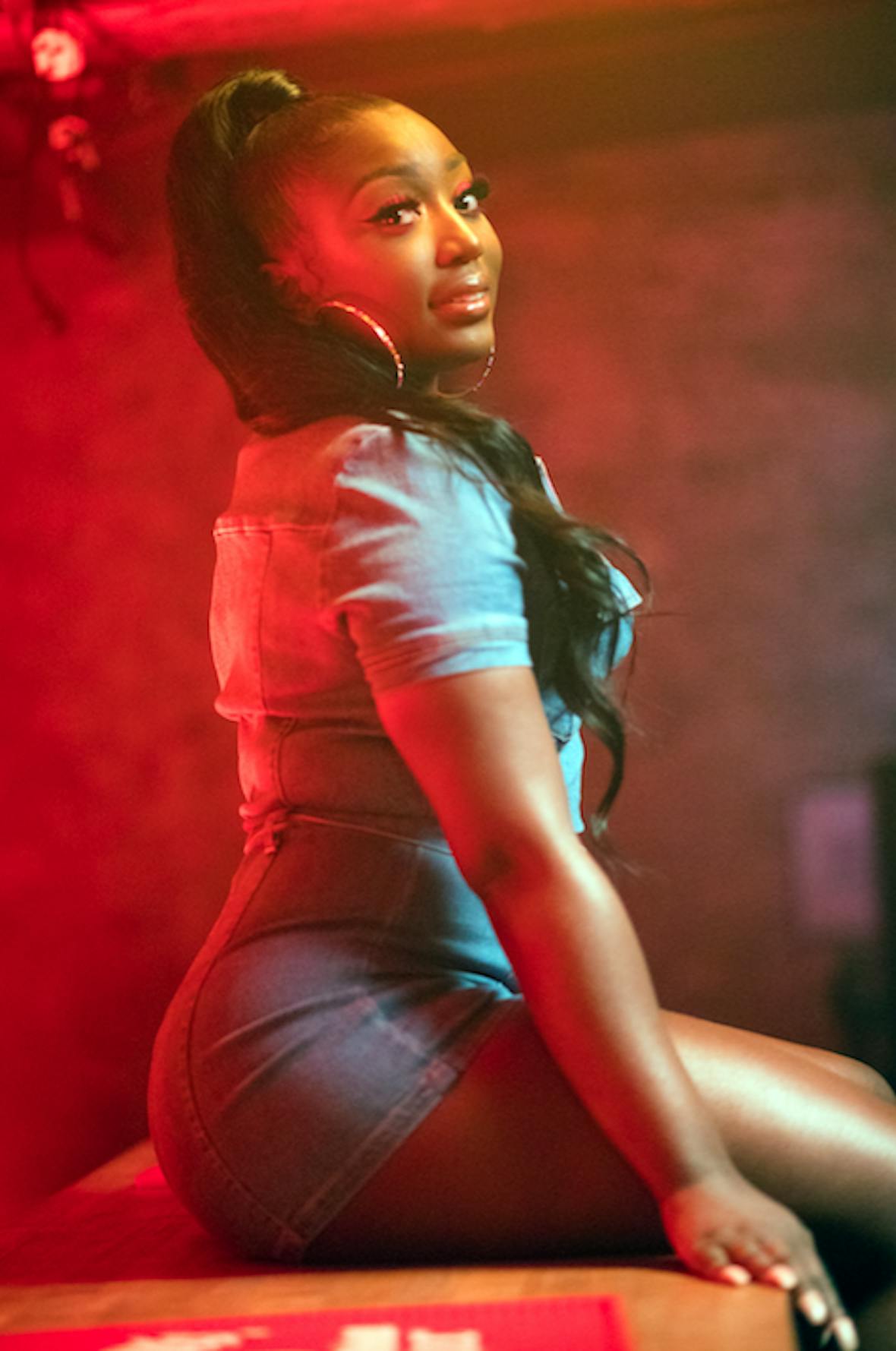 100

% Br

3

nya: the ris­ing rap­per ready to blow
Good Food rap­per Br3nya's got the UK scene swoon­ing. Mix­ing a hip-bop­ping afro swing sound with bold, enrap­tur­ing bars, the West Lon­don­er has risen from Insta­gram freestyle chal­lenges to head­lin­ing Isling­ton Acad­e­my – all in the space of two short years. Chan­nel­ing her charis­mat­ic, life-affirm­ing ener­gy into a slate of note­wor­thy sin­gles, the 23-year-old has built her­self a rep­u­ta­tion for spit­ting sharp-wit­ted punch­lines. From Good Food's ​"I'm not a snack, I'm a whole damn meal" to ​"You dropped hel­la tunes, not of dem banged" off her vibey Dou­ble Dutch track, the MC is accu­mu­lat­ing a com­mit­ted legion of fans with her unwa­ver­ing self-confidence.
Co-signed by the likes of Stor­mzy, Maya Jama and Don­aeo and work­ing with estab­lished pro­duc­ers DJ P Mon­tana and C Big­gz, the ris­ing rap­per is well posi­tioned to blow. As she drops the visu­als for her lat­est track with Dark­oo Juice, The Face get to know 100% of Br3nya.
10%: Where were you born, where were you raised and where are you now based?
Born in Lon­don, Ham­mer­smith. I've lived here all my life so I'm a West Lon­don girl. I've been here for­ev­er – it's all I know I'll nev­er leave. I love it here.

20%: At what point did you realise you'd be able to do what you love for a living?
When Nic­ki Minaj first came out rap­ping and stuff, I was 14 or 15 and that was when I got into express­ing myself in that same way. It was the first time I'd real­ly seen a woman talk the way she was talk­ing and I just thought ​"Oh my god, I can relate, I can write the same way". When I start­ed real­is­ing I could do it to the pub­lic and enter­tain peo­ple was when I first freestyling and peo­ple were going crazy. That's when I first saw the vision properly.
30%: What's a piece of advice that changed your life?
From my sis­ter, real­ly. She told me not to wor­ry about what peo­ple think too much. That was always what stopped me from putting stuff out there. It took me so long to put out even mini freestyles on Insta­gram and stuff like that. I've always per­formed in chal­lengers and stuff like that and nev­er put them up, but she encour­aged me to just do it.
40%: What kind of emo­tions and expe­ri­ences influ­enced your work?
I draw from, what I like to call, self-gass – a bit of hype. So when I'm feel­ing myself or if I'm in a good mood, that's the eas­i­est emo­tion for me to write off. I've got lots of ener­gy and I can put it into my music. I think anger works as well. When I'm angry I think that's when the most sav­age lyrics kind of come out. If you hurt me or if an ex does some­thing wrong I've instant­ly got my phone out and voice record­ing lyrics. I think those are the two emo­tions I feed off the most.

50%: What can you tell us about your next project?
I'm try­ing to col­lect a body of music. Whether I do a sin­gle before I release my EP I'm not too sure. But with the EP it's going to be a col­lec­tion of vibes and dif­fer­ent sorts of sounds. Main­ly focus­ing on myself and show­ing peo­ple what I can do. Like, I've done a few sin­gles now and it's kind of like, let me show you guys what I real­ly do.
60%: Break down your typ­i­cal day at work…
On a stu­dio day I'll prob­a­bly start off around 10am. I'll go to the stu­dio where I'll make every­body order me food – like every­body order me piz­za! And then I'll prob­a­bly fuss for a bit, like, ​"Oh I'm too hot" or ​"I'm hun­gry" or ​"I've eat­en too much". And then I'll get to work until the ear­ly hours of the morning.

70%: What can artists do to help save the world?
Tell their truth and inspire. When you're an artist you have such a big voice and what­ev­er we say can have a prop­er big impact on peo­ple. You've got­ta make sure, well not to be a per­fect role mod­el, but you got­ta give them some­thing to look up to and make a dif­fer­ence in the world.

80%: Who would you most like to see on the cov­er of The Face?
Me? [Laughs] I can't real­ly think of any­one else, I mean…

90%: You rule the world for a day. What went down?
I'd give all women crazy pow­er and turn every­thing upside down. Men would lit­er­al­ly be at our feet. There would be no inequal­i­ty in terms of racism and gen­der and that kind of stuff. There would be no evil – I know you need bal­ance in the world but there would be a lot less drama.

100%: Love, Like, Hate?
Love music, like mon­ey and hate being hungry.

---