100% dvsn: the OVO Sound signees putting everyone in their feels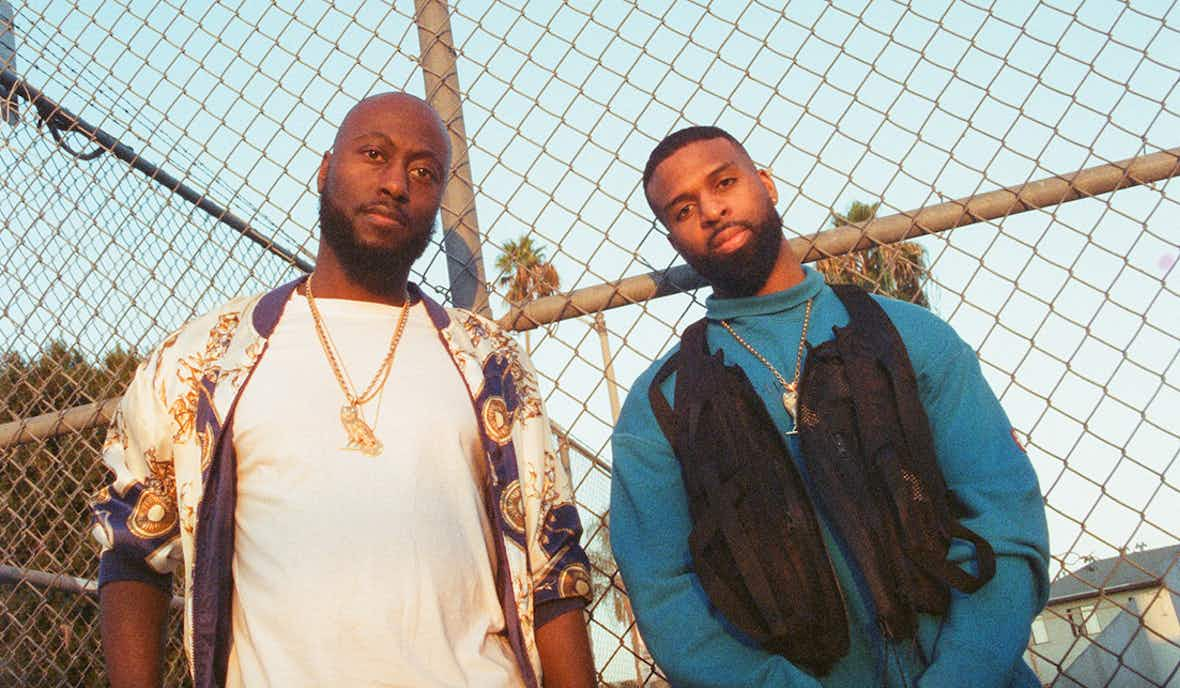 The Canadian R&B duo – singer Daniel Daley and producer Nineteen85 – return with their third album A Muse In Her Feelings, out today.
In February 2016 OVO sound co-founder Noah ​"40" Shebib uploaded a division sign onto his Instagram. Captioned "@dvsndvsn @ovosound", the post indicated that the Drake-affiliated label had signed dvsn (pronounced ​"division"), the mysterious act that was building hype via two Soundcloud tracks uploaded in 2015. At this point, little was known about the duo behind narcotic sex bangers like The Line and With Me.
A spot opening Drake's 2017 The Boy Meets World Tour soon changed that. Fans learned that Grammy Award-winning producer Nineteen85 (who also produced Drizzy's 2015 earworm Hotline Bling) was the master of dvsn's syrupy synth production and that alt‑R&B singer Daniel Daley was the face behind the crooning falsettos heard on their tracks.
Now, thanks to their commendable Sept. 5th and Morning After projects, the two have cemented themselves as one of Toronto's finest exports – alongside mentors Drake and ​"40", obviously. It's a title earned thanks to a winning recipe that blurs new and nostalgic R&B sounds with vulnerable, intimate lyricism (Run Away is a case in point: ​"Run away I'm no good for you/​Run and find somebody better").
On the eve of their third album drop, we dialled up the quarantined duo to get the 100% scoop.
10%: Where were you born, where were you raised and where are you now based?
Daniel: All the same answer: Toronto.
20%: At what point did you realise you'd be able to do what you love for a living?
D: For a living? That would be a couple years ago, about 2016 when we got signed.
Nineteen85: My first real success was in 2013 when Just Hold On We're Going Home came out. But even then I still wasn't sure it was something that would keep happening.
30%: What's a piece of advice that changed your life?
D: I was told by ​"40" that when I'm writing a song, always trim off all the fat. If there are any parts that people can't wait to get to, just give them that part. Only fill a song with those parts and cut off everything else. If it ends up being a short song, that's ok ​'cos as long as you give them exactly what they want, people usually end up falling in love with the record. That changed how I made music from that point on.
N: That's funny because I'm going to give some ​"40" advice, too. When we were working on Nothing Was The Same back in 2013, he said, ​"Don't get frustrated when you're sending ideas to Drake because he is one of the more pickier artists, because he knows what he likes. A lot of producers get frustrated trying to give him that one big hit song. But, if you're the producer that helps him get through that process and provides the soundtrack he's looking for, you're going to do way more."
40%: What kind of emotions and experiences influence your work?
D: For me, all of them. I've written records with passion, frustration, anxiety, love, lust… there isn't really a topic which I don't have a song about. It's funny because I'm not sure if dvsn fans have heard all those sounds yet, but this album is definitely going to be step one into that – feeling vibes they haven't felt from us before.
N: I think I really like the darker sounds even though I'm known for making happier, upbeat records. I will almost always start with something that sounds a little bit darker.
50%: What can you tell us about your next project?
D: Find out for yourself in a couple hours.
60%: What does a typical day at work look like for you?
D: Get a vibe with the lighting. Have some conversation that I'm sure my label wouldn't want me to be having considering we're paying for the studio time. But usually that will spark an idea for something that could end up being a song. Some hookah in the back, a drink, a few vices. But apart from that, we converse our way into songs.
70%: What can artists do to help save the world?
N: Just keep creating. I think right now people are looking for anything that will take their mind off of being worried about getting sick or their family getting sick, or bored because they can't leave the house. Beside the obvious people on the frontline who are the essential workers taking care of all of us, I think the next step is the artists creating a process for people to get over this.

80%: Love, Like, Hate?
D: I love good food. I like the new show I've been watching called Dave by YouTube rapper Lil Dicky. I hate the idea of being so stuck in your ways that you won't even open your mind to the idea of more.
N: I love shoes. I really like cooking. I hate wasting time.

90%: How did you celebrate your last birthday?
D: I was in the Dominican Republic. It was actually my first real vacation, period. I went away once when I was ten to Jamaica with my family. But as an adult, that was the first time. It was great, I get why people do it.
N: I went to Hawaii.
100%: Last one, what's your biggest pet peeve?
D: People who spoil the ending of movies.
N: When people ask the exact same question in a bunch of different ways hoping to get a different answer.
Good job we gave you 10 completely different ones!

More like this