100% Wet Leg: the Isle of Wight duo who'd like to butter your muffin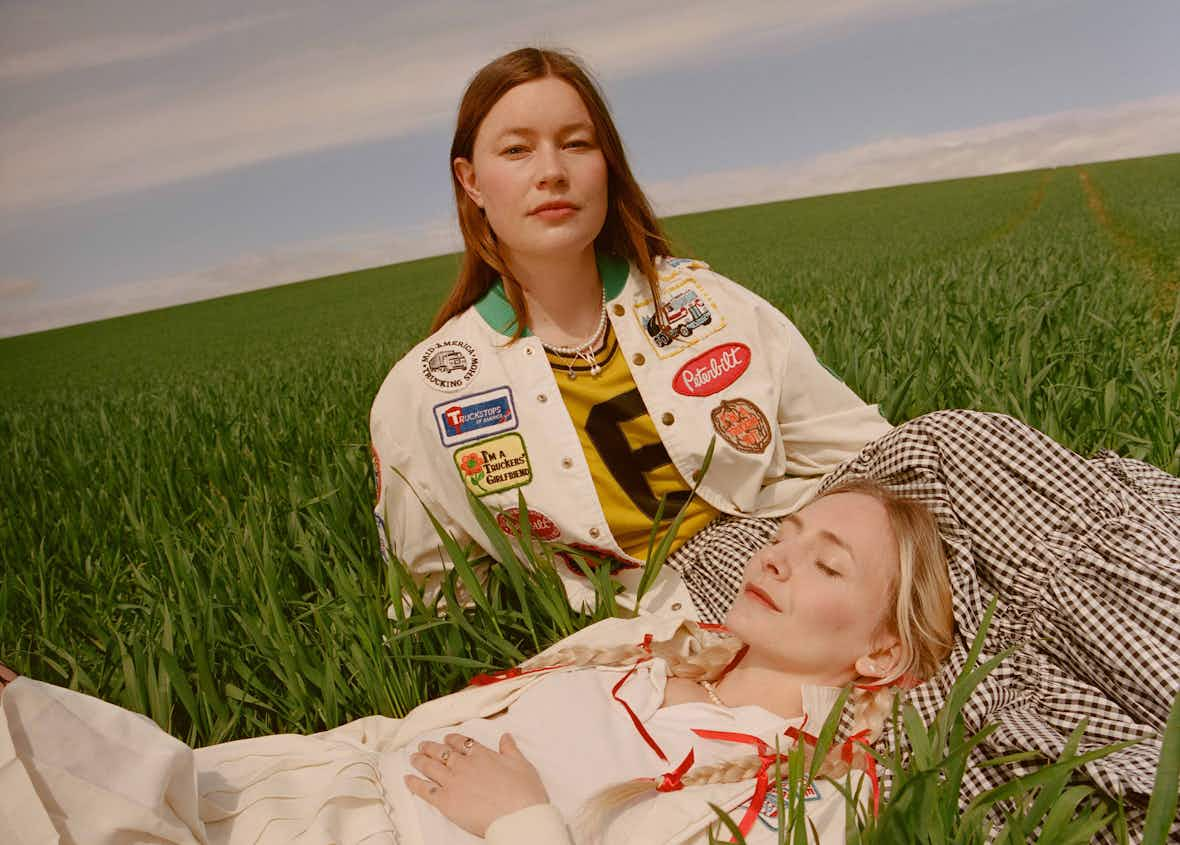 Right now, someone somewhere is playing their viral debut single Chaise Longue. As the pair unveil their criminally addictive follow-up, we sit them down to learn the importance of shredding, existentialism "and being silly".

Rhian Teasdale, 28, and Hester Chambers, 27 are Wet Leg, the brand-new duo who lit up summer with the virulently catchy Chaise Longue.
The pair's debut single, released on the reliably brilliant Domino label (you know, Arctic Monkeys, Cat Power, loads more), is a holy hook-up between Devo, Elastica and peak Pulp. A hammering synth-pop-punk bop boasting gloriously deadpan delivery from Teasdale (​"Is your muffin buttered?/Would you like us to send someone to butter your muffin?"), it's already within licking distance of three million Spotify plays.
The equally inventive video is easing into 1.3 million views on YouTube. As one YT commenter put it: ​"This is like if Anne of Green Gables invented punk. And it's a good thing." Not totally sure what that means tbh, but we'll take it.
One of the all-time great debut singles? Too early to call but, what the hell, YES IT IS.
Now comes Wet Dream, the equally catchy follow-up that's blessed with an equally quirktastic video. We met Ms Wet (Teasdale, ​"all the really simple guitar parts") and Ms Leg (Chambers, ​"I'll be able to shred one day") at Yala! Records' ace club night at Bermondsey Social Club in South London, just before their recent gig at the venue.
Check out their latest video and read on to hear how Wet Leg are 100% the best new band in Britain.

10% How did you meet?
Rhian Teasdale: ​"At music college on the Isle of Wight. They split our year in two and Hester was in the half of the year that was really good at music. We didn't hang out much because she was quite quiet."
Hester Chambers: ​"And Rhian was really scary. She's quite intimidatingly cool. I don't think I'd be the only person to say that."

20% It says here that you formed Wet Leg on the top of a Ferris wheel. Really?
Chambers: ​"It had been brewing because we'd been doing some things for Rhian's solo project – she was on piano, I was accompanying her on guitar. And we wanted to slam the guitar a bit harder."
Teasdale: ​"We'd just come out of watching Idles at End of the Road, and we were very, very drunk in a fun way. And we thought it'd be a good idea to come on the Ferris wheel with us. They were like: ​'Absolutely not.' And we went on anyway, were going round, and were really inspired by watching them play this really energetic set. Loud guitars seemed so fun. So we decided to make Wet Leg a thing."

30% Love, like, hate?
Teasdale: ​"Love: Hester Chambers. Like: broccoli. Hate: dating apps."
Chambers: ​"Love: Wet Leg, unashamedly. Like: broccoli, also. Hate: mayonnaise. Hate it."

40% Chaise longue aside, favourite item of furniture?
Teasdale: ​"Commode. That's a toilet in a chair, so you can just be in your lounge and you don't have to go anywhere."
Chambers: ​"Bed, because I love to sleep. And Rhian has to sleep on a very lumpy chaise longue when she stays at my house. It was my grandma's. That was the jumping off point for the song because Rhian had been sleeping on it for a few weeks. And the song came out in a sporadic jam."

50% What emotions/​experiences influence your work?
Chambers: ​"Existentialism."
Teasdale: ​"It zig-zags between that and total disregard for anything that resembles Serious Music. Fun is so important. Being really silly is important."

60% Who's the best other artist on Domino?
Chambers: ​"Richard Dawson."
Teasdale: ​"I don't like the ​'favourite' question, but I do love Sorry."

70% Should we visit the Isle of Wight Garlic Farm?
Teasdale: ​"Yes. They do really good sweet potato fries."
Chambers: ​"No, there are better things to do. But it is a reputable restaurant to go to."

80% What's your debut album going to sound like?
Chambers: ​"Hopefully people will get a nice surprise. And you can expect singing! People have asked that a bunch because Chaise Longue is quite spoken."
Teasdale: ​"It's not all about furniture."

90% Who would you most like to see on the cover of THE FACE?
Chambers: ​"Dan Carey from Speedy Wunderground label."
Teasdale: ​"There's a band called Holiday Ghosts that I really love, that I discovered recently at Latitude. They're really cool. Or Honeyglaze. Can I change it to Honeyglaze?"

100% What's the worst way to get a wet leg?
Teasdale: ​"Obviously it's pissing yourself involuntarily."
Chambers: ​"Or, someone else doing it. That's probably worse. Unless it's consensual."


More like this