The story of Adele in 10 tracks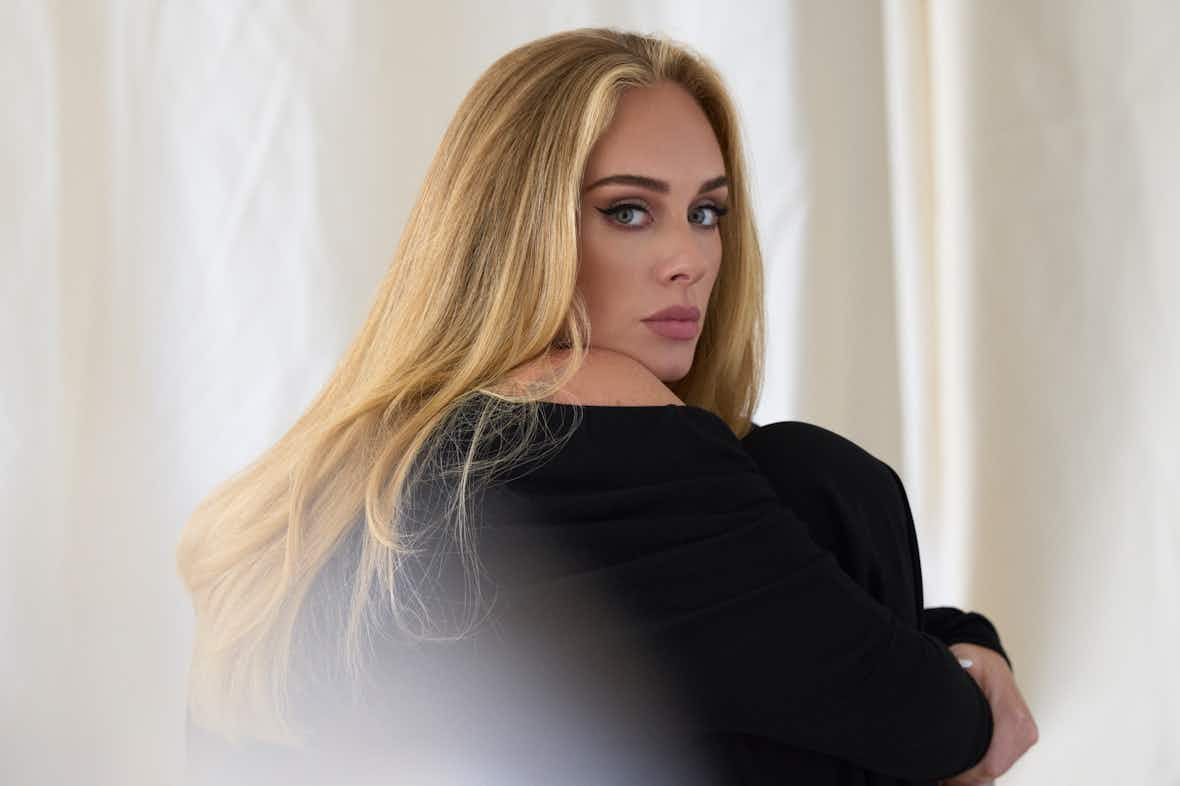 Brace yourself: the British ballad queen has returned with her soaring new single Easy on Me. Here, we revisit her hits – which are some of the biggest breakup anthems ever committed to record.
After 18 months of sitting in our feelings, it's time to brace ourselves for a cathartic emotional purge. Six long years since the 22m-selling album 25, Adele is finally back with the first taste of her fourth album, 30. Asked on a recent chaotic Instagram Live – one that touched on Peppa Pig, PC Music and her Nando's spice of choice (medium) – about the album's themes, Adele replied ​"Divorce, babe, divorce". A sure sign of an impending sad boy/​girl autumn.
Today marks the release of the album's lead single, Easy on Me. But before we get to the present, let's take a look back at the songs that mark out her career so far.

Adele's first single, written in 10 minutes when she was just 16, instantly set the tone for what was to come. Inspired by her mum suggesting she leave West Norwood, South London for university, Hometown Glory​'s conversational lyrics draw you into a love letter for the capital that signposts Adele's penchant for wistful nostalgia. She reflects broadly on all the people she's met, describing them as ​"the wonders of this world". There are specific details, too; a lady coming up to ask if she needs help is met with a kind ​"No, and thank you, please madame /​I ain't lost, just wondering". It feels like the perfect snapshot of that teenage mid-point between childhood and adulthood, a fact later anchored by its appearance in a particularly emotional episode of Skins.
2. Chasing Pavements (2008)
This follow-up to Hometown Glory was Adele's proper commercial breakthrough, peaking at number 2 in the UK and skimming the US top 20. Its inspiration came to Adele in a pub. Or, more specifically, outside a pub, where she suddenly found herself having just punched her cheating ex-boyfriend in the face. ​"What is it you're chasing?" she thought. ​"You're chasing an empty pavement." Buffed to a high gloss sheen by producer Eg White, it's the emotion in Adele's voice – still a little rough around the edges, specifically on the sky-scraping chorus – that marked her as different to the other retro-soul artists flooding the market in the wake of Amy Winehouse's success. It also confirmed her ability to transform personal heartache into universal anthems.

3. Rolling in the Deep (2010)
While debut album 19 had been a success, 21​'s lead single sent things stratospheric. Described with 100% accuracy by Adele as a ​"dark, bluesy gospel disco tune" it once again channels heartache but this time uses it for fuel. ​"There's a fire starting in my heart," she warns some no-mark ex at the song's start, before adding: ​"Don't underestimate the things that I will do".
While the songs on 19 seemed to pick at the debris of one of many shitty teenage relationships, here it feels like she's marking the catastrophic demise of something properly great. It reflects not only a more confident, bolshy Adele, but also one keen to take more risks musically. Adele also credited producer Paul Epworth with pulling new colours from her voice, as heard on the glowering ​"we could have had it alllllllll" chorus.
By her second album, fame had started to throw up its own set of complications. Co-written with OneRepublic frontman Ryan Tedder, the bluesy, stomping Rumour Has It was inspired not by blogs or tabloid mutterings, but by Adele's friends who had started to believe the lies. That anger bubbles to the surface during the song's excellent bridge, which emerges elegantly out of the sonic swamp of double-time handclaps, elasticated guitar riffs and wonky barroom piano. ​"All of these words whispered in my ear," she sings as if deflecting a mate leaning close in a busy bar, ​"Tell a story that I cannot bear to hear." Elsewhere she sets her sights on the same ex as Rolling in the Deep, teasing him for leaving her for someone ​"half your age". It's the painted nail emoji in song form.

5. Someone Like You (2011)
In myriad different ways, it's a shame the spell Adele had over the 2011 Brit Awards audience during the live premiere of this instant classic was broken by James Corden. ​"Wow," the show's host deadened as glitter confetti rained down and everyone wiped a tear from their cheek. If you could forever live in that post-final note stillness – when a passionate Adele, jabbing a finger at the air, suddenly melts into pure vulnerability – you probably would. It's after this performance that Adele's career went properly interstellar; the song became her first UK number 1, her second in the US, and was the catalyst for 21​'s genuinely astonishing 31m sales. The counterpoint to Rolling in the Deep's confident kiss-off, Someone Like You is Adele on her knees, trying to make sense of the break-up that dominated 21. It also marks a lyrical motif she'd revisit later of imagined conversations in an imagined future, with the past refracted into new shapes.
6. Set Fire to the Rain (Moto Blanco Edit) (2011)
21​'s third single, and Adele's third US number 1 in a row, was atypical in that it didn't come with a music video. In the midst of 21​'s record-breaking success, Adele underwent microsurgery on her throat to remove a benign polyp, eventually making a live comeback at the 2012 Grammy's where she won six awards including Album of the Year for 21. The record's longevity meant she also won Best Pop Solo Performance for a live version of Set Fire to the Rain a year later. A showcase for that incredible voice, one that felt suddenly under threat, the billowy ballad properly comes to life with its dancing shoes on. Reworked as a disco stomper by South London production duo Moto Blanco, it reaches new emotional heights as you imagine Adele losing herself to it in a club, mascara everywhere.
Save for an Oscar-winning Bond song (2012's so-so film Skyfall), Adele had been relatively quiet prior to October 2015 when a 30-second teaser advert sent the internet into meltdown. While her peers revelled in more-is-more, Adele favoured the old school mentality of superstar silence. The gargantuan Hello announces her re-emergence quite literally. ​"Hello, it's me" she sings over a distant piano, immediately returning to that motif of imagined conversations. While it sounds confident, the sessions for its parent album 25 were marred by writer's block and scrapped songs (one song, Alive, would later appear on Sia's This Is Acting album). Hello itself, in fact, was started with producer Greg Kurstin, then ignored for six months, before finally being finished. Rather than focusing on one specific relationship, Hello is about the people in Adele's life who she felt she'd lost touch with as her career took off. The chorus' barn-storming ​"hello from the other side" line, meanwhile, related to making it out of your late teens and early twenties intact, a neat callback to her younger self on 19.
8. When We Were Young (2015)
As with a lot of 25, When We Were Young, created alongside Tobias Jesso Jr and Ariel Rechtshaid, reflects on the passage of time, a theme further highlighted in Adele's work by her use of timestamp album titles. Here she imagines herself in the future at a party surrounded, as in Hometown Glory, by the people she's known throughout her life. Surveying the room, her memories come flooding back: ​"You look like a movie /​You sound like a song /​My god this reminds me of when we were young." Utilising the full range of her voice, from the opening verse's husky low notes to that full-chest big note in the chorus, it's elevated from standard ballad to something more classic-sounding by Rechtshaid's stately production. Fleshing out the piano intro with a subtly unfurling rhythm track, it feels beamed in from the 1970s.
9. Send My Love (To Your New Lover) (2015)
The genesis for 25​'s third single came from a sketch of a song Adele had written at 13, inspired by Amy Winehouse's debut album, Frank. Years later, having been connected with Swedish super-producer Max Martin, she revisited it. Together they transformed it into her most relaxed moment so far, the song recalling Martin's early work with Taylor Swift while also sounding undeniably like Adele. Only a tiny bit looser. A ​"fuck-you song" to an ex-boyfriend that arrived after the relationship at the heart of 21, and before she met then-husband Simon Konecki, it dabbles in righteous anger, gritted teeth sarcasm and a more mature resignation (the chorus runs ​"send my love to you new lover /​treat her better"). Musically it evolves from its acoustic intro into a swaying R&B midtempo, Martin creating pockets of melody in the chorus as Adele playfully extends the syllables in the word lover.
In the video for 30​'s first single – directed, like Hello, by Canadian auteur Xavier Dolan – Adele returns to her past. But while in Hello​'s sepia-saturated mini-movie she stalked the halls of a house like a ghost as a broken relationship played out on her mind, this time she's quick to leave it all behind. ​"All good, all done, everything's packed," she says cheerily on the phone (not a flip phone this time), as she hits the open road with her belongings in a trailer behind her.
This is a different side to Adele. Sure, Easy on Me is a big, emotional piano ballad, with a high-wire chorus and devastating bridge, but it feels like something has shifted. In the past, the ballads often involved her on the back foot; defensively castigating an ex or admitting to her own flaws before someone else got there first. Here, she simply asks for some time for her own healing. Forgiveness, too, but not in place of understanding. In her Vogue US interview she spoke about ending her marriage to Konecki because ​"she was going through the motions", a theme she tackles head-on in the second verse: ​"I changed who I was to put you both first /​But now I give up". It's after she sings that last lyric that the video switches from black and white into full colour. The line ​"easy on me" is then drawn out, its early pleading tone now a more robust statement of personal intent. Welcome back.

More like this