Alfie Templeman proves you can be a global success from your bedroom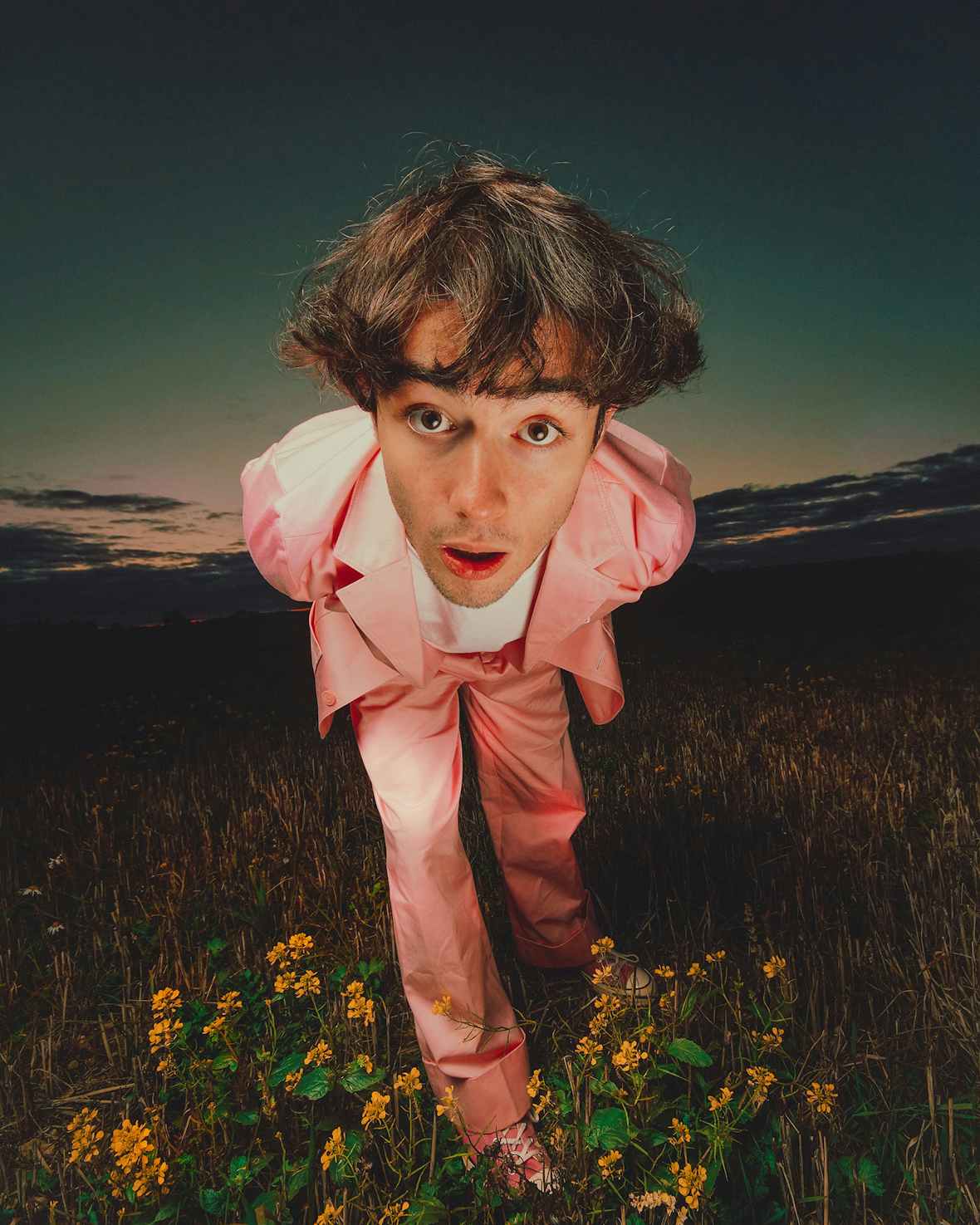 The 18-year-old artist is energising contemporary indie-pop. Spotify's new video for his song Film Scene Daydream steps into his vivid aesthetic world.
It'll come as no surprise to fans of Alfie Templeman that the 18-year-old is currently in a great mood. Sure, his grand return to the stage, after 18 months of shielding, was cut short in July after he contracted Covid. But rather than mourn the loss of yet more festivals from his diary, he's thankful he got to play even one show. Like his music, he's resilient and optimistic.
Later this month, Templeman heads out on the road again with fellow indie star Declan McKenna, he's pretty much finished writing his debut album and he loves his new Spotify video so much, he keeps showing his granddad. All in all, ​"things look positive. That's what I'm most excited about."
Like many breakthrough bedroom pop artists of his generation, Templeman writes and produces almost everything himself. He deals in uptempo music that's joyful, but flecked with the anxieties and uncertainties of coming of age in 2021. It's fun, but never shallow.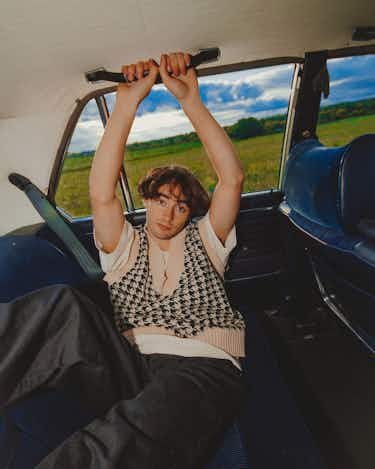 Growing up in a small village near Bedford, Templeman started out in music when he was two years old, turning a few pots and pans into his first drum kit, and one of his earliest memories is getting goosebumps from listening to bands like prog-rockers Rush. He went on to teach himself guitar, bass and production in a bid to give himself those goosebumps. ​"It felt like I had the power in my hands to take me somewhere special," he says.

Templeman recorded and released his first few songs independently when he was 13. He soon found an audience with his debut record, 2018's Like An Animal EP which was released via Chess Club Records when he was just 15. ​"What's so great about our generation is that it doesn't matter how old you are, or where you come from," he tells THE FACE over Zoom today. ​"All that matters is what you've got to say. Thanks to the internet, almost everyone is able to be who they want to be, reach out to a million people and show off exactly who they are."
It took a few years for Templeman to really embrace that individuality. His early EPs are full of slacker rock and indie love songs ​"because I was definitely trying to copy Mac DeMarco" but he soon grew out of that thanks, in part, to leaving school. ​"I no longer had to worry about what the people I saw everyday really thought of me, so I was able to get more experimental."

His 2020 EP Happiness in Liquid Form is a dreamy indie-pop record, while his recently released eight-song mini-album Forever Isn't Long Enough takes on psychedelic rock, glam pop and festival-ready indie anthems with the same gutsy confidence. The songs express both youthful optimism and the crushing realities that stand in his way. ​"I don't want this wave to stop ​'causе forever isn't long enough," he sings on the title track, realising that one lifetime isn't enough to achieve everything he wants, especially as ​"self-doubt lingers on my fingers". That isn't going to stop him from trying though.
Genre is never in the equation when it comes to new music. ​"I'm not one of those people who goes into the studio and says, ​'let's make a dance track that would kill it at Glastonbury'". Instead, Templeman sits down at his computer, opens whatever idea is exciting him most and builds it from there. ​"Every time I write a song, it's different but they all have this personality of a kid who's grown up in the countryside and is discovering his own way."
At first, he was worried no one would connect to his music. To him, his village was uneventful and his family had been nothing but supportive, so there weren't a lot of stories there. However his romantic, hopeful view of the world sees over a million people listen via Spotify every month. Before the pandemic, Templeman was juggling shows at London's Brixton Academy alongside his college exams. Now he's set to headline Shepherd's Bush Empire at the start of next year.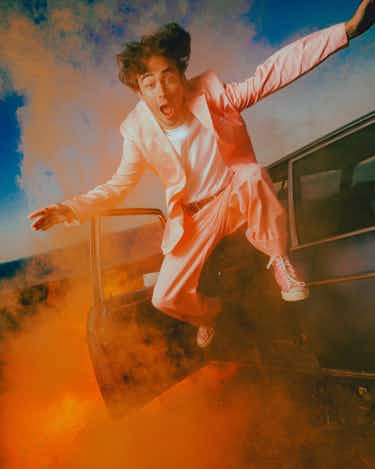 Templeman's heartwarming musical journey has been captured by artist Eliza Williams in the new illustrated video for catchy bop Film Scene Daydream, to celebrate Spotify's Our Generation playlist.
Starting in the singer-songwriter's bedroom, surrounded by guitars and his cat Max, the video sucks viewers into Alfie Templeman's day-to-day life. But it's not long before things take a turn for the bizarre and we tumble through a portal of his imagination. Suddenly we're in space, watching Templeman playing a concert to aliens while puppets Brian and Suzy (stars of the Everybody's Gonna Love Somebody video) are crowd surfing. Look closely, there are even a few hints about what comes next. That gravity-defying adventure ​"shows off what I really want to be doing, which is touring and getting to see new people around the world," he explains.
The Our Generation playlist, an ever-shifting collection of songs at the cutting edge of culture, ​"showcases the power of young people," explains Templeman. ​"It's incredible how innovative some of these ideas are." Despite appearing on the cover of the playlist several times (twice this year alone) and singing openly about Gen Z fear, uncertainty and hope, Templeman doesn't yet see himself as a voice of a generation.
"I mean, I can hardly represent myself," he says with a laugh. ​"The beauty of Our Generation is unity and the power comes from that equality. I'm more into that than trying to stand out as one person who's better than everyone else."

Templeman admires the raw intimacy that sits at the heart of his fellow Our Generation regulars such as girl in red, chloe coriondo, beabadoobee and Thomas Headon. ​"It feels like they're not trying to hide what they're feeling or sugarcoat anything," he says. ​"It just feels honest," and he wants to do the same.
"That bedroom pop scene must be one of the most interesting things to come out of music in ages," says Templeman. ​"People are just chasing an idea in their own rooms then taking over the world. It's amazing." Catapulting stars come from a range of backgrounds, artists are able to establish their own distinct path. ​"You wing it," he adds. ​"There are no more boundaries, that's the beauty of it."