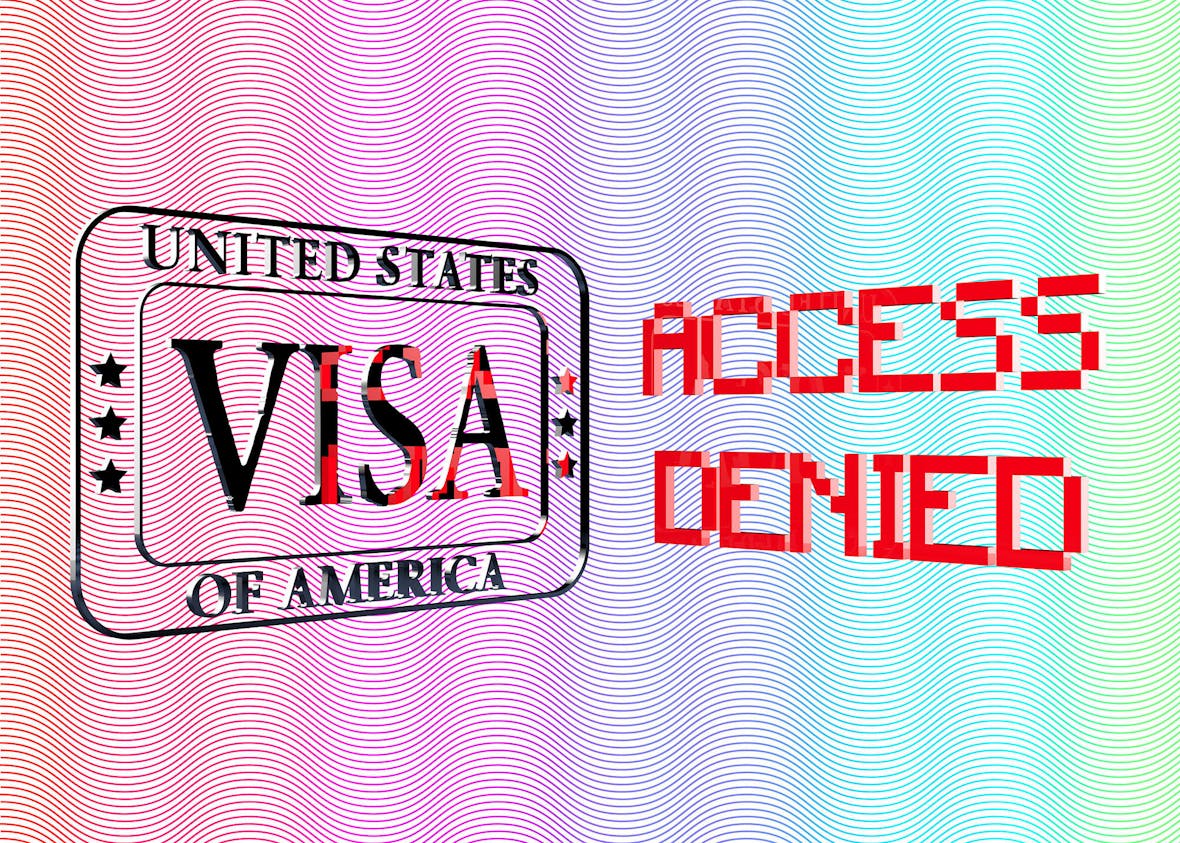 Band in the

USA

: why's it so hard for

UK

musi­cians to tour The States?
The ini­tial stages of the race to be the UK's biggest Tory, and even­tu­al­ly the new Prime Min­is­ter, were derailed some­what last month when dis­cus­sion swerved away from the minu­ti­ae of each candidate's poli­cies in favour of a front page tour­na­ment to deter­mine who had huffed the most shov­el in their younger, more friv­o­lous days.
This was trig­gered by an admis­sion from rean­i­mat­ed wax sculp­ture (and Envi­ron­ment Sec­re­tary) Michael Gove that he'd once been par­tial to a bit of gear. He evad­ed sug­ges­tions that he may have lied about this on US entry appli­ca­tions and argued that, should he be elect­ed Prime Min­is­ter by Con­ser­v­a­tive par­ty mem­bers, his dal­liances shouldn't pre­vent him from enter­ing the States. Obvi­ous­ly this pro­voked the usu­al flur­ry of com­men­tary on the dou­ble stan­dards and hypocrisy of the priv­i­leged class­es – and it hit a nerve giv­en the cur­rent US administration's stance on who should and shouldn't be allowed to enter the coun­try and under which circumstances.
"It's just an absolute night­mare. You don't know whether your visa's been grant­ed until after you've paid, so if you pay and it gets denied you don't get your mon­ey back." – anony­mous book­ing agent
Trump rose to pow­er on promis­es of build­ing a wall (or fence, depend­ing on how you look at it) on the south­ern US bor­der and ban­ning Mus­lims from enter­ing the coun­try. His gov­ern­ment has most recent­ly been accused of hous­ing migrants in con­di­tions com­pa­ra­ble to con­cen­tra­tion camps. Dra­con­ian laws are seem­ing­ly imple­ment­ed and upheld at every oppor­tu­ni­ty; recent­ly, a British cit­i­zen was denied entry and slapped with a 10-year ban after offi­cials claimed to have found mes­sages relat­ing to cocaine on her phone.
For musi­cians whose career prospects are lim­it­ed if they're unable to engage a US audi­ence, this gen­er­al sense of anx­i­ety is felt strong­ly. And it's been a major con­cern for acts with crim­i­nal records long before Trump took office.

Social media and stream­ing tech­nolo­gies have made it eas­i­er than ever for musi­cians to build a glob­al fan base. The drop-off in record sale earn­ings brought on by digi­ti­sa­tion has also made incomes from live per­for­mance all the more impor­tant. But while plen­ty of UK artists fre­quent­ly trav­el to play shows through­out Europe and beyond, the USA remains a lucra­tive but untrod­den ground for all but a few – in spite of increas­ing cul­tur­al cross-pol­li­na­tion between artists on both sides of the Atlantic. All of this is hap­pen­ing against a back­drop of esca­lat­ing visa issues for artists from all cor­ners of the globe and should, some would argue, serve as an oppor­tu­ni­ty for the UK and US to lead reform on the issue.
As it stands, how­ev­er, secur­ing the rel­e­vant legal per­mis­sions to per­form in the US is a lengthy, com­plex, expen­sive, and pre­car­i­ous process. Despite their grow­ing fan­bas­es across the pond, high pro­file acts such as Gig­gs, Wiley, and Skep­ta have all faced issues with acquir­ing US work per­mis­sions. In 2017, visa dis­crep­an­cies shone an ugly light on SXSW fes­ti­val after a num­ber of acts were denied entry to the coun­try. Lon­don jazz duo Yussef Kamaal put their denial down to ​"dis­crim­i­na­tion based on reli­gion and race."
Matthew Cov­ey is the founder of Tamiz­dat, a US non-prof­it organ­i­sa­tion that aims to facil­i­tate inter­na­tion­al cul­tur­al exchange. The organ­i­sa­tion takes its name from the Russ­ian word for lit­er­a­ture smug­gled out of the Sovi­et Union and pub­lished abroad, and the dis­si­dent pas­sion implied by this moniker is audi­ble in Covey's voice. ​"The reg­u­la­tions con­trol­ling per­form­ing artists' abil­i­ty to come and legal­ly work in the US are extreme­ly strict," he says, ​"much more strict than almost any oth­er coun­try in the world."
The O-1 visa autho­ri­sa­tion process begins with a peti­tion that has to be filed by some­one in the US – typ­i­cal­ly an agent, pro­mot­er, or label – which proves that the artist or group in ques­tion has ​"extra­or­di­nary abil­i­ty". Cov­ey says this doc­u­ment requires proof that ​"an indi­vid­ual or ensem­ble has some­thing irre­place­able to offer" – irre­place­able, that is, by an artist already resid­ing in the US. ​"These rules were all orig­i­nal­ly writ­ten for US laws by the labour unions," Cov­ey explains, ​"so the pur­pose of them is exclu­sive­ly to con­trol and pro­tect the inter­ests of US musi­cians and per­form­ing artists from for­eign competition."
One artist book­ing agent, speak­ing on con­di­tion of anonymi­ty, described a fold­er con­tain­ing dozens of doc­u­ments that he'd com­piled to prove that one of the artists on his ros­ter – a pro­duc­er and DJ with 15 years expe­ri­ence on the cir­cuit – should be con­sid­ered eli­gi­ble. Along with this peti­tion, artists are expect­ed to prove that they have ​"a bonafide con­trac­tu­al rea­son" to be in the US, which opens up a chick­en-and-egg sit­u­a­tion for per­form­ers look­ing to secure book­ings in the country.

Once – or rather, if – the work autho­ri­sa­tion peti­tion is approved in the US, the artist will be invit­ed to their local US embassy to apply for a visa. ​"That's where all the oth­er stuff, the sub­jec­tive stuff, gets pret­ty involved," says Cov­ey. ​"If the artist has a crim­i­nal record (or any of the mil­lion oth­er dif­fer­ent fac­tors) that's where it will get weighed by the embassy."
Falling foul of one of these cri­te­ria can see your appli­ca­tion denied or ​"ren­dered inad­mis­si­ble", at which point it's then nec­es­sary to seek a waiv­er of inad­mis­si­bil­i­ty. This could take a week, or alter­na­tive­ly, it might nev­er come through. ​"That's where it becomes chal­leng­ing for tour­ing artists," Cov­ey explains, ​"because obvi­ous­ly if you have a sig­nif­i­cant crim­i­nal record going into this process, you know you're going to have to get a waiv­er but there's no par­tic­u­lar­ly pre­dictable way of know­ing how long it's going to take. And if you've got a tour com­ing up in six months, well…"
Aside from the time and admin­is­tra­tive resources this process sucks up, there's con­sid­er­able cost involved too. Cov­ey has seen lawyers take as much as $12,000 in fees for the peti­tion stage alone. And it comes with huge risk too: ​"It's just an absolute night­mare," the book­ing agent recalled, ​"you don't know whether your visa's been grant­ed until after you've paid, so if you pay and it gets denied you don't get your mon­ey back. You just get a let­ter to say it's been denied." For many artists, that use­less piece of paper could be the most expen­sive thing they've pur­chased in their lives. For artists oper­at­ing inde­pen­dent­ly, or with­out the sup­port of a major label or book­ing enti­ty, get­ting access can be near impos­si­ble. Any kind of black mark on their record only makes the sit­u­a­tion even more difficult.
Some would argue that all mis­deeds – includ­ing mis­takes – have con­se­quences, and artists should have to face them just as any­one else would. Oth­ers mean­while (includ­ing those in pow­er, when it suits them) would call for bygones to be bygones. One inde­pen­dent DJ, with over ten years expe­ri­ence of play­ing in the UK and abroad (but didn't want to be named in case it might impact future visa appli­ca­tions) described hav­ing to unearth a his­toric con­vic­tion for pos­ses­sion of a con­trolled sub­stance as a teenag­er. ​"Hav­ing to relive that all these years lat­er has been quite a hor­ri­ble expe­ri­ence, to be hon­est with you," he said, empha­sis­ing the fact that his liveli­hood large­ly depends on being able to play shows. He's been try­ing to get to the US for sev­en years.
Some artists feel forced to skirt the legal process entirely.

"I go over on ESTA and say I'm on hol­i­day, then just tour. It's eas­i­er to enter the USA as a vis­i­tor when you have a con­vic­tion than it is to get a visa with a con­vic­tion." – anony­mous musician
"I've known peo­ple to go to Amer­i­ca who, had they fol­lowed the rules and announced their past, would def­i­nite­ly not have been let in," an A&R tells me under anonymi­ty. ​"The idea that the Amer­i­can gov­ern­ment is some sort of all-see­ing-eye that can parse everyone's records in nanosec­onds the minute they get off the plane is com­plete bull­shit, and has been dis­proven time and again by the num­ber of peo­ple I know [artists] with crim­i­nal records in Eng­land who go out there and are smart enough not to say any­thing. How­ev­er, none of those peo­ple have been try­ing to get a work permit."
The book­ing agent spoke of mul­ti­ple artists who choose to fly into the US on an ESTA, which allows entry for 90 days at a cost of around $14, and then tour ille­gal­ly. So long as the artist's face isn't pic­tured on any pro­mo­tion­al mate­ri­als, he said, this can be rel­a­tive­ly straightforward.
One inde­pen­dent pro­duc­er and DJ who has pri­or con­vic­tions but has also made numer­ous trips to the US to play shows, described the process: ​"I go over on an ESTA and say I'm on hol­i­day, then just tour. It's eas­i­er to enter the USA as a vis­i­tor when you have a con­vic­tion than it is to get a visa with a con­vic­tion. I pro­mote the tour [in advance] all over social media, then on the day I fly I deac­ti­vate all my socials so even if they Google me they won't find me. Then when I'm through cus­toms safe­ly I reac­ti­vate them and tour. Once you're in the USA you can fly freely with­out questions."
This route is of course eas­i­er for a DJ with a lap­top and a cou­ple of USB sticks in their pock­et than a band lug­ging a full load of instru­ments around – but the stakes are just as high: the book­ing agent recalled one promi­nent dub­step DJ being slapped with a three-year ban after being stopped by offi­cials in California.

"I'm con­cerned with the social media aspect. There's a huge chill­ing effect which this has on the free speech of the artist." – Matthew Cov­ey, founder of Tamizdat
The role social media plays in this sit­u­a­tion is an impor­tant one, and not only because of its use as a pro­mo­tion­al tool. Ear­li­er this year the US Depart­ment of State made changes to the DS-160 visa process that ask appli­cants ​"to indi­cate the social media plat­forms that they have used dur­ing the five years pre­ced­ing their visa appli­ca­tion, and to pro­vide any iden­ti­fiers or han­dles they used on those plat­forms." ESTA appli­cants are also now encour­aged to include their social media han­dles on their form.
For Tamizdat's Matthew Cov­ey, this has been a wor­ry­ing devel­op­ment. ​"There's a real­ly huge poten­tial for a real­ly sig­nif­i­cant civ­il lib­er­ties issue if the State Depart­ment starts deny­ing peo­ple visas because of what they're say­ing on social media, or because they have a rep­u­ta­tion, but no crim­i­nal record," he con­tin­ues. ​"Per­son­al­ly, I'm con­cerned with the social media aspect because I feel like whether or not [the author­i­ties] actu­al­ly use this infor­ma­tion, there's a huge chill­ing effect on the free speech of the artist, if they're con­cerned about a US tour."
Cov­ey sug­gests that neg­a­tive rep­u­ta­tion or a par­tic­u­lar­ly abra­sive polit­i­cal stance (to the cur­rent US admin­is­tra­tion at least) could end up fur­ther stack­ing the odds against artists pur­su­ing a work per­mit. It feels like a reac­tionary move from the US gov­ern­ment, and one out of step with the chang­ing real­i­ty of glob­al com­mu­ni­ca­tions – even if it does fall in trend with the government's well-doc­u­ment­ed desires for increased sur­veil­lance powers.
But the issue of trav­el restric­tions between the UK and USA isn't one direc­tion­al. Matthew Cov­ey says he's begun to notice ​"a lot more prob­lems with artists get­ting into the UK to per­form than is being report­ed in the media." Over years US acts such as Bus­ta Rhymes, Snoop Dogg, Chris Brown and Tyler, the Cre­ator (who was deemed ​"not con­duc­tive to the pub­lic good" by then-Home Sec­re­tary There­sa May for lyrics he wrote as a teenag­er) have made head­lines for being banned from the UK. But usu­al­ly these sit­u­a­tions are hushed up, as artists don't want to pub­li­cise their inel­i­gi­bil­i­ty to poten­tial pro­mot­ers. This can have its own knock-on effects. One pro­mot­er, who again wished to remain uniden­ti­fied, told of a case in which a major US hip-hop artist had been deport­ed on arrival at the UK bor­der. They were deport­ed on an out­stand­ing US war­rant that had, until that point, gone unde­clared to the pro­mot­er – forc­ing can­cel­la­tion of the show, and huge loss­es onto the promoter's accounts.


Then, of course, the loom­ing spec­tre of Brex­it is only mak­ing the sit­u­a­tion more shaky. ​"If Brex­it hap­pens, it will clear­ly have neg­a­tive cul­tur­al con­se­quences," says Ian McQuaid, head of A&R at inde­pen­dent label Moves Record­ings. ​"If you look at an Amer­i­can band com­ing over to Europe to tour, it's a dif­fer­ent mat­ter if they have to get a dif­fer­ent visa for Britain than the rest of Europe. You start think­ing, ​'Well, is it worth it? I can just play Berlin, Paris, Ams­ter­dam, Madrid, Milan; why play Lon­don as well if I have to then go through some extra rigmarole?'"
Per­form­ers with a high­er pro­file will be sub­ject to greater scruti­ny, includ­ing from the press. Ian McQuaid cites the 2007 case in which Scot­tish indie band The View were forced to can­cel a US tour (as well as their album launch and a lucra­tive adver­tis­ing cam­paign) after their gui­tarist, Kyle Fal­con­er, was found in pos­ses­sion of a small amount of cocaine. In 2010 Pete Doher­ty was detained for 10 hours in JFK Air­port and then denied entry to play a show, despite report­ed­ly hav­ing a visa. Lily Allen was banned from the US in 2007 after being charged with assault­ing a pho­tog­ra­ph­er in Lon­don. Yusuf Islam (for­mer­ly known as Cat Stevens) was denied US entry in 2004 over sus­pect­ed links with ter­ror­ism. Amy Wine­house was forced to col­lect awards and per­form at the 2008 Gram­mys via satel­lite link after being barred from enter­ing the country.
Head­line-grab­bing cas­es aside, trav­el restric­tion is an issue that is rarely pub­li­cised, and artists, agents, and man­agers are wary about speak­ing out about their expe­ri­ences with the system.
Ian McQuaid says that recent cas­es con­cern­ing the likes of Gig­gs and Skep­ta high­light the impact that years of imbal­ance in Britain's polic­ing and judi­cial sys­tem has had. ​"I think we do need to recog­nise that the major­i­ty of vital UK music at the moment is – in gen­er­al, not entire­ly – com­ing from the black British com­mu­ni­ty," he says, ​"and that is a com­mu­ni­ty that has been demonised. All the sta­tis­tics back up the idea that it's been over­ly policed and over­ly crim­i­nalised. So the chances of an artist from the black British com­mu­ni­ty hav­ing a crim­i­nal record, com­pared to, say, a white kid from what­ev­er back­ground, are just expo­nen­tial­ly high­er – which means that it's way more like­ly that they will have restric­tions on going to America."

McQuaid argues that if the UK wants to pro­tect its valu­able music indus­try, then reassess­ing how past con­vic­tions are con­sid­ered in the visa appli­ca­tion process would be a good place to start. ​"With British politi­cians con­fess­ing their facile drug use and insist­ing that they should still be allowed to trav­el to the States, it's prob­a­bly a good time to open the con­ver­sa­tion about whether a drug record that's X amount of years in the past should be expunged," he con­tends. ​"I don't see why we should share [records like this] with Amer­i­ca if it's going to impact neg­a­tive­ly on careers that will ben­e­fit Eng­land cul­tur­al­ly as a whole. We're a small coun­try, we should be stack­ing the odds in our favour."

---