Audrey Nuna: ​

"

I'm addicted to making things. It gets me hard"
The rising Korean-American singer and rapper talks identity issues, the independent hustle and her dreams of making ice cream.
Audrey Nuna's priority is her freedom. ​"I want to be able to do what I want," she says over Zoom from New York. ​"I want to see who I want to see and make what I want to make."
"I want to do an ice cream collaboration one day," the 22-year-old Korean-American musician continues. ​"I also want to do a toe-ring collaboration, and I want to direct films and shit. I have so much that I want to do."

Right now, Audrey Nuna is on a roll. The tracks she's dropped over the last year or so range from bubblegum trap – her 2020 spit-fire stomper damn right has over 6 million Spotify plays – to the gorgeous and ethereal R&B single Space. She's also co-directed her own music videos and dabbled in fashion, teaming up with genderless New York brand BOBBLEHAUS for a capsule collection.
"The feeling I get when I make something is the only thing I live for," she says of the creative process, which she likens to a drug. ​"I'm literally an addict. It gets me hard. That's what I'm chasing all the time."
Nuna's been making music since her adolescence. ​"I had a music page and a personal page on Instagram at the time," she recalls. ​"I would just sit in my bathtub with a keyboard and do Childish Gambino covers, or re-writes of Drake verses."
These clips drew the attention of Roc Nation-signed producer Anwar Sawyer, who soon became Nuna's manager. ​"I was so sussed out," she says, her tone wry with hindsight. ​"There was this 34-year-old man in my DMs telling me to come over to his house and make some music. Like, what the fuck? No. But after a while he convinced me that he was a real person and not a scammer. I went to his house, we wrote a song that first day and it carried on from there. We've never stopped."
Nuna enrolled at the prestigious Clive Davis Institute at NYU, although she continued to work on her music outside of school, travelling to Sawyer's studio at night and taking the bus back in the early hours of the morning to sleep before class. Eventually, Nuna decided to put studying on hold to pursue her music career and, in 2018, started dropping tracks independently. "[Me and Sawyer] were selling our livers and shit to get on playlists," Nuna jokes. ​"We had no support. But I learned a lot in that time about the industry and what it means to do shit for yourself."
The hustle paid off. In 2019, Nuna signed with Sony Arista Records, who will soon release her debut EP. ​"I've never felt like a song is too different from the last thing that I put out," she says of the variation on the record. ​"As a human being, I feel like I have a lot of sides to me, as everyone does. Why wouldn't that be reflected sonically?"

Nuna sees her Korean-American identity as a gift, something that gives her an interesting creative perspective. Growing up in New Jersey's suburbs, however, she hated getting attention because of her ethnicity. ​"My mom used to pack me little rice balls in a Barbie container and I sometimes wouldn't eat, because I didn't want people at school to be like, ​'What is that? What is that smell?'" she recalls, her face growing solemn.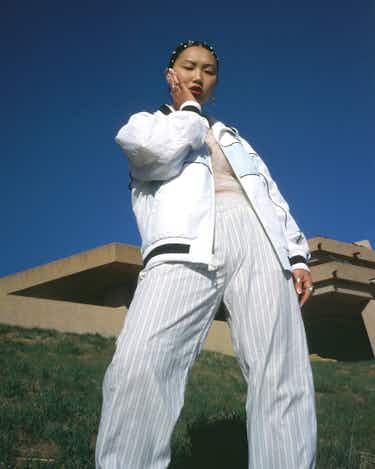 It wasn't until she moved to New York for school that she realised how much beauty there was in diversity. ​"The world went from monochrome to technicolour," she says. ​"First of all, no one gives a fuck. You can walk out in New York in your underwear and no one has the time to give a shit about you. I think that's really liberating. Secondly, there are so many interesting people making interesting things. It's inspiring as fuck."
Nevertheless, the rise in anti-Asian hate crimes in the US and the recent Stop Asian Hate rallies have left Nuna feeling overwhelmed. She currently struggles to find the right language to discuss the nuances of her race. ​"I just don't have any practice," she says. ​"I have a lot to learn and educate myself on, but I'm willing to put the work in."

But there have been moments of joy, like when she watched Minari, Lee Isaac Chung's sweeping drama about a family that moves to an Arkansas farm in pursuit of the American dream. ​"I've watched Korean movies, but to see a truly Korean-American story was emotionally overwhelming for me," she gushes. ​"I remember balling my eyes out. I think it was just seeing yourself on that kind of stage. I just wasn't used to it."
For other Korean-Americans, though, Nuna is providing that same priceless kind of representation. She has grand visions for the future: after this EP, she wants to make an experimental, Radiohead-influenced record, as well as a concept album. There are more visuals to come and she wants to be the creative director of much of her own output.
"You have to be excited about the ways that you're sharing your music, not just the music itself," she says. ​"That's fun to me. You just don't stop creating shit. That keeps it alive."


More like this