Best DJ mixes: sleazy electro, spooky dub techno and Hessle Audio's greatest hits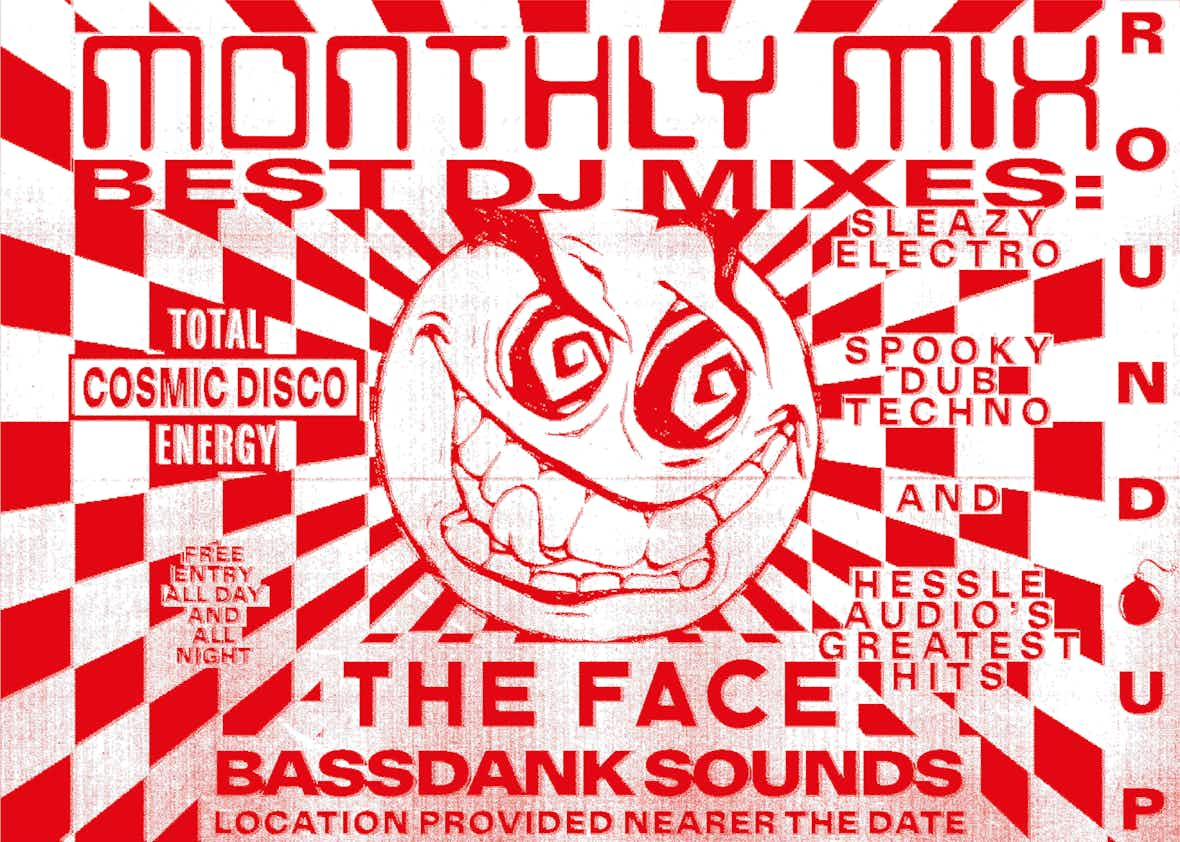 Chal Ravens' column collects the best sets that have dropped in recent weeks.
Maybe ​"spooky season" is just a load of crap. Maybe we should grow up, and stop splitting the solar year into convenient marketing hooks and lazy journalistic clichés. But the thing is, around this time of year, the mixes on the shelf really do take a turn for the insular, the sleazy, the haunted. This October, some of the best mixes were more like private rituals or enchanted journeys: Berlin's Akimat, Bristol's k means and Pittsburgh's Aaron Clark led the way. In the middle of dancefloor, we got sensual with Simisea then leather-whipped by Sharlese. And there was our gratitude practice: a wholesome thank you to the good boys of Hessle Audio. Happy Samhain, go set fire to something.
Hessle Audio's Crack cover mix
Ben UFO, Pearson Sound and Pangaea: are they not the wind beneath our wings? For 15 years – at least two generations of ravers – the boys of Hessle Audio have maintained a clean sheet, releasing strictly excellent music at not-too-frequent intervals. They salute this achievement for Crack mag with a mix made entirely of Hessle releases, which stretch way back to a time before any women made dance music. (A joke! And also not a joke.) The core concerns are bass, obviously – deep, shuddering, subterranean bass, the kind you can't even hear on your home speakers – and stuttering, off-kilter rhythms firing off in all directions. There's a clear through-line from more recent bangers like Anz's Stepper and Shanti Celeste's bubbling garage-house track Cutie to the classics: TRG's Put You Down, Objekt's Porcupine, Joe's Claptrap, Pearson Sound's Wad – fucking ​'Wad'!!! Ageless, all of them. In the words of Scratcha DVA: ​"Gd boys."
A spooky thriller for the end of the night
Moving from Stockholm to Bristol seems like a smart move for k means, a DJ whose ear for wiggy atmospheres and rhythmic experimentation shines through in her late-night sets and radio shows on Noods, Netil and Rinse FM. But even the weird wilds of the West Country don't throw up many mixes as strange as this one. Billed as her ​"ideal closing set", it's a journey ​"into a clattery percussive hellhole," she explains, ​"getting trippier, more grungy, more amphibian" with each transition. A pneumatic opening section is summed up by the hyperactive cybercore of Rian Treanor, before we shift gears and meet footwork legends Rashad & Spinn at their most haunting. Further on we reach a clearing: a moonlit dub techno ritual. We're lost in an enchanted forest without a tracklist, basically. Aside from one or two laggy moments where our auteur gets caught up in changing the scenery, it's a thriller of a mix – easily the most ​"future" attempt of the month.
Simisea live at Honcho Campout
A blissed-out zone of bass, pop and R&B
Few DJs stake out the territory between heads-only steppers and queer flamboyance as convincingly as Simisea and his SLINK NYC friends. On the clubnight/label's releases, their fusion of dub bass and itchy rhythm feels both brainy and a little austere. But when these guys are behind the DJ booth, a more playful world emerges. In this set from Honcho Campout, an idyllic-sounding queer festival in the woods of Pennsylvania, Simisea takes the fundamentals of the SLINK sound and turns it into sturdy framing for some very glittery decoration, with flashes of pop and R&B emerging from its dubby depths. Kicking off appropriately with Mala's Introduction, Simisea draws from the murky UK bass lineage and new wave of slow-motion dance grooves (Loraine James, Simo Cell) to build us towards an utterly blissed-out zone, zhuzhing along the way with sweet fragments of Rosalía, Aaliyah and a phenomenal Christina Aguilera flip.
Majestic sleaze from a Seattle gem
There are certain problems which have only one solution: an unbroken hour of mucky/​dirty/​horrible/​sleazy electro and techno music for your BODY. Enter Sharlese, your new favourite DJ. The Seattle selector has many strings to her bow, as a resident of various local crews and the host of Mechanical Breakdown, a show on city station KEXP where she plays noisy synth, wave and industrial. She goes in hard on all that good stuff in her mix for KHIDI, a series run by one of the clubs that makes Tbilisi a world-class techno city. Undiluted, Italo-tinged heaviness without a tracklist – just gulp it down and see how you feel in 30 minutes.
Intentional unplugging for spooky season
As the autumn equinox ushers us towards the exit signs for 2022, Berlin-based Aussie selector Akimat pops up on Montreal station n10​.as with a seasonal selection of dank music. Not merely an ambient mix, this one was described by PVAS, host of the Innerstate 87 show, as a ​"restoration forest bath". In Akimat's zone, thickly trowelled drones are broken up by dreamy sampledelia and low-slung rap cut-ups, while surreal vocal fragments poke up like mushrooms on a log. It's not all slow-moving – at one point, Opus III singer Kirsty Hawkshaw appears with a cheesy D&B epic that sounds weirdly amazing in the midst of these mossy mounds. But the dominant mood is one of intentional unplugging and microdosed contemplation.
François K for Resident Advisor
Back to the future with an NYC dubmaster
Most people listening to this mix won't have been to Deep Space, the club in the Meatpacking District of New York City famous for its pin-sharp system, and where François K threw his Monday night residency throughout the Noughties. (Even fewer will have seen him in his first flush of fame, as one of the key figures bridging disco and house in the ​'80s.) This set, recorded in 2009, is a time capsule from the heyday of Deep Space which captures the dub ethos behind the night, where genre was less important than mood and narrative. Along with dub reggae (Al Fingers; Zapology remixed by FK himself) and proper dub techno from the likes of Deepchord, there are significant nods to the sounds of 2009: Flying Lotus in dubstep mode, a touch of cosmic disco from Laurent Garnier and one from 2562 on Hotflush, pointing to the sound that was booting off in the UK at the time. As François notes in the interview with RA, ​"no one else [in the US] would touch this style back in those years, but it really was a natural extension of our eclectic ethos." Throw in a D&B roller from Shogun Audio and you're transported.
Aaron Clark for Always Never Yesterday
Ultra-stylish digging from the Honcho honcho
Kudos to Midland for flagging up this extremely smart and unclassifiable mix from Aaron Clark, co-founder of the Honcho and Hot Mass collectives in Pittsburgh (and thereby bringing this month's Honcho-related mix count to two.) This set for Always Never Yesterday functions as an ultra-eclectic home listening mix, though it was actually recorded live at Maybeland II in Pittsburgh earlier this year. Clark pulls off wild stylistic pivots with ease, switching from cinematic synthscapes into Atom™'s disco-glitch, from Calibre's symphonic bass into full-tilt electro. If anything unites these sounds, it's a certain density of musical information – we'd guess this DJ is someone who played in their school orchestra. Packed tightly with cool obscurities and non-Shazam-able moments, it's an ideal mix for those situations when you need to impress the room without entirely alienating the normies.

More like this