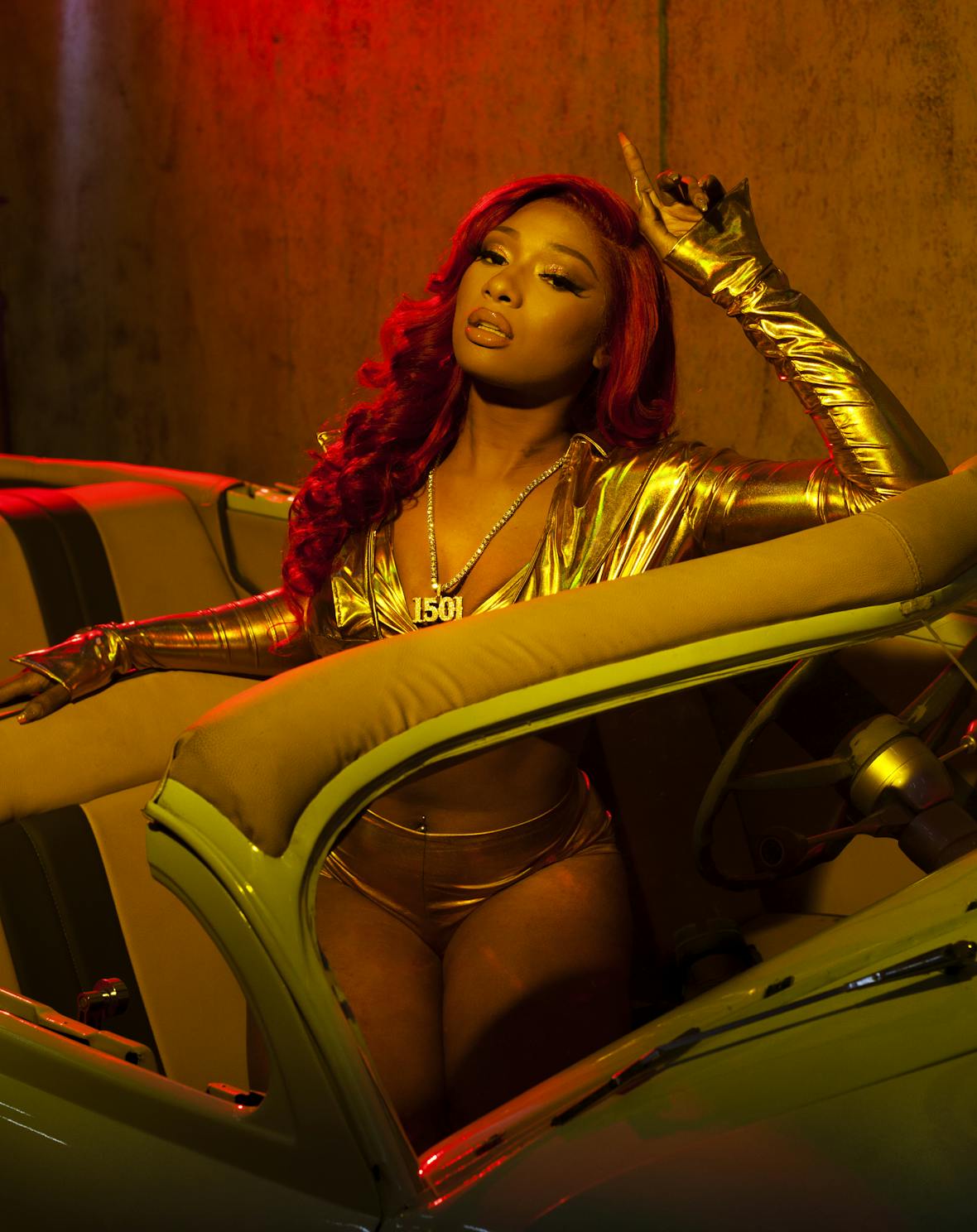 Get famil­iar with Megan Thee Stallion's freestyle powers
A self-pro­claimed H-Town Hot­tie with die-hard fans, Megan Thee Stal­lion is climb­ing the rap ranks, ready to take the crown.
Megan made a mark back in 2016 with her verse in the Hous­ton Cypher freestyle, which was filmed in a carpark. This year, Megan had her main­stream break­through moment when her track Big Ole Freak entered the Bill­board 100, cre­at­ing the #BigOle­F­reakChal­lenge, which saw her fans – known as Hot­ties – go and twerk at their local petrol sta­tions. Now, the First Lady of 300 Enter­tain­ment, the label that's been home to Young Thug and Migos, Megan has two EPs and the crit­i­cal­ly acclaimed debut album Fever under her belt. And if you were just think­ing Megan wasn't doing enough, she's host­ing beach clean ups all while in the final stages of her Health and Admin­is­tra­tion degree. We're wit­ness­ing the rise of a legend.
Time and time again, Megan has proved the prowess of her skill as an MC with her freestyles. Raised on a musi­cal diet of South­ern greats – includ­ing her late moth­er, who rapped as Hol­ly-Wood – Megan cites the likes of UKG and Three 6 Mafia as inspi­ra­tion. Her sec­ond mix­tape, Tina Snow, paid homage to Pimp C's own alter ego, Tony Snow.
Here's sev­en of the hottest freestyles from the Stallion.
Ini­tial­ly released on social media, the Stal­li freestyle got a full upgrade in 2017 and was Megan's first taste of major viral fame.
Quota­bles: ​"Get up in the booth and beat the moth­er­fuck­ing beat up/​
Pissin' bitch­es off like a nig­ga left the seat up"
A break­through moment for Megan. She comes over the beat for Drake's 2014 track 4PM in Cal­abasas, deliv­er­ing the stand out verse in a packed cypher… Get's like that.
Quota­bles: ​"If he ask for my num­ber, it's Chanel num­ber 9"
In March 2019, Megan joined the UK's Char­lie Sloth for his famed FITB series to spit two freestyles, the first being the Run­ning Up Freestyle, which lat­er appeared on her debut album Fever. With impec­ca­ble sta­mi­na, Meg raps over a com­put­er game music-inspired beat from fre­quent pro­duc­tion col­lab­o­ra­tor LilJuMadeDaBeat.
Quota­bles: ​"Got the moves like I'm Ryu / Yel­low dia­monds, Pikachu / When I switch my hair to blonde, finna turn up like Goku"
4. #Got­Bars With DJ Scream
Before sign­ing with 300 Ener­tain­ment, Megan joined Atlanta's DJ Scream for a freestyle on his HoodrichRa­dio show. Arguably one of her great­est freestyles to date, she deliv­ers this one effort­less­ly over the smooth instru­men­tal for Biggie's Get Money.
Quota­bles: ​"Ye fucked with Trump so I didn't buy the Yeezys"
You can tell Megan stud­ies the greats by the way she raps over old school beats with ease. Back in Jan­u­ary this year, she went on Dal­las based sta­tion, bless­ing us with this, over anoth­er Big­gie beat, this time the smooth Big Pop­pa.
Quota­bles: ​"I am not in com­pe­ti­tion with none of you rap­per bitch­es / You wouldn't be bet­ter than me if genies grant­ed your wish­es"
The lat­est in the Stal­lion offer­ings, this sum­mer, Megan shared a (albeit short) few bars with Sway In The Morn­ing. ​"Let me get a piece of paper so I can get this gum out my mouth," she says, before spit­ting over 2Pac's Hit ​'Em Up.
Quota­bles: ​"Ok, she's shak­ing that ass so she must be a hoe? / Ok, well get on the block and show me how it go / When you real­ly got to eat, you ain't real­ly been to sleep / And you ain't nev­er real­ly need a nig­ga to put you on your feet"
Megan made this year's pres­ti­gious XXL mag­a­zine fresh­man cov­er along­side the likes of Rico Nasty, Rod­dy Ricch, Tier­ra Whack and DaBa­by. For her verse in the famed XXL Fresh­man cypher ses­sion, she put for­ward the case that she might just be the best MC on the entire list.

Quota­bles: ​"Speakin' on my name only make it sound bet­ter / Your nig­ga in my DM, and he write love-letters"
---