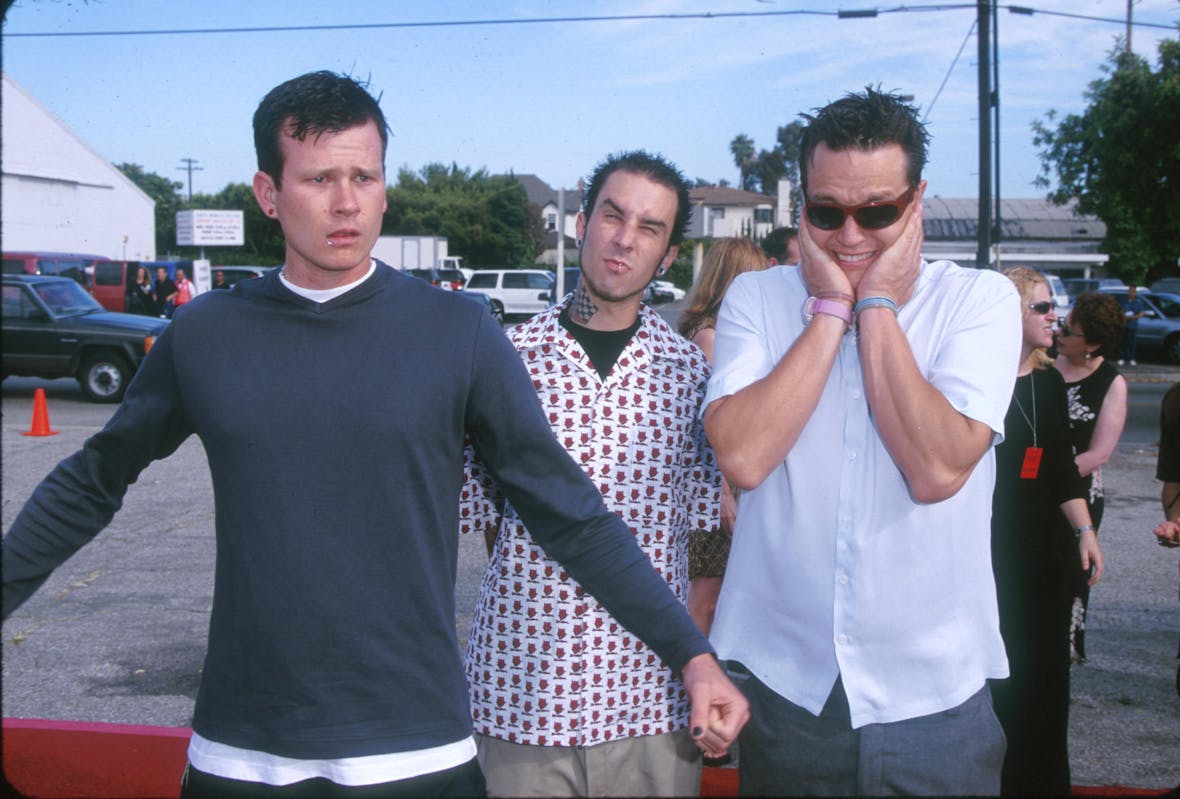 How blink-

182

made pop-punk embrace the mainstream
"Do you want to come to a par­ty?" Mark Hop­pus asks over the super-speed drum­ming and mut­ed pow­er chords of Par­ty Song, ​"This thing's at a frat house, but the peo­ple are cool there." The hyper­ac­tive track is on blink-182's crossover album Ene­ma of the State. The band had already achieved mod­er­ate suc­cess with their pre­vi­ous two offer­ings, Cheshire Cat (1995) and Dude Ranch (1997), which show­cased a more rough and ready sound. But Ene­ma of the State's pol­ished pro­duc­tion and big bud­get videos launched blink-182 into the main­stream, mak­ing them a house­hold name for blue-haired, Dick­ies short-wear­ing sub­ur­ban teenagers across Amer­i­ca and beyond. And although punk had tra­di­tion­al­ly been claimed by the coun­ter­cul­ture, blink man­aged to sneak their ver­sion of the genre into the frat house.
Enlist­ing the help of pro­duc­er and engi­neer Jer­ry Finn, who had pre­vi­ous­ly helped Green Day achieve com­mer­cial suc­cess with Dook­ie, and an agile new drum­mer by the name of Travis Bark­er – stolen from cos­tume-act Aqua­bats – Ene­ma of the State saw blink-182 ful­ly come into their own both as a band and a huge­ly pop­u­lar com­mod­i­ty. The band's pop-punk melodies were catch­i­er than ever, and the album would go on to sell 15 mil­lion copies world­wide and change the course of the genre forever.
Where­as their fore­bears in the punk scene had tra­di­tion­al­ly posi­tioned them­selves as crit­i­cal of main­stream soci­ety and cul­ture, blink-182 sit­u­at­ed them­selves as the sound­track to the sum­mer of stunt­ed ado­les­cence that was unfold­ing across Amer­i­ca. A gen­er­a­tion of mall-dwellers ready to binge on awk­ward sex come­dies and episodes of Jack­ass need­ed some­thing new to lis­ten to, and the fast-paced, foul-mouthed trans­mis­sions of blink-182 worked perfectly.
"We always tried to put our records out lead­ing into May or June for sum­mer; we just want­ed to be that band, that sum­mer sound­track for your life at that time," says Rick Devoe, who man­aged blink-182 for 25 years and has since worked with DeLonge since he left the group in 2015. ​"Look­ing back now and talk­ing to so many peo­ple, it real­ly was that – you got away from your par­ents, you went to a blink show, and you just got to escape. The pits weren't too gnarly, it was just a lot of fun. You didn't feel judged at a blink show… I think a lot of kids relat­ed to the lyrics in those songs, and it helped them – they used blink to kind of weave their way through adolescence".
Lyri­cal­ly, Ene­ma of the State deals most­ly with ado­les­cent frus­tra­tions and rela­tion­ships; a mix of brash juve­nile delin­quen­cy and nos­tal­gia for both the puri­ty and the pain of puber­ty. When lis­ten­ing to the album chrono­log­i­cal­ly (as was the norm in the pre-inter­net days of 1999), the brat­ty Dysen­tery Gary comes straight after debut sin­gle What's My Age Again; it starts with ​"Got a lot of heartache / He's a fuck­ing weasel" and ends with ​"I hate you all, your mom's a whore". Ene­ma took the non-con­formist and anti-author­i­tar­i­an­ism of punk, but instead of direct­ing the anger at sys­tem­at­ic injus­tice, focused in on par­ents, teach­ers, and girls who didn't like you. It's lit­tle sur­prise the music res­onat­ed so strong­ly with a gen­er­a­tion of teenagers immersed in a cul­ture of South Park, Girls Gone Wild, and Tony Hawk's Pro Skater. Amer­i­can Pie would be released in Octo­ber 1999, and the first episode of Jack­ass a year lat­er. This was a gold­en age for being a puerile lit­tle shit, and the blink boys were the son­ic figureheads.
Anoth­er dis­tinc­tion between blink-182 and many of their peers in the punk scene was that – for all their foul-mouthed fool­ing around and pen­chant for nudi­ty – they were (in the case of Mark Hop­pus and Tom DeLonge at least), clean-cut, tra­di­tion­al­ly good-look­ing boys from the mid­dle-class sub­urbs of San Diego. A huge part of their appeal was that they were essen­tial­ly a boy­band for peo­ple who liked gui­tars – far from being unpop­u­lar out­casts, all three were attrac­tive, con­fi­dent, and cru­cial­ly, extreme­ly charis­mat­ic. At high school, Tom DeLonge was vot­ed Home­com­ing King.
The turn of the mil­len­ni­um was arguably the gold­en age of MTV and the music video, some­thing that blink-182 har­nessed to full effect. ​"Here in the states it was three o'clock every day [MTV music video show] TRL would come on and if your band made that count­down it was a big deal," says Mar­cos Sie­ga, who direct­ed the now-icon­ic videos for What's My Age Again and All The Small Things, but is endear­ing­ly hum­ble about the impact of the visu­als for blink's suc­cess. ​"From a film-mak­ing stand­point there's noth­ing bril­liant about [the video for WMAA] apart from the fact that you have a bunch of good-look­ing naked guys who were in a band run­ning around," he laughs. ​"I hon­est­ly think it was a hit because it was a hit song".
Aside from the streak­ing trio, the video fea­tured adult film star Janine Lin­damul­der in a sexy nurse's out­fit. She would also become the album's cov­er star. ​"Ini­tial­ly the album was gonna be called Turn Your Head and Cough, so for me it seemed obvi­ous – there would be a nurse and she would have a glove on and she would grab your balls and tell you to cough," laughs David Gold­man, the pho­tog­ra­ph­er who shot the image, of the rea­son­ing behind his idea. ​"That ges­ture implies a prostate exam but what­ev­er – it's a graph­ic shape. And they picked the model".
Of the vibe on set, David remem­bers it being exact­ly how you would expect. ​"They were just three young guys who have asked for a porn star to be on their album and got her. It was an excit­ing time – they were kin­da like high-school kids [who have] the hot girl show­ing them interest."
The art­work would become instant­ly icon­ic, and go on to take the num­ber 13 spot on Billboard's top 50 album cov­ers of all time. blink-182's knack for goof­ing out for the cam­era would influ­ence some of the biggest pop-punk videos that fol­lowed: Sum 41's In Too Deep, Bowl­ing for Soup's Girl All The Bad Guys Want, and Alien Ant Farm's Movies all depict­ed uni­vers­es with an unmis­tak­able blink-shaped stamp on them. Mar­cos is clear about the extent to which those aes­thet­ics influ­enced the tra­jec­to­ry of pop-punk and pop­u­lar cul­ture at the time. ​"I think blink-182 for sure took a genre that had been around for a while and put it square­ly in pop cul­ture – it wasn't until Ene­ma of the State came out that it hit the main­stream," he says. ​"They were pro­found­ly influ­en­tial in that way".
It's been argued that blink-182 eased into the main­stream thanks to their rejec­tion of the anti-cor­po­rate and fem­i­nist prin­ci­ples of pre­vi­ous punk scenes. In her the­sis ACT LIKE A PUNK, SING LIKE A FEM­I­NIST: A LON­GI­TU­DI­NAL CON­TENT ANALY­SIS OF FEM­I­NIST THEMES IN PUNK ROCK SONG LYRICS, 1970 – 2009, Lau­ren E. Levine analy­ses the lyrics of 600 ran­dom­ly-select­ed punk rock songs released over four decades to exam­ine the preva­lence of and lon­gi­tu­di­nal shifts in anti-estab­lish­ment, sex­ist and fem­i­nist themes. She notes that ​"the results showed a neg­a­tive rela­tion­ship between fem­i­nism and sub­gen­res of post-punk, ska, pop punk, which all have greater ties to the main­stream music indus­try and tend to be more com­mer­cialised than oth­er punk rock sub­gen­res. Main­stream music typ­i­cal­ly reflects or express­es an already exist­ing patri­ar­chal culture".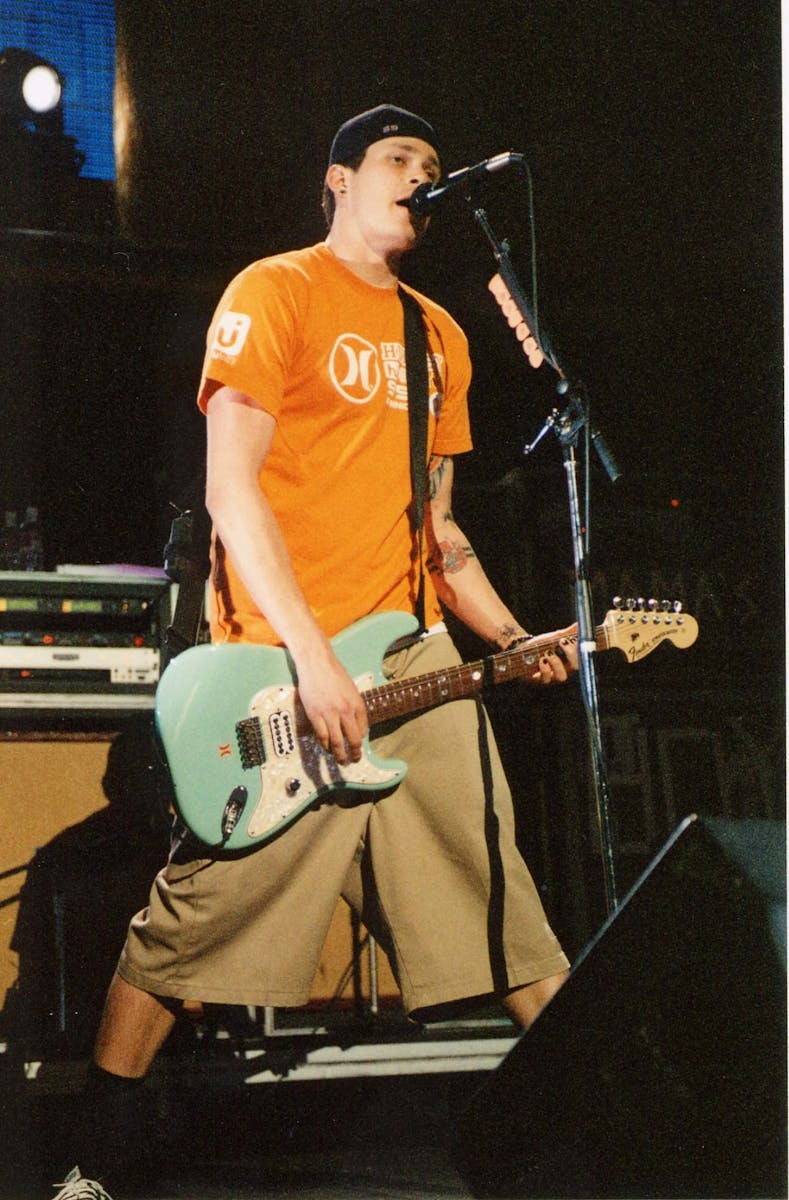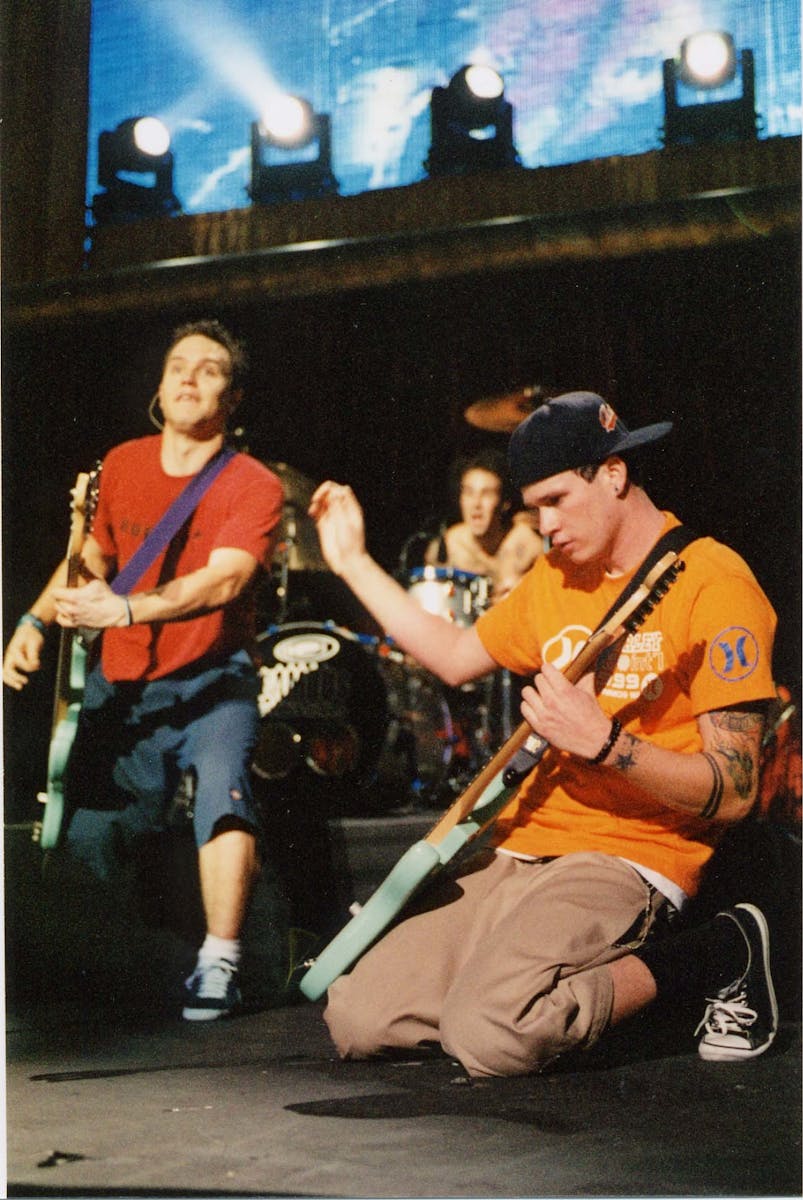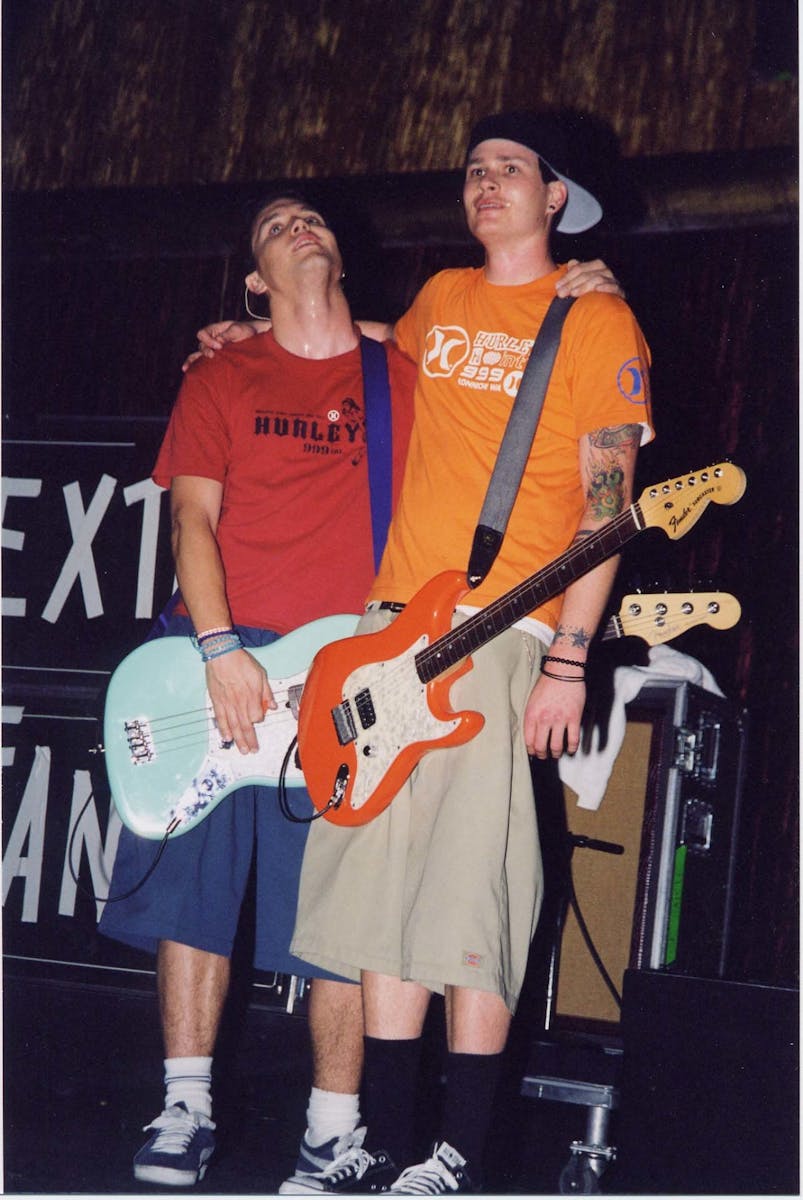 blink-182 per­form­ing in LA. Cred­it: Jeff Kravitz/​FilmMagic, Inc / Getty.
A Spin arti­cle from 1999, which sets out to find out whether the group are ​"harm­less goofs or charm­less jerks", pro­vid­ed an illu­mi­nat­ing insight into the mind­set of the band. ​"They play for only five bucks," DeLonge mar­vels dur­ing the inter­view when talk­ing about the post-hard­core band Fugazi. ​"The[y] can eas­i­ly go $15 and still sell out every venue and make shit­loads, but that's not what they want to do. Per­son­al­ly, I think that's stupid."
Con­sid­er­ing this open­ly cap­i­tal­is­tic out­look, it seems almost ridicu­lous to lev­el accu­sa­tions of ​'sell­ing out' at them. For bet­ter or for worse, blink-182 didn't share the ideals of the more vir­tu­ous punk scene, and with Ene­ma of the State, were active­ly look­ing to break the main­stream, have a com­mer­cial hit record, and ulti­mate­ly, get rich. The band were inex­tri­ca­bly tied to the hyper-spon­sored cor­po­rate world of the Warped tour, and the bil­lion-dol­lar extreme sports indus­try that pro­pelled it. ​"blink came from the punk-rock scene, but they also came from the surf­ing scene and the skate­board scene, and it was all flour­ish­ing at that time," remem­bers Devoe. ​"We did the Warped Tour when it was at its peak. blink just got in there ear­ly enough in the mid-'90s to sow the seeds, and once we got our shot work­ing with MCA Records it was the per­fect storm."
The album's take on teenage sex­u­al anx­i­ety wasn't exact­ly one of roman­tic nuance, and con­fu­sion about how to get girls often led to sneer­ing misog­y­ny and mid-show cries of ​"show us your tits" direct­ed at their (most­ly teenaged) female fans, who were often more than hap­py to oblige. The male sex­u­al­i­ty on dis­play here is brazen­ly horny and juve­nile; being dumped by your girl­friend because of a refusal to grow up and react­ing to it by prank-call­ing her mum to tell her that her hus­band has been jailed for hav­ing gay sex. Par­ty Song is about reject­ing girls that ​"try too hard" as some kind of moral stance. On the flip side, Going Away to Col­lege is a sweet paean to the wor­ry of los­ing your high-school sweet­heart to uni­ver­si­ty: ​"I haven't been this scared in a long time / And I'm so unpre­pared, so here's your valen­tine", croons Hop­pus and Hop­per over bit­ter-sweet chord sequences.
If you want­ed to be unfor­giv­ing, it's easy to paint the group's frat-bro misog­y­ny as a reac­tion to the decade of riot grrl fem­i­nism and increas­ing vis­i­bil­i­ty of women in punk that pre­ced­ed Ene­ma of the State, a phe­nom­e­non described orig­i­nal­ly by aca­d­e­m­ic Susan Falu­di as ​'Fem­i­nist Back­lash The­o­ry' in 1991 – which argued that gains in fem­i­nism and pow­er for women are often fol­lowed by a soci­etal back­lash. And while this is prob­a­bly true of the wider cul­ture the album was birthed from, noth­ing about blink-182 seemed par­tic­u­lar­ly sin­is­ter, or even – sor­ry guys – clever. It was a call to nev­er grow­ing up, an ode to high school and ado­les­cent frus­tra­tion, the cul­ture of Amer­i­can Pie dis­tilled into a record. Fit­ting­ly, the trio them­selves would cameo in the film in a scene where they inter­rupt band prac­tice to watch unknow­ing los­er Jim strip tease via a school-wide web­cam broad­cast in an attempt to bed Nadia, the hot Euro­pean exchange student.

blink not only cameoed, but were also on the sound­track, along with a whole host of oth­er pop-punk bands such as Third Eye Blind and Sug­ar Ray. Amer­i­can Pie – a film about a bunch of clum­sy teenage guys try­ing to lose their vir­gini­ties before the end of high school – was the per­fect home for this emerg­ing jock-adja­cent kind of pop-punk. Where­as punk was once a sub­cul­ture for alter­na­tive kids, the blink boys were very much going to the same house par­ties as the boys on the foot­ball team. A year lat­er, a band called Whea­tus would emerge with a boun­cy pop-punk banger called Teenage Dirt­bag and a video star­ring two of the main char­ac­ters from Amer­i­can Pie in anoth­er teen movie called Los­er.
But under all the streak­ing and album art­work fea­tur­ing an adult film star, there was also ten­der­ness. Adam's Song– the album's third sin­gle and most seri­ous offer­ing, dealt with depres­sion and sui­cide, and son­i­cal­ly and lyri­cal­ly laid the ground­work for the band's future for­ay into emo on their self-titled album four years lat­er. Going Away to Col­lege and Mutt also deal with the sad­ness and uncer­tain­ty of youth. At its core, Ene­ma​'s suc­cess came down to the fact that mid­dle Amer­i­ca felt these three shirt­less boys in skate shoes and knee socks under­stood what it was like to be a teenag­er in 1999: the uncer­tain­ty and hope of a bet­ter tomor­row, the frus­trat­ing and ubiq­ui­tous teenage quest to get laid, and dumb jokes about for­giv­ing your neigh­bour Bob, because you ​"think he humped the dog."
---