Brian Eno: music for saving the planet

Appearing at the International Music Summit in Ibiza, the visionary producer and artist outlined how musicians – and fans – can play their part in creating another green world.
The Eno has landed.
On the last day of this year's International Music Summit in Ibiza, one of music's biggest thinkers and truest pioneers (ambient music was his idea, way back in 1978, as conceived on the album Ambient 1: Music for Airports) touched down at the dance music conference for a keynote interview with DJ and IMS partner Pete Tong.
Well, to be clear: Brian Eno beamed in rather than touched down. In keeping with the core topic of the afternoon's discussion, the musician, producer, visual artist and campaigner kept his carbon footprint as light as possible, forswearing a flight to the White Isle in favour of patching in via video link.
Eno was not booked at IMS to discuss the time he spent living in Ibiza in 1977 to ​"escape from the British music scene"; nor his groundbreaking work with his first group Roxy Music; nor his storied production collaborations with David Bowie and Talking Heads. Nor, even, the recently-announced documentary about his 50-year career, which will hopefully find room to explore his score for the first Netflix series of Top Boy.
The 73-year-old was on the island to discuss the environment, his campaigning organisation EarthPercent and what the music industry needs to do to play its part in saving the planet. The man who made a 1975 masterpiece named Another Green World wanted to make that titular idea a new reality.
That said: ​"This isn't just about saving the planet," Eno pointed out. ​"We've been stuck with a very, very toxic relationship which is based on the notion that the planet exists for us to extract things from. To suck dry, if you like. And we have to rethink that."
But, true to a career built on blue-sky thinking – he probably invented that, too – Eno wasn't there to spout eco doom and gloom. For sure, he was happy to call out ​"moronic leaders like Priti Patel" and a British government ​"basically still in denial that such a thing as climate change is happening". But fundamentally, he wanted to talk about the ​"good news" with regards to the environment. Of which, apparently, there's more than we might think.

Firstly, he pointed out that millions, ​"if not billions", of people are now working on addressing the biggest problem in human history: scientists, schoolchildren, politicians (some of them), citizen activists. Even some people in the music industry, which is what Eno had in his sights.
Pointing out that only three per cent of all philanthropic giving is directed at environmental causes ("that is astonishing. And that's globally true"), Eno explained how he and a few friends in the music industry put their heads together.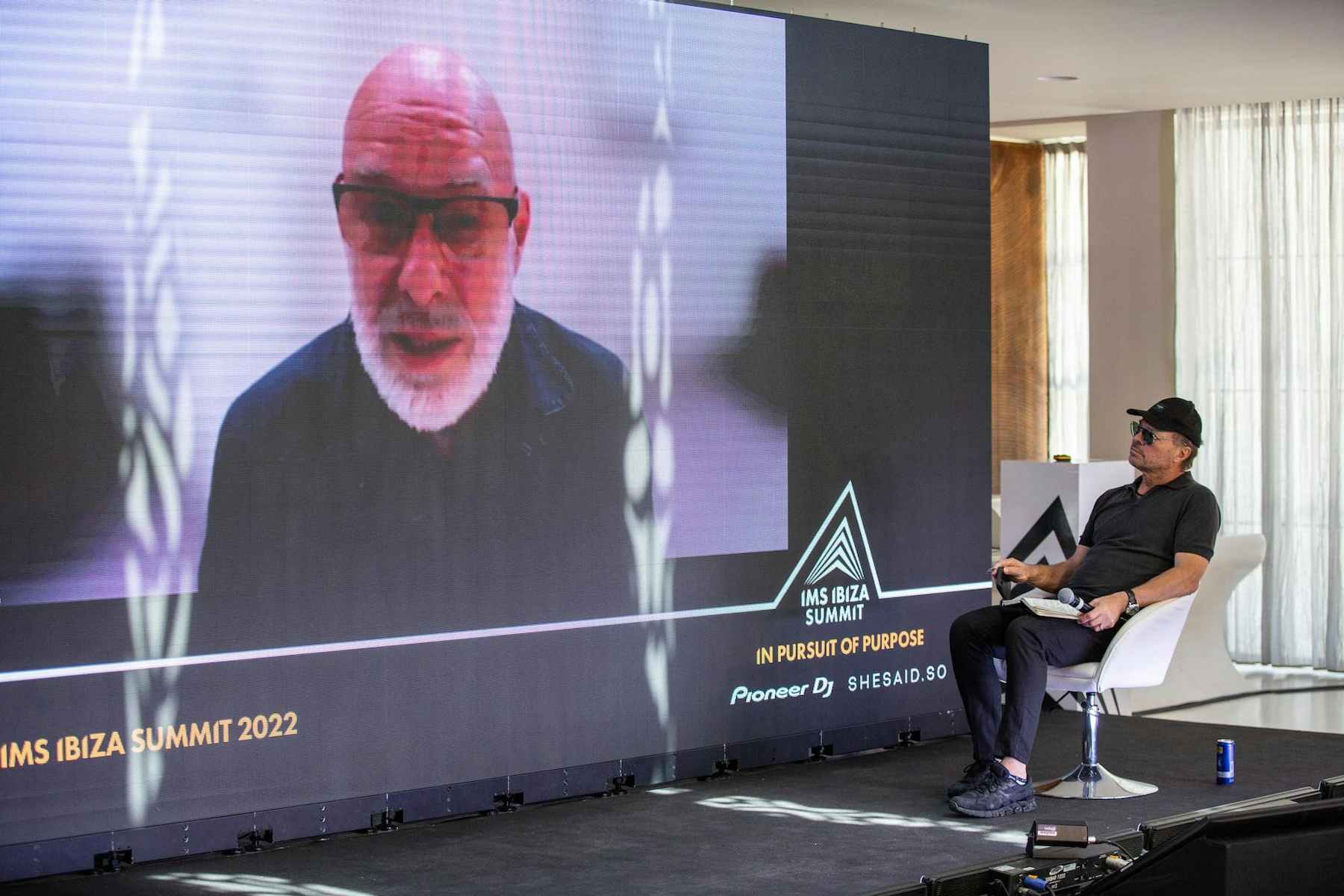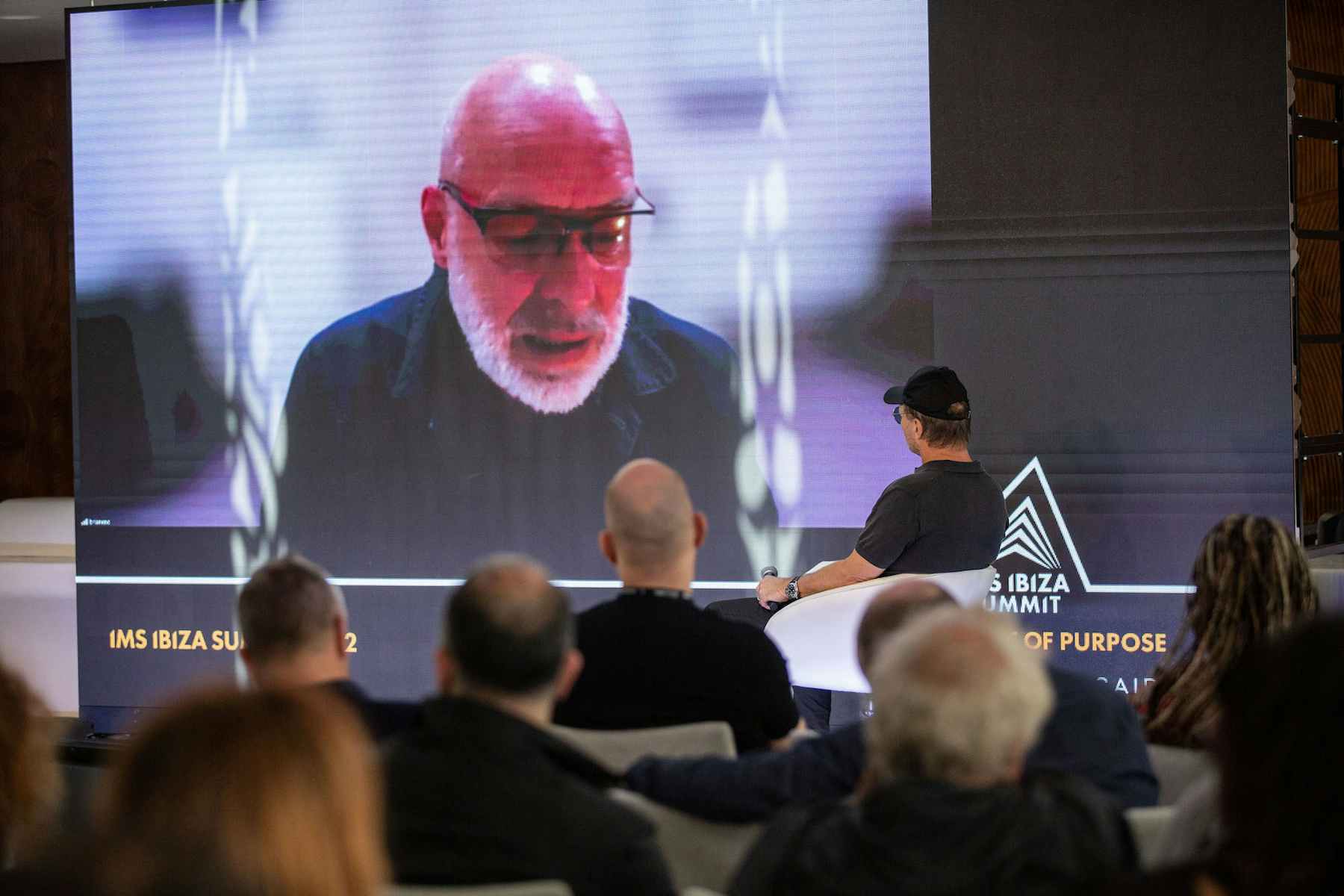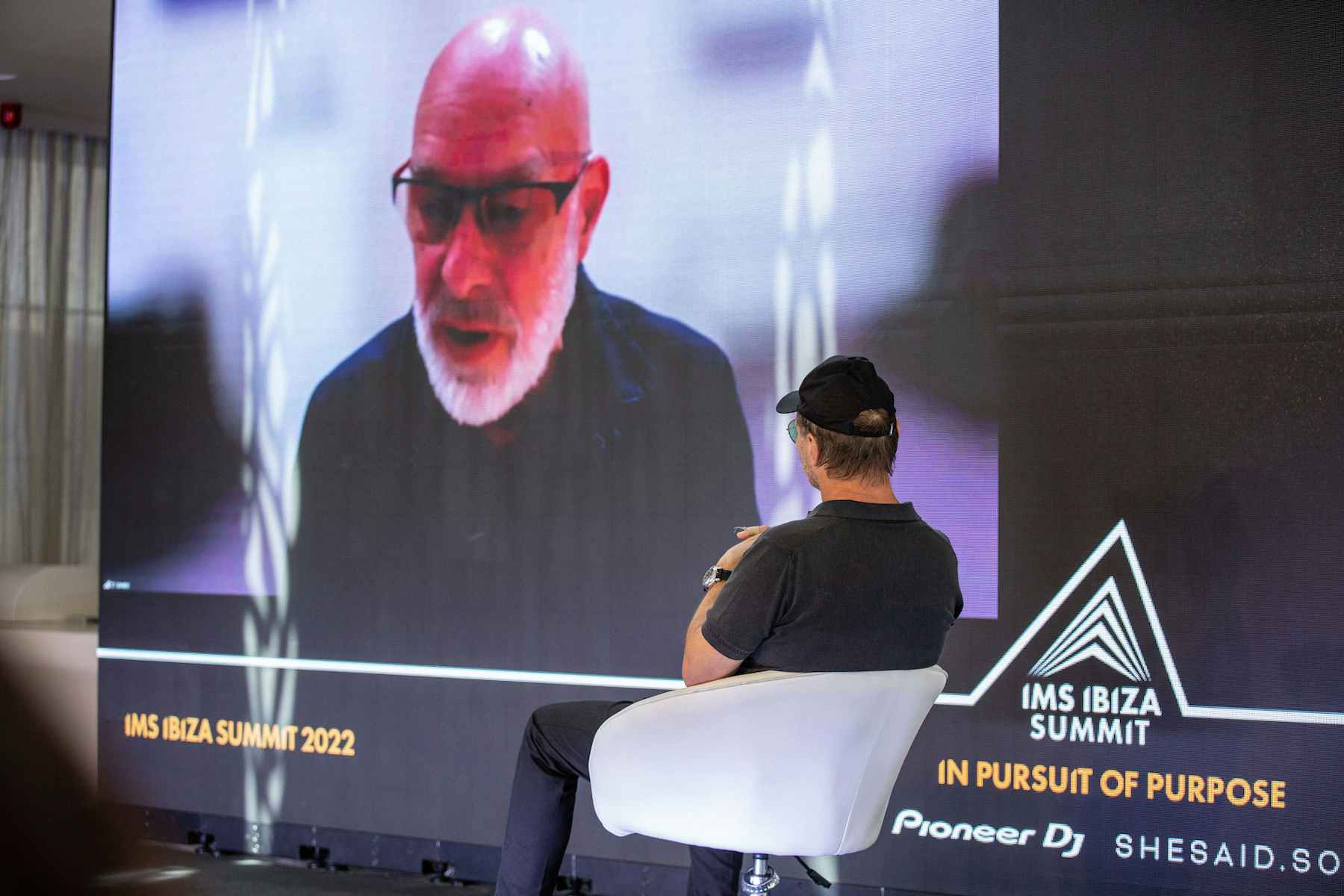 "A lot of money goes through the music business – culture is a huge business. What if we could say to people in the music business: ​'I'm sure you want to give something to charities that deal with the environment, because most people do. And I'm sure you're confused, because most people are. So what are the ones that will make a difference for a long time?'"
They came up with the idea of creating a body that collects ​"a sort of tax… a small percentage of the money that passes through all of the organisations in the music business – that's to say, bands, artists, tours, agents, lawyers, record companies, streaming companies – and say to each of them: ​'What about giving us one per cent of your take? And we'll redirect that to the best organisations that are really making a difference.'"
This umbrella organisation is EarthPercent, and they're focusing their efforts on five areas. Firstly, climate justice, addressing the fact that the ​"people who are going to suffer the most from climate change are the ones who had least to do with creating it".
Then, also: energy transition, how we move from fossil fuels to renewables. Thirdly: how to enshrine these ideas into law. Fourthly: protecting and conserving nature. And, finally, greening the music business.
"If we're gonna talk the talk, we should walk the walk as well," noted this cultural titan whose measured, reasoned tone makes everything he says sound like obvious, undeniable common sense. ​"If we really do concern ourselves with how much carbon we're putting into the atmosphere, as a business we should be doing that. And I'm glad to say there are lots of musicians who are thinking like this now," Eno added, citing The 1975 and Billie Eilish.
"One of the biggest issues with carbon emissions in regards to touring is not the tour itself but getting the audience to the shows… So we would certainly like to become an advice centre to say: this is how [things could work]."
Asked by Pete Tong what the dance and electronic music communities might do to be involved, Eno mentioned their recent Earth Day ​"activation": artists were asked to submit unreleased tracks to Bandcamp for two weeks only. Any proceeds of sales in that period would go to EarthPercent. There are Eno noted, 123 tracks available, by artists ranging from Murkage Dave to Lola Kirke, Hot Chip to Javis Cocker, Fred again.. to Anna Calvi.
"Artists are people who spend their time thinking about worlds, how other worlds could be, how they should be, how they shouldn't be," said Eno when asked about the important role musicians can play in moving the dial on environmental campaigning. ​"I think people understand that about artists. That's the job, and there's a certain level of trust: if that's what you spend your time thinking about, then it might be worth listening to you on that subject."
Artists and fans alike: you know what to do.

More like this