Caleb Landry Jones' Freak Zone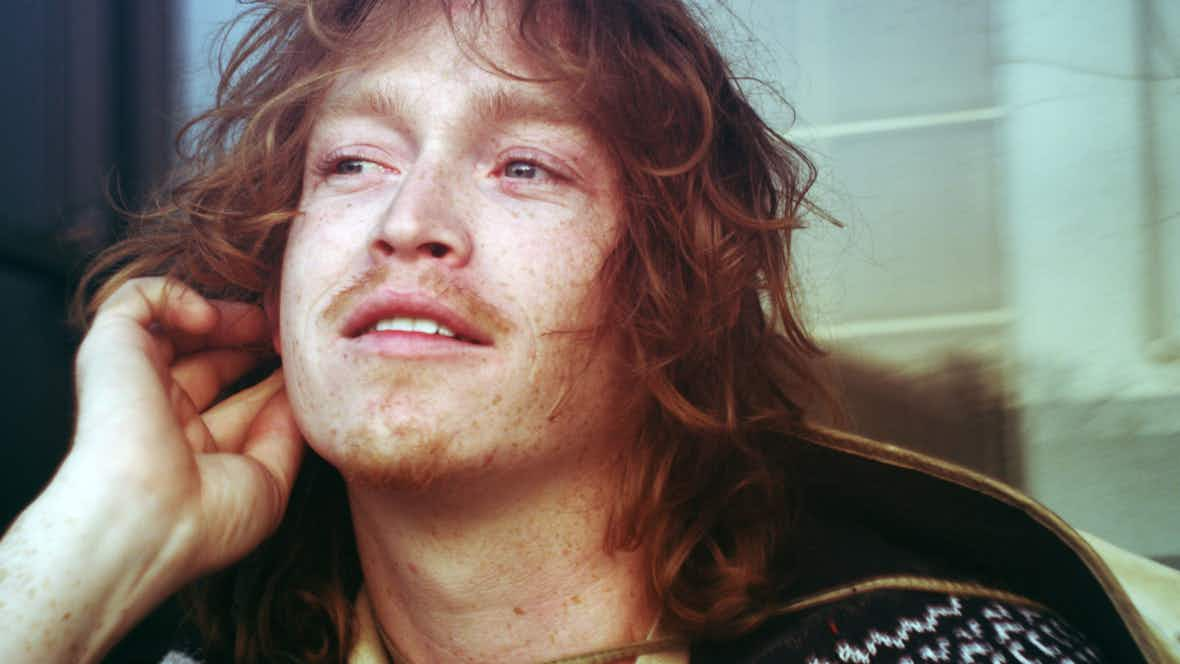 After a run of acclaimed film roles, the Texan actor creates his own private psychedelic reel: a debut album that's as brilliant and out-there as its maker.
It's a sunny afternoon in rural Texas and, for today at least, isolation suits Caleb Landry Jones just fine.
The actor and musician is out on his parents' farm, watching a flock of sheep mill around some old iron bars that jut out of the dirt like erupting molars.
"I hate boasting, but it's pretty nice," the 30-year-old drawls languidly into his trusty flip phone. ​"If it wasn't lockdown, I wouldn't be doing too much different. When I'm on the farm I don't go to town much, except to get some cigarettes and heavy whipping cream." With a shopping list like that, Jones shouldn't have much trouble keeping his social distance.
Life on the farm moves pretty slow, especially when you consider that Jones is one of Hollywood's most sought-after stars. His first screen appearance came when he was 16, playing the boy on a bike in the Coen brothers' No Country for Old Men (2007) who greets Javier Bardem's terrifying hitman with the memorable line: ​"Mister, you got a bone sticking out of your arm!"
A bit part in Breaking Bad (as Walt Junior's best mate) and a role as Banshee in X‑Men: First Class (2011) followed. But his real breakthrough came in 2017 with roles as the sinister, lacrosse stick-wielding brother in Jordan Peele's landmark horror allegory Get Out and as the ill-fated billboard agent in the multiple-award-winning Three Billboards Outside Ebbing, Missouri.
But now, with directors falling over themselves to cast him, he's taken the left turn of putting out a strange, hypnotic psych record. The Mother Stone is the first album Jones has released, but in truth he's been making music as long as he's been acting. By his count, his catalogue of unreleased songs numbers some 700.
He admits he's sure which impulse came first. ​"I knew I liked being on a stage at a very young age. I was banging on pots and pans at the same time I was doing ballet recitals."
Jones was born at the end of 1989 in Garland, just outside of Dallas, and grew up in nearby Richardson. His dad, Patrick, was a builder who did a lot of work for Dallas instrument dealers Brook Mays and bought Jones a drum set for his 15th birthday. His mum, Cindy, was a special education teacher who also taught piano – albeit not to her son.
"She tried!" he says with a wry laugh. ​"She gave me a lesson once. I think we bickered so much that we only did it once and never did it again."
As a kid, he discovered The Beatles. They blew his tiny eight-year-old mind, and he still talks about them reverentially.
"They were four guys that did something with songs that I didn't know you could do," Jones marvels. ​"I'd heard extreme, extraordinary classical pieces because of my mom, but I'd never heard those rules broken in rock'n'roll. Same as Kubrick making movies. I didn't know you could make movies like that. I didn't know you could tell those kinds of stories. I didn't know you wouldn't get hung for it."
For Jones, the revelation wasn't just a musical one but a philosophical one.
"It had seemed like I was part of a society that was gonna ridicule me for any idea or any expression that was a little left or right of the line that everyone else was in.
"I fought it for so long, and it really took until my twenties before I was starting to say: ​'Fuck that!' Pardon my French!" interjects this funny, mazy, occasionally cosmic interviewee, admitting that he was ​"really aggravated" by how much mainstream society's conservatism had been holding back his teenage self.
"Making music when I was 18 was the first time where I was allowing myself to feel things and to do things and not judge them. I had to learn to not stop myself from doing something because I was worried about how someone else would perceive it.
"It took a while, but I think both music and acting have helped me in that way."
It was music that Jones first pursued when he left home. He played in a band called Robert Jones, and even while his acting career was taking off he was still writing and recording music in a big red barn on the family farm. The opportunity to release it didn't come along until a meeting with director Jim Jarmusch a couple of years ago, ostensibly to talk about a role in last year's The Dead Don't Die.
Desperate to make a good impression on one of his heroes, Jones decided to write Jarmusch a song on piano. Alas, when he turned up for the meeting – in a diner – there was, of course, no piano to play it on.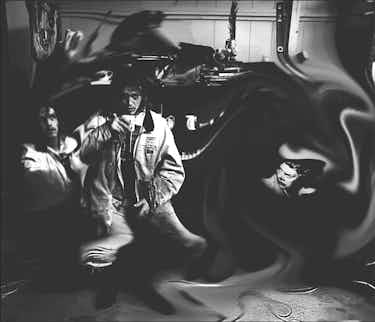 "I'd made this piece that seemed like The Walking Dead, and then met him and it was a movie about zombies!" laughs Jones. ​"I thought: ​'Man, if I could only play you this song!' It was so perfect for what he was telling me about. In the end we had a conversation instead, which was probably much better. I'd have probably gotten to play it and then screwed it up and started it over so many times."
Still, he got the part and later sent Jarmusch a few of his old barn recordings. The director pointed him in the direction of Sacred Bones, which releases records by the likes of John Carpenter, David Lynch and Jarmusch's own band SQÜRL.
The encouragement of the Brooklyn-based indie led to Jones writing The Mother Stone mostly on guitar and a Dave Smith Prophet synthesiser in hotel rooms in Toronto and New York while shooting Lone Scherfig's 2019 drama The Kindness of Strangers (he also found time to model for Saint Laurent's 22020 collection). At the time, he wasn't listening to anything except the music he was making, which perhaps goes some way to explaining the sprawling, compelling ​"otherness" of the 15-track album.

"I wasn't really digesting too much or watching movies at the time, just things that make me laugh and not think so much. Like The Simpsons. So I guess the music I was listening to the most when I was writing it was Danny Elfman's Simpsons intro," he says cheerfully, ​"every 26 or 27 minutes, depending on the episode."
The Mother Stone – which includes that Jarmusch piano piece as part of the title track – is a carnivalesque song-cycle on which each track glides or lurches into the next. After Sgt. Pepper's-era Beatles, the next most explicit influence is Syd Barrett.

"It hasn't been that I've been listening to Syd or The Beatles primarily recently," he insists, ​"it's just that they influenced me so heavily within the last 10 years. This is the first record I'm putting out, but the music I've made for the last eight or 10 years has all been in this vein. Apparently I still don't have it out of my system."
Or, in the approving words of Jarmusch: ​"I had no idea what an astounding and unusual musician Caleb Landry Jones was until he gave me some of his music to listen to two years ago. Oh man, I don't even know how to describe it! But I asked Caleb if we could get it to Caleb Braaten at Sacred Bones. And now, thanks to these two Calebs it's being delivered to the world – a strange and beautiful gift!"
What Jarmusch said. The Mother Stone is a captivating collection of music that's as compelling and vulnerable as Jones' best film performances. And it seems apparent, even talking over an old-school flip-phone, that that vulnerability isn't necessarily an act. As we wrap up, Jones is sweetly self-conscious about how he's come across in this interview.
He advises me that, when I'm listening back to the recording, ​"if you yawn at any point, just delete it. And if the worst comes to worst, you should say that Caleb answered with ​'hello' and then put me on the phone to the sheep. Then you can just put a bunch of different ​'baas' for all the answers."
I tell him I'll think about it.
"Baa!" he replies. ​"Baaaaaa!"

The Mother Stone (Sacred Bones) is released on 1st May

More like this