Charlie Bones and the consolations of radio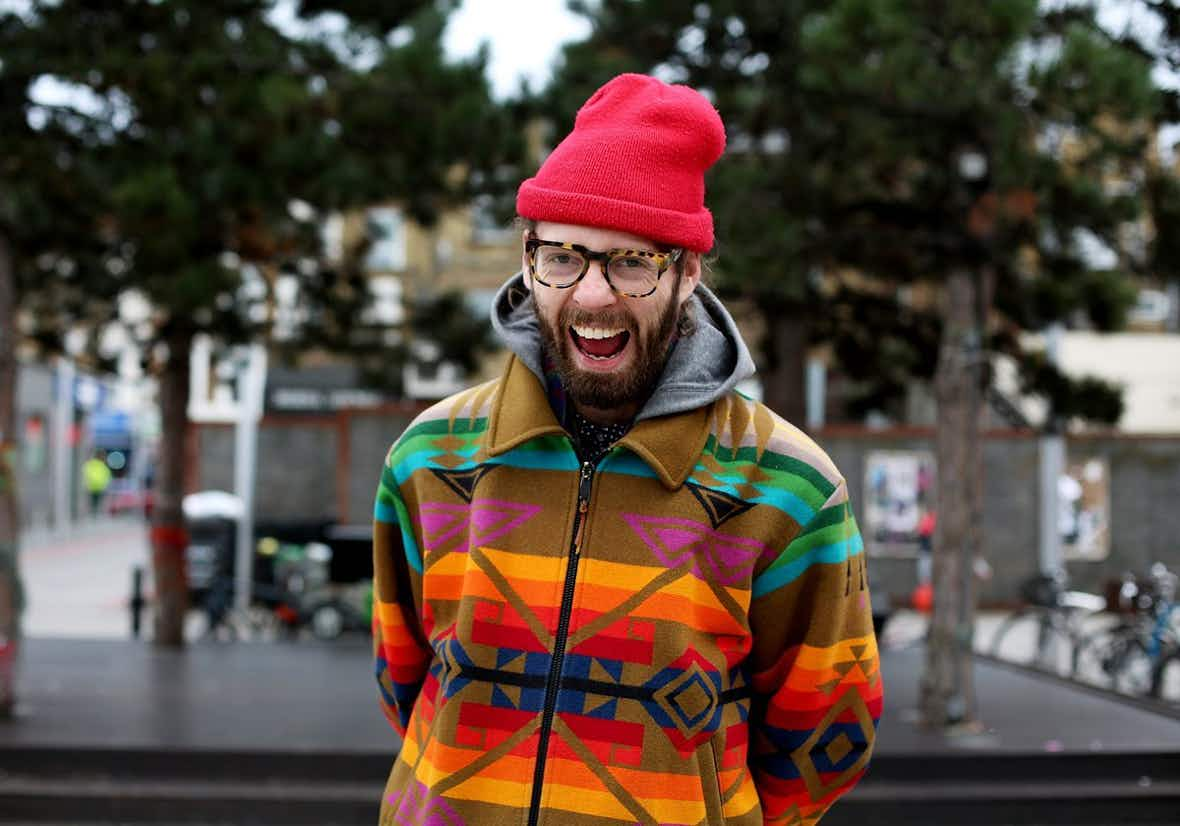 The NTS breakfast show host on an online radio station that until recently broadcast out of a shabby and sticker-strewn hut in Dalston might be a slightly left-field pick for a potential saviour during a global pandemic… but unlikely times call for unlikely heroes.
Over the coming weeks and months each of us will have to rapidly understand how best to adapt to a world in which the social contract has been firmly – and necessarily – broken. We will all be tested by this, forced to endure the blunt and troubling reality of ourselves for perhaps the first time in our lives.
Entertainment will provide the crucial company we so dearly and clearly crave. We might finally finish Ulysses and start Benidorm, or finish Benidorm and start Ulysses. TikToks will be copied, JPRGs begun, and Bon Appetit videos binged on.
And then there's the radio. Always on, and pretty much always free, the radio offers us an infinitesimal amount of distraction, be it in the form of playing along with Ken Bruce's Popmaster or listening intently to PM for the latest update from the Hell That Is Earth in 2020.
I've spent most of my weekday mornings over the past few years in the company of Charlie Bones, NTS' esteemed morning presenter, and possibly the only person on radio who can get away with playing Transition by Underground Resistance back to back with Running Up That Hill by Kate Bush without coming across like a cider-sodden second year student at a house party desperately pawing through Spotify in an attempt to get things going in a half-empty kitchen in deepest Sydenham.
Despite the constant dread and panic that has enveloped us all, this is one habit that I and the majority of the show's dedicated listeners across the world won't be giving up any time soon.
Gloriously electric without ever being painfully esoteric, The Do!! You!! Breakfast Show relies on two simple things that, more often than not, coalesce into a daily three hour dose of pure radio pleasure.
The first is Charlie himself, a veritable anti-Chris Evans. He might not be the most punctual of broadcasters – and indeed many episodes of Do!! You!!! Begin with a good 45 minutes of ambient drift that subtly inform the listeners that, yep, he's late in again – but he's a gloriously unguarded one.
Whether he's talking us through the latest conspiracy theory to grab his attention or bursting with glee as he chats to the legendary Dexter Wansel about Teddy Pendergrass' passion for topless horse riding, it is Charlie's indomitable combination of weatherworn grouchiness and evident and almost outsized adoration of music that ties the show together. He's Larry David with a ponytail and a penchant for Prefab Sprout.
As happy playing album tracks by The Cure as he is the latest Lobster Theremin 12", a soft-rock rollocker by Laura Allen, or an extended edit of an electro-acoustic oddity that soundtracked a film about a Canadian canoeist, he leads us — the audience — on a merry dance through a world of cutting-edge dance music and the sort of mum-bangers you'd associate more with Heart FM than NTS.
And we – the audience – are the other part of the Do!! You!!! equation. His must be the busiest chatroom in all of radio; day in day out, regulars and anons alike congregate to not just dissect track selection or track Charlie's mood, but to engage in the sort of pleasantly phatic chit-chat that comprises to much of our digital (and IRL) communications. Job concerns are raised, weekend plans discussed, and in a quiet way, the world is set to rights.
On Wednesday the show is handed over almost entirely to the audience in the form of a weekly jukebox episode. Links are bunged into the chat before the show starts and you have to pray your fingers are fast enough to ensure that you'll get to experience the joy that comes with hearing your latest obsession or sentimental old favourite beamed across the airwaves for listeners from Stockholm to San Francisco to enjoy.
If you're feeling brave, there's always the option to call in directly – which is where the wonky magic happens. Make it through to the man himself, and he'll have you singing for your supper. Well, for your request anyway. In lesser hands, on a lesser show, these crackly, often-disjointed interludes would be at best an irritation and at worse a show-ruiner. But this is Do!! You!!!, a place where the rough is taken just as readily as the smooth, where you endure a barely decipherable call from a listener who wants to hear Juicy because the next day you might get Beverly Glenn-Copeland in the studio.
Like most of us, Charlie is currently working from home: not even long standing breakfast show hosts are above social distancing. The fact he's now broadcasting live from his living room rather than NTS' studio adds another layer of intimacy to proceedings.
As confusion reigns, the need for normalcy becomes stronger than ever, and for many of us, that is found in regularity and routine. The show, as they say, must go on. This week, the shout outs – which are usually doled out like confetti during the course of an average show – have been coming from around the entire globe. It would seem that each and every continent has a contingent of hardcore NTS-listeners who are easing into the uncertain waters of quarantine with the help of an old familiar friend.
It's heartening, reassuring, and in true Do!! You!!! Fashion, a little odd, as if the whole world has decided to camp out en masse in our bearded leader's living room, relying on Theo Parrish b‑sides for sustenance.
Put simply, the show has become fully embedded in my day-to-day life, and that of thousands of others. It's there on sunny Friday mornings when life feels – and we need to remember here that it can feel like this and it will feel like this again – brilliant, and on overcast days in mid-December when it really, really, doesn't. It is, I imagine, a similar feeling to the ones that perhaps your parents experienced when they heard John Peel's show all those years ago: a point of certainty in a world full of twists and turns, false starts and dead ends.
An increasingly important part of this newly installed and likely hyper-extended experiment into the limits of sustaining a self in a world in which contact has largely been exorcised will be managing to cultivate a sense of community out of the isolatory confines of our immediate surroundings. If ever a bloke playing records on the radio was more than just a bloke playing records on the radio, it's Do!! You!! And if we ever needed a bloke playing records on the radio to be more than just a bloke playing records on the radio, it's now.


More like this