Gospel house, punk-techno and reconstructed club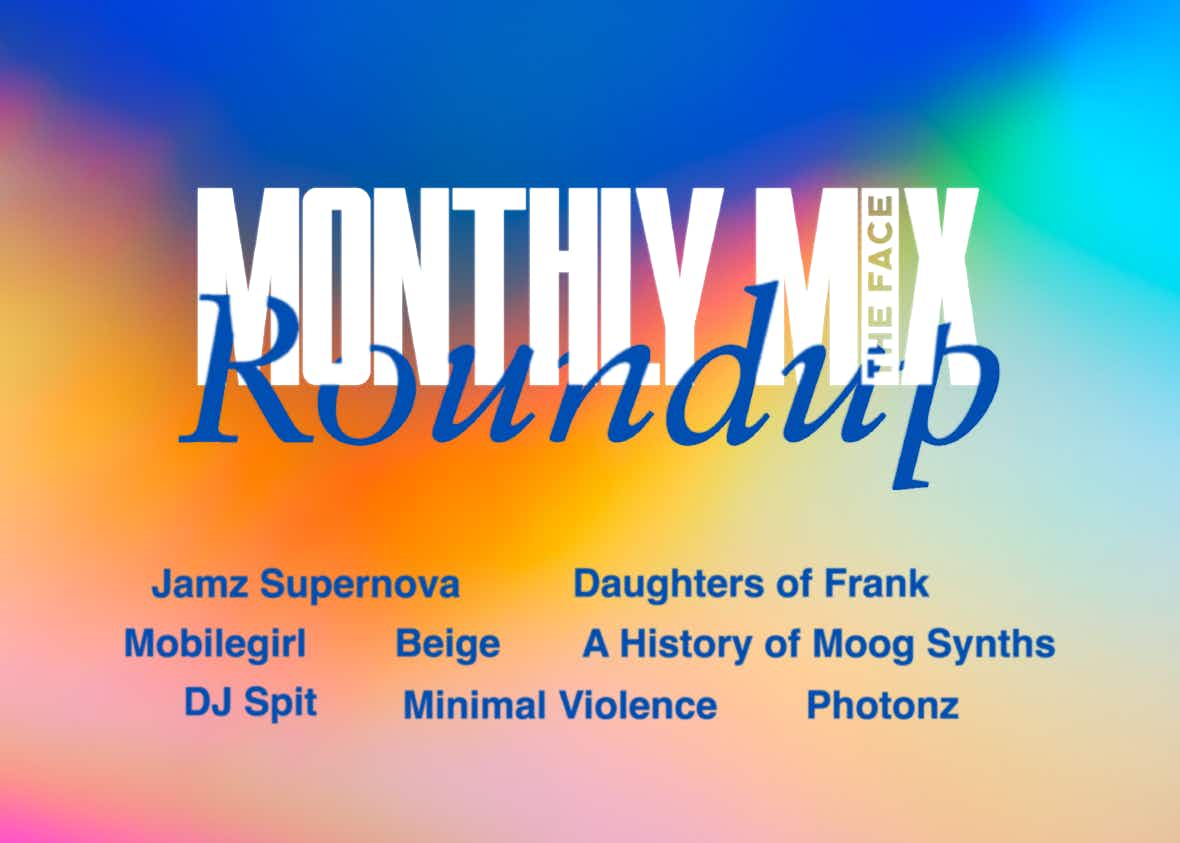 Chal Ravens' column collects the best DJ mixes and sets that have dropped in recent weeks.
In the always-confusing month of April, seven powerful mixes offered a guiding light through this seasonal transition. There's a godly presence on a revelatory mix of gospel house, while Minimal Violence represent the dark side with a mix of punky techno. Mobilegirl takes the pulse of reconstructed club music, Jamz Supernova serves the real raveaholics, while Daughters of Frank take it easy and breezy. Photonz drops a carefully curated career-best mix and – wild card – we get a potted history of a beloved synth.

A bonus pairing, before we get going – make a note of two tribute mixes from Crack Magazine which serve as fine introductions to the work of turntable composer Philip Jeck and Warp Records mainstay Mira Calix, who passed away in March.

Testifying to the spirit of gospel
In the beginning, there was gospel. It's the root of so much of the music we're still listening to today, and it provides a fundamental metaphor for almost everything that happens on the dancefloor: praising, hollering, raising hands to the sky, coming together as a congregation. This two-sided cassette mix from Detroit's Beige, just released on Eris Drew and Octo Octa​'s label T4TLUVNRG, is a sharp twist on an old, old sound. Inspired by Beige's upbringing in a family of committed choir singers, with countless Sundays spent in ​"a run of increasingly conservative churches," it's a tribute to gospel as a feeling rather than a genre. So as well as a few stone-cold sermonising classics – including a very tweaky blend of Robert Hood's Aretha-sampling belter Never Grow Old – the majority of this mix is fresh, fast and modern, from thundering techno to ecstatic breaks (lots of those, actually).
Minimal Violence's Face Mix
The sound of fishnet gloves and frozen synths
Under the banner of Minimal Violence, Berlin-via-Vancouver artist Ashlee Luk has released a string of dark punk-techno records with a DIY feel. So it might come as a surprise to read Luk's description of this mix for THE FACE, which claims it as ​"a mixup of genres mostly tied together by a penchant for melody." Melody, you say? In fact, once you've adjusted to the palette of frozen synths and tough kicks, there's no mistaking the exuberance and drama that runs through this set, almost like a playlist for My Big Fat Goth Wedding. Quirky pairings abound – from early Hard Wax trance to Psychic TV's industrial jams to Walton's pristine bass techno – and a thousand fishnet gloves reach for the lasers.
Massive hoofin' tunes for late-night flyers
It's always 3am somewhere, says South London stepper Jamz Supernova, offering this rave-a-holic mantra as justification for her rowdiest mix in a while. There's no time to waste: from the roughed-up avant-pop of Rosalía's ​'CUUUUuuuuuute', we drop straight into club pyrotechnics from Jamz's bulging crate of garage, breaks and screwface business. The track titles alone hang like a work of art, from Redbull (by Chloe Robinson x ADHD) to Rave Bender (Villager) to Hammertime (Dismantle). Chuck in the new dancey one from Joy Orbison and a technotronic incantation from Tygapaw and LSDXOXO, and we're flying.
Daughters of Frank for Rhythm Sister
A femme-fresh mix from the (literal) sisterhood
Daughters of Frank are a sibling DJ duo with a monthly slot on Balamii Radio for soul, garage and house. Is Frank their dad? Or maybe a tribute to the first Amy Winehouse album? Unclear, but their mix for Rhythm Sister gets the nod for its excellent tracklist and clever sequencing of material, mainly produced by women and non-binary artists. Opening with a dreamy collaboration between Fauzia and Kelela, it's a slow heater of a mix – by the time you're realise you're cooking, it's too late to jump out of the pot. Feminine garage pressure from Sunship and Jhelisa, romance in the club from KG and UNIIQU3, and racy house from Plush Management Inc (big tip!) add up to a fresh and breezy mix for slow afternoons.
A seamless statement from one of Lisbon's finest
Lisbon don Photonz has been plying a combination of sweaty acid and broken beats over his many years at the controls, and his approach to mixes is usually pretty old school, nailed in one take on CDJs or vinyl decks. But for his Untitled 909 mix, he takes a different tack for ​"a proper studio mix in the tradition of classics like Coldcut's 70 Minutes of Madness or Miss Kittin's Radio Caroline". The end result is an assured journey through styles old and new, with a brilliant opening gambit blending Jeshi​'s melancholic banger 3210 into grimey bars from Bristol MC Emz and a slice of liquid garage. After that it's onto the dancefloor proper for polyrhythmic breaks, fuzzed out electro and ditzy Latin spinners, including a vintage gem from Carl Cox. Seamless.
A History of Moog Synthesisers by Harry Zwaig on Balamii
A potted history of the little keyboard that could
Brighton digger Harry Zwaig has a new show on Balamii that's bound to appeal to all followers of freaky underground artefacts. For the third episode of Main Courses, he narrows his focus to the gloopiest, phonkiest, silliest synthesiser of them all: the Moog. An affable host and a smart historian, Zwaig delivers a great potted history of the little keyboard that could, interspersed with tracks from true originals like plant whisperer Mort Garson, space composer Isao Tomita, Canadian quirkster Bruce Haack and the funkateers-in-chief, Parliament.
Around the world in reconstructed club music
Sometimes it only takes a squiz at the tracklist to know that a mix will be worth your time. Berlin-based DJ mobilegirl has an innate feel for club tracks that work on both body and mind, whether that be wacky rap edits or three-way-blended loosies from the depths of SoundCloud, as demonstrated on this zingy hour for Frankfurt's EOS Radio. Between the Jersey edits and groovy ama-house, she also slots in remixes from DJ Python and Fractal Fantasy talent Xzavier Stone, tough drums from Nídia and Basic Rhythm, and a couple of certi pop bangers from Aleisha Lee and Kylie. The campaign to Make Club Music Constructed Again has been a roaring success.

More like this