DJ Absolutely Shit: the unstoppable rise of cringe names in dance music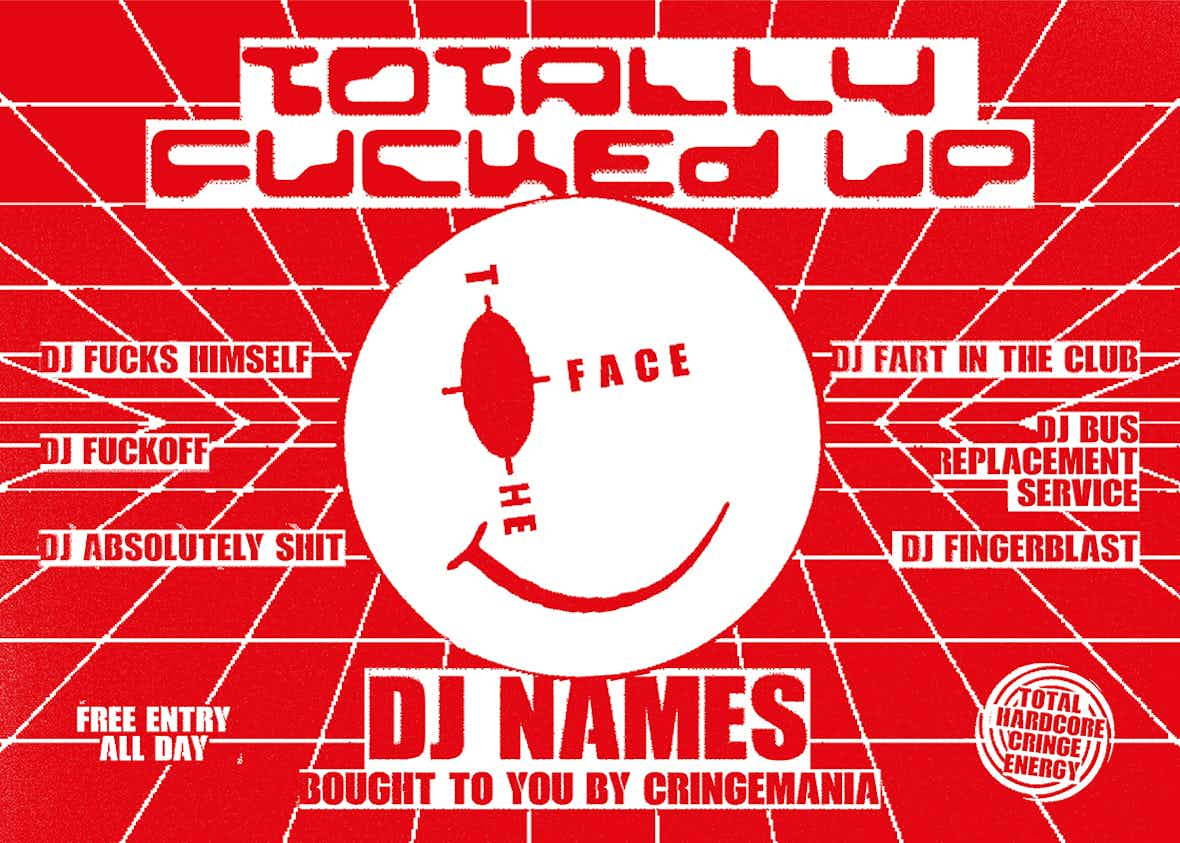 In defiance of prudish algorithms, a new wave of silly selectors are heading to a good club near you.
Choosing a DJ name is like a sacred ritual. Legend has it that they used to gather in a circle around CDJs, burn incense made from smashed up vinyl and chant the lyrics to Born Slippy in the hopes that the gods would bestow upon them a moniker that would pluck them from their bedrooms and straight into Berghain.
While the serious superstar DJ with the ultra-cool alias isn't going anywhere anytime soon, there's a new batch of selectors seemingly on a mission to make ravers wince at the sight of their names on a club line-up.
Ironically, these recklessly uncool DJ names might just be boosting careers – while scrolling Resident Advisor​'s Events section these days, you might see names like DJ Absolutely Shit, DJ Fucks Himself, DJ Fingerblast, DJ Fuckoff, DJ Bus Replacement Service and DJ Fart in the Club sharing a bill with the big hitters.

Mixmag dubbed 2016 ​"the year of ridiculously silly DJ names" singling out lo-fi house acts such as Ross From Friends, DJ Seinfeld and DJ Boring as the ones leading the charge in a subgenre that aesthetically centred itself around irony and nostalgic pop culture references. But this more recent trend takes things a step further.
Big DJs tend to have big egos, and historically, Germany's techno scene hasn't been known for its sense of humour or a tolerance for dropping silly tunes. So you can understand why a veteran of the game might not be that crazy about catching a whiff of DJ Fart In The Club ahead of their set. But DJ Fucks Himself, a German, Berlin-based artist, argues there's a positive development of club culture getting less serious.
"I'm just happy that there is space for people like me who play 170 BPM happy hardcore bangers with a piano breakdown these days," says DJ Fucks Himself. ​"I wouldn't have thought that would be possible a few years back." DJ Fuckoff, a fellow Berliner and friend of DJ Fucks Himself, agrees that there's a common goal to make people leave the club with a smile on their faces. ​"It's just super unapologetic, sexy fun," she says. ​"I'm looking forward to spreading more fuck off vibes this year.
DJ Fuckoff, real name Zoe Angelina, blends gabber, ghettotech and hardcore, which is often topped off with lyrical themes such as anal sex and face sitting to the point of suffocation. She's sharing line-ups with major dance acts including Avalon Emerson and Ben Klock at festivals in Germany, Croatia and Switzerland this summer, and thinks that rude DJ names are a sign of a change in attitudes towards what a DJ should be.

​"There are people in the scene who feel like you have to have a certain kind of name or know how to play vinyl or you're not a good DJ," she says. ​"Now you've got people like myself, or my friend DJ Fart In The Club [from Berlin] and it's nice now that people are feeling more empowered to go against the grain. It invites the right people in." Initially starting her DJ career as Kick Girl, a name taken from an online hardcore techno DJ name generator, the name DJ Fuckoff was a random drunken decision that stuck once she moved to Berlin from her native New Zealand ​"with nothing but a dream and a backpack" – because it's Berlin, of course.
For DJ Fucks Himself, his artist name was surprisingly unavoidable. "'Fucks' is my actual last name," he says bluntly. ​"It's my number one party trick to pull out my ID when I'm with English speaking people." Though the common German spelling is Fuchs, he thinks someone in his family misspelt the name on a marriage licence generations ago and it stuck. He now wears this mistake as a badge of honour, despite the fact it occasionally raises eyebrows. ​"The reaction is almost always positive, though there was this one fancy dinner where my boss told the people who ran the company we were working with that I was a DJ, and they asked me what my DJ name was," he says. ​"I had to very quickly go on a tangent."
Due to the powers of the algorithm, these days, even the most talented DJs are struggling to reach a global audience without also moonlighting as an IG baddie. But for these DJs with crude names, the options for social media promo are especially limited.

​"My name is auto-blocked on Facebook," DJ Fucks Himself reveals. "[Promoters] don't think about the whole ad thing when they book me. When they want to put out sponsored posts, they can't do it." DJ Fuckoff shares the same promotional woes, finding herself shadow banned in Instagram despite boasting over 26k followers. ​"I'm constantly getting reported," she says. ​"I'll take a normal selfie on my story and it'll get taken down."
Manchester duo DJ Absolutely Shit have chosen to mostly eschew social media. They have an Insta page for their label Red Laser Records, but haven't bothered with an artist account.
"We're not into promoting ourselves that way," says Absolutely Shit member Il Bosco, referring to savvy social media strategy. ​"We're into making music and the music speaking for us." Maintaining an element of virtual mystique has given way to an urban legend (started by Il Bosco himself) that DJ Absolutely Shit is actually his cousin from Salford, who's currently in serious debt and on the run from Hell's Angels. ​"It's not even about us," he says. ​"It's about creating a world, inviting people into it and enjoying the folklore around it."
Despite the social media restrictions, DJ Fuckoff claims she's built a following of well-engaged fans, in part thanks to people having to actively seek her out online. ​"I'm really enjoying this authentic process of people discovering my music and finding my profile," she says. ​"I quite like how it happens naturally."
Il Bosco previously thought that cringe DJ names were, well, absolutely shit. ​"I'm only speaking for myself here, but I'd be like ​'Bloody hell, someone's trying to be funny'," he says. But the name certainly doesn't seem to be holding them back – DJ Absolutely Shit are booked to play Glastonbury's Silver Hayes stage and Croatia's Love International this summer. ​"Even though we've got a daft name, it gets us attention," says Il Bosco.
Proudly embracing a cringe name can liberate DJs from the scrutiny of the humourless chin-strokers that once gate-kept club music. Making such a bold statement, however, doesn't necessarily help calm pre-stage nerves. ​"The ideas are limitless," says Il Bosco's musical partner Metrodome, ​"but if you're called DJ Absolutely Shit, you've got to deliver."


More like this