Emma Rena is soundtracking the end of the world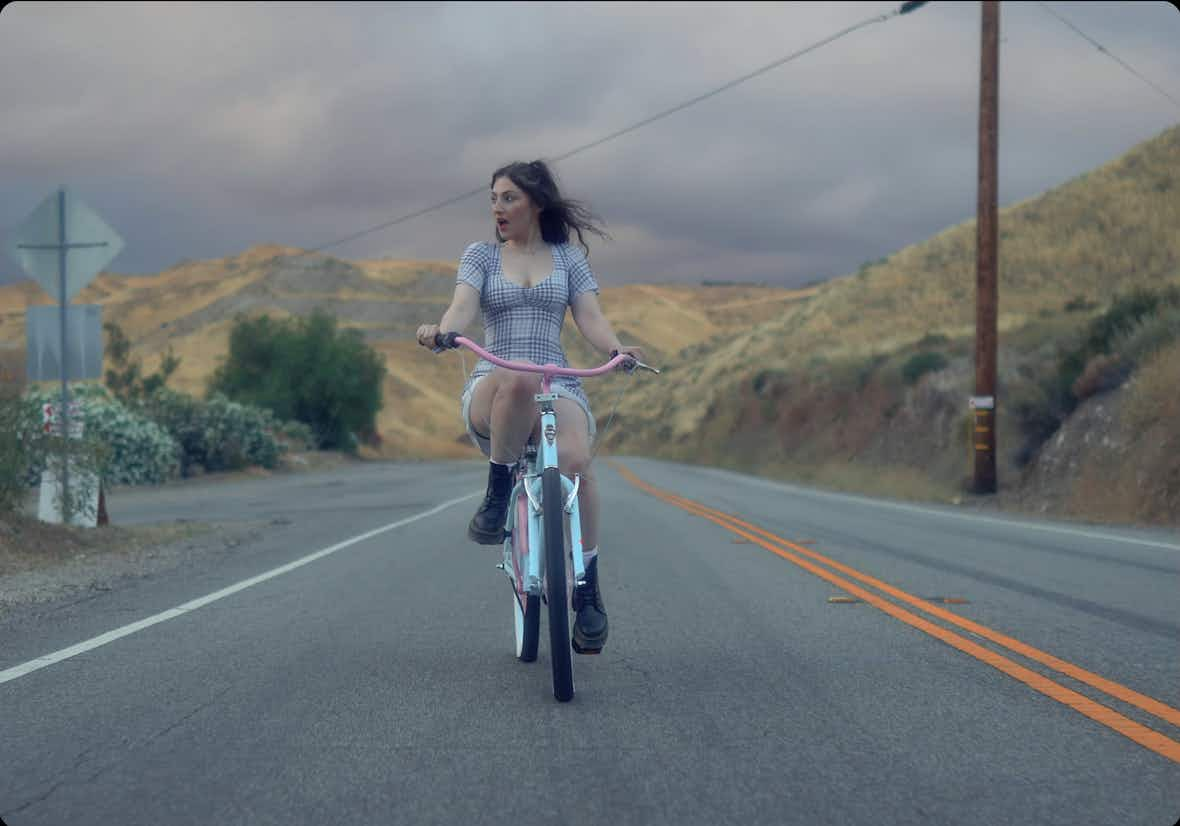 The artist may only have two singles out, but after a five-year expedition honing her sound – during which she racked up a writing credit on a Grammy-nominated album and US series Empire – she's finally ready to take over.
It's 10:30am on a Friday morning in LA and Emma Rena has just returned from a walk. She's fumbling around finding the keys to her apartment when I catch her over FaceTime, ready to hunker down for another day banging out tunes. ​"Honestly, my lifestyle is not very different from what it was before the coronavirus. I'm always in my room, by myself, making music," admits Rena, finally managing to unlock the door.
However, one thing the pandemic did change was Rena's discography, or lack thereof.
"I don't know why but it wasn't until corona hit that I was like if I die and I don't have music out, that's so stupid," says the singer-songwriter, ​"I need to stop sitting on five years of music."
Her resulting debut single God Says Jokes On You, released back in May, is a woozy interlude that muses on the frustration and disappointment brought about by Covid-19. ​"Dropping gems/​Dropping jewels," Rena moodily croons over drawn-out guitar chords, as she crouches in a luscious green patch beside a nondescript LA highway, ​"Cause we make plans/​And god said jokes on you."
The follow up track Armageddon, out last month, is a continuation of her lo-fi, fatalistic aesthetic. She's back on the road, this time equipped with a baby blue bike – a nod to her teen years spent cycling everywhere and anywhere. Rena's piercing vocals slink into a lullaby-esque soundscape, accompanied by haunting lyrics: ​"I'll meet you in my daydreams," she sings with a sultry stare.
The 25-year-old grew up in Minnesota surrounded by music. Her grandma was a concert pianist who played all over the world, while her cousin composed the film scores for A Nightmare on Elm Street and Kill Bill. ​"When I was six it was kind of expected that I would at least start one instrument," says Rena, ​"then I joined an orchestra and just took any opportunity to start singing on a stage."
It wasn't long before the young singer started uploading covers of power belters by the likes of Beyoncé and Alicia Keys to YouTube. Although they have since been taken down and ​"put in a vault", while live they clocked up thousands of views – including a producer from LA who got in touch about a record deal.
"I was going to sign to his label through Capitol Records but the whole thing ended up falling apart when I moved here. I really thought it was going to go down," says the singer-songwriter, before blunting adding, ​"but it definitely did not."
Not knowing a single person in La La land, Rena started sliding DMs to people in the industry that she respected, including @jacob.but.happy who helped produce her first two tracks.
"I actually think the guitar loop for God Says Jokes On You was an Instagram video he uploaded, and I messaged him and I was like can you send me this."
And although she's only just started releasing her own music, since moving to LA in 2015 Rena's already racked up a writing credit on TobyMac's Grammy-nominated album The Elements, and written songs for American musical drama TV series, Empire.
Right now, with the coronavirus Armageddon descended upon us, Emma Rena is set on continuing to step out on her own. ​"My goal is to realise one song a month. I have a project I'd like to put out but I just want to wait for the right time."
"There's no time like the pandemic," I joke.
"Guess I better get on with it then," Rena replies.

More like this