100% Griff: pop's next lady-in-waiting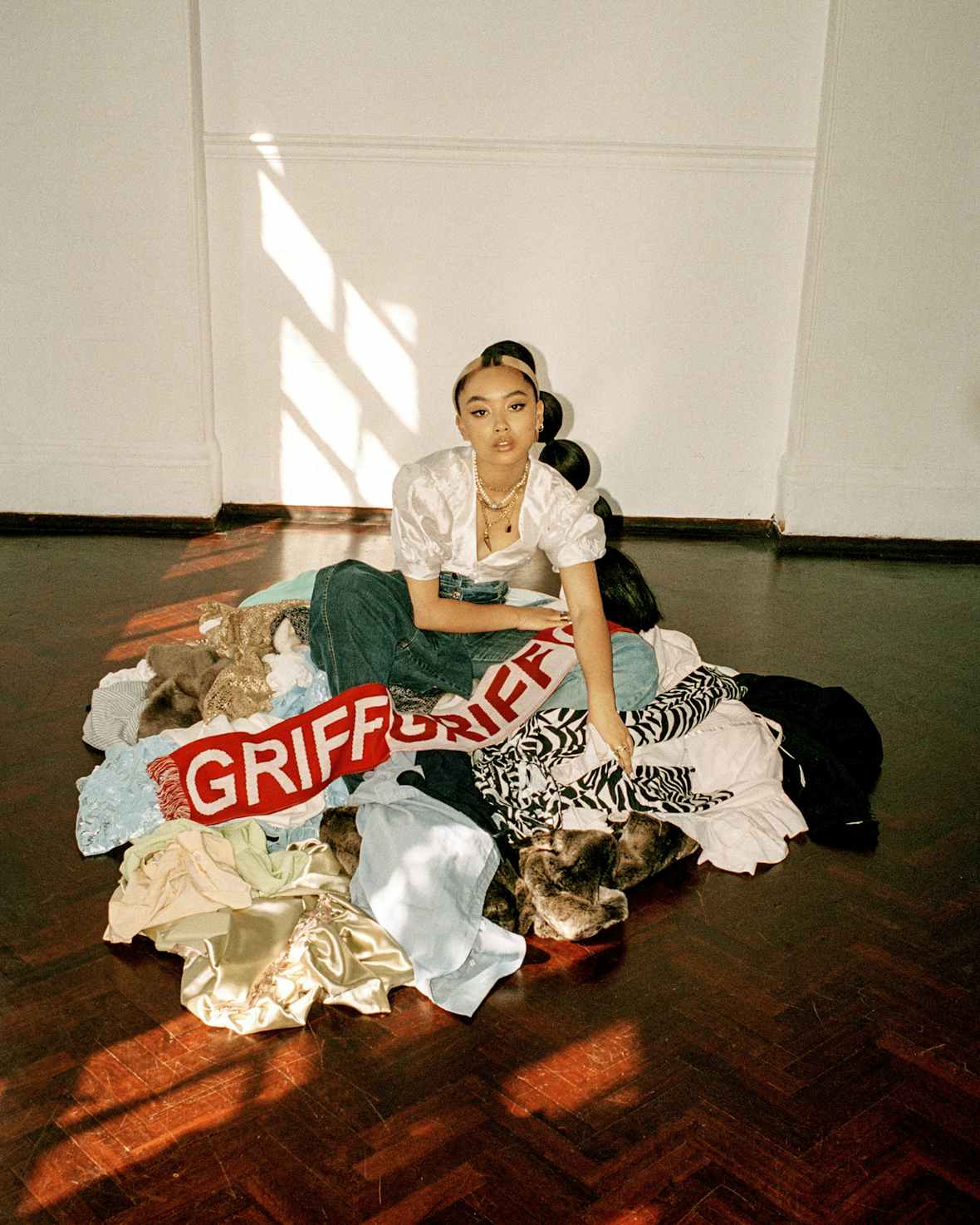 With gut punching vocals and her signature larger-than-life bubble ponytail, 18-year-old artist Griff is prepping for super stardom.
Griff released her first EP, The Mirror Talk, last year while taking her A‑Levels (she got straight As, by the way), and she's already earned an Ivor Rising Star nod, a co-sign from Annie Mac and a remix by Jayda G. These accolades are especially impressive considering some of her classmates didn't know her music career was taking off until they heard her huge hooks and honeyed vocals on BBC Radio 1 one evening.
Half-Chinese, half-Jamaican and born to immigrant parents, Griff, born Sarah Griffiths, grew up in a small town outside of Watford called Kings Langley. She learned the ropes of music production by sneaking onto her brother's MacBook and figuring out how to use Logic, gradually crafting songs which have evolved into confident, glossy pop bangers that are destined for the radio.
Get a whiff of Griff on her latest track Say It Again, an anthemic ballad-cum-pep-talk that reassures young girls of their self worth: ​"How ever many times that you need to, baby/​Just tell yourself it's gon' be okay," croons Griff on the woozy chorus, ​"How ever many times that you need to hear it/​Every single hour of the day," she continues, before the song crescendos into a drum-heavy club-ready climax.
Check out the song's video and get your 100% fill on Griff below.
10%: Where were you born, where were you raised and where are you now based?
So I was born and raised in a very small village just outside of London called Kings Langley, I still live there now with my family and its very countryside, white middle-class and I think there's nothing to do which is probably why growing up I kind of threw myself into music a little bit.
20%: At what point, did you realise you'd be able to do what you love for a living?
I think I started to realise it when there was a bit of industry interest I think, like I started doing sessions with anyone that would do one with me and I think that made my music go around a little bit and yeah it was crazy hearing that publishers and record labels wanted to work with me and I didn't really know what that meant. I think I only knew it would be a career for me when I signed when I was 17 but I was still in school so I had just finished my A‑Levels.
30%: What's a piece of advice that changed your life?
I've had loads of really good advice over the years but I think for me it always comes back to my faith that plays quite a big role in what I do, the decisions I make and I think the idea of trusting in God and believing God's got it under control is always something that keeps me grounded and relieves the pressure off me a bit.
40%: What kind of emotions and experiences influence your work?
I draw inspiration a lot from any relationships I've had in my life whether that's like friends, family or a relationship with myself, because I think even though most of the stuff I write will end up sounding like a love song a lot of isn't actually a romantic relationship it's just kind of about the feelings I have towards different things and people. I think you can always twist that into a generic kind of sounding love song that everyone can identify with.
50%: What can you tell us about your next project?
So if I'm honest with you, I'm not really sure if it's like a body of work yet. I definitely have loads of music so I'm just gonna keep putting out songs till the end of the year really, and I definitely have some fun collaborations on the way, two actually. What else can I say about it … one of the collaborations is actually really cool cause I was a big fan of their music, it's like a band and they DM'd me and we ended up writing a song and were hoping to put it out at the end of the month.
60%: What can artists do to help save the world?
Woah, that's such a big question. I don't know, I would argue that every artist is kinda saving the world a little bit, like as long as anything they put out someone's enjoying it I feel like you're saving a part the world and your allowing someone to escape from their mundane every day and like enter a different world.
If you're talking about like all the problems in the world, I don't know I guess artists these days should stand for something and be passionate about issues in the world and like where they are passionate about something should speak up about it.
70%: Finish the sentence: Dear Diary, Today I…
Dear Diary, Today I turned my whole bedroom upside down trying to find an outfit to wear for the hottest day of the year. I ended up wearing a nice floral dress to the studio today.
80%: What's the most pointless fact you can share?
The most pointless fact I can share … I can usually fit an apple in my mouth and if you want proof, go on my Instagram.
90%: You rule the world for a day. What went down?
Oh, God if I ruled the world for a day, I don't think anything would happen. I think I would panic and breakdown because of the pressure and responsibility there is and maybe not get anything done. I'm too indecisive. It's too much.
100%: Who would you most like to see on the cover of The Face?
Is it narcissistic to say me? it's probably a bit narcissistic isn't it I don't know I've just never been on a front cover so maybe me.

More like this