The five best things that happened at Harry's House

Here's what when down at Hazza's Brixton Academy show last night.
Happy as Harry: the artist responsible for the fastest selling album of the year after one weekend, and for the most ever first-day album requests from Amazon Music for a male musician, came home, returning to London for a one-off gig at Brixton Academy. And Harry Styles was very glad about it, too.
How did we know? Ask Alexa, or any of the thousands of deliriously screaming fans packed into this South London concert hall: he kept telling us.
"Oh London, London, LONDON! It's been a long time since I played the UK. I'm so, so, so, so, sooo happy to be home," beamed Redditch-born Styles as he brought his record-breaking Harry's House album to town, for a show billed as One Night Only, the excitement right up there with his FACE cover. ​"You've no idea how proud I am going out into the world as an English person."
Also: this new song (Keep Driving, a co-write with touring guitarist Mitch Rowland) was written ​"in the English countryside"; that new song (Little Freak, written in a Tokyo hotel room with Kid Harpoon) was the latest fruits of a songwriting partnership that began ​"in London in 2012". Meanwhile, a delighted Styles scampered – there's really no other word for it – about the stage caped in a Union flag.
Ahead of a summer run round Europe's outdoor-est stadiums, and after lots of Big American Things – headlining Coachella; a One Night Only outing in Long Island's UBS Arena; a movie-length, chin-strokey sit-down with Apple Music's Zane Lowe; a mid-Atlantic accent wobble – Harry Styles was back amongst the fans that made him. Disappointed that he's not going to star in Robert Eggers Nosferatu? No one cared in Brixton.
Tickets for this (by his standards) micro-gig went on sale earlier this month. Within seconds, all 5000 had sold out. Within minutes, they were being resold for £1500. Come the day, fans were ​"only" allowed to queue outside Brixton Academy from 8am, a scant 13 hours before showtime.
As it was, the show was straightforward, basic even. The 28-year-old in green Gucci x Adidas trainers; white Gucci leather trousers; a custom fitted, spotty Gucci t‑shirt; Eliou necklace; nail polish by Pleasing; Jack Grealish hair. His slick, five-piece band (three girls, two boys, all dressed in custom, peach-pink Gucci overalls) on a bare stage, with a simple backdrop of the outline of a house, replicated on the for-one-night-only merch (35 quid for a long-sleeved, stick-drawn commemoration). The 13 songs on Harry's House played, in order. An encore comprising a capsule collection of greatest hits: Adore You, Watermelon Sugar, Sign of the Times, What Makes You Beautiful, Kiwi.
No matter. Styles could have read out Sue Gray's Partygate report and Brixton would have still lost its shit.
Here are five other takeaways from the party house that Harry built.

It goes without saying that his fans worship Styles. Like, really worship him. Even he can't quite believe how much – he's ​"blown away" that everyone knows every word to every song on an album that came out four days previously.
And the feeling is mutual. Ahead of playing Boyfriends, he shouts out Jess in the crowd. Her boyfriend Luke slept with her best friend. ​"That's a shit name," says Styles, firmly TeamJess. ​"You're better off without him," he adds, before encouraging everyone to express their feelings about the hapless Luke. He has us all sing Happy Birthday to another fan, Maddie, and celebrates her turning 22 with a snatch of the song of the same name by Taylor Swift (an ex, obvs). Nice.
But they worship him most of all when he turns to face his drummer for a bit of a sashay and a shimmy, and a wiggle of his very white-boy-English – i.e. flat – bum. He does that a lot. I can still see it now.

Charming and thoughtful to a tee, Styles had Brixton eating out of the palm of his hand. He also had them obeying his every wish.
Spotting a young girl in distress in the crush in front of him, he immediately stopped his band midway through Sign of the Times – perhaps the night's lustiest singalong – and asked the crowd to make space. A pathway immediately opened up in the mosh-pit (pop-pit?) as security and medics dived to retrieve the fan, who seemed to be unconscious as she was removed over barriers. At least three more fans were carried out. Styles' concern was swift, real and palpable. Respect.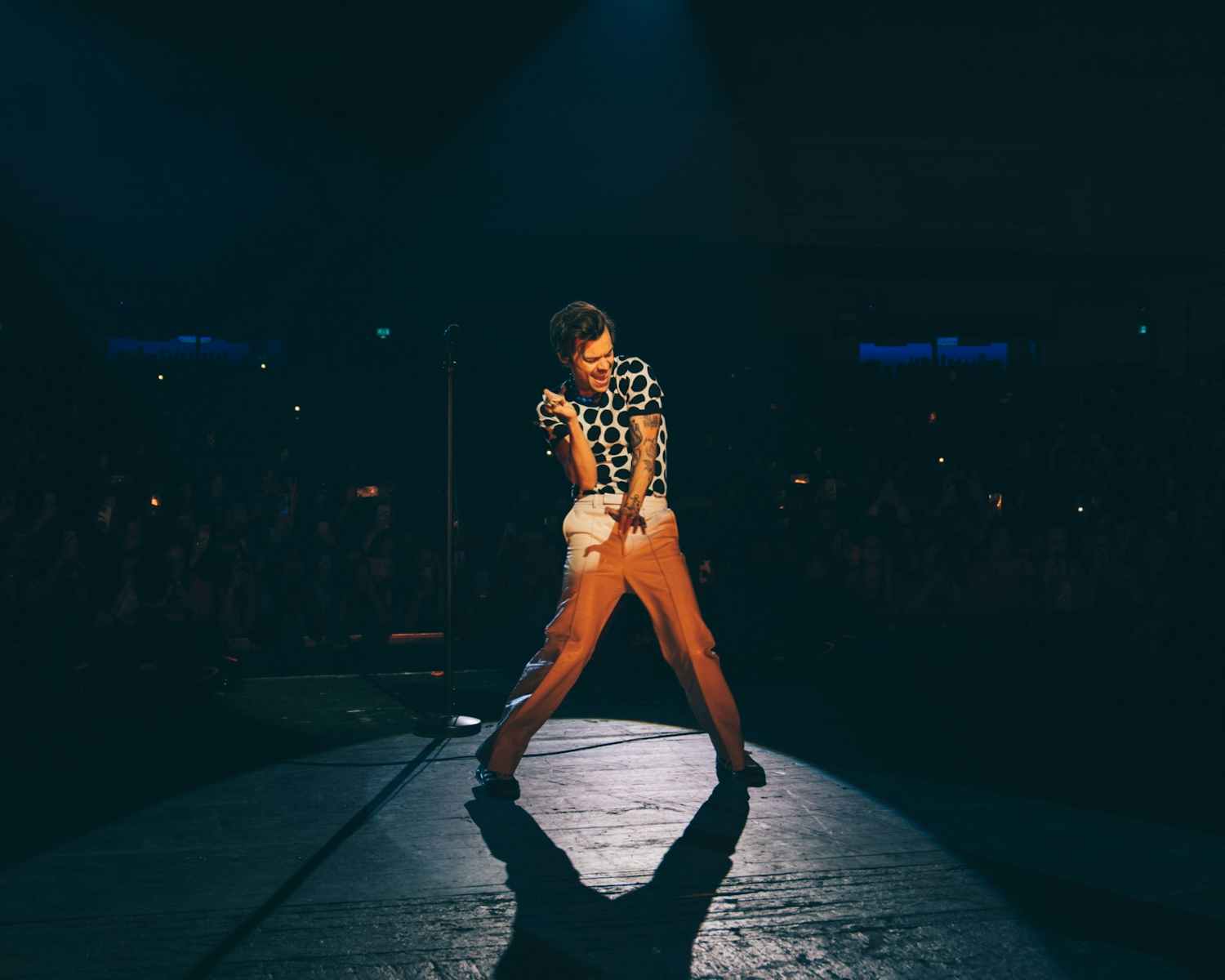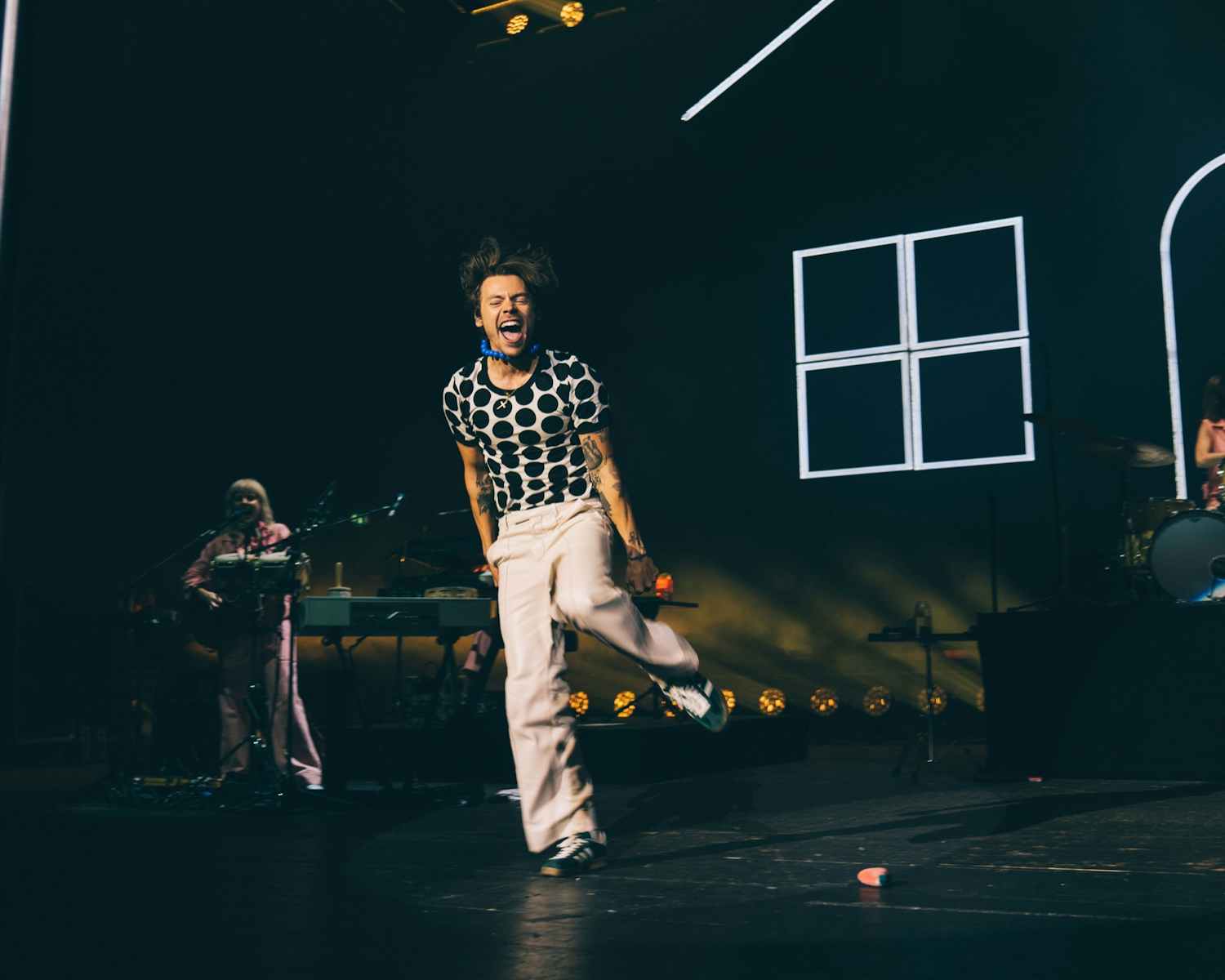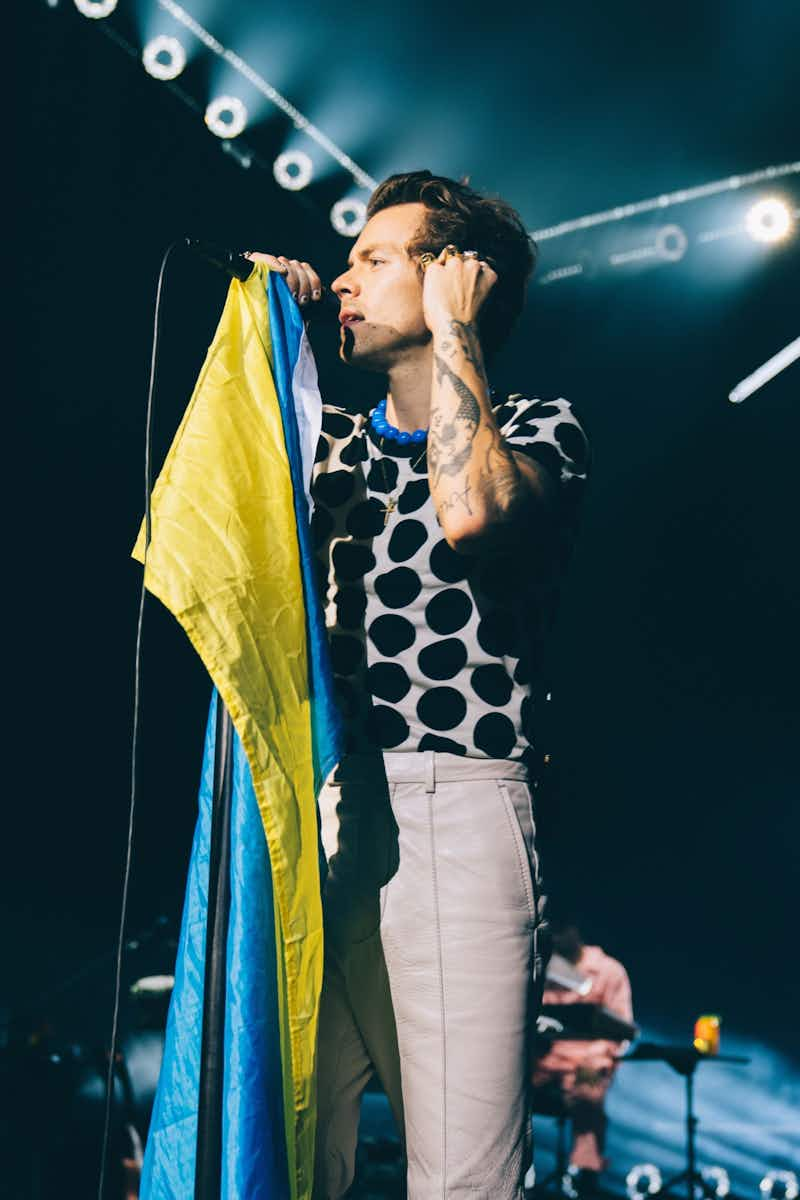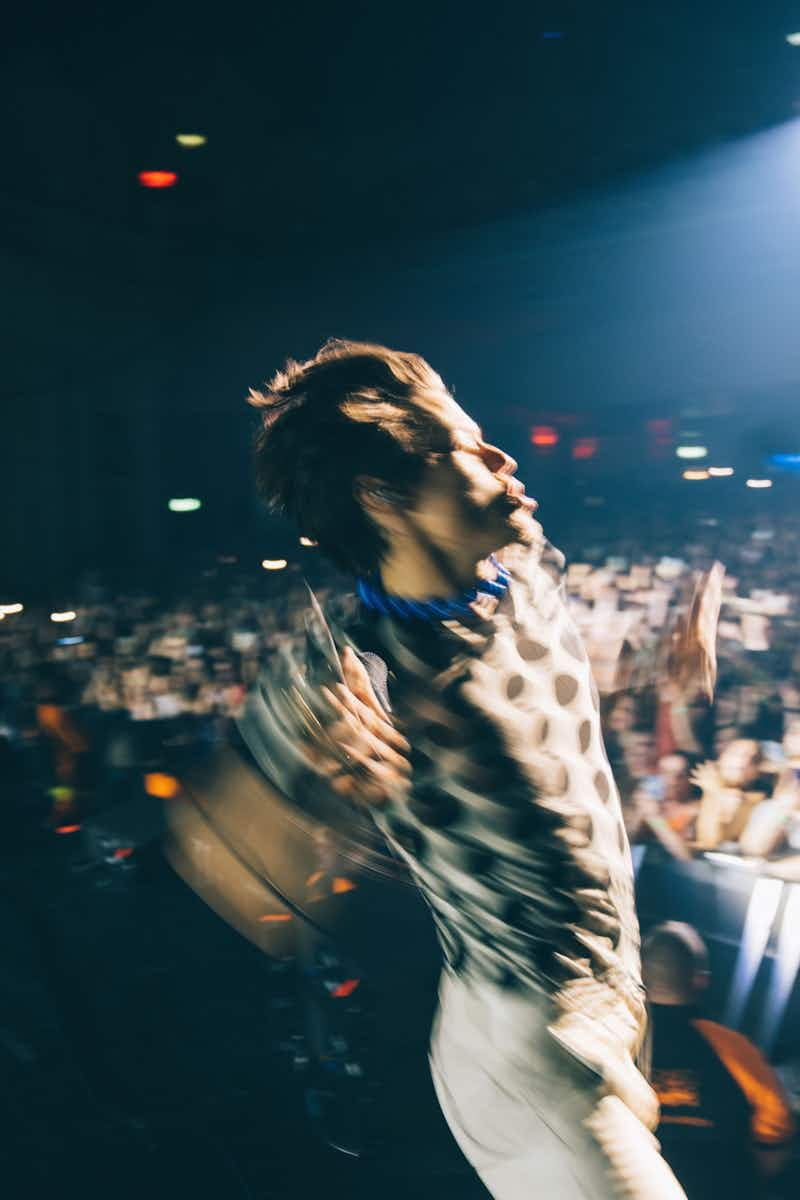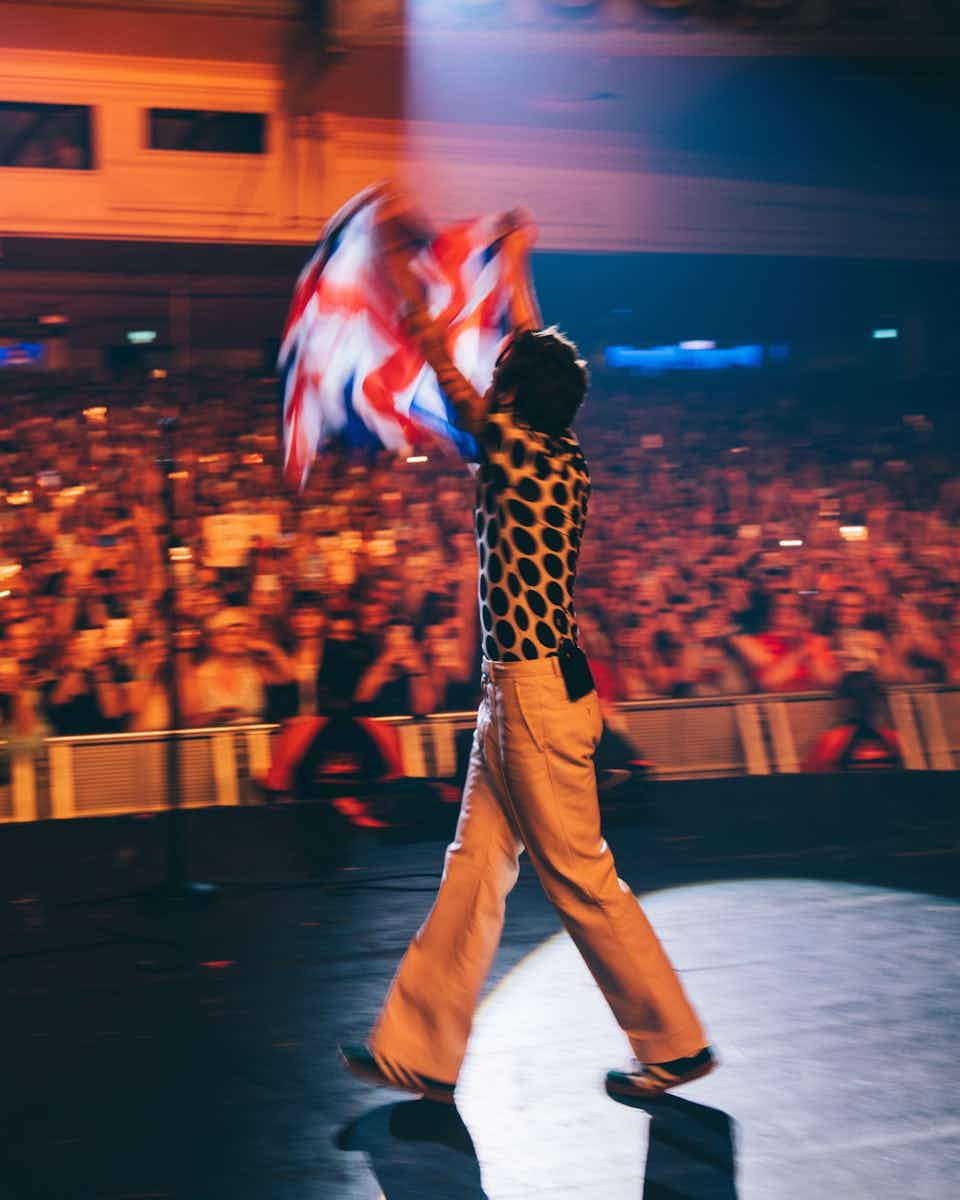 "Cry 'God for Harry, England and Saint George'"
That's Shakespeare (you knew that). It's also a nod to the fact that, mercifully, Styles appears to have recovered the English accent that he seemed to have lost down the back of Zane Lowe's outdoor patio furniture in that Apple Music interview. ​"Who got rained on outside?" he asked at one point, sounding appropriately Cheshire. ​"I'm so sorry. If I could control the rain…"
Aye, he's saving that superpower for Old Trafford on 15th June. Now he just has to fix the rest of One Direction's accents.
Ah, the Styles dance – a gloriously untutored, unchoreographed thing. It's an enthusiastic sideways bounce from sole to sole, so reckless that it keeps shaking free his ear-piece. Or it's like Harry Kane's goal celebrations. Or he's a high-kicking Cossack, or trying out for a can-can chorus line.
Occasionally there's a hip shakin' Mick Jagger wiggle, but in terms of rock star stagecraft, he's more like Freddie Mercury, fond of the enthusiastic waist-high fist-pump. It's at its most deliriously unhinged during the throbbing, techno-lite/Italo-house version of What Makes You Beautiful, 1D's best song. Whether or not you're Generation Direction, his stomping, head-banging exuberance is impossible to resist.
How much is that t‑shirt? I'll take two.

After singing Keep Driving, Styles recounted the lyrics: ​"Cocaine, side boob /​Choker with a sea view /​Toothache, bad move /​Just act normal". He tells us that, as he advances through his career, he wants to get more and more honest with us (thanks, mate). ​"I never thought I'd sing about cocaine with my mother in the audience." Naughty, naughty.
Then, tee'ing up Watermelon Sugar, he has another message for us: if the world is going to hell in a handcart, never mind, ​"you can always sing along to a song about oral sex".
So we do, bringing the house down on Harry's House. And actually, tbf, it's not dirty at all, is it?
Harry Styles' Love on Tour, er, tour info is here

More like this