Jack Grealish: this sporting life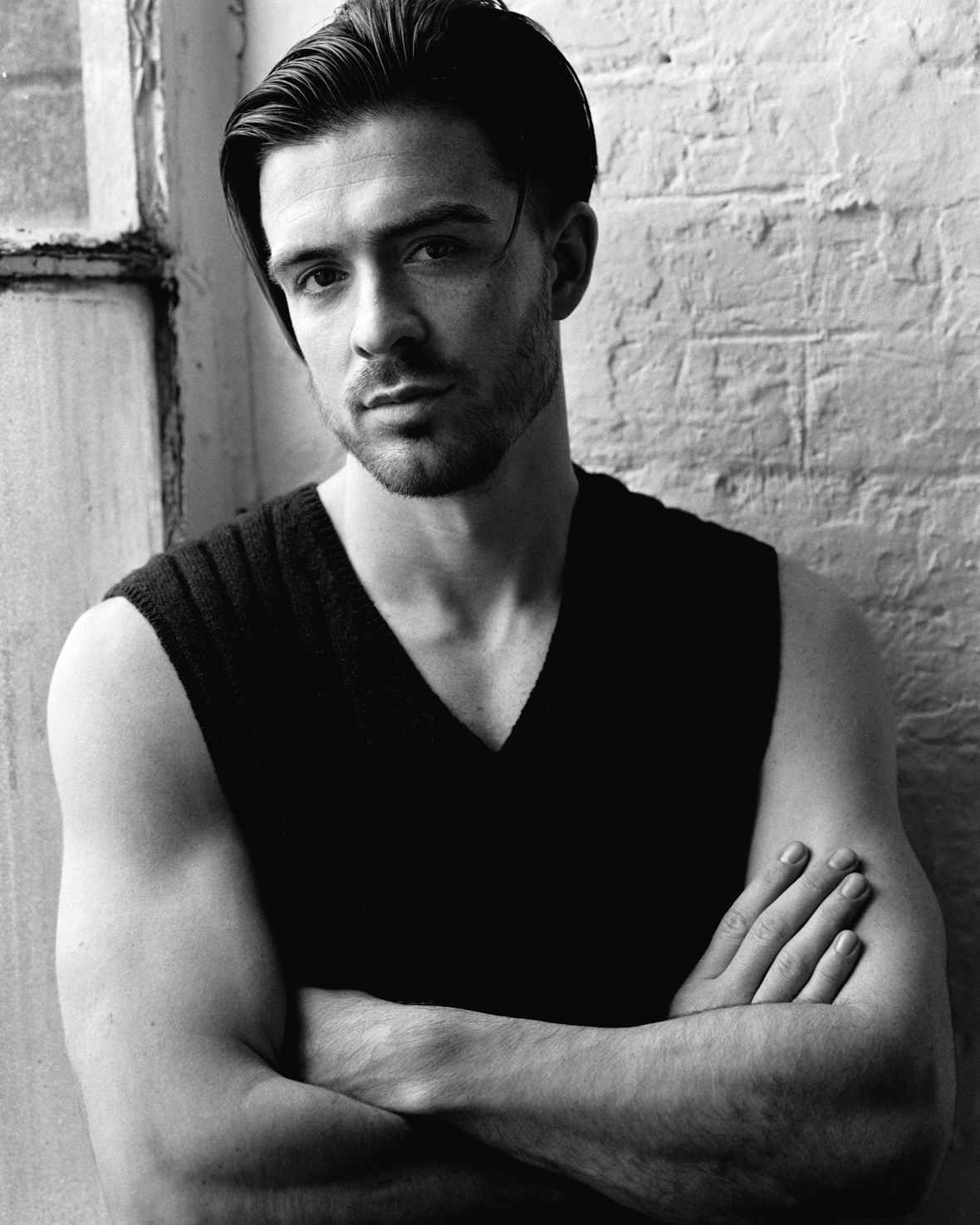 As Manchester City win a fourth Premier League title in five years, we meet the talismanic midfielder with the world at his feet, a Gucci ambassadorship and the kind of megawatt charm that'll burn through English football for the next decade.
Taken from the new print issue of THE FACE. Get your copy here.
Last summer, the country got the lift it needed. Across a month of dazzling football at the Euros, England marched all the way to the final at Wembley, raising the nation's spirits – and the takings at boozers and off-licenses across the land – after months (and months) of gloom.
Though we didn't lift the trophy, coming unstuck (again) because of penalties, the boost provided by Gareth Southgate's squad reverberated through pubs, cul-de-sacs, BBQs, everywhere. With a little bit of luck and, statistically, the strongest England team performance since Euro ​'96, we made it to the final – and it felt like we had won, anyway.
"The whole country coming together helped us so much." So says Jack Grealish, the talismanic attacking midfielder who played in five out of his country's seven Euros matches. Sitting in the corner of a warehouse studio in Stockport, Greater Manchester, the 26-year-old adjusts the top of his Gucci tracksuit, sweeps his famous curtains out of his face and places his elbows on his knees, eyes wide, leaning in.
"We'd see everything – what was happening on social media, in the pubs, everyone coming together and celebrating. It was something I'll never forget ​'til the day I die."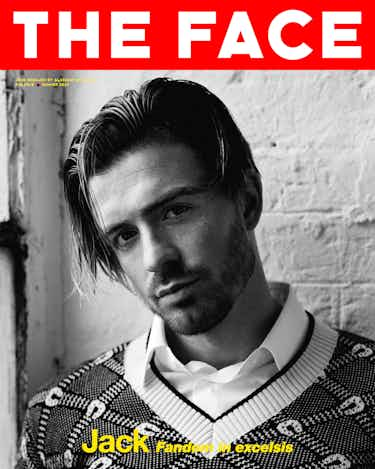 Shortly after helping the national squad almost make footballing history, Grealish – solo – actually did. As announced on 5th August 2021, he became the most expensive English footballer ever. His transfer from Aston Villa to Pep Guardiola's Manchester City cost £100 million, putting the player on a not insubstantial six-year contract.

But looking at this polite Brummie midfielder sat on a cushioned, pink armchair for his cover shoot with THE FACE, you'd think he was just your average lad from the West Midlands. Besides his boyband looks, expensive clobber and killer legs, of course.
Bang on time, Jack Grealish had pushed open the double doors of the airy, unassuming studio in an old building overlooking a line of terraced houses. It was raining outside, stop-start drizzle, with the murky clouds not looking so promising. Springtime in England, right?
"Alright? I'm Jack, nice to meet you," he says, shaking hands with the shoot's producers.
Grealish is all smiles, showing off his pearly whites and smelling of pretty masculine cologne – but not offensively so. He's taller than you'd think from the paparazzi pictures, with the athletic physique you'd expect from a top-flight footballer.
He seems comfortable, scoping out the vast studio that happens to have a freestanding Victorian bathtub in one corner and a chaise longue in the other. After courteously asking when the interview will take place, his agent asks if he's hungry.
"Can I have a BLMO?".
"What's a BLMO?" his agent wonders.
"Bacon, lettuce, mayo and onion," he says. ​"I just swap out the tomato. I'm not a fan."
"Cool. And a cup of tea?"
"Yeah, milk one sugar, please," he says.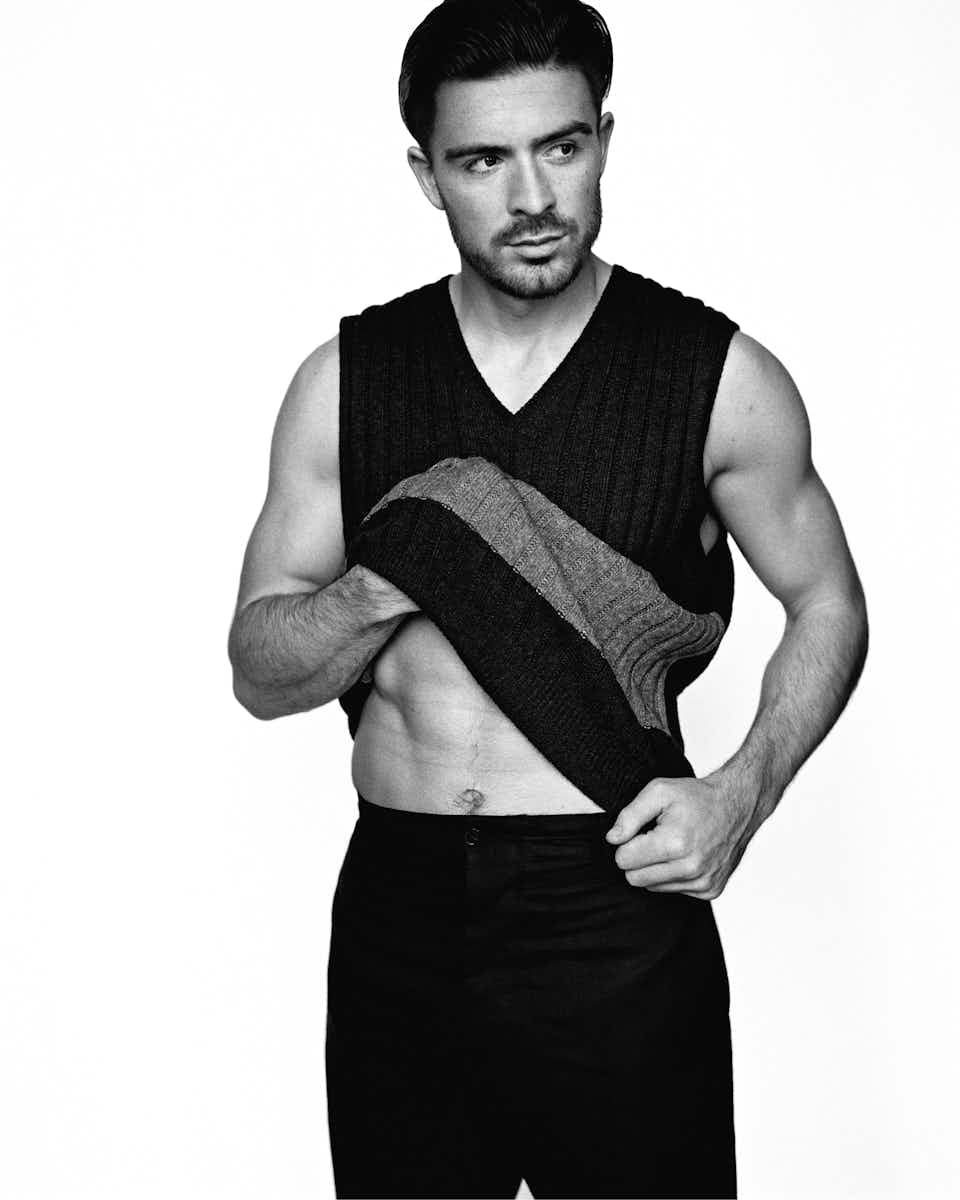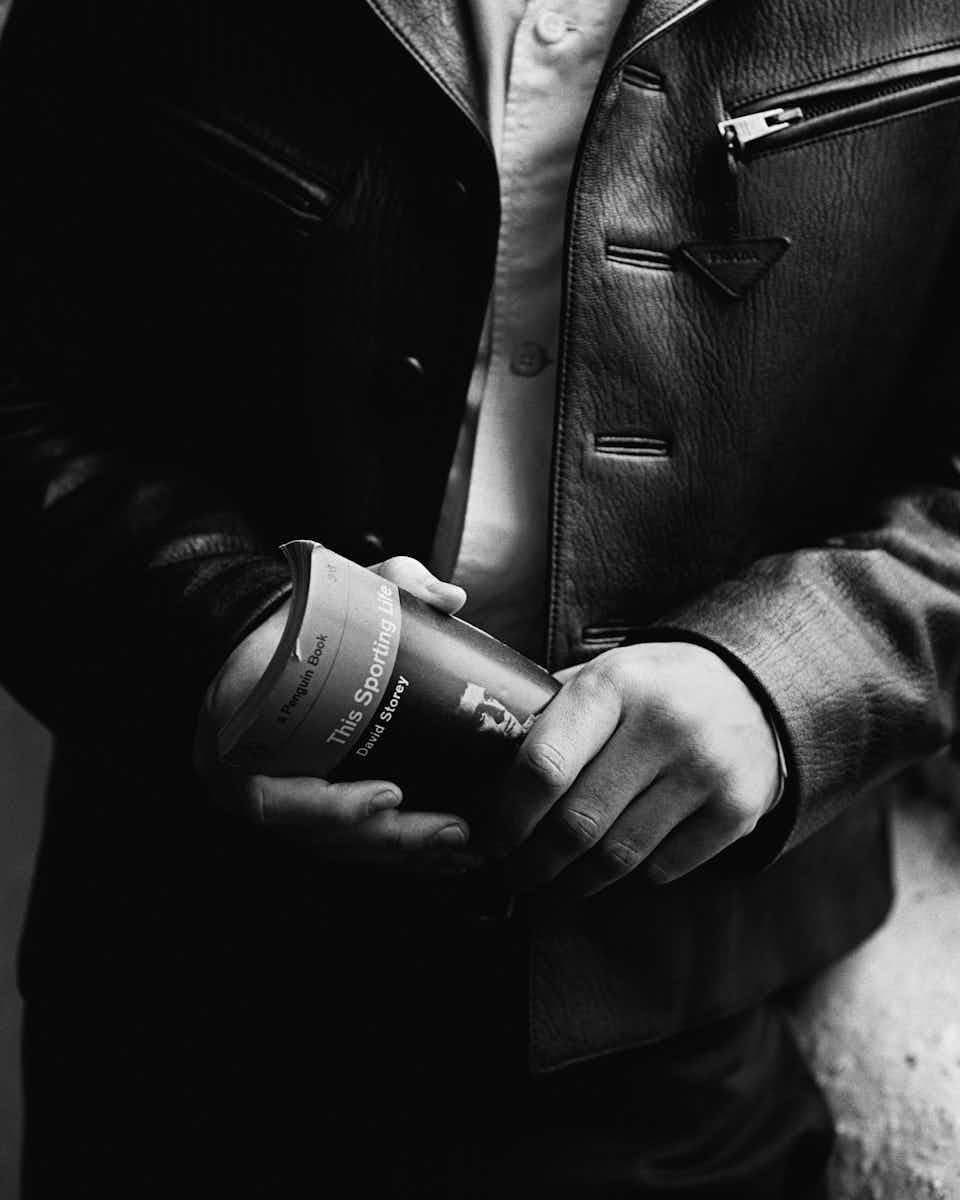 Not since the golden days of David Beckham has an English player fascinated the nation so much – like Goldenballs, he's even worn the coveted No.7 England shirt. Tough blokes think he's alright, the girls and gays hold up ​"Mrs Grealish 69" signs and follow Instagram pages dedicated to his legs and arse. The rest only think he's one of the most naturally gifted talents to have run out for his country since Gazza.

Following his Man City transfer last summer, all eyes have been on Grealish, but not always for the right reasons. Some reckon he's not the player they'd have expected to become England's most expensive transfer ever, and that, almost a year on, he's yet to prove his credentials.
But there's no denying that, at his best, Grealish is up there with the English Premier League's finest midfield technicians. A lack of goals this season, arguably due to his being asked to play a more structured role at City, has often put him under scrutiny. But when he's let off the leash on the pitch, the creativity of his gameplay is clear for all to see. Socks famously rolled down, covering only children's size shin pads, he's one of the fiercest dribblers, confidently owning the ball before explosive bursts of pace. With flawless close control and enviable stamina, he's able to artfully trick his opponents and make stellar passes with laser-focused vision. A naturally intelligent player who picks up Pep Guardiola's complex instructions easily, he's being artfully coached into what should be his peak years.
However, while his overall contribution as a team player has improved, football is often beholden to statistics. And in the Premier League this season, he's only claimed three goals and two assists, starting in 19 games out of 34 (at the time of writing), while being fouled more than 40 times. In cups, he has one Champions League goal and one assist, and two (stunning) goals in the FA Cup.
No longer a big fish in a small pond, as he was at Villa – the local club he joined around the same time he started infant school – is he feeling the pressure of being the most expensive English player of all time?
"I've noticed that when you move for this price, you can't make any mistakes – and that's on and off the pitch," Grealish says, as we chat in the corner of the studio. ​"When I was at Villa, if I [made] a bad pass and it went out of play, it wouldn't really matter. Now it's like: ​"He's worth £100 million and he can't pass the ball?'"

Football was in Jack Grealish's blood long before he was even born. His great-great-grandfather was the impressively moustachioed Billy Garraty, who won the FA Cup Final in 1905 with Aston Villa. More than a century later, his great-great-grandson would start playing for the same team aged six. In March 2012, aged 16, teenage Jack was on the bench at Villa Park, an unused substitute in his first Premier League squad. He had to watch Chelsea beat the club that had run in his family for generations 4 – 2 at home.
Grealish can't really remember his first memory of playing football, but has watched grainy videos of himself kicking a ball about when he ​"was, like, four". But when he signed for Villa at six, officially starting with the under-10s three years later, he had to leave his Sunday League team, Highgate United. Well, not entirely.
"You're not actually meant to go back and play with your old team, but they were doing a little tour down in Devon and we played against some team in the group stages. We won 4 – 0 and I scored all four.
"That was when people were like: ​'OK, this kid's good,'" he says. ​"Then I got scouted by other teams like Man United, West Brom and Birmingham City. But [at] those times I was contracted to Villa, so I shouldn't have been playing. When they came up to my dad, he'd have to give a fake name!"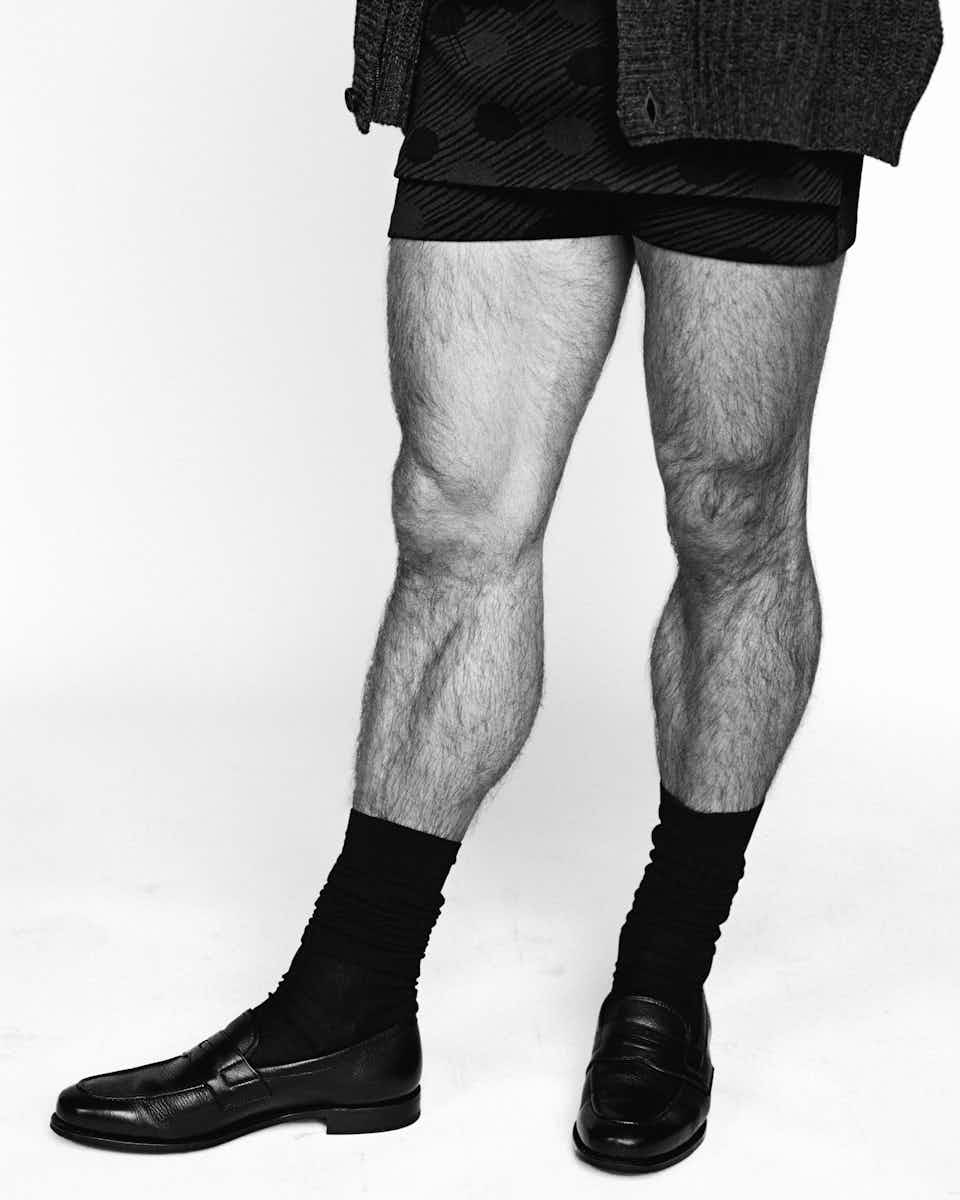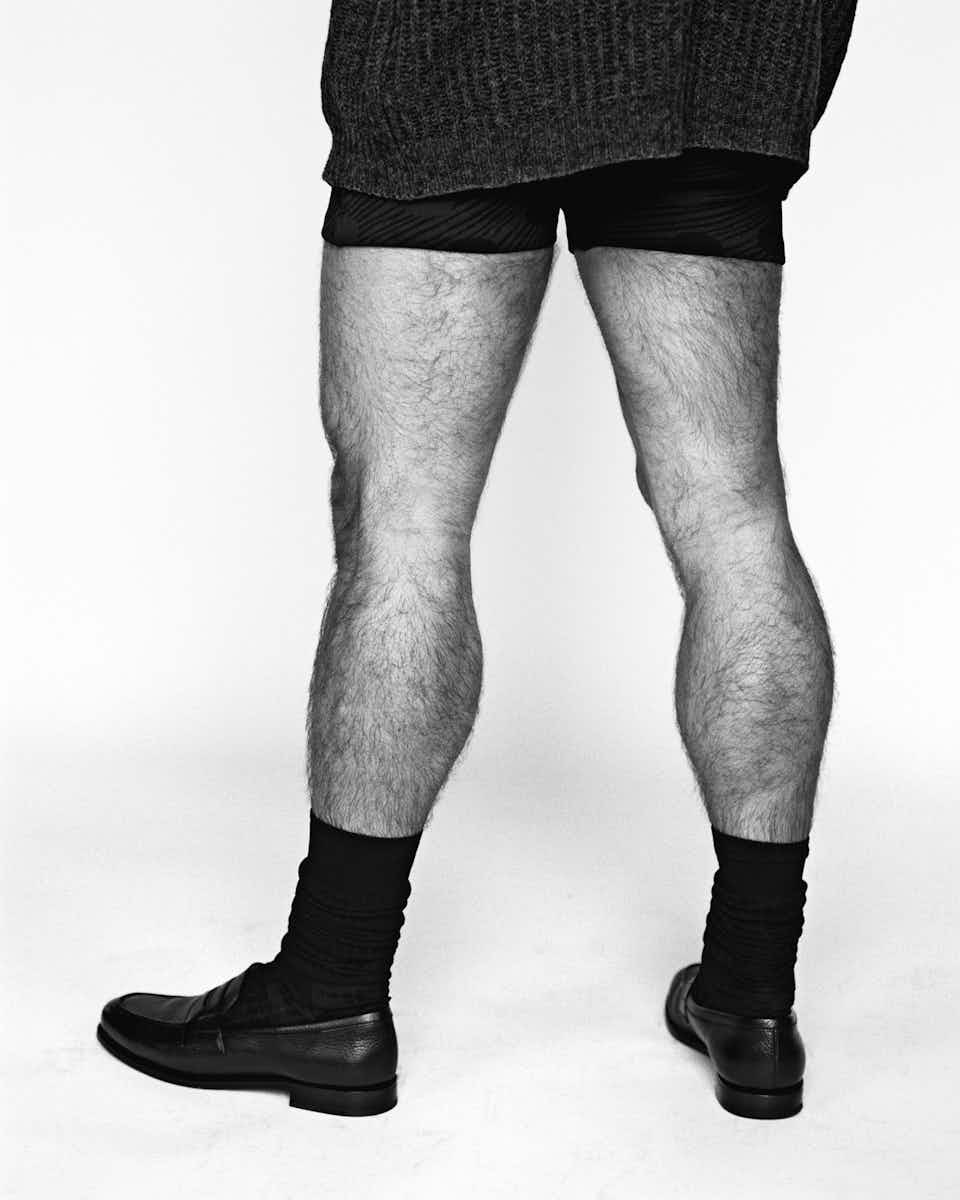 His dad Kevin, who worked as a plasterer but now helps manage his son's career, played a huge role in Grealish's early years, driving him to Villa's youth team games up and down the country. The other boys would travel together in a coach, which he found embarrassing at the time – as any young kid would. But he sees it differently now. His upbringing was ​"everything I could have wished for".
Each year, his parents would save up enough money to take the family on holiday to Tenerife or Gran Canaria, and his mum, Karen, would make sure Christmas was a huge deal – something he's inherited since, lighting up at the mere mention of the festive season. Throughout the rest of the year, early every morning his dad would have a kickabout in the garden with young Jack before heading off to work. And whenever he played a competitive game, Kevin was always there. Even today, he's at every single match, cheering his son on.
The Grealishes have always been close-knit. On Instagram, Grealish often posts about his family, whether it's a snap of him and his mum reclining on a yacht for her birthday, a selfie of his older brother Kevan, or one with his two younger sisters, Kiera and Hollie. The latter has cerebral palsy and is often in and out of hospital. Grealish called her his ​"little hero" on Twitter, and told Soccer Bible last year that ​"she gives me so much happiness". Last August, for Hollie's 18th birthday, her big brother threw a huge surprise party and got her favourite soap actor, Coronation Street star Andy Whyment, to show up. She was there cheering on her brother the day he got signed to Man City. Grealish also lost a sibling, Keelan, who died of sudden infant death syndrome at nine months in 2000, and he visits his grave on the anniversary each year.
It helps explain why the move from Birmingham to Manchester, while only a two-hour drive, was hard for the then-25-year-old. After almost 20 years with his boyhood club, and having to leave his family behind, he was moving on from everything that had formed the man and sportsman that he'd become. ​"I think family is one of the most important things in life," he says. ​"I can't actually explain to you how close I am to my family."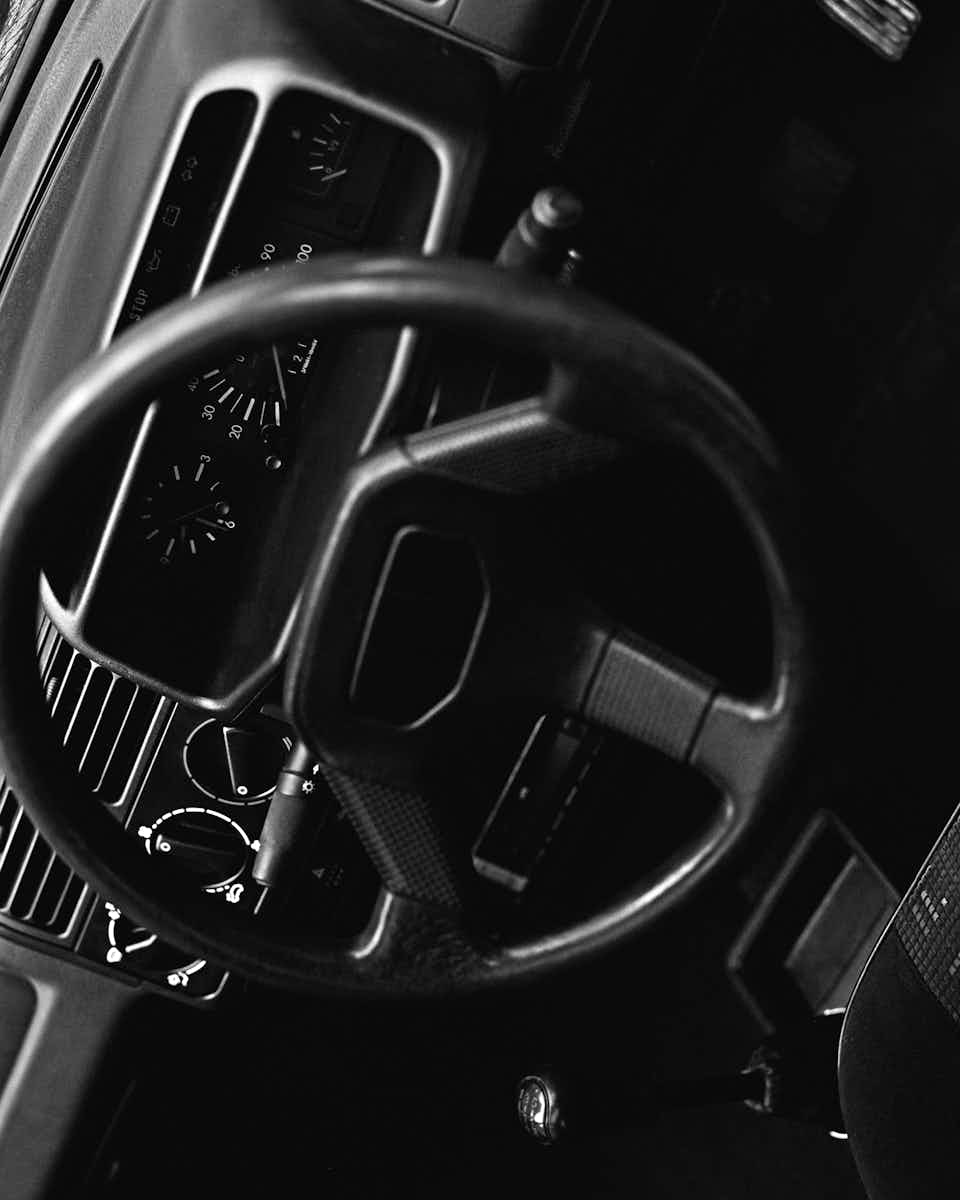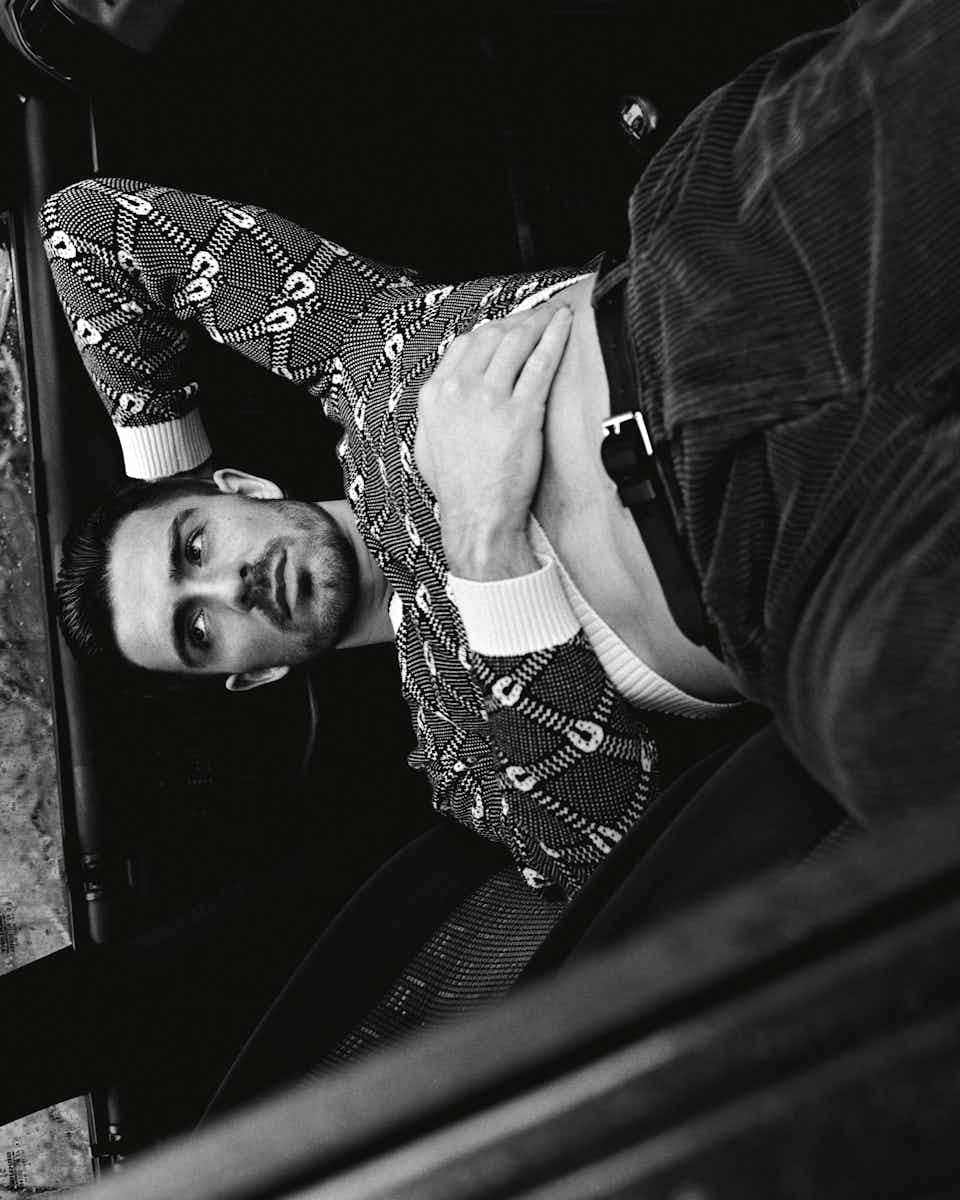 Throughout the day, Grealish is in and out of around 10 looks. Some of them are a little leftfield, like a pair of black short-shorts.
He's given the choice of a slightly longer pair, but, just as he likes to do on the pitch, he opts for the saucier leg reveal. He's a bit unsure at first, checking out his toned pins in the mirror before asking his agent what he thinks. The agent, ever vigilant and protective, is a little hesitant.
"C'mon, let's go for it," Grealish says, striding towards the photographer. For one shot, he's asked to lie on the floor, which he does without hesitation, playing to the camera by batting his Bambi-esque eyelashes and either pouting or flashing a toothy smile. He knows his angles and how to turn on the smouldering sex appeal without trying too hard.
Like Liverpool​'s ​"Spice Boys" of the late-'90s (Jamie Redknapp, David James, Jason McAteer), Grealish's looks fill columns as much as his on-pitch talent. Whether it's about his muscular calves ("Mate, I promise you, I do upper body weights and core, but my legs? I don't do a thing"), ​'90s boyband haircut or reshared Twitter photos of him bent over stretching on the pitch, his likeability – and, frankly, his sex appeal – crosses over from the diehard fans to those who've never even seen a match.
At the height of the Euros, Vogue wrote an ode to his haircut and Tatler placed him in their ​"hottest England football team players" list. In March, the Daily Star put him in its ​"10 most handsome footballers over the years" feature. Looking around the Wembley crowds last summer, there were countless homemade ​"Will you marry me, Jack?" signs and the loudest cheers were often reserved for when Southgate would bring him off the subs' bench.
"You aren't going to say it's a bad thing, are you?" he says. ​"I'd much rather be in the list of the top 10 most handsome players than the top 10 ugliest."

Soon after, he strips out of the short-shorts and into a smart, buttoned-up white shirt and black cardigan. From the other side of the studio, someone shouts, ​"You look like you're in sixth form!" There is an undeniable boyish charm to Grealish. He's outgoing and often cracks up at jokes that aren't really funny, yet he's also a bit shy, not one to shout the loudest in the room. He's that lad in school who was in the rowdy, popular group, but was also the first to help anyone getting bullied.
With that said, was he a naughty schoolboy growing up?
"It'd be easy for anyone to think that!" he says, with a smirk. ​"I don't think I was. It was difficult because I only ever wanted to become a footballer. I wasn't the best kid in the world, but I wasn't naughty. I never got suspended or anything like that.

He was playing whenever he could: before school, through lunchtime, after school and on weekends. ​"I couldn't wait to leave classes early to go and play for the school football team," he says. When he was in Year Nine, he left school for one day a week to play for Aston Villa. By the following year, he was doing two days, then by his final year of secondary school, the team brought him on full-time. ​"They could see that I was a good player and then I got tutored every day at Villa, which was perfect for me. I look back now and I don't really miss school, but it was a good time."
There was a different kind of schooling on his first day at Manchester City.
"I'm walking into this new changing room not knowing anyone because the [squad's] England lads," he says of Phil Foden, John Stones, Raheem Sterling and Kyle Walker, ​"were still off." In fact, the only two players who were there were Bernardo Silva and Gabriel Jesus, and their last encounter with Grealish wasn't exactly a cheers down the local boozer.
"The year before, [Villa] played against City and I was arguing with them two on the pitch. So I've walked in and I'm like: ​'Remember me?'" he says, laughing. ​"But obviously they were good to me – all the players were."

It's nearing the end of the day and, for some reason, Backstreet Boys' 1999 track Larger Than Life is blaring out of a speaker. And, like a moment of perfect pop alchemy, Jack Grealish emerges from his changing room in a Gucci crop top, rock-hard abs on show. He's now a global ambassador for the Italian house – a relationship, it turns out, that was a full-circle moment for the fashion fan.
"I was in Tenerife when I was younger – you can ask my dad this – and he bought me a [Gucci] washbag because I was in the first team," he says. ​"I was only 16. It goes that far back!"
In recent years, Gucci's friends of the house have included Iggy Pop, Miley Cyrus and Harry Styles – all stylistically subversive in their own right. Could he see himself in a feather boa à la Harry?
"I like his style. I think it's cool!" says Grealish, who swaps his Gucci loafers for Nike boots on the pitch. ​"Everyone is different, people wear different types of clothes and what he wears actually suits him. Some of his stuff is a bit different to what I'd usually wear, but I admire the way he owns what he wears. I think he wears it well."
Undeniably, he looks like one-fifth of the next British boyband. He's got the looks, charisma, talent and a legion of screaming fans. No wonder the social media hordes can't get enough of him (he has 4.7 million Insta followers). But like any young, rich star of his era, Grealish finds the whole thing a pain in the arse.
"It's the day and age we live in now and that's the sad thing about football sometimes," he says. ​"I feel like it's getting worse – you get pain for everything." He mentions Manchester United midfielder Paul Pogba, whose myriad hairstyles have been enough to land him in hot water with the more hard-of-thinking fans who correlate how he's doing on the pitch to the leopard-print or blue streak dyed on the side of his head.
"He's a stylish guy, why can't he change his hair? It's sad. I'm an outgoing person and I miss all the stuff that I could be doing with my friends. I know some footballers who love all the stuff that comes with it. It's nice at times, to go to fancy restaurants and nightclubs. But you see me? I love the opposite."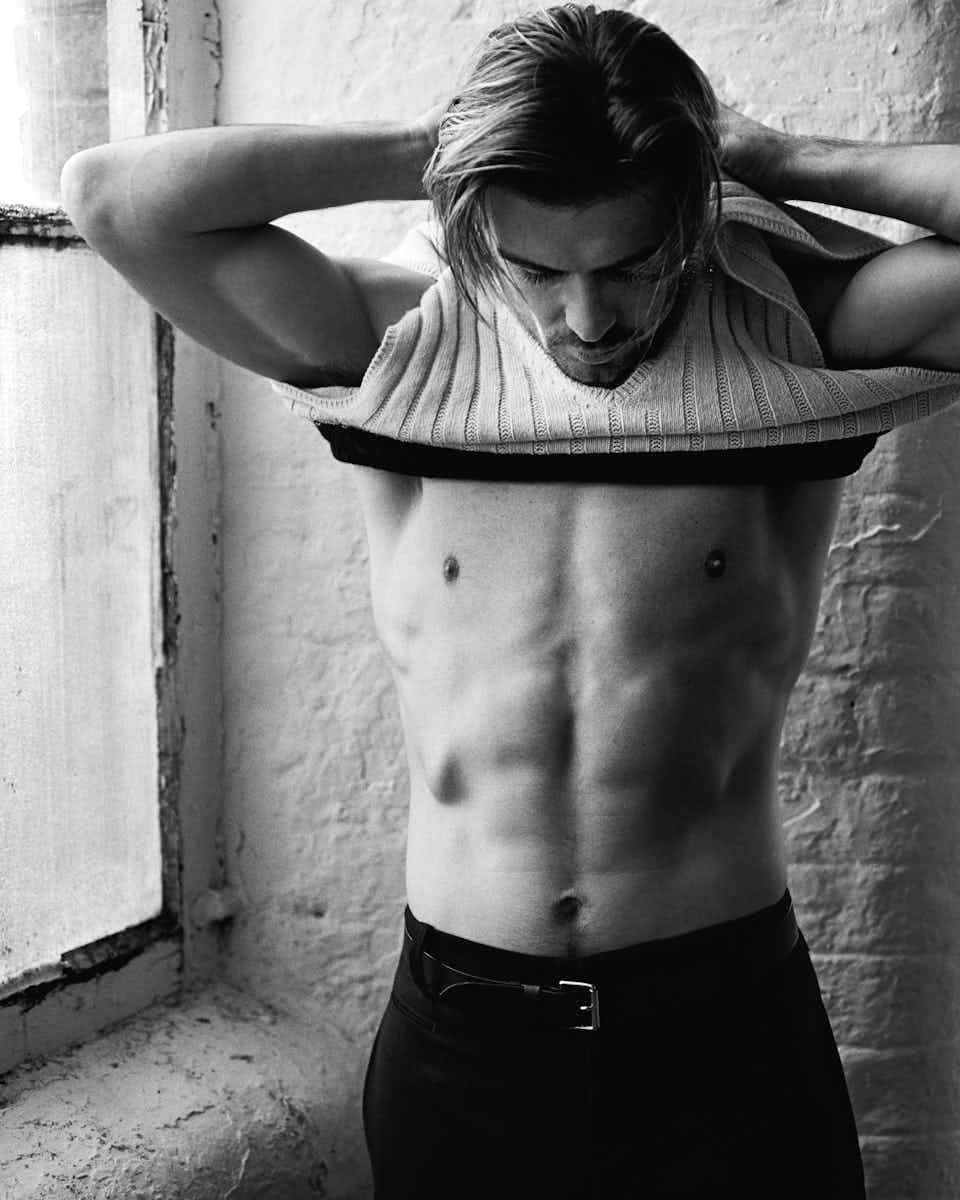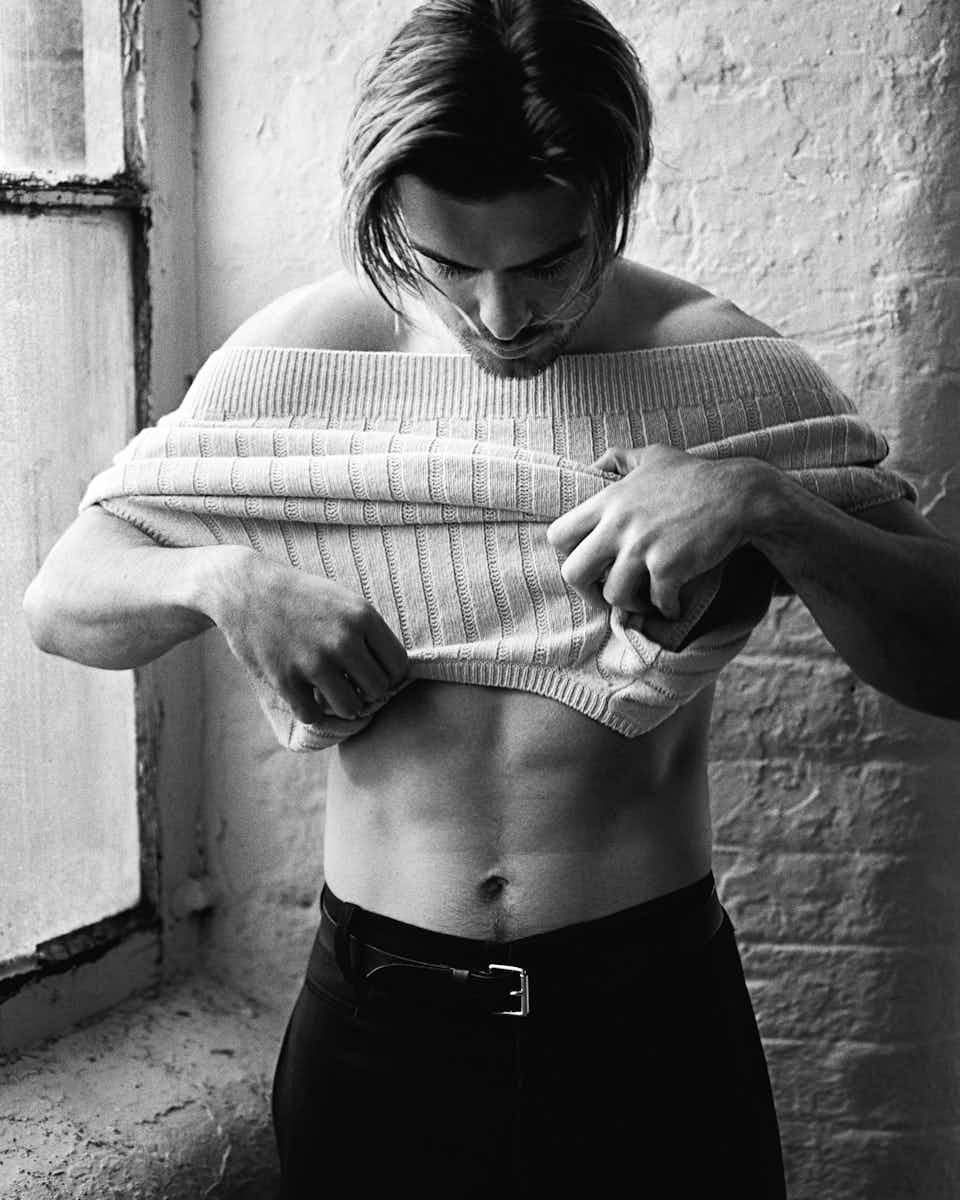 It's rare to hear footballers speak so openly about their private lives. The days of players appearing in magazines oiled up in salacious positions (ahem, Becks, GQ, 2002) are long gone. And we're far from anything remotely resembling Gazza's Euro ​'96 dentist chair goal celebration, or Robbie Fowler ​"snorting" the goal-line after scoring in the Merseyside derby in 1999.
Nowadays, footballers are media-trained and savvy. They close off their private lives for their own protection by giving quick, brief answers and trying to avoid mistakes in public that could lead to fans turning on them, giving them a reason to blame any defeat or stumble on off-pitch antics. News travels quick, with Grealish well aware that social media is hugely to blame and that it can be a breeding ground for the worst kinds of people.
"Most of these people don't even mean what they say. They say it out of anger if you've played bad, or they do it for retweets," he says, rolling his eyes.
He remembers the aftermath when he played away for Villa at Birmingham City in 2019, where an opposing fan punched him and was sentenced to 14 weeks in jail.
"Someone [on Twitter] said something about my little brother and it really affected my mum and dad," he says. ​"But it didn't actually affect me that much. This guy doesn't know me and he doesn't know my little brother."
The fan in question, who received a 10-year banning order from all matches, was released from prison after serving only four weeks. Upon getting out, he showed no remorse, instead saying it was ​"the best month of my life… I'm not apologising for nothing." An hour after the assault, Grealish had scored the winner.
Grealish slips back into his Gucci tracksuit, remembering to go pick up the toothbrush he left by the kitchen sink earlier. ("Mind if I steal your spot?" he'd asked a producer earlier. ​"I forgot to brush my teeth this morning.")
Unlike most lads in their twenties, he's thinking far into the future. There's what's to come as one of the most promising English talents in the Premier League, for sure. But Jack being Jack, he's thinking about the more normal things, too. Taking a cue from his big family, he wants to start his own brood at some point.
"My mum and dad are married, so of course I want to do that," says Grealish, who's in a long-term relationship with model Sasha Attwood.
"I know it's easy to say, but the goal for me is just to be happy, man. I think that's the most important thing in life."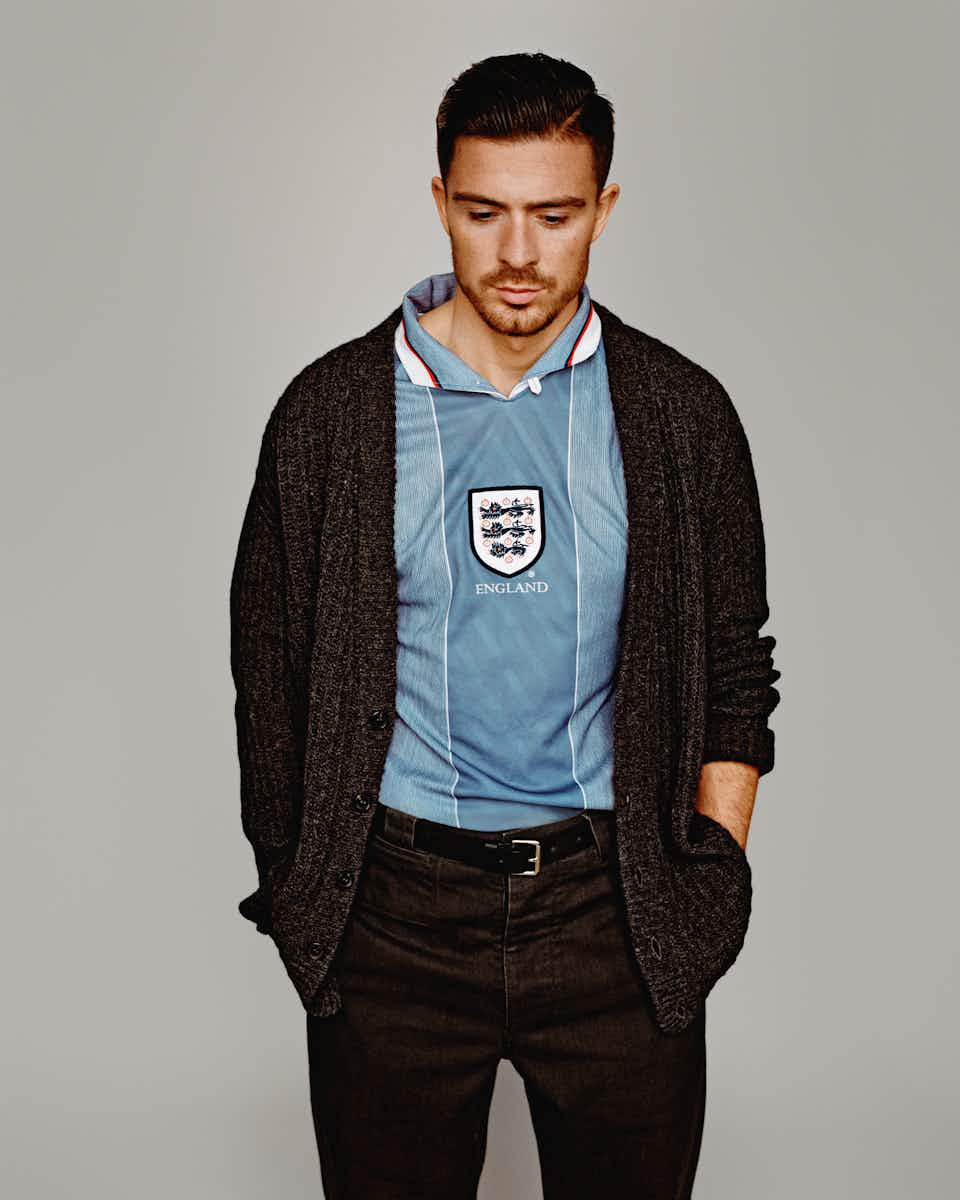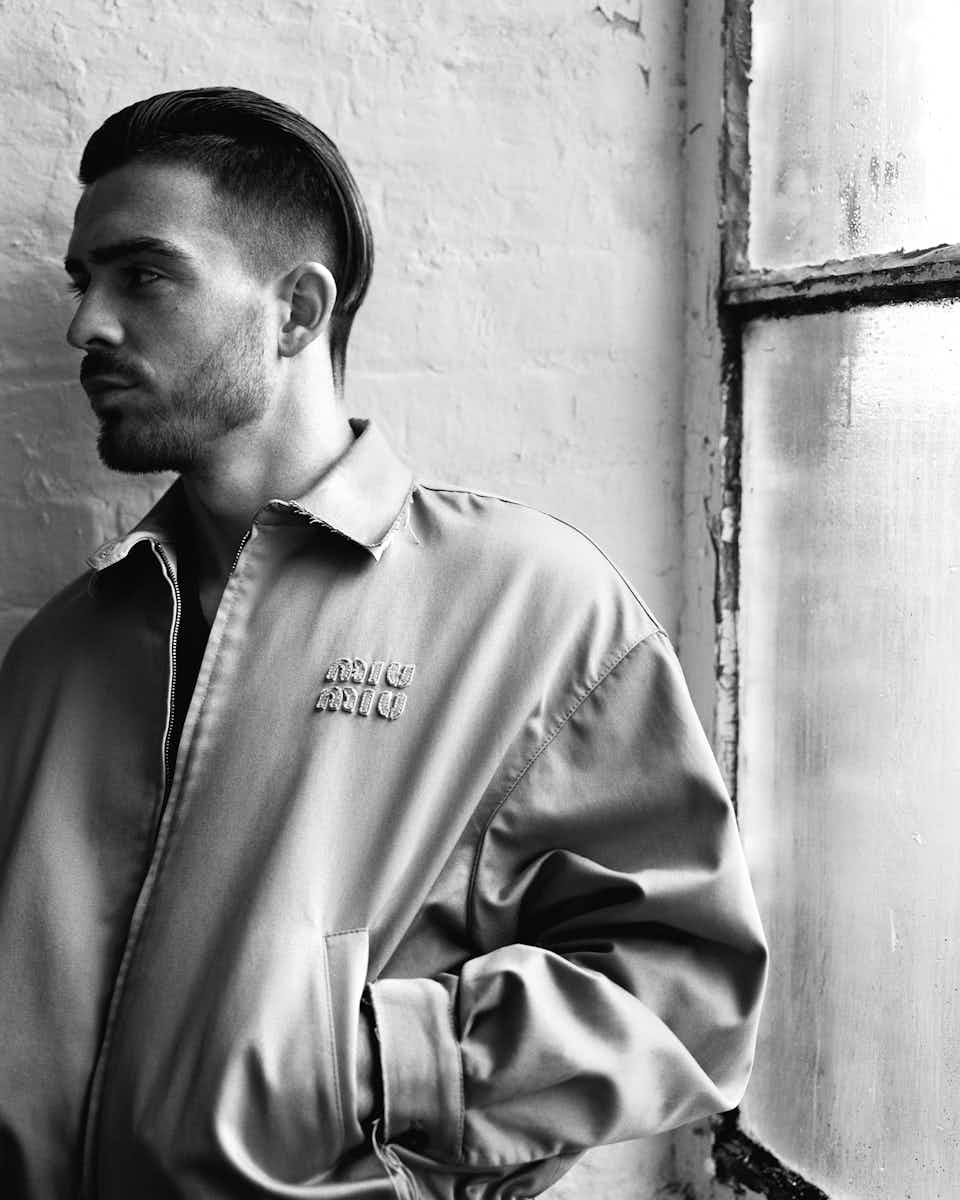 Grealish is also gearing up for what could be the most important moment in his career so far. In November, Qatar will host the World Cup. The first to be held in the middle of a season, it was moved due to the extreme summer heat in the Middle Eastern country. For the midfielder, he reckons the Euros loss could work to the England team's advantage on the global stage.

​"We had a lot of experienced players in that final: [Kieran] Trippier, [Jordan] Pickford, [Harry] Maguire, Harry Kane, who had all played in the World Cup before. But because we now have that experience of losing, I think it'll put us in better shape going into this World Cup."
Does he reckon he'll be on that plane come November?

"I pray to God I get picked, because you never know what can happen in football," he says, touching the wooden table.
"I want to score goals and get assists. I think that's what the England manager will be looking for. Pep has said to me: ​'Listen, I know you've not got as many goals and assists as you want, but you've been brilliant and played in all these big games,'" he says. ​"I've just got to carry on doing what I'm doing. Hopefully that little bit of luck will come my way soon."
After Grealish finds his toothbrush, he thanks everyone on set, shaking hands with the photographer, stylist, producers, assistants and all. While he might speak of luck, even going as far as to touch wood, his position as one of England's most thrilling attackers is indisputable.
More than that: he's the type of footballer we've missed seeing on the pitch for some years now. There's an old-school quality to him. Handsome, and a little mouthy. But relatable, passionate and up for getting dirty. A bit of a Jack-the-lad?
"Yeah, you could say that," Jack Grealish says. ​"It's just the way I am."

Grooming Kim Rance at LGA Photographer's assistants Lex Kembery and Simon Mackinlay Stylist's assistants Borys Korban, Hollie Williamson and Anaelle Claudet Executive producer Ragi Dholakia Producer Claire Huish Production manager Tommaso Albertini Production assistants Jordan Kilford and Lily Somerville

More like this