James Blake covered Aqua's Barbie Girl in an intimate Brooklyn gig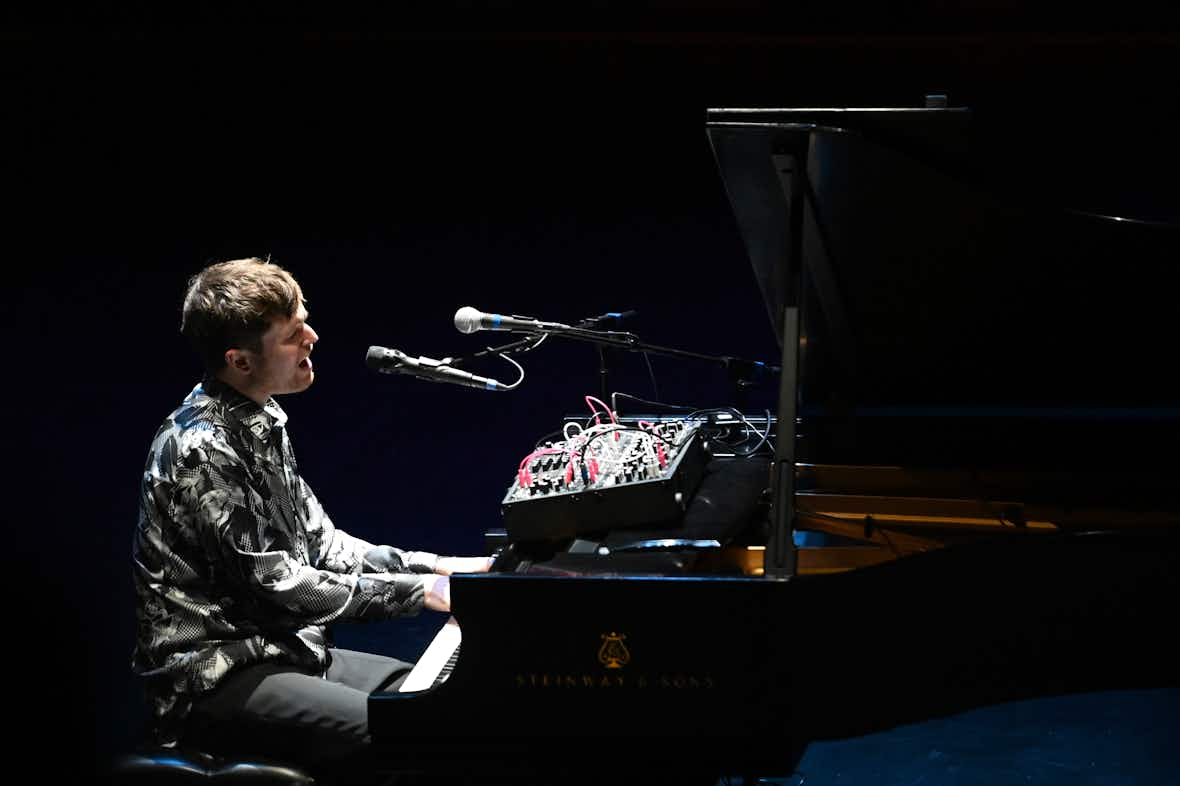 The smooth-singing, self-aware musician played a collection of new songs and old covers to a micro audience at Brooklyn's Harvey Theater.
"He's great, isn't he?" James Blake said jovially, speaking of Josh Johnson, the New York by way of Chicago comedian who currently writes for The Daily Show with Trevor Noah. Blake was addressing the audience at the Harvey Theater at the Brooklyn Academy of Music, where he was about to deliver the first of two solo piano sets this week. Rather than enlist a traditional opening musician, Blake had chosen Johnson for a tight stand-up set, as he had used Neil Brennan for last week's gigs in LA.
Before he started to play, Blake justified the decision. ​"My whole career has been being this laptop ghost who just occasionally catches my reflection in the computer screen and cries," he said, to muted laughter from the crowd. And now that the warped electronics were to be stripped away from Blake's songs in one of his most intimate gigs to date, he needed a way of breaking up the melodrama.

The show, despite its conspicuous similarity to Blake's 2017 performance at Jazz At Lincoln Center – in which he played almost the same setlist, in the same format of solo piano, two mics and sparse electronics – felt like a rare and special treat. The BAM Theater, a luxuriously appointed and intimate hall, translated Blake's sensitive, dynamic playing perfectly, and Blake approached the set with a nurturing spirit. Blake's voice is widely cherished for its unique richness, and thankfully, the subtler overtones and grainy textures he reaches were conveyed beautifully by the room's acoustics.
Clearly concerned with breaking up the stuffy, recital atmosphere of the 874-seater venue, Blake chatted and cracked jokes between songs like a seasoned Vegas performer, to remind us all that he, too, was aware of the pageantry.
The biggest musical punchline came towards the end of the set, when Blake surfaced out of an extended piano improvisation by beginning to sing the chorus to Aqua's Europop classic Barbie Girl. ​"Just making sure you all were still paying attention," he winked, after finishing abruptly. In a manner lock-step with the twin public personae of Blake and his longtime girlfriend, the British TV personality Jameela Jamil, it was a bit cringe, but you couldn't fault the earnestness behind it all.
Blake performed songs he's been working out at the piano for years: The Colour in Anything and Love Me in Whatever Way, from his 2017 album The Colour in Anything; covers of Don McLean's Vincent and Bill Withers's Hope She'll Be Happier; Godspeed, cowritten with Frank Ocean for the eternal Blonde; and a couple of new songs, including one tentatively titled Say What You Will. With a crowd-pleasing flourish, he played his biggest hit, 2013's Retrograde, near the middle of the performance. Stripped of the biting synths and massive bass weight of the studio version, the song took on a new shape.
In a display of showmanship that felt indebted to the earliest days of his career, when Blake was a college-aged dubstep DJ whose ​"Harmonimixes" of hammering club classics like Mala's Changes and Peverelist's Roll With the Punches lived on pirate radio airwaves, Blake teased Retrograde​'s central melisma with several minutes of keyboard noodling.
The show was nothing if not a marker of how far Blake has traveled from those early days of churning out jittery instrumental beats. Blake, who received his fourth Grammy nomination this year, has come into his own as a post-digital crooner of the highest order. Like Tony Bennett and Billy Joel before him, Blake knows how to work the crowd, balancing his formidable talent with a casual, jokey demeanour, and his deft performances can reignite the spirit of a timeless old song.
Finishing after about 40 minutes, probably the shortest 40 minutes of my life, he rejoined the stage to play an encore: Joni Mitchell's Case of You. Blake meandered through Mitchell's knotty cadences, sparsely accompanying himself with loose, broken chords. It was one of the most beautiful things I've ever heard.

More like this