Here's what you need to know about the Jay Electronica album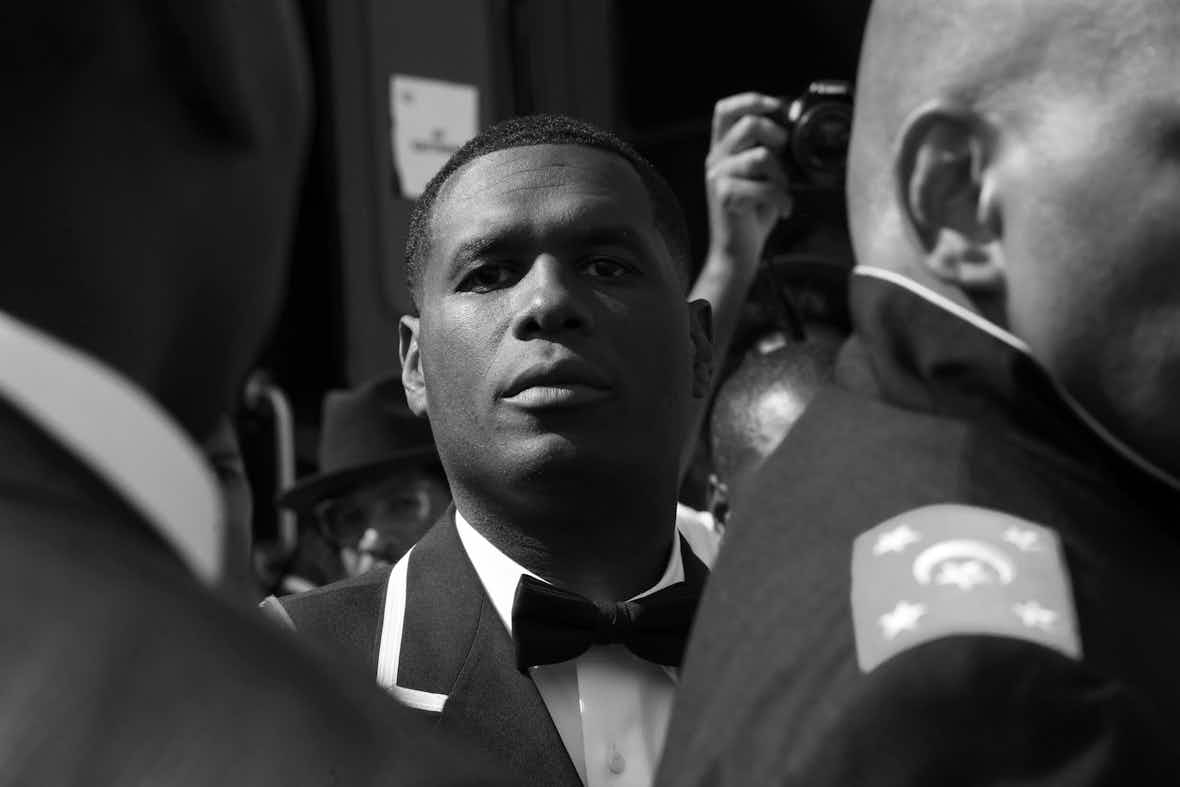 Fans of the mythologised rapper waited 13 year for A New Testimony. There's a lot to process.
The career of Jay Electronica is smothered in original myth. Plausibly, this could only be the work of invention: the mysterious figure who seemed to wander Earth like a rap game Jules Winnfield or duster-wearing Sergio Leone protagonist. Piecing together his life before the age of 30 is the work for a platoon of full-time detectives, music historians and spirit mediums. Yet you could argue his true exile began after inking a deal with Roc Nation in 2010.
The last decade has almost felt like an extended lost weekend for Electronica. After teasing fans for a half-generation, 7th February 2019 finally saw the now 43-year-old take to Twitter to announce that for 40 days and 40 nights he had been in the studio with Jay‑Z – his boss at Roc Nation – and that his album would be with us in 40 days time. That allusion to the Temptation of Christ may or may not be true (it was actually 35 days later that the album dropped), and the planned listening party to launch the record may have been cancelled due to the coronavirus outbreak, but Electronica's announcement proved to not be a false dawn. A Written Testimony is real and it's here, ending one of hip-hop​'s longest running sagas. To enrich your listening, here's the context you need to know about the man and the music.
Jay Electronica is one of rap's most enigmatic figures
There are few undisputed truths about the origin of Jay Electronica, but we do know he's originally from New Orleans. Legend has it that he left the city on New Year's Day 1996, aged just 19, beginning a lengthy journey around America, moving through various hip-hop epicentres, such as Philadelphia, Atlanta, Washington D.C., Detroit and New York. Along the way he nailed down his artistry, which often channels the spirit of golden age greats Kool G Rap and Guru, and he proved his prowess by impressing J Dilla. Electronica would eventually record the song So What You Saying with the legendary Detroit beatmaker, who was notably strict when it came to choosing collaborators.
It's one of the most anticipated records in hip-hop history
Jay Electronica's A Written Testimony can be lined up next to D'Angelo's Black Messiah, Guns N' Roses' Chinese Democracy and Dr Dre's Compton – albums that fans waited over a decade to see come into the light. Unlike those superstars though, only Electronica can claim to have built such anticipation without an album to his name. His only prior multi-song release was Act I: Eternal Sunshine (The Pledge), a 15-minute piece put out in 2007 that features Electronica rapping over a series of drum-less samples taken from the Eternal Sunshine of the Spotless Mind soundtrack. (An early example of the myth building around the Electronica name came on the intro to Act 1, with his then partner Erykah Badu declaring, ​"He looks kinda like he's an alien from somewhere, really. But in a rare beautiful way, like some kind of mythical creature who would have a bow and arrow on his back and wings under that bow and arrow.") Then came mostly silence. A guest spot here, a single there. Electronica regularly performed his tiny discography live, all the while teasing an album called Act II: Patents of Nobility (The Turn) that never came.
Electronica's writing draws from Islamic teachings
Jay Electronica's bars carry a sense of the divine. His words feel important, sacred, maybe even guided by the hand of a higher power. Religious faith guides much of Electronica's words on A Written Testimony. Closely affiliated with the Nation of Islam for some years now, Electronica has made public appearances alongside prominent figures in the organisation such as Wesley Muhammad and Minister Hilary Muhammad, and on the album, he evokes the names of former leaders Elijah Muhammad and Louis Farrakhan, the latter of which is featured on the intro. Universal Soldier sees Electronica repeat the word ​"Bismillah" – a phrase in Arabic that opens the Quran and means ​"In the name of God" – before referencing both Allah and Jesus Christ. It's not all so pious: on Fruits of the Spirit, Electronica wades into the news cycle, packing references to the Flint water crisis, America's controversial Immigration and Customs Enforcement agency, and Palestine into just three lines before punctuated the section with a warning about, ​"lies from the reporters".
The sound is soulful hip-hop, rather than trend-chasing trap
Jay‑Z isn't the only famous friend in Electronica's phone contacts. James Blake, Travis Scott and The-Dream are among his collaborators on A Written Testimony. And while Electronica produces six of the 10 tracks, help comes from AraabMuzik, Swizz Beatz and Hit-Boy (The Blinding), The Alchemist (The Neverending Story), No I.D. (Fruits if the Spirit) and psych-soul band Khruangbin (A.P.I.D.T.A.). The result is a set that leans on antique samples ­– Ezekiel's Wheel interprets Brian Eno, for example – wavy loops and smoky soul music that harks back to a world before trap and Soundcloud rap became zeitgeist sounds.
It's kind of a Jay-Z joint album
Electronica's decade on Jay‑Z's label looked destined to more or less come to nothing – he appeared on Jigga's remix of Drake's We Made It in 2014 but little else. However, A Written Testimony fully reveals the closeness of their bond. The elder Jay features on eight of the 10 tracks. So while Electronica's name might be on top of the masthead, this feels closer to a joint record in the vein of Watch The Throne, Jay‑Z's full-length collaboration with Kanye West. Sharing so much mic time with one man might feel a bit deflating for Electronica fans who have waited a long time for him to lay out his musical philosophy on a full-length piece, but the pair's chemistry is undeniable. The record also maintains Jay‑Z's interesting streak of recent projects: the confessional 4:44, his Beyonce collaboration Everything is Love and now A Written Testimony, which sees him share his wisdom in the context of Electronica's psychedelic world.

More like this