Jockstrap are giving classical romance a surreal twist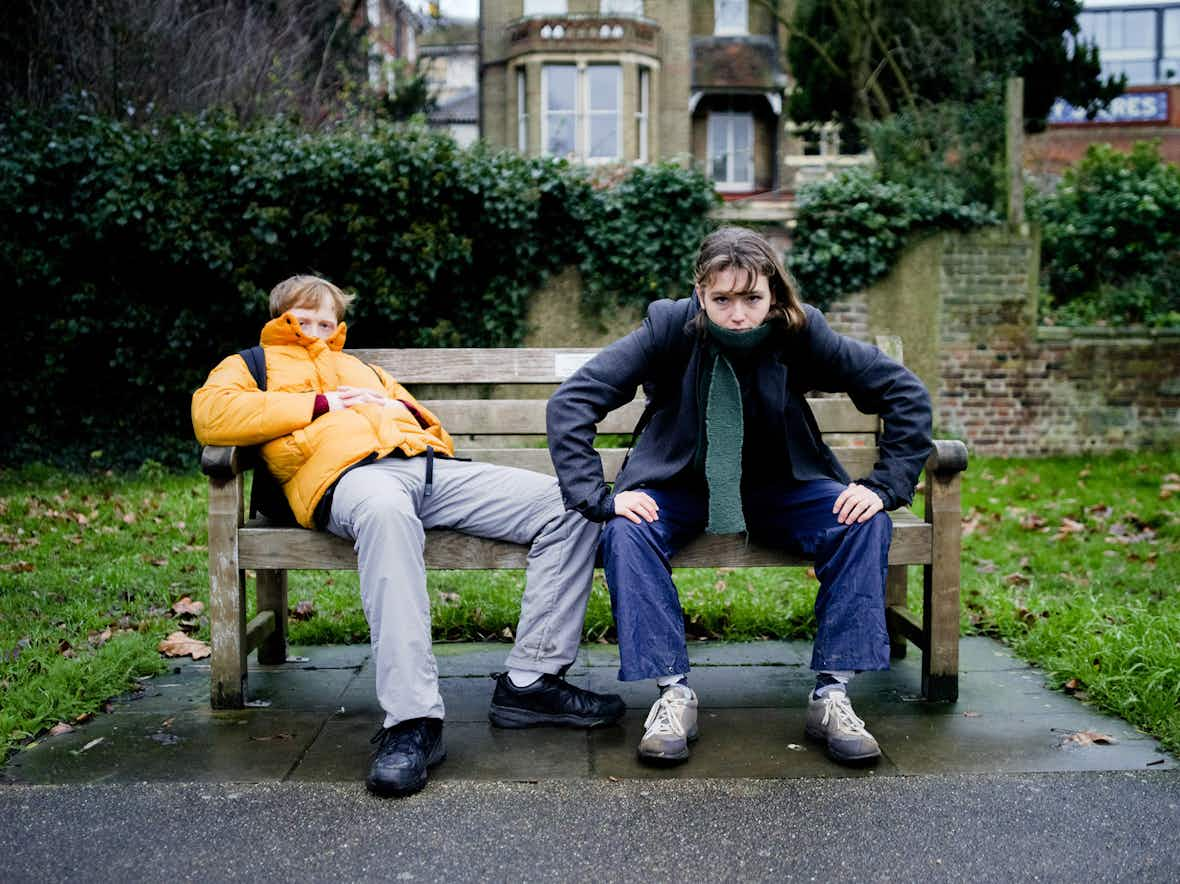 The London duo blend orchestral strings with jagged electronics and salacious lyrics. It's a formula that's landed them a Dean Blunt collab and a deal with Warp records.
As their name suggests, Jockstrap don't shy away from the intimate. The duo's first release, 2018's Love Is the Key to the City, was based around the concept of an affair. Georgia Ellery's warm vocals soar and stutter across the EP's six tracks, half-whispering stories about illicit romance over Taylor Skye's soundscapes, which weave luxurious orchestral flourishes with jagged, distorted beats. It feels classically charming, like a crackling old vinyl record or a sepia-toned photograph, but mutated with contemporary electronics. This unusual musical formula, along with the subtle humour of their self-directed videos, is intriguing a lot of new fans. Björk was spotted watching their set at Iceland Airwaves festival.

This year's follow-up release – their first since signing to influential indie label Warp – is currently untitled. ​"The name will connect to the last EP words-wise," Ellery teases. ​"It's a response [but] it's very different. It's on the other end of the spectrum; if the last EP was a female, this one's a male. It's a total dichotomy." The duo have just released new track Acid, an orchestral-synth-pop-bop with dreamlike vocals and slick production.
I meet the pair at London's Barbican Centre, close to the Guildhall School of Music and Drama where they're both enrolled – Ellery studies jazz; Skye is on the electronic music course. They reckon this academic background helps to set them apart from some of their contemporaries. ​"I guess it just feels like we've got the knowledge," explains Ellery. Outside of Jockstrap, she's played strings for post-punk band Goat Girl and she's also the violinist of the hyped seven-piece Black Country, New Road. Skye, meanwhile, dropped two solo EPs last year: Kode Fine & Sons and Lost My Key in the Club, plus a remixed titled Love Is the Key to the City. Both work frequently with their Guildhall schoolmate Ethan P. Flynn, the Young Turks signee who made numerous contributions to FKA twigs' Magdalene album. ​"He's so knowledgeable," Skye says, praising Flynn for showing them how ​"much further you can go" creatively.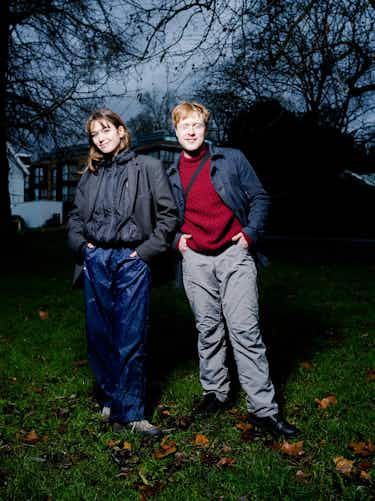 Ellery and Skye's most unexpected collaboration to date was with the enigmatic artist Dean Blunt, whose projects are often shrouded in mystery and surreal humour. ​"Our manager set it up, and it was…" Ellery pauses as she searches for the right word, looking at her bandmate with amusement. She eventually settles on ​"challenging", and Skye nods in agreement. ​"I remember coming back in the taxi laughing and being like, ​'I wonder whether anything came of that?' But then we got an email through with a link to [Blunt's Soul on Fire] EP and there we were, next to A$AP Rocky!"

2020 is shaping up to be a big one for Jockstrap. They've re-imagined their live show following a game-changing run supporting US rap trio Injury Reserve. Lacking the budget to bring their usual five-piece band, they had to perform as a duo, but found it offered them a new sense of freedom. ​"Both of us are way more present on stage, more engaged. It's more active, more banging," enthuses Ellery. ​"And we can just rehearse in my room," adds Skye pragmatically. Their first gig of the year is with experimental composer Anna Meredith at Hackney venue EartH, and they're planning to do their own tour once the new EP is out. Although they acknowledge that Jockstrap's sound ​"isn't easy listening", Ellery loves seeing people dancing to their music. ​"You reflect the audience and the audience reflects you. It's like a game of tennis, really."

More like this