Kampire is at the heart of Uganda's adventurous music scene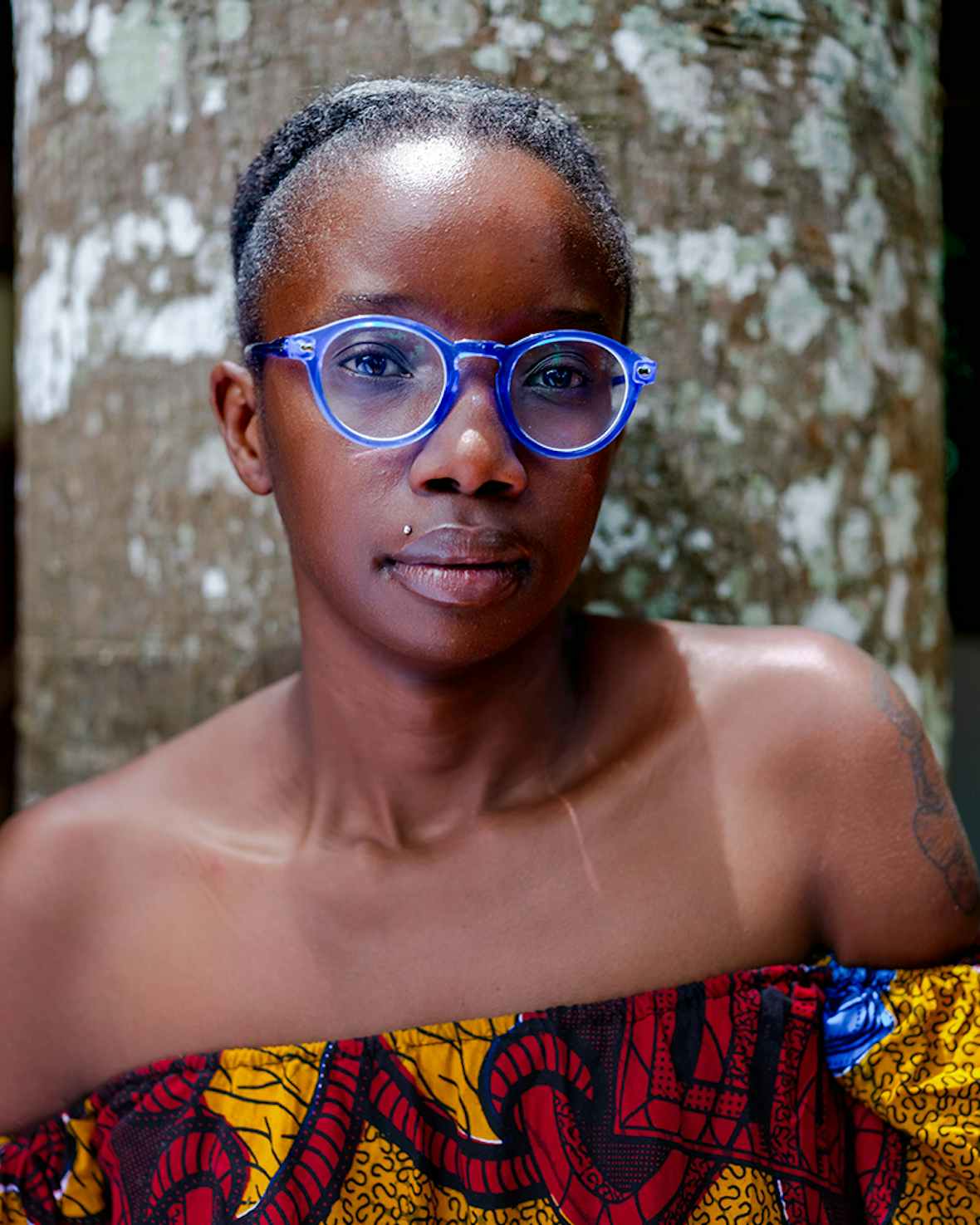 Along with the Nyege Nyege collective, the Kampala-based DJ has nurtured the local party culture and created a buzz overseas.

Over the last five years or so, an exhilarating party scene has been gathering momentum in Kampala.
Powered by an experimental approach to club music from east Africa and beyond, the scene has established Uganda's capital as a key part of the global underground electronic music ecosystem. And music and art collective Nyege Nyege has been a key force within the movement.
Co-founded in 2013 by Burundian creative Derek Debru and Greek-Armenian ethnomusicologist Arlen Dilsizian, Nyege Nyege has taken African artists on tour across Europe and Asia. In 2015 they launched a recording studio and an annual festival, held at Lake Victoria, the source of the Nile, which has hosted western DJs Juan Atkins, Josey Rebelle and Julianna Huxtable alongside African acts.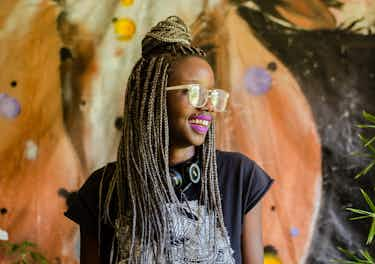 Photography Darlyne Komukama
Kampire has been one of the scene's biggest individual success stories. After returning to Kampala from Ohio just over a decade ago, she joined Nyege Nyege, DJing at the collective's parties in Kampala clubs as well as at the Nyege Nyege festival, the Amani festival in Congo and Burkina Faso's Africa Bass Culture event. She also became a fixture on the international festival circuit. Now, with lockdown restrictions easing here, she has a handful of UK dates lined up for the second half of 2021.
The 34-year-old's sets are an exhilarating journey through genres such as Afrobeats, Afrohouse, gengetone, kwaito and Dennery Segment, the latter Saint Lucia's buoyant interpretation of Soca music. Every mix feels like it's delivered with the same goal: to make sweat-soaked revellers party ​'til sunrise.
Catching up with The FACE from her apartment in Kampala, the DJ shares her thoughts on the future of the Ugandan electronic scene and the next frontier of western engagement with the African music sector.
Tell me about your background.
My parents are Ugandan but I grew up in Zambia. I lived there for 16 years and we lived kind of an immigrant or expat life, because we'd hang out with the other east Africans. There were some Kenyans and one or two Ugandan families. I went to a US school [in Ohio] for about four years after high school, and then I moved back to Kampala more than 10 years ago.
Why did you decide to come back to Kampala?
Growing up in countries that are not necessarily your own, I wanted to find out if Kampala could be home for me. I had been in the US for four years and, after that experience, I knew I could definitely not live in the West. I decided to try out Kampala and I didn't know I'd end up staying permanently. It's the closest thing to home that I have found on this planet, and when I moved back it was a party city – and even more so 10 years ago because I don't necessarily feel as safe as I did 10 years ago. When I first came back, we'd go out at 3am and I'd get on a boda boda [local motorcycles] and be very drunk and not have to worry about how I'd get home as a single woman. It's not so much like that anymore, but it's still a big party city.
What music is really exciting you at the moment?
I listen to everything to be honest, but I really like Kenyan gengetone. I think it's vibes but it's also really exciting what the artists are doing with the sound. I also love Ugandan pop music, it's influenced by dancehall and Afrobeats. There are a number of genres that I love that are less popular like electronics from northern Uganda, singeli music from Tanzania and the interesting things coming out of the South African underground. I also like Dennery Segment, a sub-genre of Saint Lucian Soca music.

The Nyege Nyege festival is one of the most celebrated on the continent. How has it shaped your career?
The success has been very gratifying for me because I was not a DJ before I got involved in the Nyege Nyege festival. I feel like my success as a DJ and the success of Nyege Nyege have been very intertwined. I feel like a lot of the reason why people are interested in me as a DJ is because of the community that I come from. It started as just a fun thing that we were doing with friends and trying to create a space for people in east Africa who listen to alternative music, as well as east African acts who make incredible music but don't always break into the Top 40. We felt like they deserved an audience. To see people embrace the festival and the success of myself and [frequent Nyege Nyege collaborator] Otim Alpha as a result of the festival has been better than I could ever have imagined.
The Ugandan music scene has also evolved since Nyege Nyege started in 2015. What's changed?
I think the biggest difference – and it can't be credited to just Nyege Nyege – is that there is space for alternative music, parties and acts. In 2015, there weren't a lot and we didn't know where to go or who to follow. But right now there are a lot of events that are inspired by music outside the Top 40. Afro-house, amapiano and techno, there's more space for that even in Kampala. We still have a long way to go in making the scene even broader because Uganda has such a diverse music heritage. If we're just trying to make music that's derivative of Afrobeats or dancehall, that's fun. But I don't know that that's where growth is necessarily.
Do you think Western engagement with African music and art is moving beyond being a source of cultural clout to something more engaging?
I think it is evolving. Western actors getting involved in the space are now very cognisant of how the West has been very extractive in the past. So, DJs would come to east Africa and take a sample of someone playing a traditional instrument and make a track off it when they go back. But the people who were involved in that process are not aware of what happens next – they don't get production credits or anything like that.
Now, that has changed and the people I'm aware of are trying to engage equitably with African artists. There is still a power differential but they are more aware of world issues and the disparities between people. Obviously, to some people in the West, Africa is still an idea and a DJ set may be their only interaction with a real African. That brings a certain feeling of representation, but I try not to think too much about that.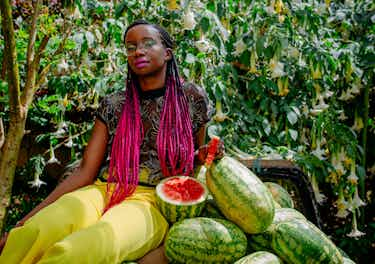 Photography Darlyne Komukama
Speaking of international dates, what do you aim for when you play gigs at these venues?
The good thing about my style of DJing is that my goal is very simple: it's to make people dance. So wherever I play, I just try to throw different tracks out and see what people react to.
What was 2020 like for you, with the pandemic and all the disruptions it caused?
Before the pandemic, touring was my main work and I was on tour for about seven months out of the year. Not touring was a big change, but it was also nice to be home and have space to focus on some things. I've also [done livestreamed DJ gigs] but they're not as fun because, for me, DJing is about real-time exchange of energy. I did a few of those but in the end, I stopped. I've also worked on other creative endeavours like learning to produce and working on compilations.
Do you have specific plans for when the world opens up again?
I'm hopeful that it will be safe to travel and play at shows again, but it is complicated to travel as an African artist. I don't think it's going to be easier once you bring in testing and vaccination and all of that because it's really a money-making scheme for a lot of African governments. But I have a couple of shows booked. Asides from that, I have compilations and remixes that I've been working on. And that's keeping me sane.
Kampire is playing Repercussion festival in Manchester on 18th September. Listen to THE FACE's Repercussion playlist here.


More like this