Mica Levi on sound­track­ing ​

'

Monos'
Set in a lush misty moun­tain­ous region in Latin Amer­i­ca, Monos is a Lord of the Flies-esque tale about a group of teenagers work­ing as gueril­la fight­ers for a mys­te­ri­ous con­glom­er­ate known only as The Organ­i­sa­tion. The film chron­i­cles the teenagers' sur­re­al and some­times bru­tal life as they care for two prized pos­ses­sions: their hostage Doc­to­ra, and a dairy cow named Shakira.
Direct­ed by Ale­jan­dro Lan­des Monos is as much a com­ing of age sto­ry as it is an epoch of sur­vival. But Mica Levi's sound­track avoids the sym­phon­ic bom­bast of most action movie sound­tracks. Instead she blends sparse and min­i­mal instru­men­ta­tion with sound design by Lena Esque­nazi, cre­at­ing tracks that fade into the sub­con­scious, push­ing the audi­ence into an ever-height­ened state of anxiety.
A renowned artist in London's music scene, Levi has released four albums since 2009 with her exper­i­men­tal indie band Micachu & The Shapes. She's col­lab­o­rat­ed with the likes of Arca, Dean Blunt, and Oliv­er Coates, and she pro­duces for her close friend and col­lab­o­ra­tor Tirzah, who released her crit­i­cal­ly-acclaimed album Devo­tion last year.
As a com­pos­er for film sound­tracks, Levi seems to cul­ti­vate a sense of dis­tress­ing ten­sion in all her scores. For her sound­track for Scar­lett Johansen led film Under the Skin (which won her a BAF­TA nom­i­na­tion and Best Com­pos­er at the Euro­pean Film Awards) Levi cre­at­ed an eerie pres­ence using sim­i­lar ele­ments like sparse drums, syn­thet­ic strings, and synths with fluc­tu­at­ing tem­pos. Levi went on to embrace film, win­ning an Ivor Nov­el­lo Award for her score of the Jack­ie Kennedy biopic Jack­ie in 2015 and then sound­track­ing the 2017 sci­ence fic­tion film Mar­jorie Prime.
Ahead of the release of Mono on 25th Octo­ber, The Face caught up with Levi to dis­cuss the process of com­pos­ing its min­i­mal and pow­er­ful score.

The sound­track blends a lot of dif­fer­ent styles, from the flute to the clas­si­cal ele­ments, to synths. Why did you want to incor­po­rate all of these var­i­ous com­po­nents?

I feel like that's going on a lot in the film. There's wood, there's met­al and there are elec­tron­ics. That's what those instru­ments are made out of, like blow­ing wind across a wind instru­ment. And the date isn't spec­i­fied, but there are clothes and oth­er ele­ments that lead you to under­stand it could be this year, or it could be the ​'80s. You're not exact­ly sure what spe­cif­ic era it is. And there's the adren­a­line ele­ment, that's what I'm relat­ing to in the sto­ry. It's just teenagers, young peo­ple, work­ing things out and fig­ur­ing things out about their lives. While the back­drop is very extreme, and the sit­u­a­tion has a threat of life and death. But what's going on is some­thing that a lot of kids go through in all dif­fer­ent cir­cum­stances. So yeah, I was think­ing about what adren­a­line is to me and where I find that in the music I'm around.
The four-note flute feels like a sig­nif­i­cant part of the score. Is that some­thing native to the area? Or just a sample?
It's a record­ing that I have but it's not native to the area. It was sup­posed to sym­bol­ise author­i­ty. The sound that I have is quite spe­cial because it's record­ed in per­son. It's sup­posed to remind you that there's a larg­er author­i­ty putting the pres­sure onto these peo­ple. I sup­pose when you first hear it, they're com­mit­ted to the cause, it's like a strength­en­ing. It's a lit­tle bit of a threat, but it's just the big Organ­i­sa­tion. Lat­er on, it becomes a bit more seri­ous, a bit more threatening.

Even with the sound design and the score, the film still feels pret­ty silent – like there's a qui­et sense of men­ace. Did you inten­tion­al­ly keep the sound­track min­i­mal for this reason?
We had more music in there in the begin­ning. But one of the things I like is [that] it's not over­hand. [The teenagers] don't have a lot of stuff, they don't have a lot of free­dom, there are restric­tions. But then they're also in extreme­ly expan­sive places, I mean the expan­sion of the jun­gle and the moun­tains. And they're prob­a­bly in the most ruth­less con­di­tions I imag­ine teenagers hang­ing out could be in.

When you com­pose do you try to empathise with the char­ac­ters in the film? Or see your­self as a character?

Some­times, you try to get into the mind­set, but the music might not be lit­er­al­ly telling the sto­ry or apart of dra­ma in an obvi­ous way. It might be pep­pered all over the score. The score is a way of get­ting an idea of what life is like, get­ting a taste of what that char­ac­ter might lis­ten to, you know? As opposed to it being, ​'this char­ac­ter is sad, this char­ac­ter is hap­py'. There are so many things and func­tions that music can do.
Monos is released in cin­e­mas across UK and Ire­land on the 27th September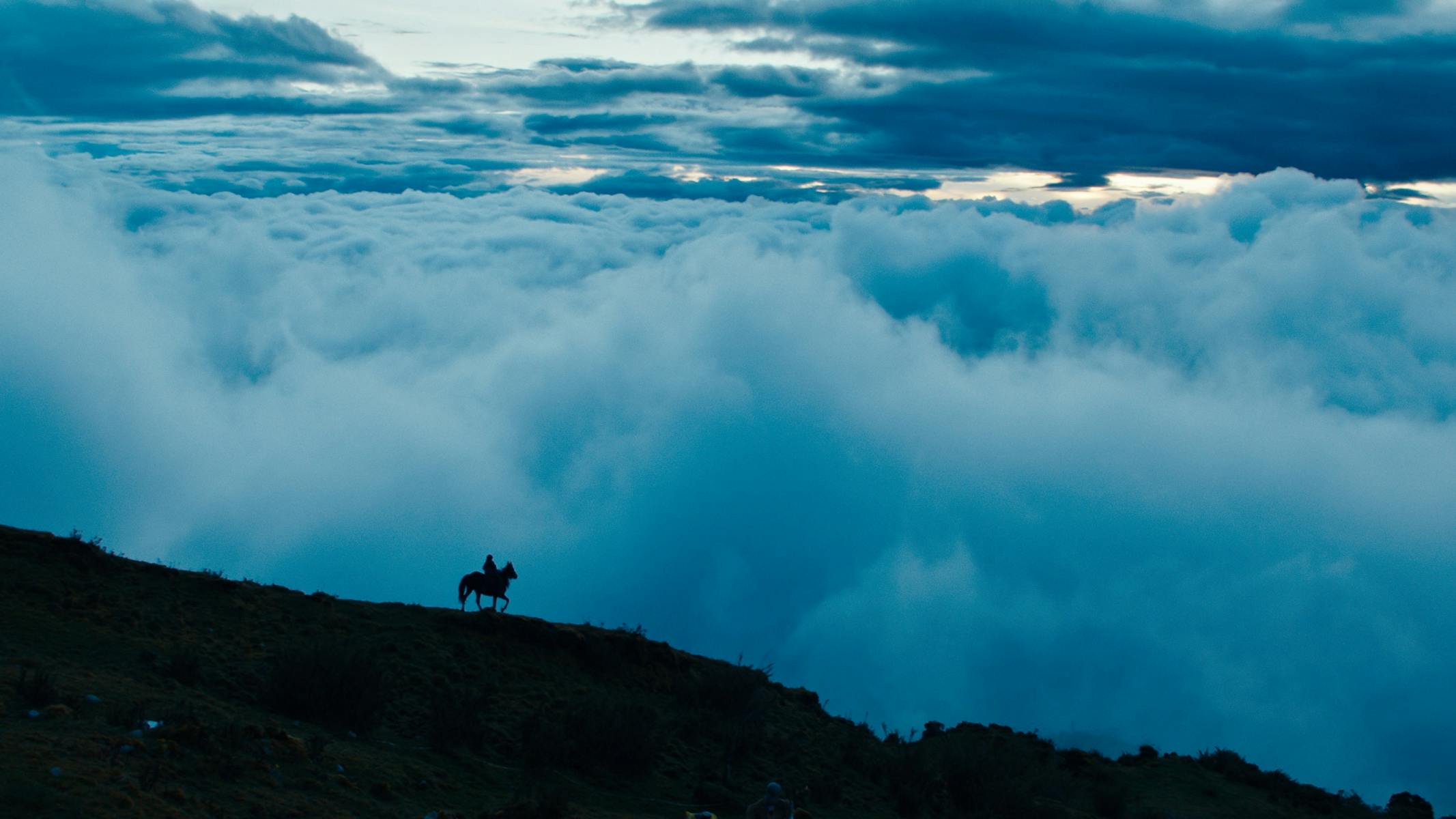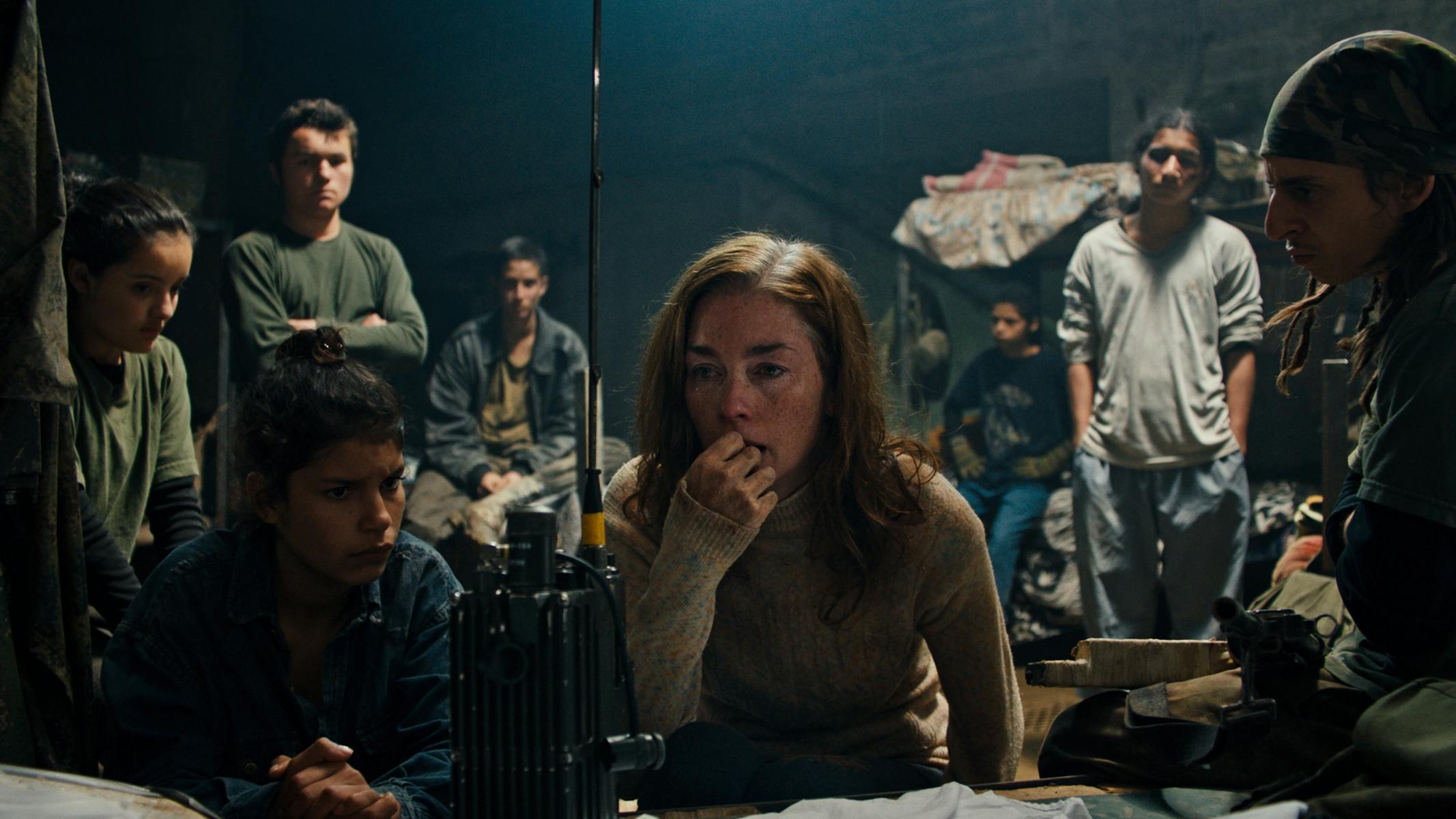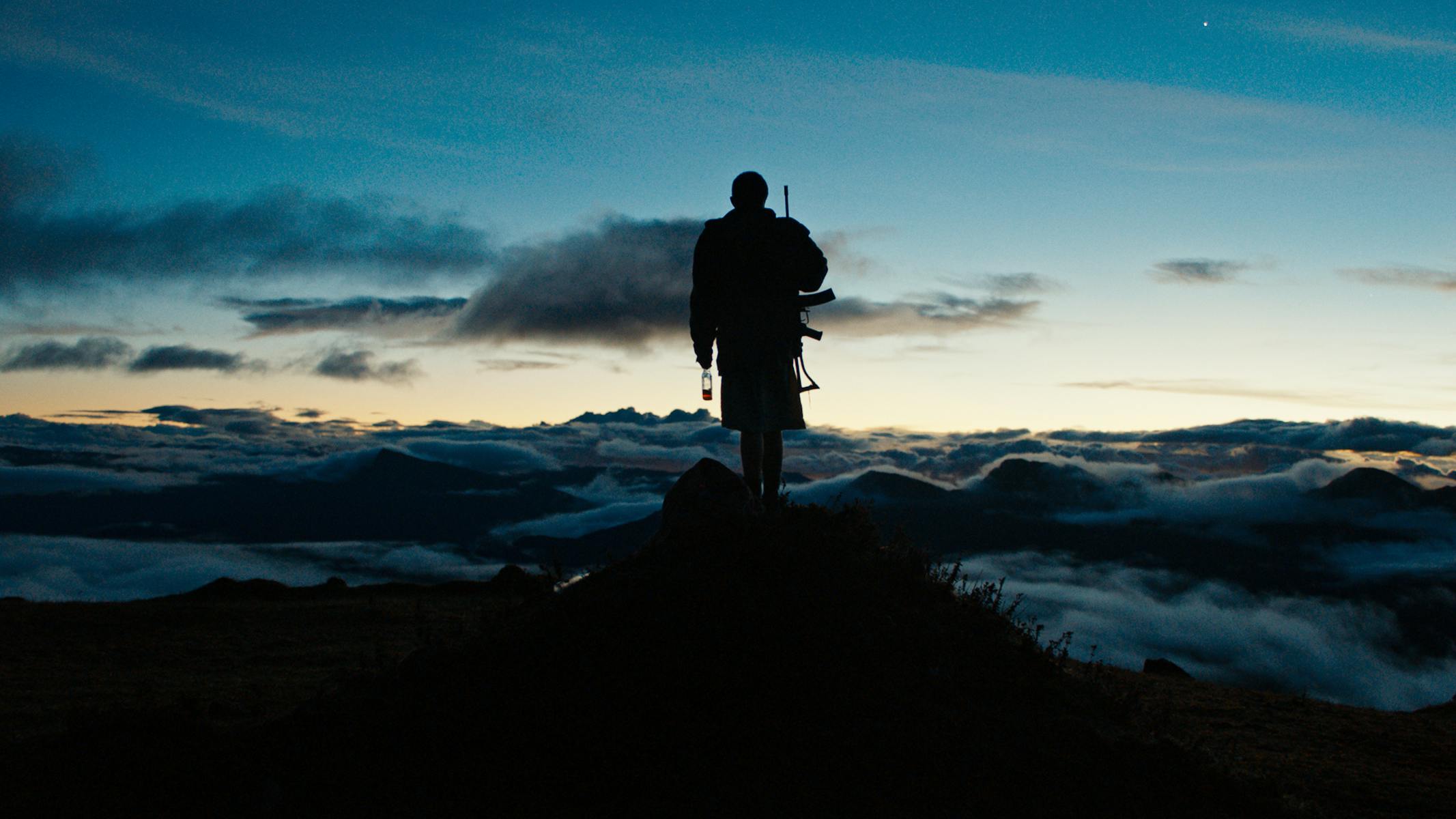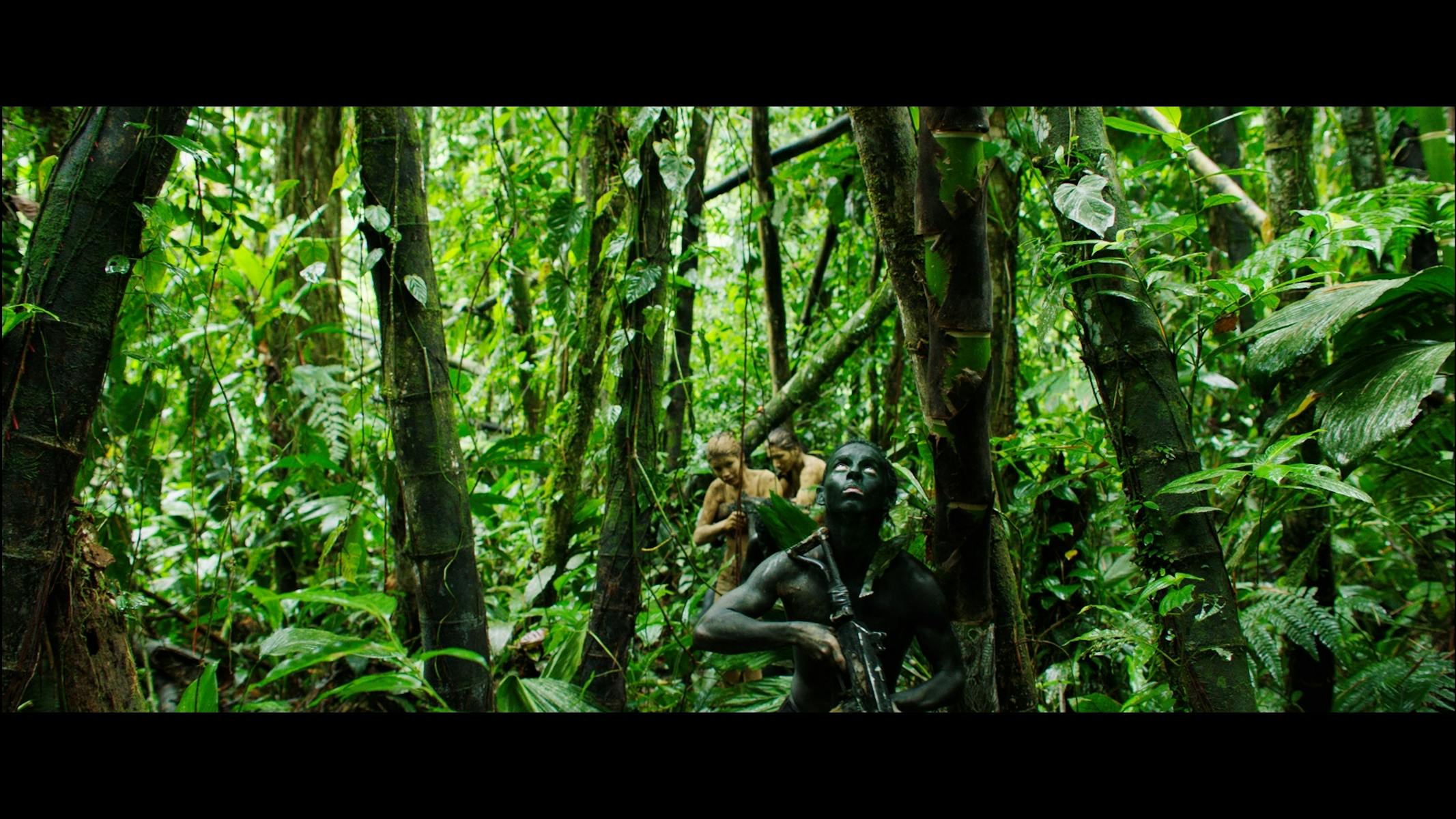 ---