Welcome back MUNA – the Harry Styles-approved queer pop trio
The LA group opened for Styles on his 2017 tour, accidentally gifted him a Mapplethorpe book of nudes, and now they're back with a head-spinning new single.
Throughout its history, pop music has mostly been a place for escapism from a heteronormative point of view. There are hundreds of thousands of songs about hetero fantasies and girls and boys and it's all just so old-fashioned. The world is not made up entirely of smarmy binary straight people, so why should our pop music be?
Enter MUNA, who for five years have explored a niche of pop that not only shirks that stale point of view, but completely changed the narrative of what an identity in pop music can be, paving the way for acts like Kim Petras and Lizzo. Fans have been waiting on new music for over two years since their debut album About U, and today, Muna are finally dropping a new track, Number One Fan. The first single from their sophomore LP out 6 September, Saves the World, is disarmingly vulnerable for a total earworm – an electro-pop bop that addresses social media and the ever-elusive idea of being nice to yourself.

But first you have to know that MUNA is nice to each other. I meet the trio – Katie Gavin, Josette Maskin, and Naomi McPherson – at the Hollywood Forever Cemetery in the middle of their hometown of Los Angeles, and despite having worked non-stop for two years, they're cracking jokes and offering each other sunscreen. Gavin, the band's lyricist and lead vocalist, dressed in a black overall jumper, takes a seat, and I'm wondering how weird it might be to do the interview so close to the graves.
"Maybe I'm assuming too much, but I think [the dead] are happy to have some company," she says, and everyone agrees, and we all relax.
I bring up Number One Fan​'s opening stanza: ​"So I heard the bad news /​nobody likes me and I'm gonna die alone in my bedroom /​looking at strangers on my telephone." It's a feeling we've all had.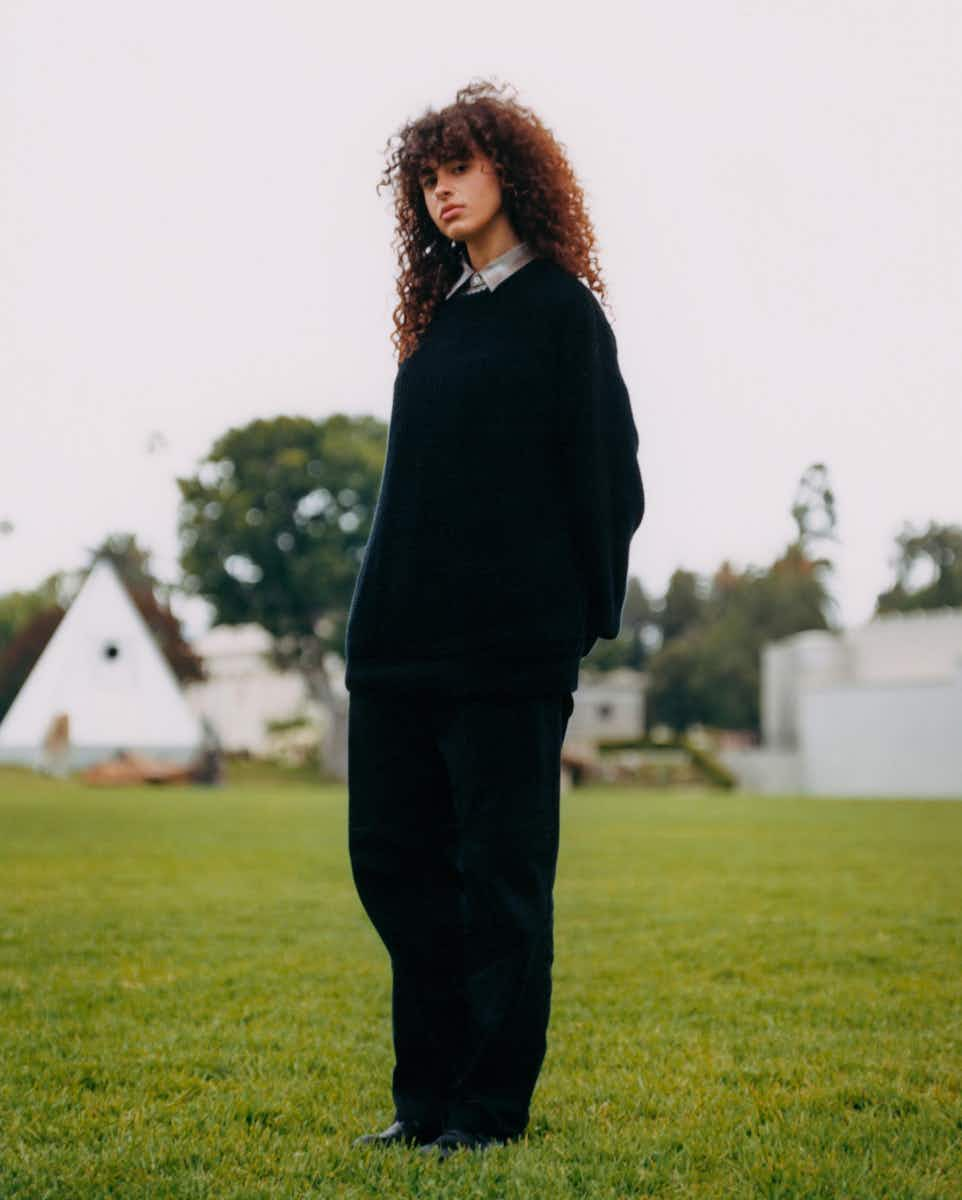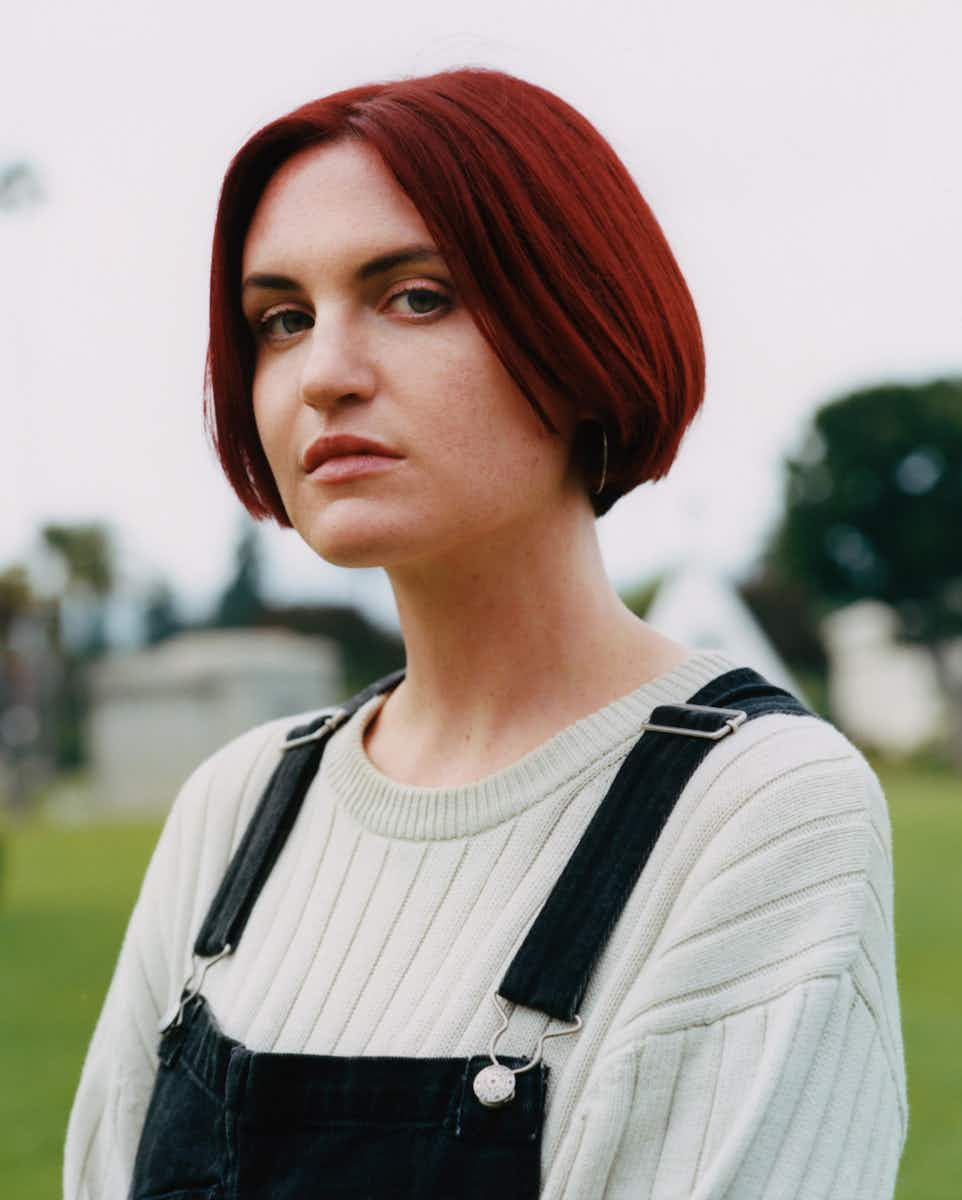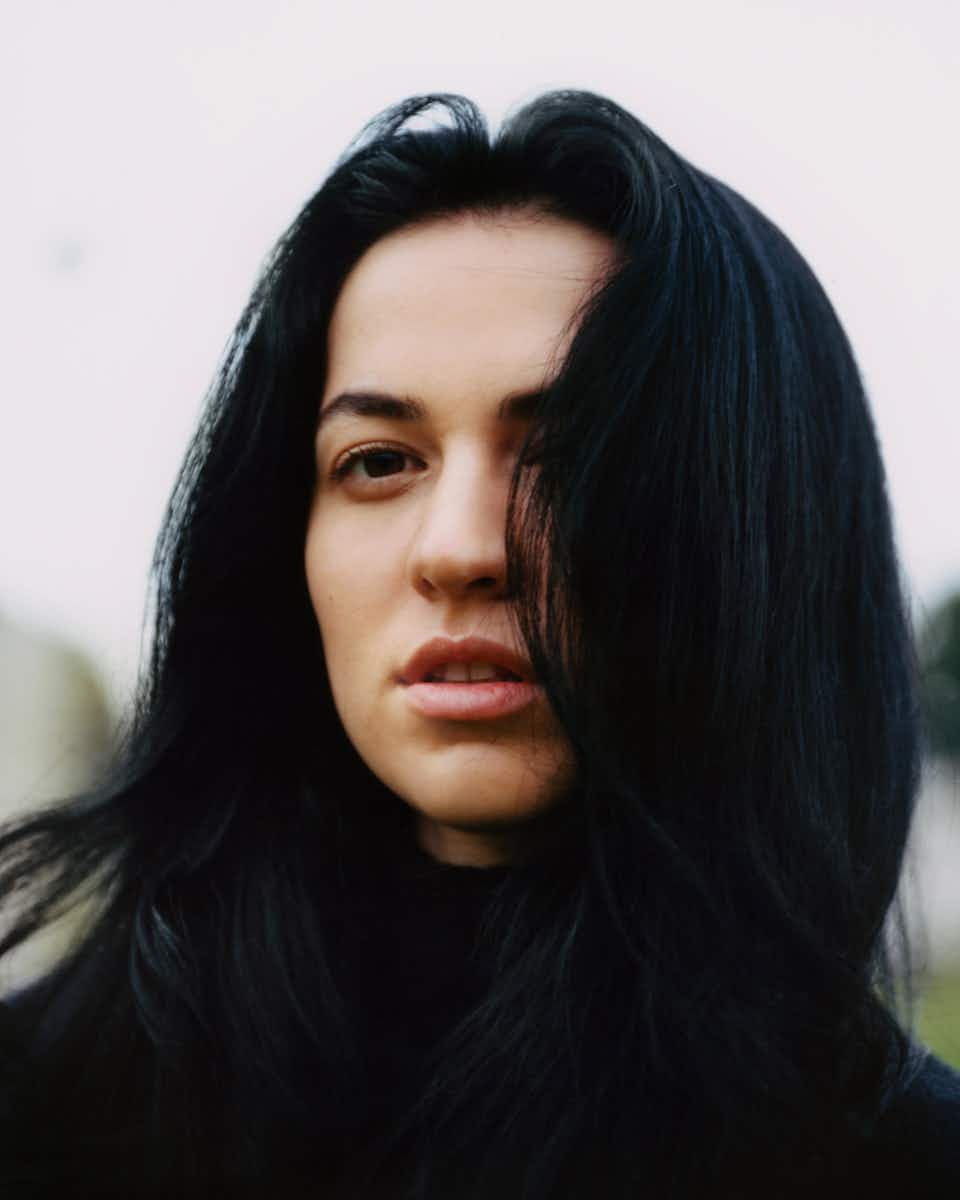 "I think those first lines were part of the reason that we wanted to come back with that song," says Gavin, propped up on the grassy lawn of the cemetery. ​"To address where we are at that very moment, I think it's important to say, ​'I can't stop looking at my phone, and it's making me feel like I am alone.' That's such a common experience right now in a certain part of our culture. We're simply trying to say what is actually happening to us on a daily basis, and then maybe there are commentaries that live inside of that. It could be an acceptance of where we are right now; it could be a critique. But I think just trying to meet a lot of people where they're at. The feeling of isolation is probably a theme [on the album]."
Gavin, Maskin, and McPherson met at the University of Southern California in 2013, and they almost immediately began playing music together. Gavin and Maskin started a band called Cuddleslut, and McPherson filled in for Maskin during the group's only show, because Maskin had gone to Coachella. They sat around and thought up names, and MUNA came to them (possibly because McPherson had gone to high school with someone named MUNA), and they liked its planetary and feminine quality (despite the fact that it means ​"egg," which is a slang term for ​"penis" in Finnish). They continued to write songs, dropping a debut EP in 2014, which found its way to RCA records, culminating in the release of About U in February of 2017. Soon ex-One Direction superstar Harry Styles tapped Muna to join him on his late-2017 tour, which introduced the band to a broad new audience.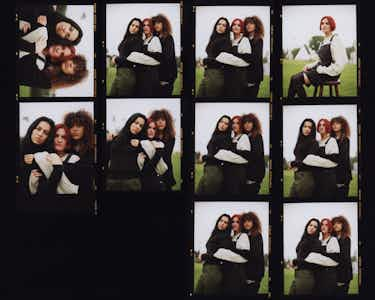 "In the position that he's in, he can't really say a lot, but you know, he chose a queer girl band to open for him. I think that speaks volumes," Maskin says about Styles. She tells a story about how the band accidentally got Styles a rare Robert Mapplethorpe book from Amazon as a tour gift, but when they got the book, it turned out to be almost entirely photos of Mapplethorpe's penis.
"He's probably like, ​'The MUNA girls are fucking freaks. They gave me this insane book,'" says McPherson, laughing.

As queer-identifying pop stars on a major label, having just gone on tour with a pop star that makes his fans faint, songs like I Know A Place and Loudspeaker from About U quickly became anthems blasted in bedrooms and gay clubs across the world. But after coming off tour, they had to completely relearn the process of making a record again, and that came with some pain. Compound that with the general Weltschmerz of being in your mid-twenties, and Saves the World became an album with fraught feelings about who and where the members of MUNA were in the world.
"The simplest way to say it is to say that it's a record about deeply wanting to grow up and become an established, fully-formed human being, and then, because of wanting that so badly, having to do some really intense personal work to figure out why you're fucked up," says McPherson.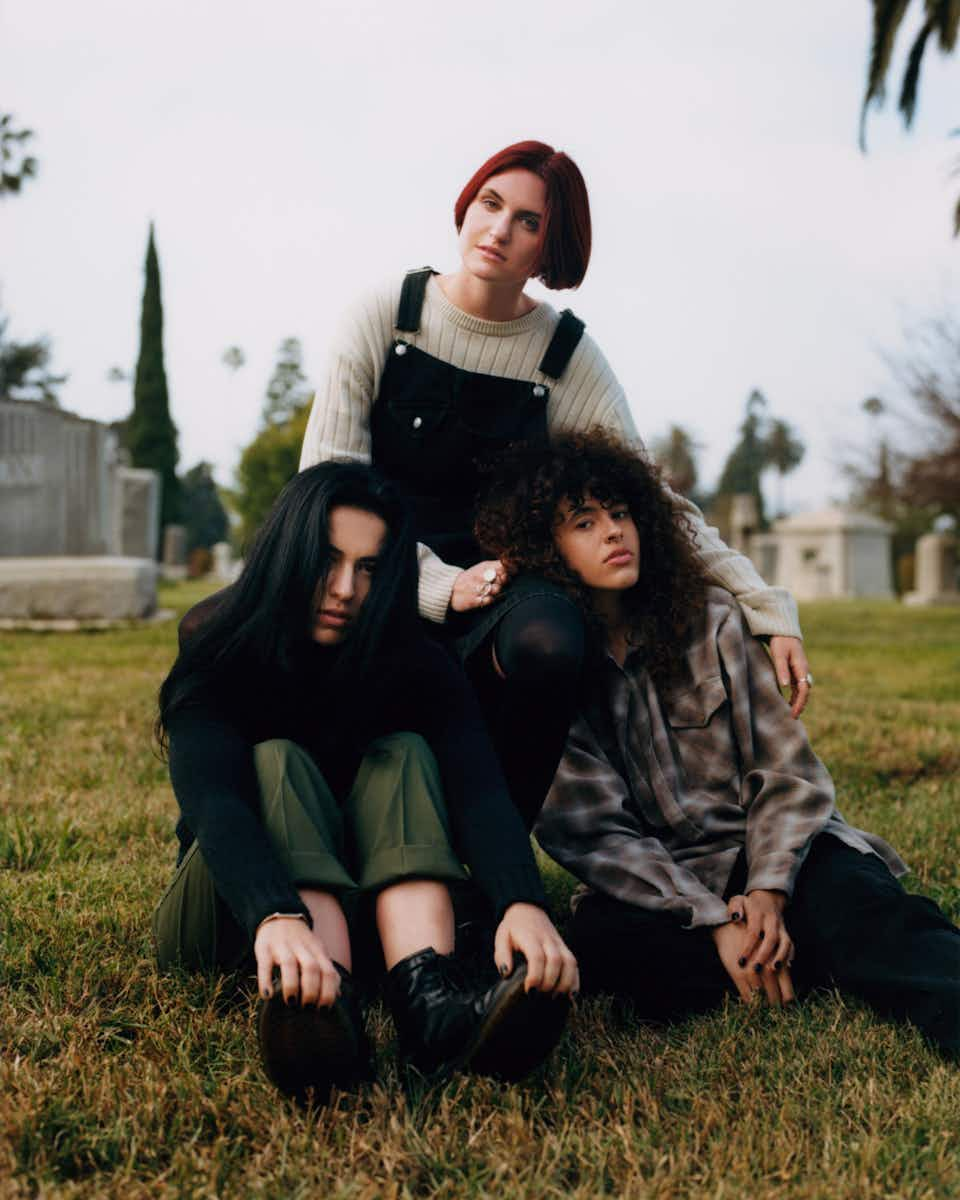 In that way, Gavin feels Saves the World is a therapeutic record, not just for themselves, but also for their listeners. They've never been shy about feeling that way, but she feels the band achieved this in a few different ways on the new album.
"We were talking about the other day – how some of the songs on the record are quite literally meant to be tools for other people, like if they're trying to change a pattern in their life," says Gavin. ​"I always love the utilitarianism of pop music, where it's like, look, there's a lot of people who are just tired – just trying to get their ass out of bed and go to work – and they might have a shitty abusive ex, but they are lonely, and they might have them over, because they're fucking tired. Maybe instead of doing that – just please don't text your ex – there are songs that are meant to be truly helpful in that way. That's my dream. But then there are also a lot of songs that are like, ​'Here's me still fucking it up. Here's me still making a choice that I know I'm going to have to deal with later, because I'm a person.' And I think that can be just as helpful. Music should just be a comfort of knowing that you can break any rule you set for yourself and still be worthy of love."
Saves the World is out on 6 September. Hair and make-up: Hayley Farrington; Photography assistant: Mario Lopez.

More like this