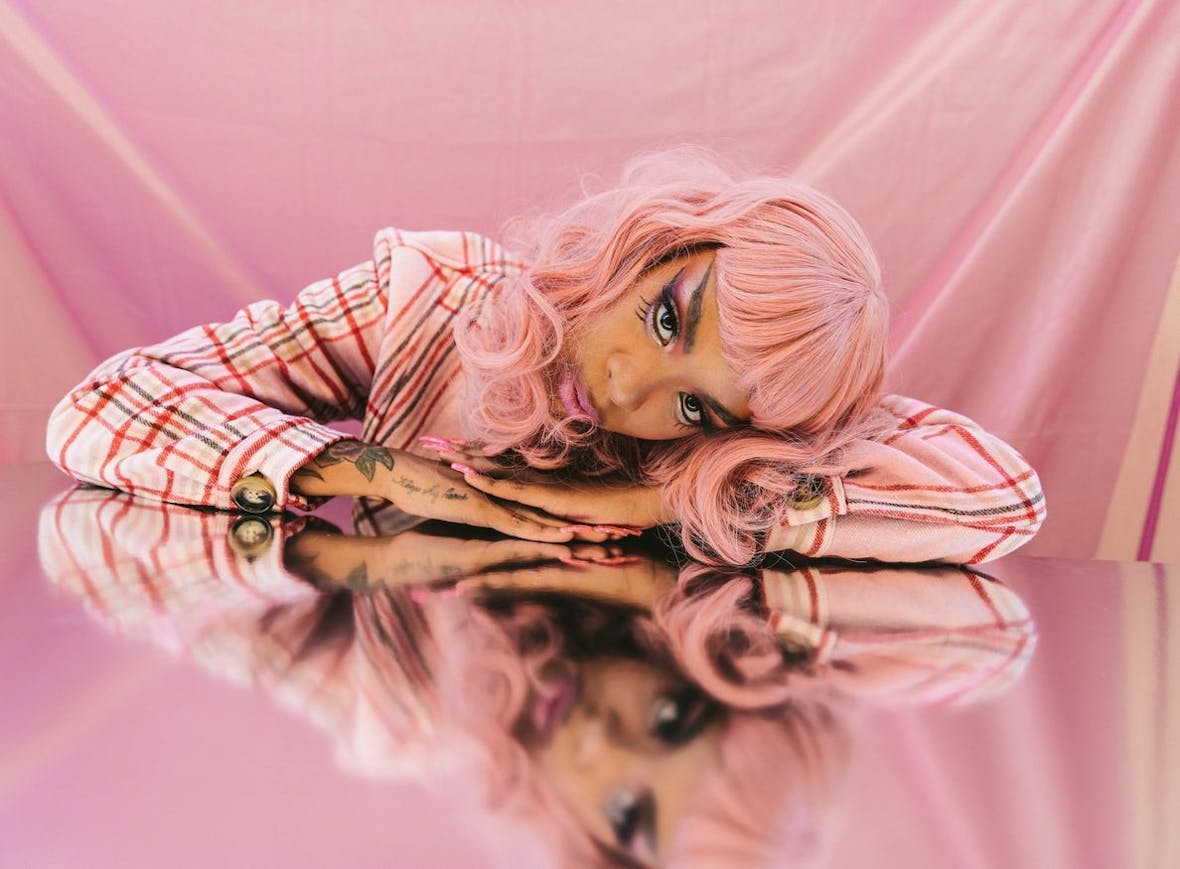 Sex, ambi­tion, music, motherhood
In the open­ing shots of Rico Nasty's recent Com­ing Up doc­u­men­tary, we see the 21-year-old Mary­land rap­per bathing her three-year-old son Cam. ​"How did you find out you were preg­nant?" asks the inter­view­er. ​"I was mas­tur­bat­ing and after I came, my stom­ach was brick hard," is her reply. Rico rep­re­sents a new slew of moth­ers in music who are frank, unapolo­getic, career-dri­ven, sex­u­al, bread-win­ning and killing it. They exist at a time when there's scope to be more nuanced in how the world views fem­i­nin­i­ty. But, per­haps more impor­tant­ly, they give zero fucks what the world thinks anyway.
There's a sur­pris­ing­ly small canon of pop songs by female artists about their own moth­er­hood, which could be down to a reluc­tance to make that spe­cial bond per­for­ma­tive. Or maybe, in the bina­ry space that women are often expect­ed to exist in, musi­cians have been afraid to remind the world that they're at once artist and moth­er. There was a time when a preg­nant pop star was expect­ed to a make a sort of Sophie's choice between career and par­ent­ing. The tabloids took thigh-rub­bing glee in the demise of Ms Dyna­mite post-preg­nan­cy. ​"You could tell every­one was think­ing, your tim­ing couldn't be worse," she told an inter­view­er back in 2005. But now female artists are let­ting the world know that they'll be doing moth­er­hood on their own terms. ​"You know what – I'm a grown woman," said Car­di B, fol­low­ing her preg­nan­cy announce­ment in 2017. ​"I'm a schmil­lion­aire and I'm pre­pared for this… Why do I got­ta choose a career or a baby? I want both."

Want­i­ng it all won't qui­et the deaf­en­ing doubters, and artists could be for­giv­en for find­ing the pub­lic scruti­ny dispir­it­ing (remem­ber the ridicu­lous Bey­on­cé baby bump debate?!). But it often feels as though preg­nan­cy and moth­er­hood sharp­en focus. Per­haps it's per­spec­tive. Per­haps it's the gen­uine aban­don that accom­pa­nies deep and com­pound­ed tired­ness. Per­haps it's the next log­i­cal step in embrac­ing the embar­rass­ing mum role. Once an artist reach­es a point of gen­uine­ly not car­ing what peo­ple think, cre­ativ­i­ty is lim­it­less. Car­di B released her album Inva­sion of Pri­va­cy just four months before drop­ping her bun. A year after giv­ing birth to Blue Ivy, Bey­on­cé inno­vat­ed the sur­prise drop with a self-titled album that changed the pop music land­scape for­ev­er. Lau­ryn Hill had a baby and then prompt­ly made Mise­d­u­ca­tion.
"When some women are preg­nant, their hair and their nails grow, but for me it was my mind and abil­i­ty to cre­ate," Hill said to Ebony about her only solo LP back in 1998. With To Zion, Hill may have cre­at­ed the ulti­mate anthem of moth­er­hood. The uni­ver­sal and earthy con­tend­ed­ness of that track will jerk tears for eter­ni­ty. But, of course, there are many and var­ied ways that moth­er­hood can inform all cor­ners of artis­tic out­put. For Bey it unlocked the sort of sex­u­al­i­ty that can be found on tracks like the brazen­ly cli­mat­ic Rock­et; for Rico Nasty it hard­ened her pro­tec­tive thrash­er rage, tak­ing her high-octane rap sound to a glo­ri­ous­ly punk place.

Day-glo Ten­nessee rap­per Bby­mutha is the proud sin­gle mum to two sets of twins, who all appeared on the cov­er of her 2018 EP Mut­haz Day 3. She raps with rel­ish about every­thing from her sex life to how much she likes cocaine and she makes no apolo­gies for doing it as a moth­er. She told Paper mag­a­zine in Novem­ber last year: ​"In inter­views when peo­ple want to ask about my fam­i­ly, it's cool because I do have a fam­i­ly, but that's not the only part of me… there's more than one facet of being a woman with children."
Preg­nant and job­bing female stars are now more vis­i­ble than ever before, but when Neneh Cher­ry stepped out on the Top of the Pops stage back in 1988 to per­form Buf­fa­lo Stance in gold lame jack­et and tee­ny black lycra skirt gift-wrap­ping her heav­i­ly preg­nant bel­ly, Lit­tle Britain almost spon­ta­neous­ly com­bust­ed. An appre­ci­a­tion of maxi dress­es and Bre­ton stripes is not a pre-req­ui­site for moth­er­hood. A woman's sar­to­r­i­al tastes don't change once her egg is fer­tilised. And nei­ther does the sex­u­al appetite that got her there. Car­di B's 2018 Coachel­la per­for­mance was a thing of mater­nal beau­ty. As she twerked on hand and knees shout­ing ​"That's how I got preg­nant, y'all", she defied a world hell-bent on avert­ing its gaze from how babies are made.
Frank­ness about the real­i­ties of preg­nan­cy has also been key. Car­di B said that she had ​"kin­da, sor­ta" con­sid­ered abor­tion; Kehlani has used Ins­ta to detail her strug­gles with pre­na­tal depres­sion. When Bby­mutha was told by an inter­view­er that it was a bless­ing to have two sets of twins, she replied, ​"It's two Scor­pios and two Leos and it's just a lot for my Vir­go ass." Adele accept­ed a Gram­my in 2017, shar­ing that ​"in my preg­nan­cy and through becom­ing a moth­er, I lost a lot of myself."
Even those with­out kids are con­front­ed con­stant­ly by moth­er­hood. Hit 30 as a female artist and you best be ready to answer ques­tions on plans for chil­dren as read­i­ly and fre­quent­ly as ​"still or sparkling?" But the respons­es are slow­ly becom­ing less rehearsed or peo­ple-pleas­ing. When Miran­da July spoke to Rihan­na back in 2015 she asked her what she search­es on the inter­net. ​"Child­birth," RiRi replied. ​"Pho­bia of a big vagina."
At the end of the Rico Nasty doc she spits to a crowd of thou­sands who mosh hard and chant along to each and every word. Just as she's whipped them to peak fren­zy, in tiny play­suit and giant plat­inum weave, she car­ries son Cam out on stage. ​"This is for all my young mamas out there. Don't let them tell you what you can and can't do". It's con­spic­u­ous moth­er­hood but there's no pre­tence. A chant erupts of ​"bitch, I'm nasty". And it's true, Rico's a Mum but she can still be nasty. ​"I'm a girl, so you know they told me I couldn't do it. I got a baby, so you know they told me I couldn't do it," she screams, defi­ant. ​"DO. THAT. SHIT."
---