What's the music industry doing about climate change?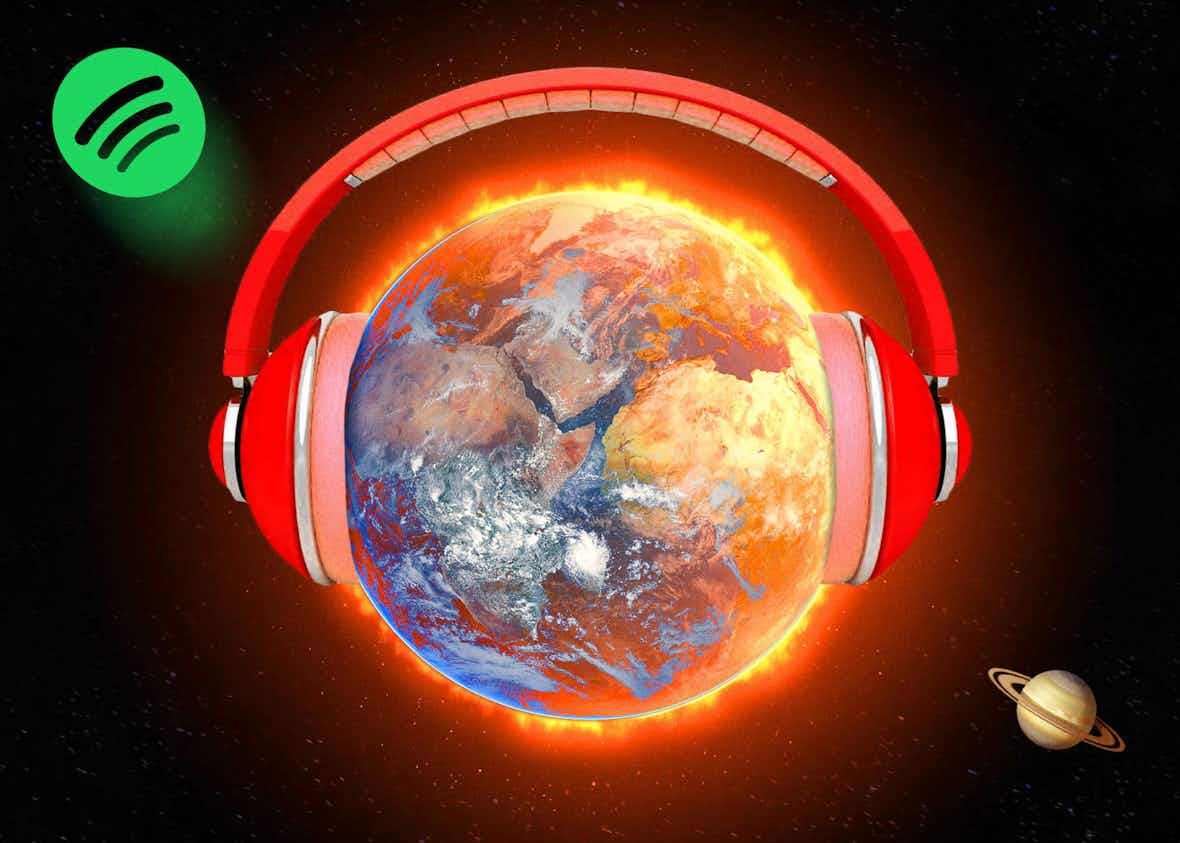 From touring to festivals, vinyl and even streaming, when it comes to the environment, there aren't many clean hands in the biz. The good news is that there are fresh ideas for how to fix it.
Wildfires, droughts, floods. Earth is dying, humanity is potentially screwed and we've only got ourselves to blame.

The climate emergency is an eye-watering cause for concern in a global music industry powered by carbon emissions. Recent research suggests that live music produces 405,000 tonnes of greenhouse gas emissions in the UK every year, while the average touring DJ emits 35 tonnes of CO2 a year – that's 17 times higher than the personal carbon allowance.

The UK's live music industry has committed to reaching net zero emissions by 2030, but while carbon offsetting schemes can help, they are by no means a magic solution. We're now seeing an increase in eco-friendly touring, high-profile artists like The 1975, Coldplay and Massive Attack shouting about sustainability and bold experiments such as powering a nightclub with the heat from the dancefloor. Has the music industry finally started to wake up and smell the burning forests?
Here's a breakdown of some of the problems the industry faces, plus the efforts being made to sort it all out.
Vinyl is essentially a form of plastic and we all know what that means for the planet. Records are made from PVC (polyvinyl chloride) pellets which are derived from fossil fuels, including crude oil, and they're pretty much impossible to recycle. A single record can take up to 1,000 years to fully decompose in a landfill.

The vinyl manufacturing process also consumes large amounts of energy for steaming and cooling, and traditionally uses ozone-depleting, solvent-based ink to print cover art. With the record revival still in full swing – last year marked the 13th consecutive year that vinyl sales rose in the UK – is there a greener way to consume vinyl?

Ninja Tune, one the UK's best-known independent labels, has made environmental sustainability a priority, divesting its funds and pensions from fossil fuels and installing renewable energy systems in its London HQ. The label encourages the pressing plants that supply its vinyl to switch to green energy, while LA-based vinyl pressing plant UnifiedManufacturing​.com uses soy-based inks, recycled boards, ethically-made products and 100 per cent wind energy.
Green Vinyl Records, a group of eight Dutch companies, have achieved energy savings of over 60 per cent through an environmentally-friendly production process that's based on the injection moulding principle instead of pressing. Deep Grooves vinyl pressing plant in the Netherlands fully functions on green energy and RPM Records offers a variety of biodegradable, recycled and wood-free paper alternatives. So maybe there is a future for our beloved black discs after all.
Thought you were doing your bit by sacking off your vinyl collection? I'm afraid we have some bad news: your Baby Shark streams could be heating up the ocean.
The environmental cost of music streaming has finally started to sink in. According to a joint study from the University of Glasgow and the University of Oslo, ​"the transition towards streaming recorded music from internet-connected devices has resulted in significantly higher carbon emissions than at any previous point in the history of music." To put it into jaw-dropping perspective, those 4.6 billion streams of Despacito in 2017 guzzled as much electricity as the combined annual electricity consumption of Chad, Guinea-Bissau, Somalia, Sierra Leone and the Central African Republic.
The IFPI (International Federation of the Phonographic Industry) – the global body for recorded music – accounted for 443 million users of paid subscription music streaming accounts at the end of 2020. So what are streaming services doing to tackle climate change?
Spotify say they're actively ​"investigating" the GHG (greenhouse gas) emissions produced by their listeners, which accounted for 42 per cent of the platform's total carbon emissions in 2020. The company plans to set carbon reduction targets in line with the Paris Agreement and ​"make their way" to net zero emissions. Spotify also claim their offices now run on 100 per cent renewable energy and Apple invested in 8,000MW of renewable energy in 2020.
Music festivals were originally the preserve of tree-hugging hippies, until commercialisation took over and created a multi billion-dollar industry. Waste is a serious issue: in the UK alone, festival audiences use 10 million plastic bottles annually. Major US festivals like Coachella and Desert Trip generate around 100 tonnes of solid waste every day, while an estimated 23,500 tonnes of waste are produced by music festivals in the UK each year.

Thankfully, more and more festivals are going green. The UK fancy dress-heavy Shambala has removed meat and fish from its on-site catering and is powered entirely by renewable energy. Norway's Øya has strong green credentials – food and drink is served in plastic free packaging that's 100 per cent compostable – and Italy's ​"experimental and sustainable" Terraforma focuses on land restoration. Green Man encourages festival-goers to donate their unwanted food and camping equipment to on-site teams from Help Refugees and Newport to Calais Aid Collective, while Glastonbury boasts one of the largest solar panels in the country, as well as 1,300 recycling volunteers. Latitude, meanwhile, offers a ridesharing programme.
In 2018, Live Nation and 61 members of the UK's Association of Independent Festivals promised to rid their venues and sites of planet-choking single-use plastics by this year. And if you want to delve into dressing-up as a punter, biodegradable glitter is now a thing.
From Aphex Twin to Grimes and Steve Aoki, non-fungible tokens have been embraced by the music world. Financial protection for artists, or a hair-brained scheme for rich tech bros? Whatever your thoughts on NFTs, one thing's for certain: the scene seriously needs to clean up its act when it comes to emissions.

NFTs are powered by blockchain technology, specifically the Ethereum blockchain, which requires colossal amounts of energy. A single Ethereum transaction consumes as much electricity as an average US household uses in a working week and, as of October 2021, Ethereum's annual carbon footprint is the same as New Zealand's.
However, more and more eco-friendly NFT platforms are emerging on the scene. Founded by Australian techpreneur Max Shand, the Serenade platform claims it generates 1/44,000th of the carbon emitted by standard NFTs. Another new platform, Voice, is built on the more environmentally friendly EOSIO blockchain and boasts a carbon-neutral service. ZestBloom is built on the Algorand blockchain ​"for speed, security, efficiency, and carbon-negative." Now you don't have to melt the ice caps to buy that cat meme you've always wanted.
Musicians rely heavily on touring to generate revenue and no one wants their favourite artists to stop gigging. But from travelling and merchandise to catering, the environmental footprint of a touring musician is huge. But there are ways to make it more sustainable.

Coldplay will embark on an eco-friendly world tour in 2022, which involves electricity-producing dance floors, and Billie Eilish will eliminate an estimated 35,000 single-use water bottles from her upcoming tour. Artists are looking into making the merch stall more sustainable, too. Olivia Rodrigo's recent Sour merch is sustainably dyed, made in the USA and 100 per cent organic cotton. The 1975 also took a dive into sustainable fashion by repurposing their old, unsold tees and printing new logos on them. Elsewhere, eco-riders can help DJs say bye-bye to plastic.

2021 is the so-called European Year of Rail and, within the world of dance music at least, it seems that more DJs are swapping EasyJet and Ryanair flights for the train. Berlin-based DJ Gwenan has been trying to cut back on flights as much as possible. ​"Last year I had more time to reflect on my lifestyle and whether that amount of flying was really something I wanted to get back to," she told THE FACE. ​"I've realised that a lot more places are accessible by train than I thought."

Carin Abdulá, who runs OUTER, a booking and management agency based between Lisbon and Berlin, says their artists ​"are choosing alternatives to flying as much as possible, but sometimes the routings make it impossible." She also explains that in some instances, offers have been declined because they would involve a long flight for just the one show, for example, which ​"feels far too wasteful." The culture definitely seems to be changing.

In September, long-time carbon offsetters Massive Attack released a study commissioned in partnership with Manchester's Tyndall Centre For Climate Change Research to help the music industry reduce its carbon emissions. Among the key recommendations are swapping private jets for trains, relying on renewable energy at festivals at venues, using local providers and free public transport with gig tickets.
These touring practices need to be implemented if we want to keep the rise of global warming under 1.5 °C. Music Declares Emergency are calling for urgent action now, because as their motto goes, there's no music on a dead planet.

Collective action is a force for change. Below you'll find a selection of climate change collectives, organisations and charities. Follow, support, donate, join, educate.

- Reverb



More like this