What happens when band members hook up?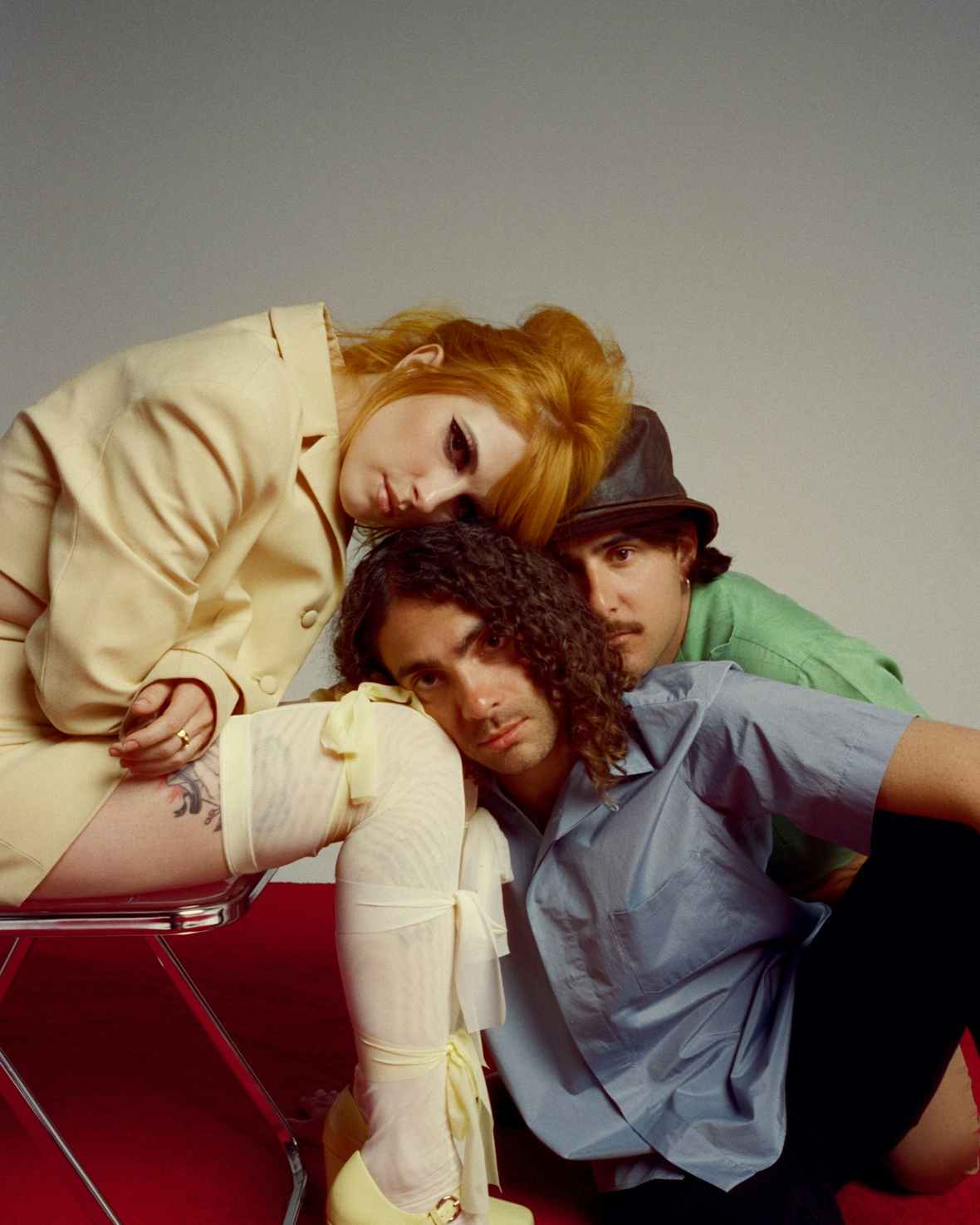 As pop-punk trailblazers Paramore return, complete with a new romance within the line-up, is the curse of "bandcest" a thing of the past? Or are those just, ah, rumours? A writer with personal experience reports.
Lace up your Vans and go tell Olivia Rodrigo the news: Paramore are back. The announcement this summer that the band had reformed had fans salivating with excitement. There was a new album, a new tour – and, intriguingly, a new central relationship.

Followers had presumed frontwoman Hayley Williams was in a newly blossomed relationship, certainly going by the lyrical clues dropped in her recent solo albums Petals For Armor (2020) and Flowers For Vases (2021). ​"Might have taken 30 years but I was always on my way to him," Williams sings in Petals… track Taken.
The more dogged – or, indeed, nosy – fans had figured the object of her affection was Taylor York, the guitarist who joined Paramore after a late-2007 line-up change. When asked whether they were dating in a recent interview with The Guardian, the pair confirmed that they were, while declining to discuss it further.
Their caginess was understandable. Why should anyone discuss their relationship with a stranger? But there was, too, a familiar whiff about this – Williams once dated former Paramore guitarist, Josh Farro. That didn't end so well for band dynamics: when the couple split in 2007, the music that followed often featured lyrics seemingly written from a sour tongue. Williams once confessed that when she first sang feisty hit Ignorance before the rest of the band, she mumbled her way through the lyrics ​"Don't wanna hear your sad songs, I don't wanna feel your pain". In a 2010 interview, she said she found writing the entirety of Paramore's 2009 album Brand New Eyes, which inevitably reflected the end of the relationship and other frustrations within the band, ​"embarrassing".
Farro later left the line-up in 2010, and although his reasoning was said to be due to feeling undervalued, it's not unreasonable to suspect that the post-split vibes within the line-up didn't help. No wonder some fans might be forgiven for being concerned that Paramore's comeback already has an inbuilt pressure-cooker.

And therein lie the inherent problems of what we will reluctantly call ​"bandcest": the intra-band dating of musicians. Yes, the very nature of the gig – long days and nights huddled in the backs of vans and buses; the intensity of a creative partnership; the emotional connection that fundamentally makes for better songs and performances – means romantic/​sexual entanglements are highly likely. But equally, the high-pressure intensity of working together and being together, often 24/​7, is, frankly, not healthy for any new relationship. And it probably isn't great for the other people in the band.
Nineties pop-watchers will remember how, after the end of No Doubt frontwoman Gwen Stefani's relationship with the Californian band's bassist Tony Kanal, their split inspired 1996 hit Don't Speak. Their partnership formed the spine for Don't Speak​'s multi-platinum parent album Tragic Kingdom, so despite the difficulties it caused, being creatively vulnerable about their romance had an artistic (and commercial) dividend. And, indeed, No Doubt remained successful for another two decades.
Shout out, too, to the eras-straddling stability of the relationship between New Order's Gillian Gilbert and Stephen Morris, who've been married since 1994. The couple's working relationship is seemingly so healthy that they continued making music together with their side project, The Other Two, during New Order's hiatuses.

Historically, though, bandcest has been a rollercoaster. The most famous of all is the soap opera that was Fleetwood Mac in their mid-'70s pomp. On the upside, their messy, intertwined relationships, notably the intensely torrid Stevie Nicks/​Lindsey Buckingham dynamic, led to them creating some absolute bangers. Step forward 1977's Rumours, only one of the greatest, and best-selling, albums of all time.

But was it worth the trauma? Nicks and Mick Fleetwood also had an affair whilst they were both in other relationships outside of the group. The singer's regret about the situation was reported in Zoë Howe's 2014 book Stevie Nicks: Visions, Dreams, and Rumours, with the singer admitting that she hurt Fleetwood's family. ​"I loved these people, it couldn't possibly have worked out," she said. ​"And it didn't."
Singer and keyboardist Christine McVie was already married to founding member John McVie before she joined Fleetwood Mac, but later admitted that working together ruined their relationship. ​"When you're in the same band as somebody, you're seeing them almost more than 24 hours a day," she told Rolling Stone. ​"You start to see an awful lot of the bad side ​'cause touring is no easy thing."
Even when bandcest isn't actually happening, even the supposition of it can cause problems. In their mid-'90s peak, the Spice Girls were rumoured to have succumbed to the sexual tensions of making music together. That may well have been pathetic wishful thinking by skeezy male pop writers, but Scary Spice Mel B did claim in a 2019 episode of Piers Morgan's Life Stories that she and Geri Halliwell had slept together during their era of girl power and pop domination. Halliwell, though, later rebutted that, saying the comments were ​"hurtful" and denying the rumours.
Music and musicians are sexy. Of course they are. That's one of the reasons we love it, and them. From sliding fingers down fretboards to thumping on drums, practice rooms and studios across the globe are full of people who are, well, horny for each other. Making music with other human beings often creates a sexual energy, a type of bond that those outside of the world of makers and creators might not understand so much.

But whether you've committed bandcest yourself, watched it happen to the musicians around you, or looked on in horror as your favourite group crumbles and dies because of it, as a fan, this musical chemistry affects all of us.

Yes, I'm speaking from personal experience.

I myself committed bandcest as a teenager. Aged 16 and an aspiring singer in my West Midlands town, I was asked to join a small band. We played moody, teeny-bopper rock songs and covered hits by Nirvana, The Killers and Kings Of Leon. The line-up mostly consisted of boys from my school. But there was one member I hadn't met before. He was the guitarist, a year older than me and had a boyish cheekiness. It both frustrated me and worked its charm on my impressionable young brain.

About three months in, we began dating. We would meet for secret nights of pizza takeaways and guitar jams, and would wonder how the hell we would tell the rest of the band that we were an item. Eventually, we ​'fessed up in our Facebook group chat. From what I recall, there wasn't much of a response. Although the chat became tinged with awkwardness, nobody was particularly mad. It was mostly agreed that nobody cared unless it fucked up the band or intervened in our music in some way.

Luckily it never did, although we were occasionally accused of siding together over debates such as set lists and song choices. Ultimately, the only things that stalled the band's success were our cheesy aesthetic, poor choice of band name and the fact that some of us still had A‑levels to complete.

Even though our relationship outlived the band, we split not long after, as most relationships tend to when you're only 16. But do I regret my bandcest? Not at all. If anything, I enjoyed having that presence of closeness, familiarity and companionship on a stage with me. It somehow took the pressure off when standing before gawping, expectant crowds, knowing there was someone who had my back and my heart.

One musician who's ventured into the blurry lines of bandmate-versus-lover is Kristine Spure, who plays in the Latvian indie-pop band Franco Franco. By joining the group, not only did she launch a career in music but she also found her future husband.

"We've been making music for more than 10 years now," she tells me. ​"When we first started out, I became really good friends with Martins, the drummer. We spent lots of time together. I always felt I could be myself around him, and we laughed a lot! We often drove around our hometown listening to music and ran out of gas more than once, [meaning] our bandmates even had to come to pick us up."

Martins was the first to confess his feelings, and although she admits she was hesitant, decided to give things a go due to their undeniable connection. ​"I'm so grateful I did. We've been married for four years now. Our bandmates were our maid of honour and best man."

But did their bandmates easily adjust to the relationship that now occupied half of their line-up? ​"We were all good friends in the band, so it was a bit weird at first," she admits. ​"It caused some friction at the time and we actually went on a short hiatus. I think a bit of a cooldown was needed."

Now that Paramore have returned with the release of This Is Why, the energetic title track from their upcoming sixth album of the same name, and announced a 2023 tour, beady-eyed fans and ​"Tayley shippers" are on watch, ready to pick up on any inkling of their relationship's chemistry. And as we watch Hayley Williams bounce around with a wide-beaming smile after going through a public 2017 divorce with Chad Gilbert (another musician, albeit from another band), we certainly won't be making any hasty judgments.

Bandcest, then: certainly no taboo. And if it isn't a guarantee of lifelong romantic happiness – well, what real-life situation is? Worst-case scenario, at least this one might result in a killer track or two.


More like this