Hear Pure Immanence's mix of soothing space music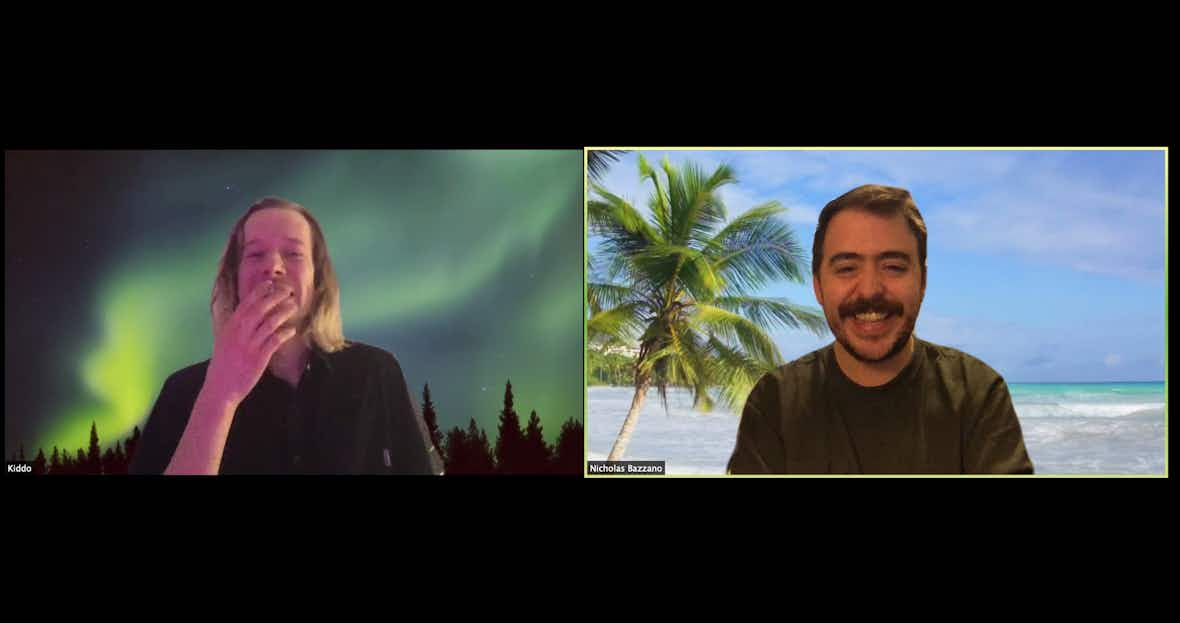 The New York duo's ambient blends take you to another place.
Pure Immanence are considerate curators of soothing electronic music. Before the lockdown, the duo of Kiddo Sincere and Nick Bazzano held a much-loved mid-week party at New York's Bossa Nova Civic Club, and they earned a reputation in the city for their psychedelic journeys through new age, trance, techno and acid tracks. Their Face Mix, which was co-created via Zoom, is an emotionally-stimulating ambient excursion.
Dive into Pure Immance's Face Mix and read a Q&A for context below.


What's the vibe and direction of your Face Mix?
We wanted to create a calming and tranquil home-listening ambient mix to provide a sense of support, transport, and connection while we are all in self-isolation during coronavirus. We made sure to select from across various genres that embrace a sort of psychedelic line of flight in the ambient music tradition. We're trying to highlight a path that cuts transversally across acid, trance, chill-out, new age, downtempo, jazz, experimental electronic, and other genres of ambient music from roughly the ​'90s to the present, exploring different ways that ambient music can be used to create a sense of shared space and extensive connectivity. Stephen Hill, founder of the iconic ​'70s public radio show Hearts of Space, would call this ​"space music" or ambient music that creates an expansive sense of space and psycho-spatial exploration regardless of genre.
We wanted to avoid anything too introspective or melancholic, instead looking for tracks that are vibrant, transportative, mobilising, journeying, and adventurous in the modes of navigation they suggest and create. We specifically look to psychedelic music to do this because the psychedelic tradition is about modulating the topology of the present to create a new mode of relating to a (harsh) reality that we might not be able to escape otherwise, and this seems like the thing to do — or at least the thing to try to be doing — while we all continue to self-quarantine.
What was the process like for both of you guys working remotely on this mix together?
Basically, since we're currently quarantining separately, we've set up a way to use Zoom to remotely share our Rekordbox and Ableton screens to digitally approximate the in-person collaborative work we always do. This allows us not only to co-listen to music together, but also to co-arrange the mix and to some extent co-mix remotely too! While clunky at first, honestly this hasn't been so different from our normal process of preparing either a mix or even a live performance, which relies very heavily on conceptual discussions and arranging, layering, and precision mix rehearsal in the studio.
What have been some of your proudest moments as DJs so far?
We always love the opportunity to create unique moments for our community to experience itself in new and different ways. Our role in curating ambient programming for Unter has allowed us to do just that. We really cherish both of our performances at Sustain-Release (2017 and 2018) and also both of our performances at Fourth World (2017 and 2019), two New York-area music festivals that are always pushing the boundaries of exactly what it is we are all out here doing together. Also, we love the opportunity to collaborate with other like-minded crews and have really enjoyed getting to know and work with secondnature in Seattle, as well as Buttons and Pornceptual in Berlin. And finally, we have been super privileged to call Bossa Nova Civic Club our home and our #1 priority, and we wouldn't have it any other way.
Who are some DJs we should keep an eye out for?
Madison Moore, Posi-track, Olga, Love Letters, Hypnotic Spa, Rachel Noon, Mary Yuzovskaya, D.Dan (a.k.a. Fugal), Archivist & Aos.
How can The Face readers support the dance music community right now?
Basically, some of our most important collective spaces are in danger. Donating directly to local establishments and collectives that have historically sparked joy for you — for us, Bossa Nova Civic Club, Basement, Nowadays, Unter, Mood Ring, and many more — is the most direct way to help the folks who have lost work and collective space due to the pandemic. Additionally, continuing to affirm the impact that music and art have on our collective flourishing and survival would be really nice too.


Tracklist:
Re:Axis – Water Flows
B‑Zet – The Closed Eye View
Steve Roach – Seekers
Steve Roach – Unseen Hand
The Irresistible Force – Flying High
Tony Schwartz – Indoor Sounds: Cocktail Party
F.U.S.E. (a.k.a. Richie Hawtin) – Carocell
David Moufang & Pete Namlook – Millions of Exits
Heavenly Music Corporation – Energy Portal
David Moufang & Pete Namlook – Matter — Part I
Telomere – Radiance
Tetsu Inoue – Elevator Drops
Barbarella – Barbarella (The Irresistible Force Mix)
Share

More like this