Ruel, the biggest pop star you've never heard of
The Australian singer has opened for Shawn Mendes, been praised by Elton John, and is about to detonate like a dormant pop land mine.
Ruel has sold out New York's Bowery Ballroom. Twice. In one night. Five girls, crushed like battery hens against the barricades erected outside, have been waiting here for hours. Jane, Janice, Jenny, Isabelle and Naomi – all between 18 and 20 years old – are first in a line of about 50 people. They're here on an overcast Monday afternoon in late October to see Ruel, Australia's youngest pop star, to meet him, to maybe touch one of the cascading drapes of chestnut brown hair that frame his 17-year-old face, which YouTube comments and I concur is a hybrid of Justin Bieber and a young Will Friedle.
The barricades were intentional, the crowd anticipated. Naomi, 20, flew over from London just for this. It's the second time she'll see him on his current tour, supporting his new EP, Free Time. These five friends met through Twitter. ​"Someone tweeted and said, ​'If you have Ruel meet-and-greet [tickets] for the New York show, ​'like' this [tweet] and we'll make a group chat,'" Isabelle, 18, tells me.
Free time is something these teens have in spades, apparently. Four hours remain until doors open for the first of two shows, in which Ruel will perform a 10-song setlist. ​"His music, it's not like classic pop," Naomi says of Ruel's appeal. ​"It has a message behind it," Isabelle chimes in. ​"One that we can relate to."
His music – a palatable blend of a Cuban cigar and Shawn Mendes – has yet to dominate radio, a traditional measure of mainstream industry success. But don't be fooled: Ruel is not so much a household name as he is a dormant pop land mine. He has just rounded the corner to cement one million followers on Instagram, and in his native Australia, three of his songs (Dazed & Confused, Younger and Painkiller) have been certified platinum. Upon playing Ruel's debut single Don't Tell Me on his Beats 1 radio show, Elton John said, ​"It's astonishing someone so young can write something so good. I give up."
On Delancey Street outside the venue, a black SUV pulls up and the doors open. The six-foot-four maypole of a pop star steps out. The fans don't even have time to scream. Ruel gives them a brief wave before disappearing into the concert hall for soundcheck. The 50 or so waiting outside busy themselves, open-mouthed, as they compare notes, send tweets and internally combust. These fans are tame, considering the ear-splitting attention he's usually afforded. Inside, Ruel installs himself on a leather couch in the Ballroom's downstairs lobby. He looks comfy, dressed like a hypebeast in white adidas trackies and an Acne burgundy vest, over a white SOSE tee and a black cap from Song for the Mute to secure those insurable locks.
Ruel Vincent van Dijk was born in London, grew up Down Under, and began singing and playing guitar when he was eight. His story is familiar: ​"I uploaded this video of me singing Hey, Soul Sister by Train with an electric guitar that had no amp on YouTube, and it sounded so shit," he says, laughing. ​"I thought that was such a big thing, to upload it. I got like 400 views and it was the craziest thing in the world." His dad, a well-connected ad executive, passed a demo on to his client, the DJ and manager Nate Flagrant, who handed it to the multi-Grammy winning producer M‑Phazes when Ruel was 11 or 12. (M‑Phazes has helped mold the vocal putty of stars like Demi Lovato, Eminem, Madonna, and Daniel Johns.) M‑Phazes was impressed, and asked to get the wunderkind in the studio. At an age when most of his peers would be posting to TikTok or popping their first pimples, Ruel was making the corporate rounds. Performing for record executives in ​"maybe 16, 17" boardrooms across Australia, LA and New York, Ruel ignited a major-label bidding war.
"It was weird going around the States, talking to heaps of these record execs and A&Rs. That stuff's pretty nerve wracking, because I'd have to play three or four songs in a conference room," he says, shuddering at the thought now. ​"The [label execs] are three feet away from you with a straight face. Some people in the boardroom would be on their phones, completely ignoring you. I reckon that's definitely what made me not have any stage fright, because I feel like if you can do that, you can play to thousands of people," he adds. ​"That's way worse than playing to an arena."
Even as an inexperienced teen, Ruel knew what to look for in a label. Now, he has a machine behind him. ​"Most people were just like, [imitates bro voice] ​'We're gonna throw so much money at you, you're gonna be a star dude!' And I'm a 13-year-old kid in this room, just like, ​'Alright mate.' Then when I went to RCA, they were just real, charismatic, nice people. So I was like, ​'These are guys that I want to be on my team. They know that I don't want to be the next Shawn Mendes, I don't want to be the next Justin Bieber, I just want to be who I am.'"
The frequent comparisons to Shawn Mendes or Justin Bieber, he says, don't piss him off. ​"I'm just like, OK, you know, I get it." There are many nascent boy band replicants, groups of dudes who have hundreds of thousands of followers, but haven't really broken through in the mainstream – bands like Why Don't We and PRETTYMUCH come to mind, as well as solo acts like AJ Mitchell and Conan Grey. But Ruel makes better music. He writes or co-writes most of it himself. And though he is newly 17, he finds lyrical inspiration from real-life experiences.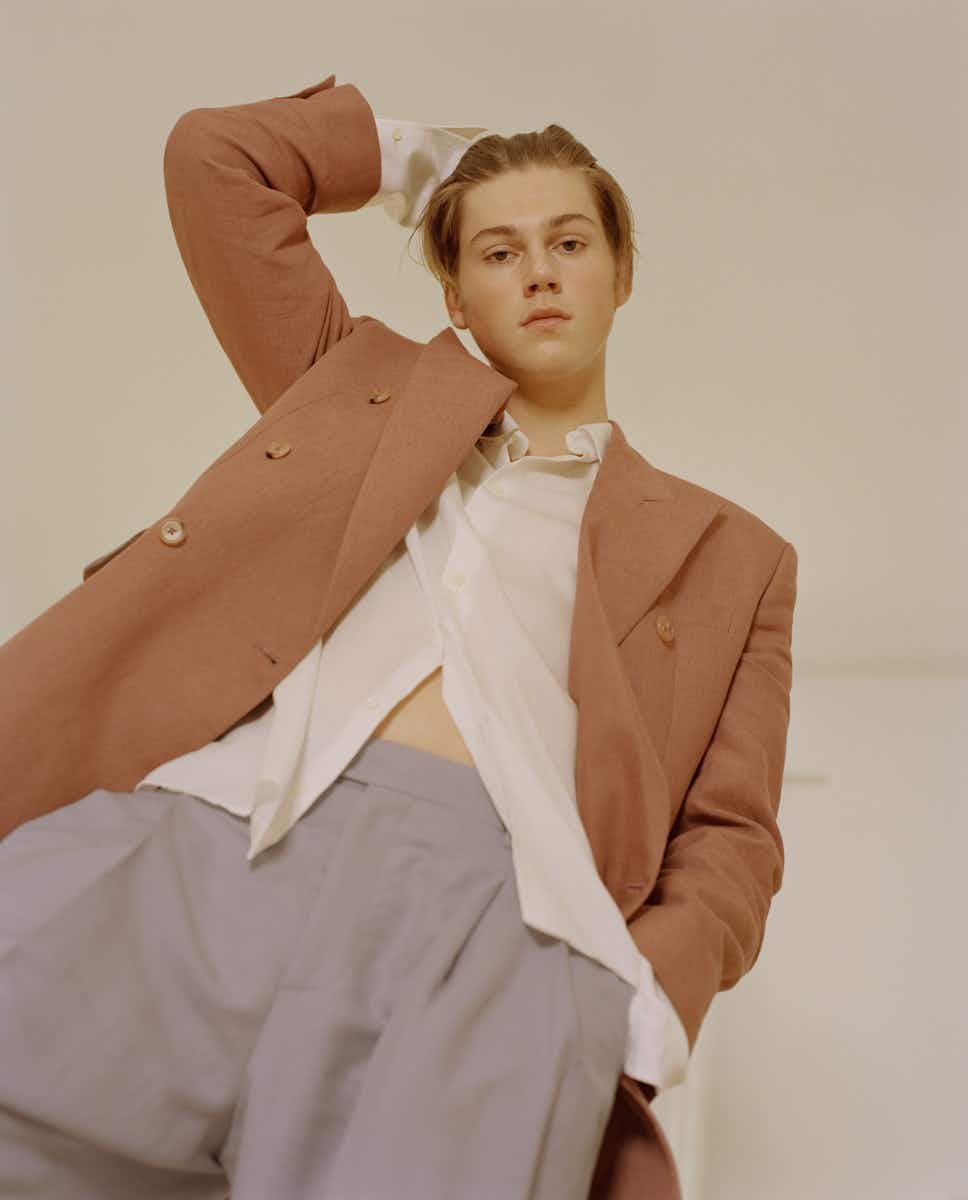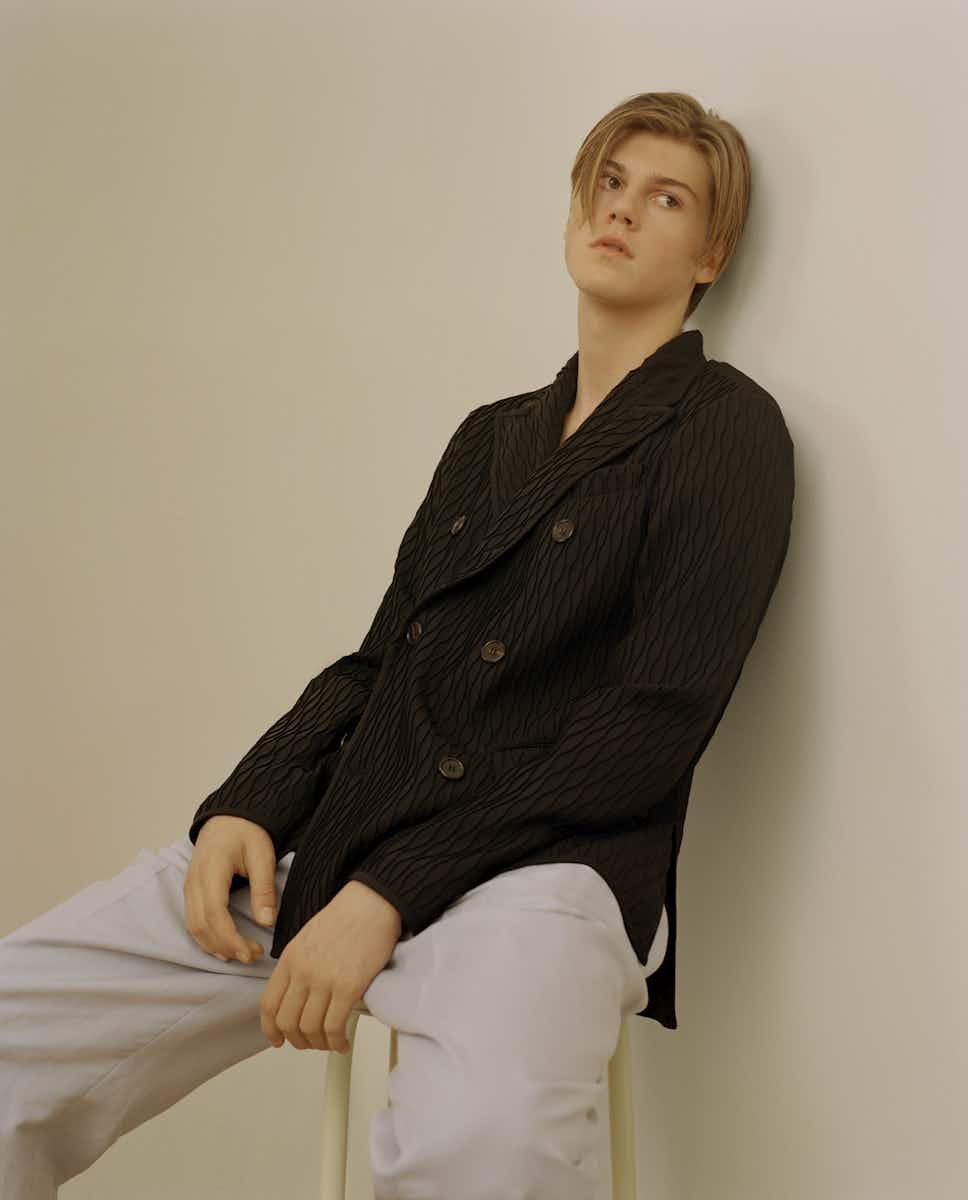 Take his song Unsaid, for example, which was written after the suicide of a close friend. Hard Sometimes, perhaps, which brought him to actual tears in the studio while writing together with musician and songwriter Wrabel in Laurel Canyon. Or Don't Cry, which poured out of him after an extended breakup. ​"Every lyric that you hear [in Don't Cry] is either exaggerated or did happen," he says. ​"I had a relationship with this girl that I broke up with because of many reasons, and I really felt like I had a pretty strong argument, and she just wouldn't accept it. So for weeks afterwards, I was getting insanely long texts saying why I was making a mistake. It got frustrating because even though I broke up with this girl, it never really felt like I did. Obviously, it's way better now. This was like a year and a half ago and we're all good friends now. But yeah, it was about that time."
Don't Cry is also about being a sad boy – something he is intimately acquainted with ("I definitely prefer writing sad songs"). Three of the seven tracks on Free Time are moody ballads. ​"I was a very, very emotional kid," he admits, taking off his hat to run his fingers through his hair before plopping it back on. ​"I was crying all the time. I was very open about my feelings. And every time I had girl trouble, even if I was like nine, if I liked a girl and she didn't like me back, I'd just cry."
As he's constantly on the road, Ruel has no time to date anyone, despite the thousands of disciples who would willingly sell their last kidney on the black market for the chance at a date. Ostensibly, Ruel's tears should have dried up in the girl department by now. Most of his fanbase is, judging by the decibel levels at his shows, very young. It doesn't bother him. ​"I'm definitely not writing for teen girls. I write for myself, and I try to make it relatable to as many people as possible. That's really my main aim, to find experiences, if they're personal or not personal, and just see if I can make this relate to 50-year-olds or 15-year-olds."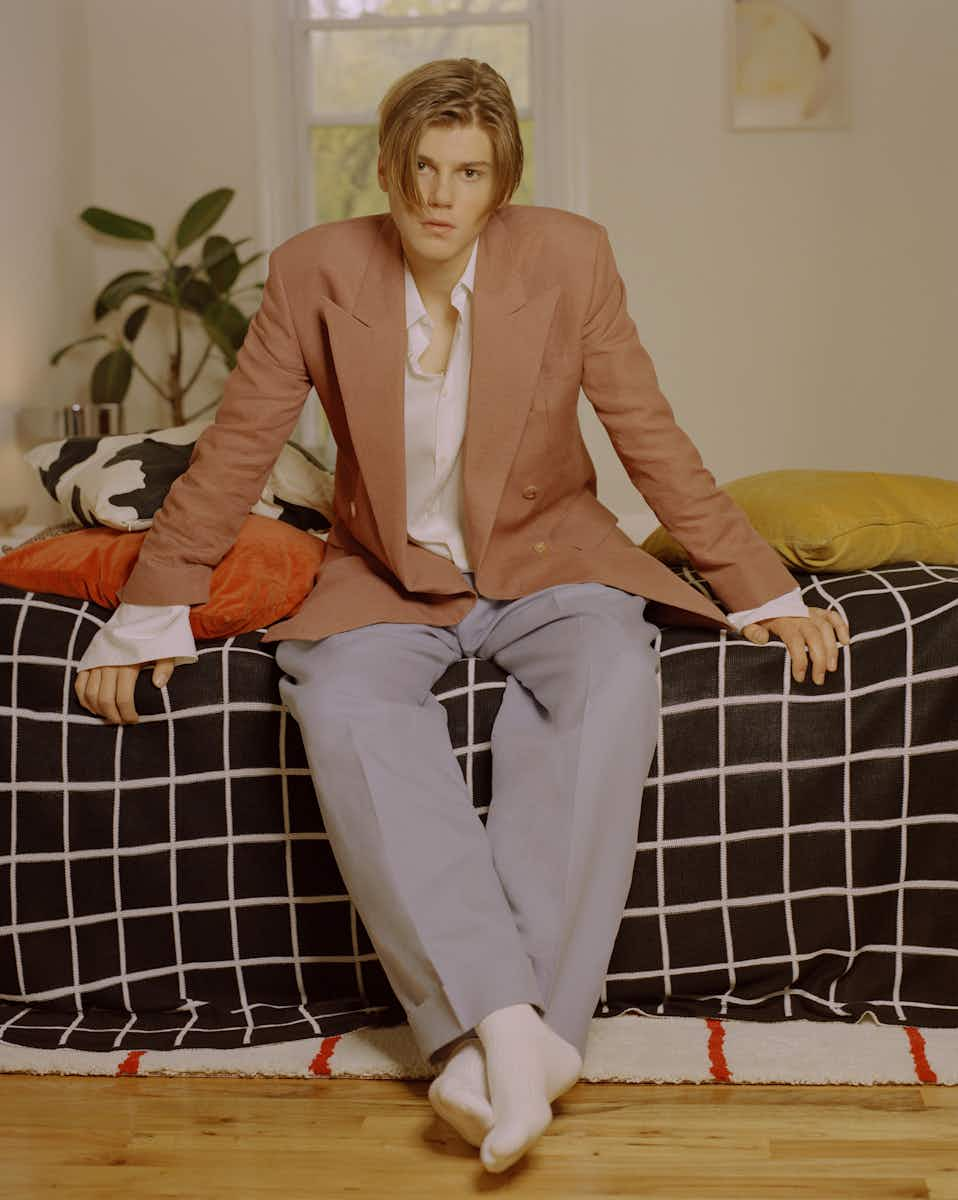 His music is the focus, but his image as a teen pin-up with perfect ​'90s Leonardo DiCaprio hair is something he contemplates. Gisselle Munoz commented under one of his YouTube videos, ​"His hair is so shiny we need a hair care routine ASAP." His secret is one he only picked up recently from a hairdresser in Paddington, Sydney. ​"I'm glad you asked," he chuckles when I read him Munoz's comment. ​"This is something that I just learned a couple weeks ago, and it's changed my fucking life. You just put in conditioner, and you just walk out of the shower." As in, you don't even wash it out? ​"No. And then just dry your hair." For interested parties, he cleanses with Cetaphil and does not moisturise.
That carefully crafted image also extends to his other passion: clothing. Just how much does he care about his threads? He treated himself to an Acne jumper, his favourite brand ​"of all time" for his 17th birthday. It was stolen, and he recently launched an online Instagram campaign to track down the thief. He fashioned a ​"completely fake" Off-White guitar strap for his guitar, stitched together from a counterfeit $6 dollar Off-White belt found in Japan. ​"I was like, ​'This looks insanely fake, but I could just stitch into my black guitar strap, and it would look really legit.' And it did!" (It was sadly lost a while back during travel.) Style, for Ruel, is nine-tenths of the law. He has a book of design ideas and hopes to one day launch a label, or at the very least, make something out of it.
For now, though, free time is something he simply doesn't have – but being on the road and meeting fans is a dream come true. He has two sold-out shows tonight in New York, and then he heads back to Australia to open for Shawn Mendes before kicking off the European leg of his tour. We're another hour closer to doors and Ruel leaves to complete a soundcheck. Back outside, the girls are pressed close to the walls of the venue as they vibrate, trying to decipher what songs are leaking out of the Bowery Ballroom. ​"I think I heard Hard Sometimes!" one squeals. ​"I've been dealing with someone in my life who goes through depression and that's tough," Janice says. ​"But coming to this, it's sort of like an escape."
Ruel belongs on stage. ​"I can't really explain it," he says, trying to chalk up what it's like to play for thousands of fans that shout his lyrics back at him. ​"It's definitely adrenaline you can't really get anywhere else. As soon as you get onstage and music starts playing and they start singing it back, it gives you a level up. And the most I want to be onstage is when I get offstage because I just want to get back up and feel it again. It's like I'm suddenly drunk, in a good way."
Soon, philistines the world over will wonder why they hadn't discovered Ruel before. For the five girls, and the countless others corralled outside, trading stories of how his music has affected them and gushing over his Instagram videos, his show will be undoubtedly worth the wait.
Grooming Ledora Francis, Make-up Andrew Colvin, Retouching Ink Retouch.

More like this