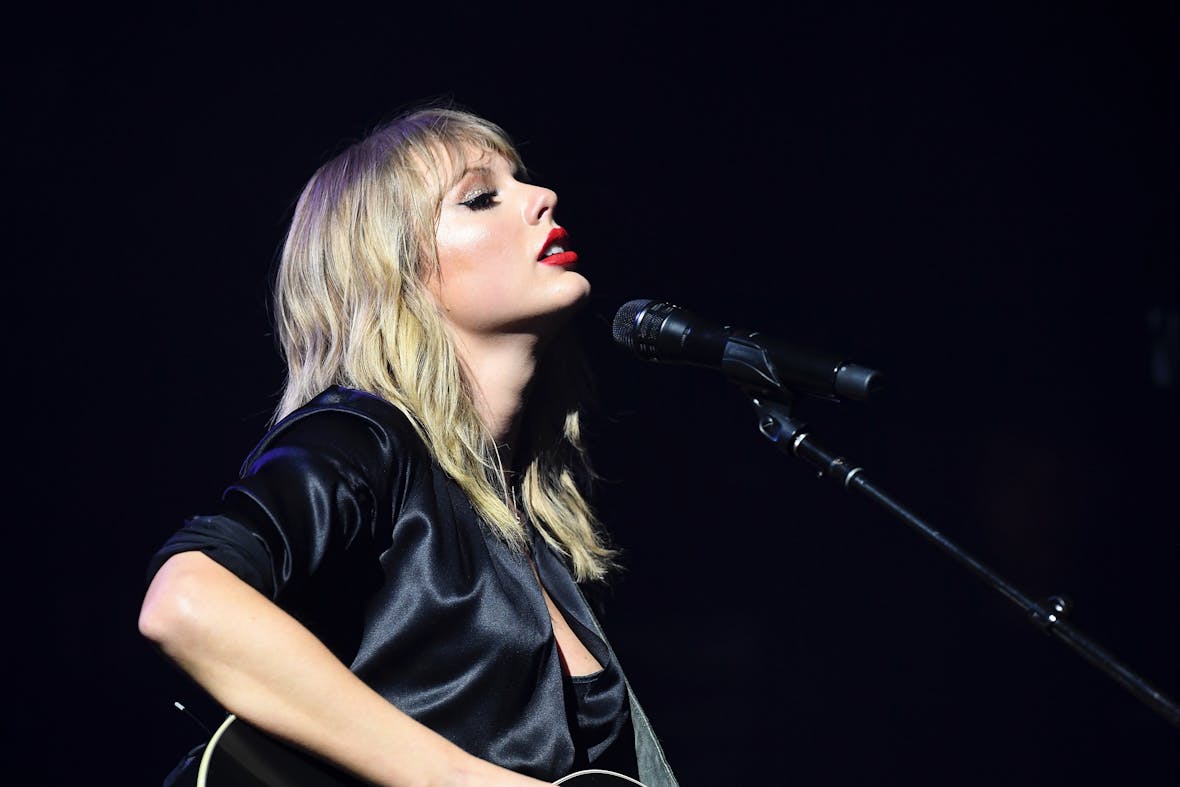 Tay­lor Swift woos a petit Parisian crowd
Date: 09/10/19
Rat­ing: 4⁄5

Tay­lor Swift, heart-shaped brand­ing in tow, has come to Paris, the city of love, to launch her album Lover to a tiny (by her stan­dards) audi­ence of her most devot­ed. See what she did there?
If the idea for an under­stat­ed show at the 2000-capac­i­ty L'Olympia was straight-up, cool­ly and frankly pleas­ing­ly obvi­ous so, phew, was the presentation.
No pyros, ele­va­tors, walk­ways. No guest vocal­ists, cos­tume changes, or intense chore­og­ra­phy. Just a bare stage, six musi­cians, four back­ing vocal­ists, 76 min­utes and 16 songs – which is less songs and just a shade longer than Lover itself. On a mono­chrome stage set­ting, all black and white and sil­very, the only pop of colour was the slash of red of Swifty's lipstick.
Tay Tay à la théâtre: every­thing, and every­one, need­ed to calm down, because this was Swift the writer, singer and per­former going back to basics. For­get the more glacial, clap-back edge to the Rep­u­ta­tion-era artist; tonight it was time to cut loose.
Boy, the girl can write. Recent sin­gle Lover – a shiv­ery, reverb-drenched slice of Mazzy Star-ish goth­ic coun­try – came to her, she told the enrap­tured audi­ence of world­wide com­pe­ti­tion win­ners, in the mid­dle of the night. It was the kind of ​"mag­i­cal" moment that made song­writ­ing ​"my favourite thing to do in the world". She looked like she meant it, and she sound­ed like it, too – Swift appeared as trans­fixed by the emo­tion, the sen­ti­ment and the per­for­mance as the audience.
Same for the spell­bind­ing and ghost­ly new bal­lad The Archer, and the old­er Love Sto­ry, the lat­ter writ­ten on her bed­room floor when she was 17 and hav­ing a Romeo and Juli­et moment. We've all been there, right? But who else has alchemised – weaponised, the snarks would say – teenage diary angst on such a pow­er­ful, impact­ful, glob­al scale?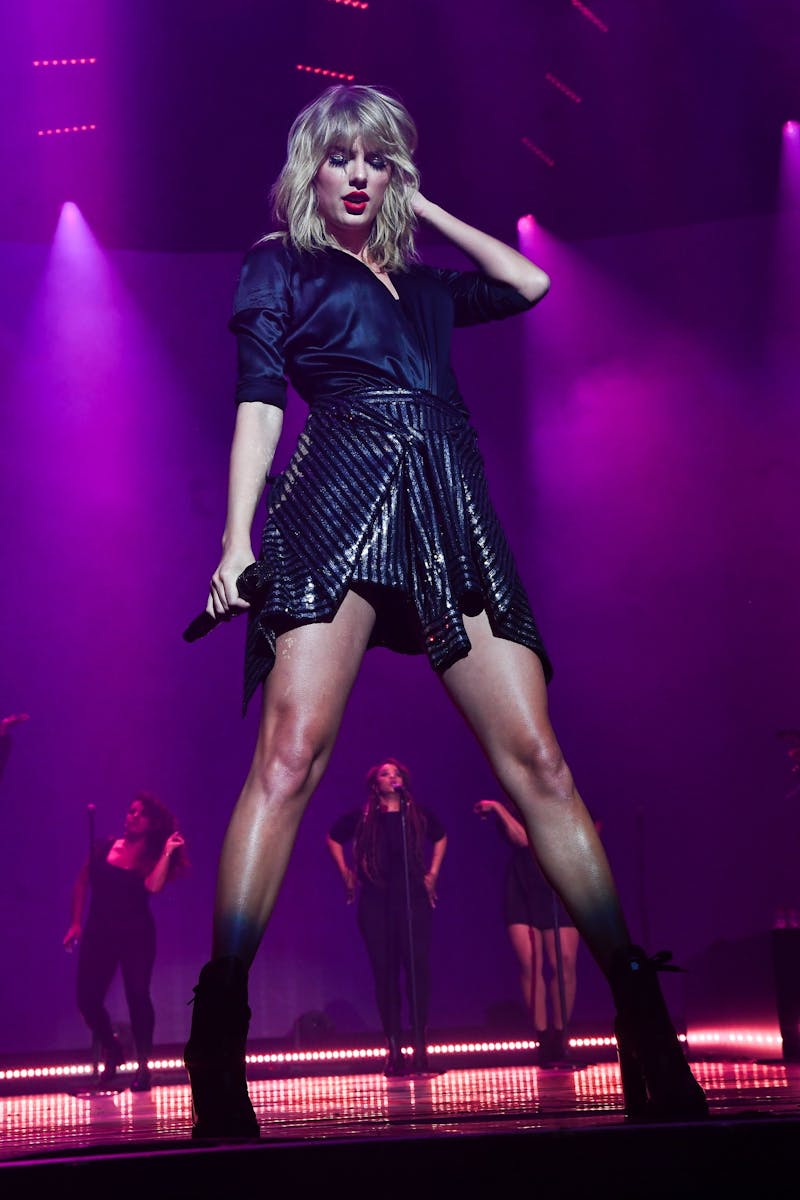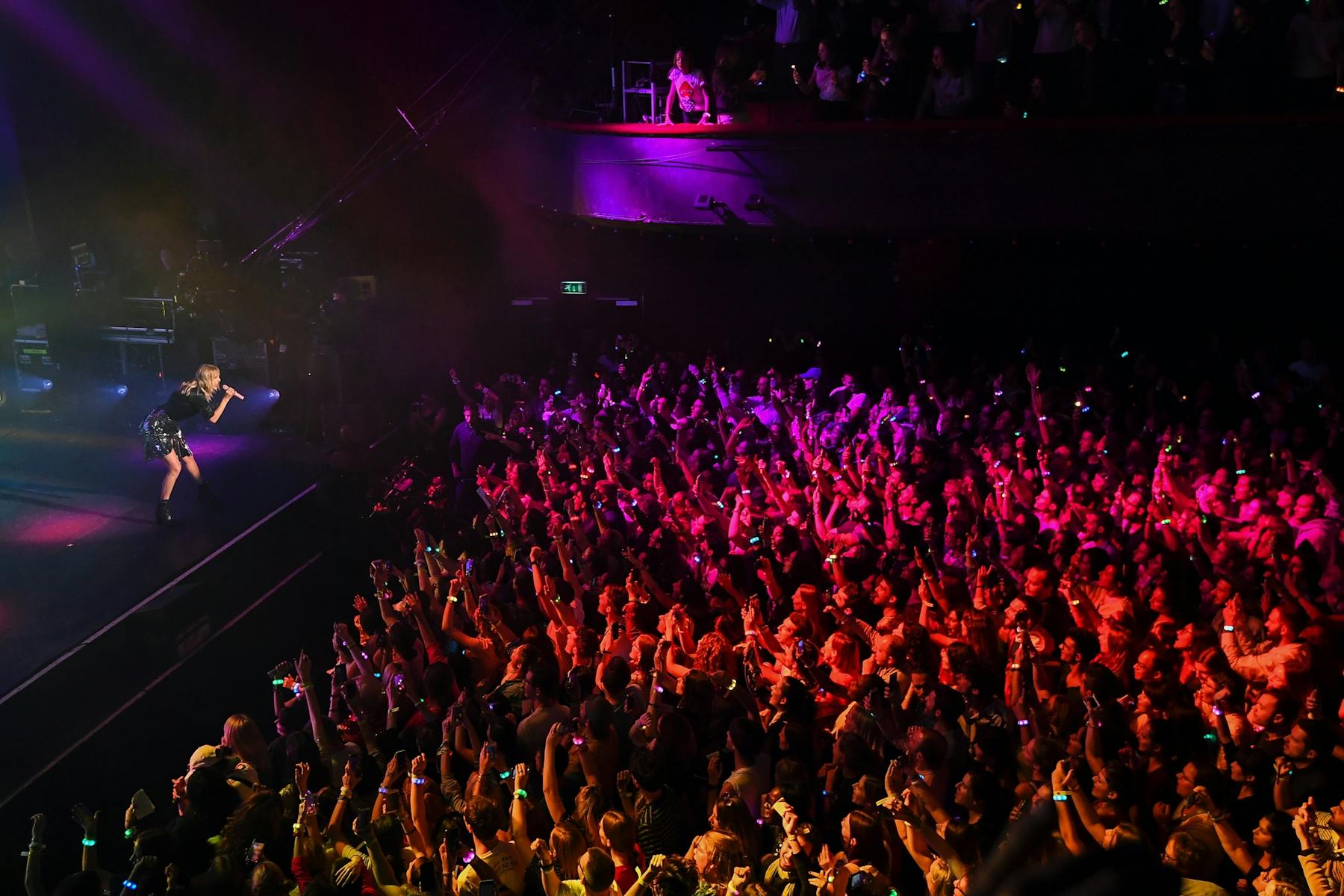 Swift's 10,000 Nashville hours were also front and cen­tre on the mid-set sec­tion where she went solo and unplugged. First with acoustic gui­tar on a stool, then at piano, on All Too Well and Red (both from Red, her best album) Swift demon­strat­ed a grasp of melody and emo­tion that were simul­ta­ne­ous­ly time­less, right-now and future-proof. The same goes for I Knew You Were Trou­ble, anoth­er Red banger, albeit one with mod­ern dance pro­duc­tion dynam­ics and the night's most rafter-rat­tling moment.
The big pop moments didn't fail to deliv­er either. Show open­er Me! felt glee­ful (and also, tbh, a bit Glee-ful, like a Ryan Mur­phy-script­ed TV musi­cal show-stop­per; no bad thing, I'm say­ing). Style shim­mied and shook, a cat­walk elec­tro-anthem. You Need To Calm Down still felt a lit­tle fin­ger-wag­gy and reduc­tive, lyri­cal­ly, but also ampli­fied the Fun Tay­lor side these days too-often obscured by the sound and fury and mar­ket­ing that sur­rounds the world's biggest pop star.
As if to acknowl­edge that, Swift closed the show with an explo­sive rip through Shake It Off. She and her back­ing singers – no slouch­es in the danc­ing depart­ment – par­tied like it was 1989, the f-you joy rock­et­ing round the room.
Haters are always gonna hate but, right now, a loved-up and pumped-up Tay­Tay is out to play play play play play. And the lady's feel­ing it, beam­ing her grat­i­tude and clear­ly moved by the respons­es from an audi­ence who knew every word to every song. As she walked off­stage behind the drum ris­er, just before she reached the wings, Swift gave two lit­tle skips of joy. It was more fit­ting than any encore.
---