The Jaiy Twins are The 1975's secret weapon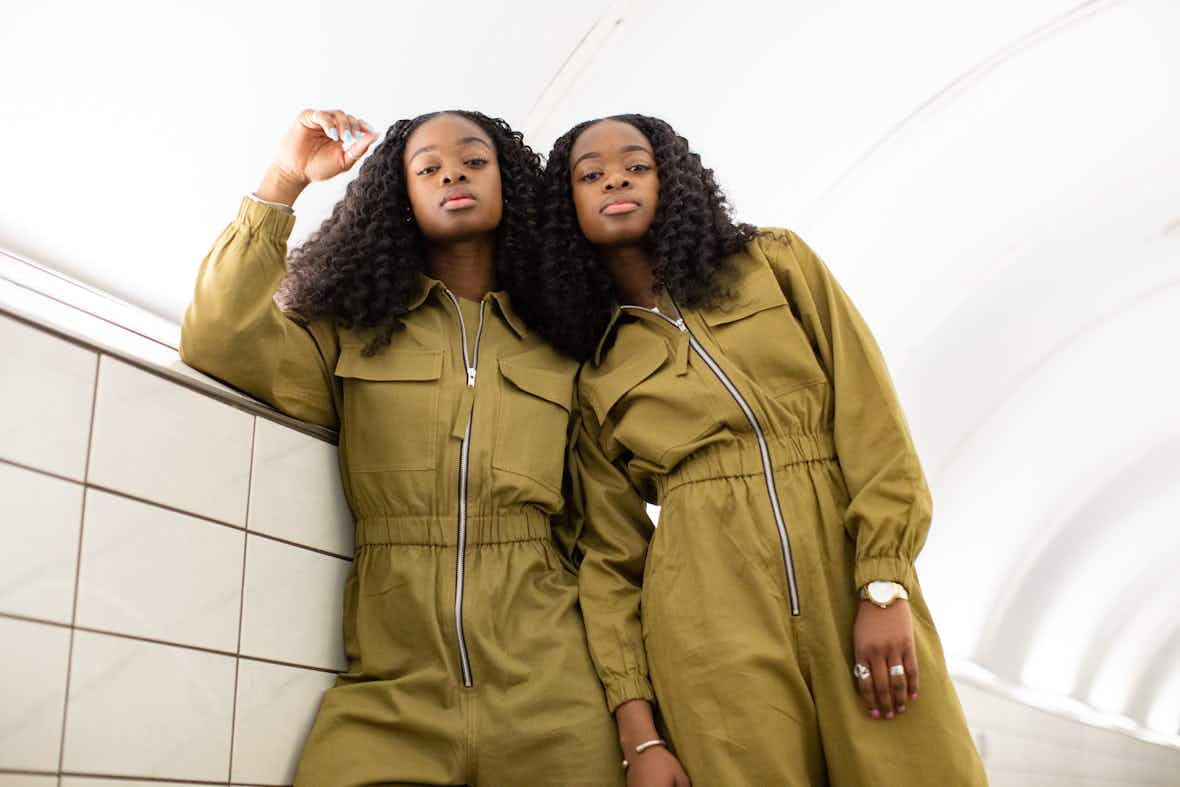 The band's fans can't get enough of the dancing duo.
December 2018. Matty Healy tweets that The 1975 have two brand new members: Kaylee and Taitlyn Jaiy.
If you've caught the band on tour since then, you'll recognise Kaylee and Taitlyn as the twin dancers and backing singers who bop in unison to a backdrop of neon rectangles, blinking TV sets and messages of millennial ennui.
With Billie Eilish's choreographer, Matthew Peacock, honing their moves, the twins have become as synonymous with this era of The 1975 as Matty's rabbit hat. Much like anything in The ​'75-verse, the fans have embraced the Jaiy sisters hard; mimicking their dance moves and dedicating social media pages to them.
In their first ever interview, The Face talk to London-born duo an hour before they go on stage with The 1975 in Aberdeen, one of the last dates in their UK arena tour. We can confirm – they do finish each other's sentences.
When did you both start dancing?
Kaylee: I know it sounds cliché but we've been dancing our whole lives. It was just a hobby until we realised we could make a career out of it.
Taitlyn: We went to a contemporary dance conservatoire in primary school. Then we did gymnastics for a bit before moving on to hip-hop and jazz dance. At uni – a vocational performing arts school – we studied it properly.
K: Our parents were always supportive and just wanted us to go for our dreams.
When you were younger, whose music videos did you try and copy?
K: So many people! Missy Elliot videos, Beyoncé, Destiny's Child, Pink.…
T: Akram Khan and lots of contemporary choreographers, too.
When did dance become more than just a hobby?
K: The work came to us, really. We'd started doing music videos and because artists all know each other, one thing leads to another thing. People see us in a video and want us for theirs. It was like that with The 1975.
Tell us about the day you met the band…
T: It was at the It's Not Living (If It's Not With You) music video shoot.
K: We'd never even heard their music, which we told them straight away, but I think actually that can be the best thing because you don't have any expectations.
T: You see them as humans, not as celebrities, which makes things easier.
Matty tweeted a while ago that you were the two new members of the band. Does it feel like you're properly in The 1975?
T: They're like our brothers. It's so cool to be on stage and feel their energy. We feed off each other, in that way. It's amazing.
The 1975 fans are intense! Have you experienced pros and cons of being on tour with a band with such a fervent fan base?
K: There's not really been a bad side, touch wood!
T: Mostly just positives because people really look up to us and we inspire them, particularly young women and girls who look like us.
K: The 1975 fans really support us. They send us messages, they've made a little fan page for us. They've asked for meet and greets, but we're not ready for that, yet!
What are some things you've learnt about the boys from spending so much time together?
K: They're all really different. We didn't really know about the band before we started working with them so it's hard to say, but everyone's just got their own different personalities which compliment ours.
What advice have the band given you for coping with this unconventional life?
T: Just take it day by day, don't look ahead and get overwhelmed by all of the dates.
K: We like to meditate a lot and do yoga, but this is the life we signed up for so we try and enjoy every moment.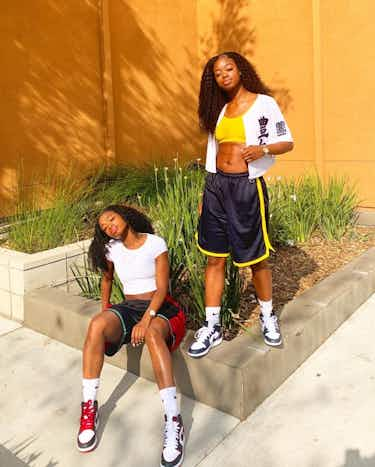 What's your favourite song to dance to on the tour?
K: I bet we're going to say the same ones!
T: I'm going to say The Sound first because that was one of our favourites, right from the beginning. And then the new one…
K: If You're Too Shy (Let Me Know). That's really fun to dance to.
Has there been a really notable show for you?
K: London shows are always good because it's our hometown, but especially at The O2: that's our arena. We're literally from round the corner in Greenwich.
T: It makes a difference having your friends and family all show up. Everyone wanted to come.
For kids wanting to do what you do, what advice would you give them?
T: Dive right in. Eat, sleep and breathe your craft and be as versatile as possible in everything you do.
K: Always put yourself out there and be willing to take risks.
The rise of TikTok sees a lot of young people getting into dance. Has that had an impact on the industry?
T: I'm not sure it's impacted the industry, yet…
K: But it's nice to see more kids being active in general and a platform like TikTok allows them to do that.
T: Kids nowadays are so fixated on social media and phones, so it's good for a platform like that to encourage them to move more.

More like this