Vegyn's happy melancholia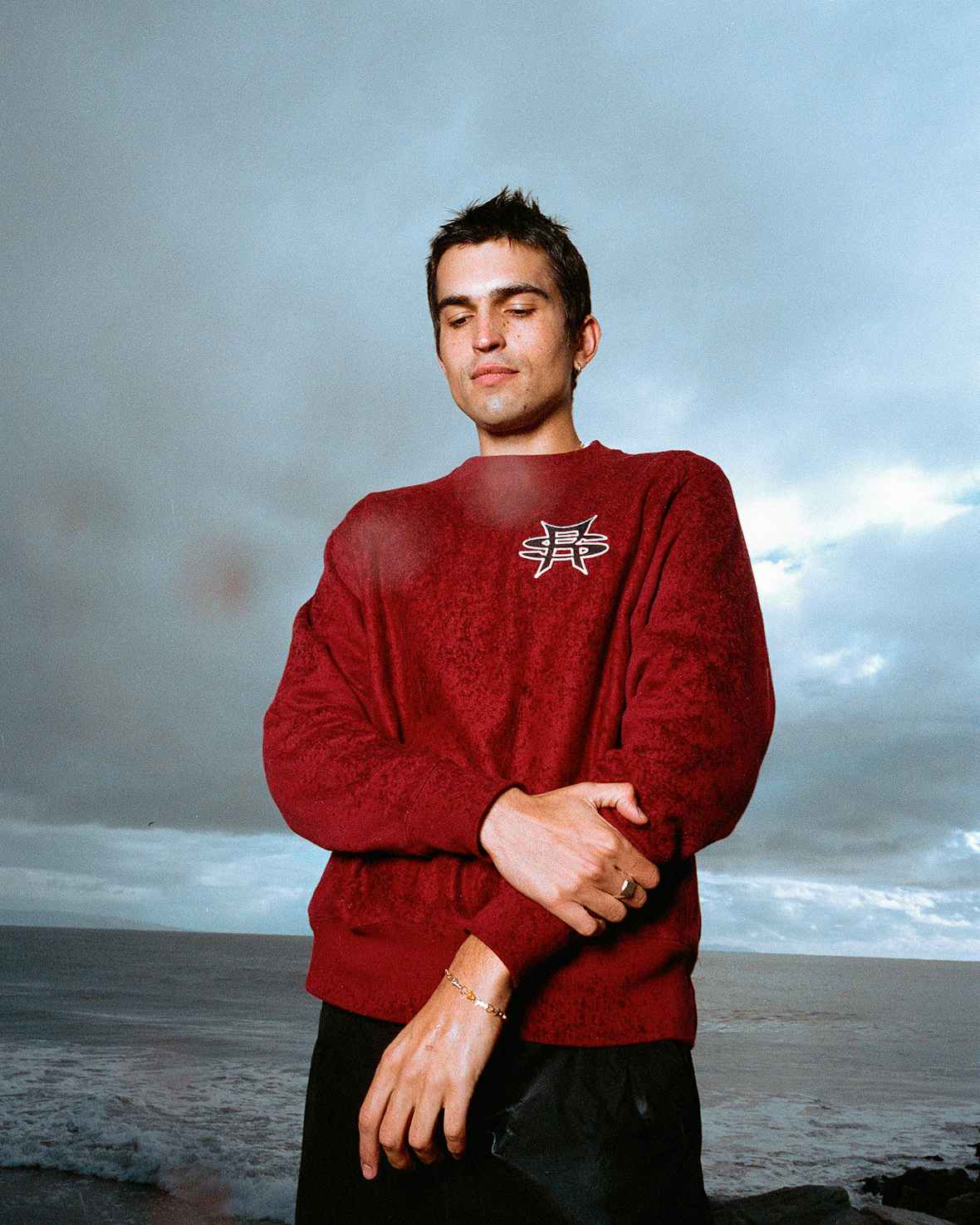 The LA-via-London producer reveals how a depressive episode, like-minded musicians and an ominous tarot card inspired his EP, Like a Good Old Friend.
With its formidable image of a burning tower, a bolt of lightning and two people tumbling to their death, the Tower is one of the most powerful tarot cards of the Major Arcana. In a reading, it's associated with danger, crisis and earth-shattering change – often interpreted as an indication towards the crumbling of society or a time of momentous upheaval. It's a card that kept cropping up for Joe Thornalley last year.
"Within the Rider-Waite tarot deck, which is the tarot deck I use, there are very few objectively negative cards," explains the 27-year-old producer known as Vegyn over Zoom, from his home in Los Angeles. ​"If you use the soft deck it's more ambiguous; even Death can be more about rebirth. But the Tower is a bad card – it's The Bad One – and it just kept on coming for me."
Connecting with the right tarot deck is a key part of the practice. Thornalley found his current one by chance, on the street in LA. ​"I had very little idea of the importance of ​'finding' a deck at that point," he says. ​"My partner was extremely cautious when I mentioned it in passing – I initially offered them to her, but she refused and taught me of their importance instead. I was very much a sceptic prior."

The Tower card is depicted on the cover art for Thornalley's new EP, Like a Good Old Friend. ​"It just felt like a good flag-bearer for this project; end of society, collapsing of infrastructure, that kind of thing," he offers. ​"For me, it's not about using tarot cards as divination tools, that's never really what they were meant to be – they're playing cards. But there is something to be said for anything that encourages periods of self-reflection."
In 2019, Thornalley experienced a period of depression that became the catalyst for crafting Like a Good Old Friend. ​"A friend let me stay at their house and they happened to have a piano," he recalls. ​"I was like ​'cool, OK, I'm just gonna try and figure this thing out.'" His keys form the backbone of the new EP. ​"My chords are definitely weird, but to me they're not weird. I'm really just playing with shapes and trying to lean into the emotive quality of the music," he explains. He began writing the material that year, also releasing Text While Driving If You Want To Meet God! – a collection of 71 brief musical sketches – as well as his dazzling debut album, Only Diamonds Cut Diamonds.
With live shows and tours on hold due to the coronavirus pandemic, in November 2020, Thornalley – who has dual citizenship between the UK and USA – made the move from London to LA, a city which was familiar to him following frequent trips over the years. Like London, LA is currently in lockdown, but the warmer climate makes for a slightly more desirable lifestyle. ​"At least when it's sunny it's kind of easy to get out and go for a hike," he says. ​"I can spend more time outdoors and I have a car. It's much easier for me to isolate out here."
In 2020, a handful of Vegyn singles emerged, including the grungy dirge of The Promise in May and the woozy electronica of There's Nothing Left 2 Make You Stay in September. In December, he released a 40-track vinyl charity compilation called Locked Grooves via his own PLZ Make It Ruins label. The ​"locked groove" is the silent loop placed at the end of a vinyl to stop the stylus from drifting onto the paper label area. Consisting of one bar of music, locked grooves are often used creatively by artists in the form of continuous loops, and the compilation featured fleeting contributions from the likes of Arca, Blood Orange, 100 Gecs and Mica Levi.

Since the release of his debut EP (and first PLZ release), All Bad Things Have Ended – Your Lunch Included in 2014, Thornalley has been building his off-kilter soundworld – where smoked-out hip-hop, obscure field recordings, incandescent synths and effects-laden guitars collide, and where bleeps influenced by retro computer games sometimes create a comforting sense of familiarity.
As the origin story goes, in 2013 Thornalley passed a USB drive of his tunes to James Blake at former East London club institution Plastic People, which Blake then played on BBC Radio 1 in 2014. Thornalley spent the next few years DJing, running his label and forming vital connections, while also fatefully crossing paths with Frank Ocean one night at the same venue. He ended up contributing production to both of Ocean's 2016 albums Endless and Blonde, as well as co-hosting episodes of the Blonded Radio show for Apple Music's Beats 1 radio alongside Ocean and producer Roof Access.
Aside from working with Ocean, Thornalley – who is also a professional graphic designer – has collaborated with various artists including Travis Scott, the Dean Blunt-helmed project Babyfather and boundary-pushing rapper JPEGMAFIA, for who he is also currently designing artwork. ​"Working with JPEG is always funny," he smiles. ​"We have a very similar language so it's easy for me to work on."
"A lot of the success of my music has come from collaboration," adds Thornalley, who is also quick to point out his privilege. Thornalley's father is an acclaimed pop producer and songwriter, and his mum is a graphic designer. ​"I grew up in a middle-class family in north-west London, and I had all of these opportunities afforded to me," he says.

Like A Good Old Friend features a clutch of collaborators. The EP's pulsating lead track I See You Sometimes, which gathers pace to harness the driving euphoria of club music, features a distorted verse from East London rapper Jeshi. Canadian composer and Hollywood soundtrack maestro Owen Pallett provided strings on the title track, which is also suffused with dizzying lap steel by Daniel Aged, the LA musician who made moonlit R&B with his twin brother Andrew as the duo inc. no world. The track So Much Time – So Little Time is a moody, beatless trip that forgoes drums for haunting nugaze guitars from Mac Wetha and Matthew Tavares, which also features vocals from Thornalley and London rapper John Glacier, who has a collaborative mixtape with Thornalley in the pipeline.
Another integral presence on the EP is the London multidisciplinary artist Duval Timothy, who contributed to the ambient deep house bubblebath of B4 the Computer Crash and the heady, strings-laced gem Mushroom Abolitionist. You'll also hear Timothy chatting via a voice recording embedded in the final track, which bears the self-deprecating title, Sometimes I Feel Like I'm Ruining Songs.
From All Bad Things Have Ended – Your Lunch Included, to the impulsively named tracks on Text Me While Driving… (Yo This is the Next Tune Yah Get Me; Once a Smoker – Always a Smoker), tongue-in-cheek presentation has been part of the Vegyn project since the start. Despite all the meticulous detail in his music, it suggests that Thornalley is trying to not let overthinking stifle his creativity.
" I had such a habit [when I was] growing up of trying to rationalise, pigeonhole or try and understand everything and sometimes it's just not important," he explains. ​"Sometimes it's all just about self-awareness; that's the key.
"I make a lot of music and I try not to be too precious about it. I'm renouncing my in-built fear of releasing something that maybe isn't exactly how it would be in my dream world. It's finished when you say it's done. It's better to let people enjoy the music than let it sit and rot in the digital peat-bog, the oxygen-less vacuum that is my hard drive. Rather let it be out in the real world, for sure."

Vegyn's favourite musicians right now
Loraine is making some of the most provoking electronic music out right now. I love how confusing it is. As a result, it's so alien and satisfying to listen to.
Beautiful, compositional work. Extremely textural and I love the world-building. The most recent record Rouge Intruder, Soul enhancer is really special.
John is one of the most exciting talents I have had the honour of working with. She has this ability to write in such a natural way and what she talks about is always so personal. She makes it all seem effortless. I've been overwhelmed multiple times by the poetics of her language.
He really tows the perfect line between pop sensibilities and paint-huffing acid electronica. We love to see it. I'm very excited for the next few releases from him this year.
If you haven't checked this release from last year it's well worth your attention. So hard to come across music that feels genuine. The project is so emotional to me.


More like this