100% XVOTO: a new duo with an explosive sound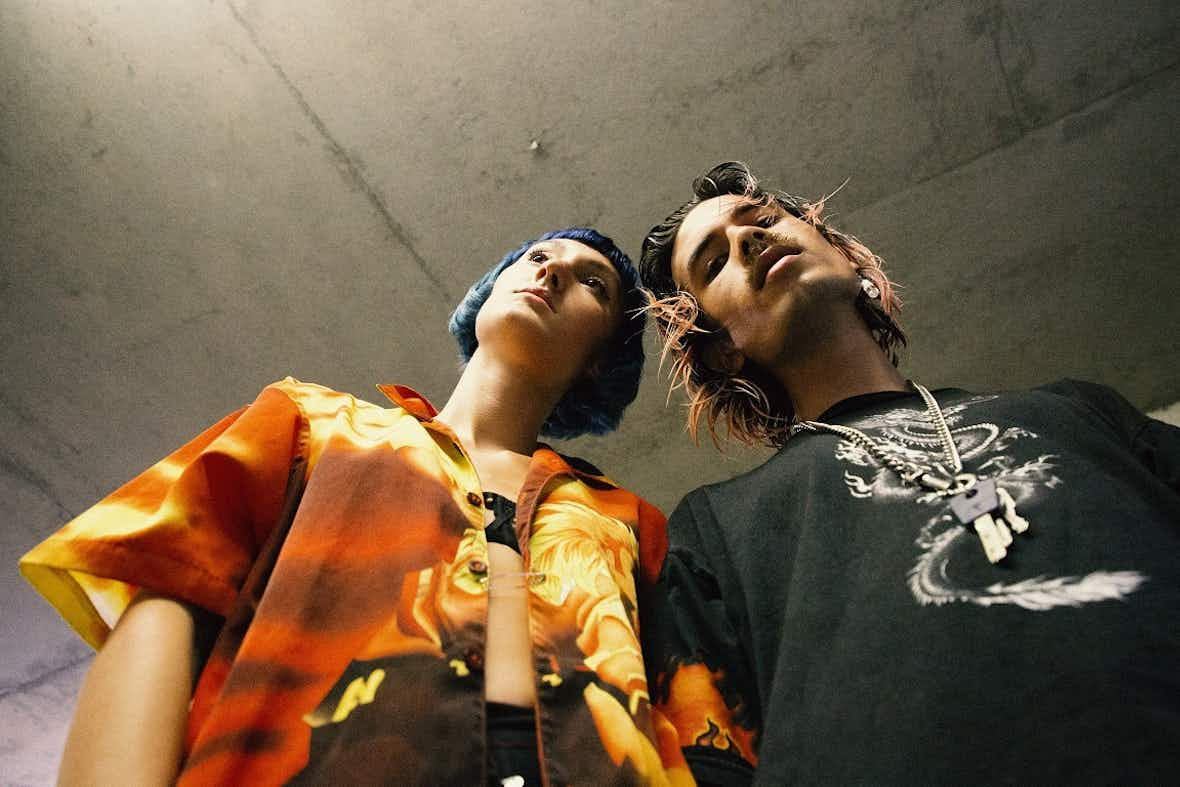 Their debut single Mommy Can't Sleep is a hard-hitting blast of experimental rap.
Brace yourself for XVOTO. The 24-year-olds Jazz Alonso and Duc Peterman, aka Saigon Fury, have emerged with debut single Mommy Can't Sleep – a high-octane hybrid of dark pop and post-Yeezus industrial rap.
The first single, taken from the duo's self-titled EP (set for release next year) is a cathartic trip through the feelings of pain and loss. ​"It flits between two scenes of grief: the nightmare and the cold sweat," explains singer Alonso. ​"I wanted to sketch that moment when you dream about someone in such detail that they feel real. Then you wake up and the only way to keep them alive is to go back to sleep."
Prior to this project, Fury was lead guitarist and producer in glam-punk band HMLTD. Pivoting from the world of rock music, he's been exploring new styles since meeting Alonso by chance in a Peckham McDonalds two years ago.

Adopting the name XVOTO (pronounced ​"ex-voto") from religious terminology, their anthemic music centres around the theme of anguish and sacrifice. The pair have teamed up with visual artist Thomas Harrington Rawle for their new anime-inspired music video. Enter the dystopian world of XVOTO below.
10%: Where were you born, where were you raised and where are you now based?
Alonso: Born in Barcelona, raised in Madrid, Düsseldorf and Essex. Now I live in east London.
Saigon: I was born in Paris and lived in Ho Chi Minh City in Vietnam and now I am based in south London.

20%: What's the most pointless fact you can share?
Alonso: I'd like to be reincarnated as a spider monkey.
Saigon: I only own black socks.

30%: You rule the world for a day. What went down?
Alonso: Mass parties, fireworks, no corona, free food and giraffes.
Saigon: I don't really have any interest in ruling the world. Probably nothing went down. I guess it was the same day as usual for everyone. Or perhaps total anarchy because I would be a completely disinterested leader.

40%: When did you find your confidence as an artist?
Alonso: When I realised I wanted to say what I do and do what I say.
Saigon: I think I've always had the confidence, I'm fortunate enough to be a very confident person. I can't think of a moment in time where I didn't believe in my craft.

50%: Name something you love, something you like, and something you hate.
Alonso: Love waking in the sunshine. Like monsters. Hate bell peppers.
Saigon: Making music, being alone and tomatoes.

60%: Biggest pet peeve?
Alonso: People who think it's cute to tickle.
Saigon: Trashy and loud people.

70%: No.1 holiday destination?
Alonso: Driving a convertible Jeep with friends by the beach blasting tunes on the way to a cave with a good sound system and industrial mosquito repellent
Saigon: Vietnam where I feel at home.

80%: What kind of emotions and experiences influence your work?
Alonso: Desperation, disappointment, loneliness, evolution and aquariums.
Saigon: Making music entails a lot of emotions. When making a song, emotions can vary from excitement to sadness, being blasé to frustration. But every time I make a song I feel these emotions very very deeply. I guess no experiences influence my work other than the internal process of my workflow. I just obsess over a track until I feel like it doesn't need more obsessing over.

90%: How did you celebrate your last birthday?
Alonso: First I went for a walk in the cemetery and had a good cry. Duc and I went for a pho lunch, then we went to a sake tasting, an ice bar and dinner with friends. And on my way home I got yelled at.
Saigon: I've stopped celebrating my birthday after turning 16. So I spent it alone like I do every year.

100%: What's a piece of advice that changed your life?
Alonso: If something scares you, do it.
Saigon: Being nice to people is an easy thing.


More like this