A fair COP26? Inside 12 days that (should have) shook the world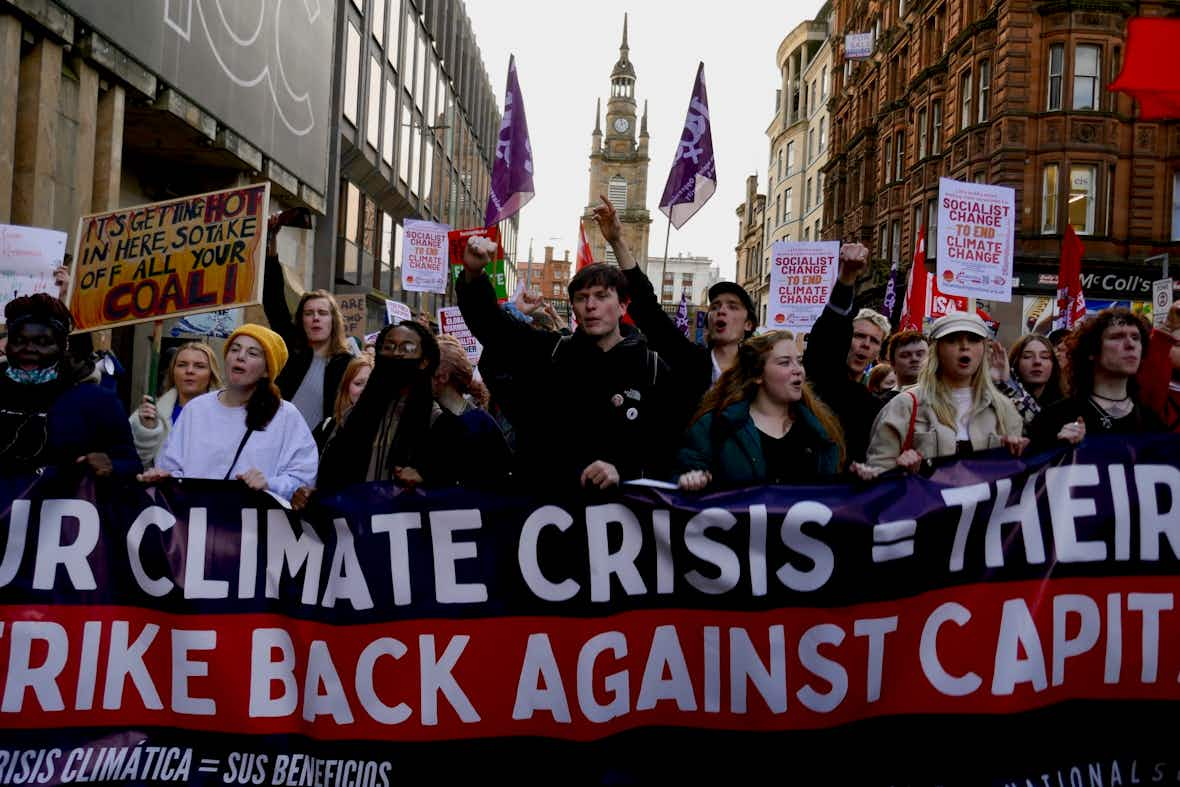 As the climate summit draws to a close in Glasgow, we reflect on the results. Did the necessary action rain down from above, or did it rise up from the streets?

COP26 was supposedly the most ambitious and important climate conference of our time. It was designed to help revolutionise environmental policy – and, hopefully, you know, save the planet.
And yet, the Glasgow event – which concludes today – has been labelled the ​'most exclusionary' in its history, with a striking lack of representation for communities in the Global South, women and BIPOC. Vaccine inequality, COVID-19 regulations, lack of accommodation and immigration rulings are among factors why the wealthy and white people are the face of this summit.
Many travelling from the Global South had their VISA applications refused, while costly and complicated travel routes due to the UK's red-list travel system proved a huge obstacle for countries worst hit by the climate crisis. The summit even began with no sign language interpreters or wheelchair access.
Observers supposed to act as watchdogs of discussions, ensuring the concerns of communities are heard, have been excluded from negotiating areas. The Climate Action Network representing more than 1,500 organisations in over 130 countries have described being unable to do their jobs, due to purposeful obstruction.
For the first few days of the conference, observers were prevented from any face-to-face contact with negotiators at all. Online technical glitches also proved detrimental to those unable to attend COP26 who were key voices in the discussion, but those voices were not heard.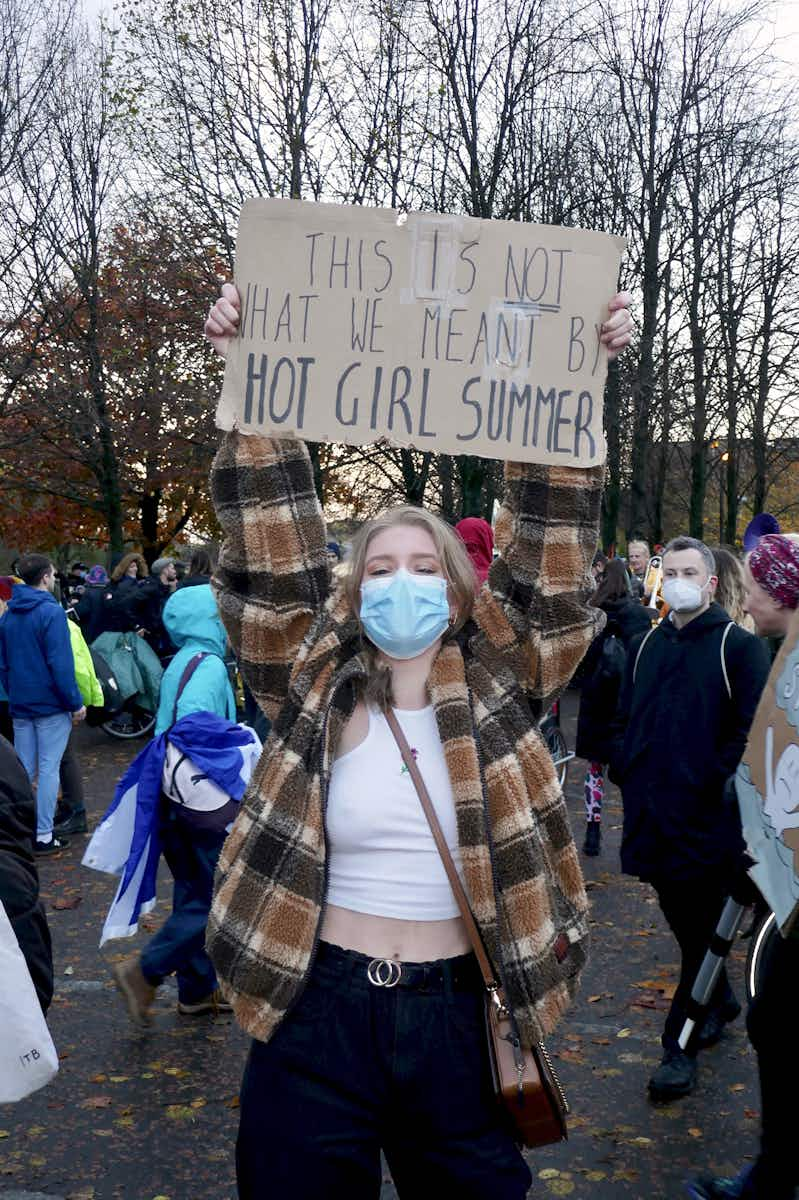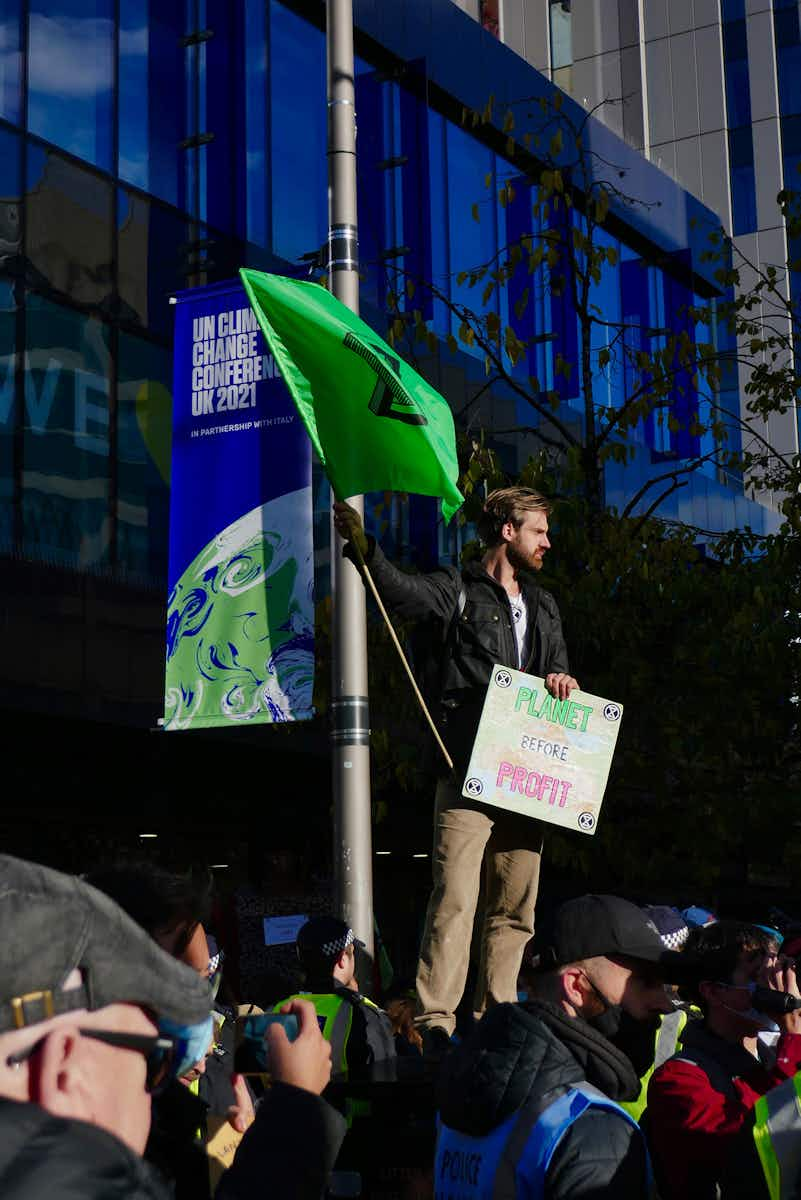 And, ironically, but unsurprisingly, there have been more delegates associated with the fossil fuel industry – some 500 – than from any single country.
The first COP took place in 1995, and since then, the summits have been criticised for being media opportunities for leaders to laugh and shake hands on empty promises. As Greta Thunberg called it, it's ​"a two week celebration of business as usual".
Although two major climate agreements, the Kyoto Protocol of 1997 and the Paris Agreement of 2015 have come out of previous conferences, campaigners remain unsatisfied – especially considering the 1.5°C temperature increase limit, set out by the Paris Agreement will be reached in 2034 if the warming trend continues at its current rate.
But as I found on the streets of Glasgow over the last 12 days, the mood on the ground couldn't have been more different. The craving for real, proper change was palpable. I spent my COP days dancing, marching, listening and singing with thousands of people from across the world, who refused to place their trust in the suits at the summit's table.

The overwhelming verdict? We mustn't rely on our leaders to bring us the change that's required.
Across 12 days of talks, film screenings, strikes, marches and speeches on the fringes of the main conference, there was a clear focus on intersectionality in environmentalism.
Fridays for Future held a youth strike with over 30,000 attendees, led by Greta herself, who finished the day stating, ​"this is what leadership looks like." A day later, the COP26 Coalition was responsible for the Global Day of Action for Climate Justice march – 100,000 people marched the streets, among them were those who had been purposefully excluded from the conference, stomping from Kelvingrove Park to Glasgow Green, demanding their voices be heard.
Also taking part that day, Extinction Rebellion's emphasis on colour and sound created a powerful electricity that didn't falter. Marching bands, pantomime-like costumes and chants kept spirits up in the sun and (very) heavy rain.
After 14,000 steps with Extinction Rebellion at their march against greenwashing on 3rd November, a man in a bright yellow raincoat and waterproof trousers beckoned us over to a group of protestors, sitting legs splayed on the pavement with bowls of steaming curry: Hare Krishnas on hand with delicious food for exhausted rebels.
The New York Times created a Climate Hub at SWG3, a venue usually the reserve of the city's ravers. Having spent many Friday night and Saturday mornings there, sweating and spilling drinks, it was a refreshing change to see the immersive forest setting created by legendary artist and set designer Es Devlin.
On the River Clyde, a ferry dubbed the Extreme Hangout was transformed into a youth hub to host panels with the likes of Bear Grylls, social entrepreneurs, economists, athletes and youth activists. At night, attendees danced to the sounds of Butho the Warrior and Rebecca Vasmant.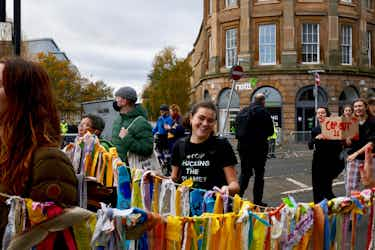 Still, it wasn't all debates and games: when I arrived, the first thing I noticed was a huge floating pile of rubbish wrapped around the side. A visceral and fitting reminder of why we're all here.
Outside the walls of the SEC building where the conference was held, indigenous people were also given a platform to tell their stories. At the end of each day of protesting, speeches would take place on makeshift stages, through megaphones and on street corners. Even though they make up less than five per cent of the global population, indigenous communities protect 80 per cent of the world's biodiversity. Their seat at the table is vital in the fight against the climate crisis.
Despite contributing the least to global carbon emissions – compared to China, which accounts for 30.64 per cent – indigenous communities are at the frontline of the disastrous effects of the climate crisis. Campaigners described houses, schools and crops being washed away in flash floods that should only happen every few years. Now they're every few months. We heard of ​"medicine women" in tribes who can no longer find the plants and herbs needed to cure their people of sickness.
As the Pacific Climate Warriors put it: ​"We did nothing to contribute to this crisis, we should not bear the brunt of it."
Overall, the first week of COP26 was a typically disappointing performance from our world leaders. India's Prime Minister Narendra Modi pledged net-zero carbon emissions by 2070 – 20 years after the goal for carbon neutrality that scientists state is vital to save our world. Then again, 110 world leaders pledged to end deforestation by 2030.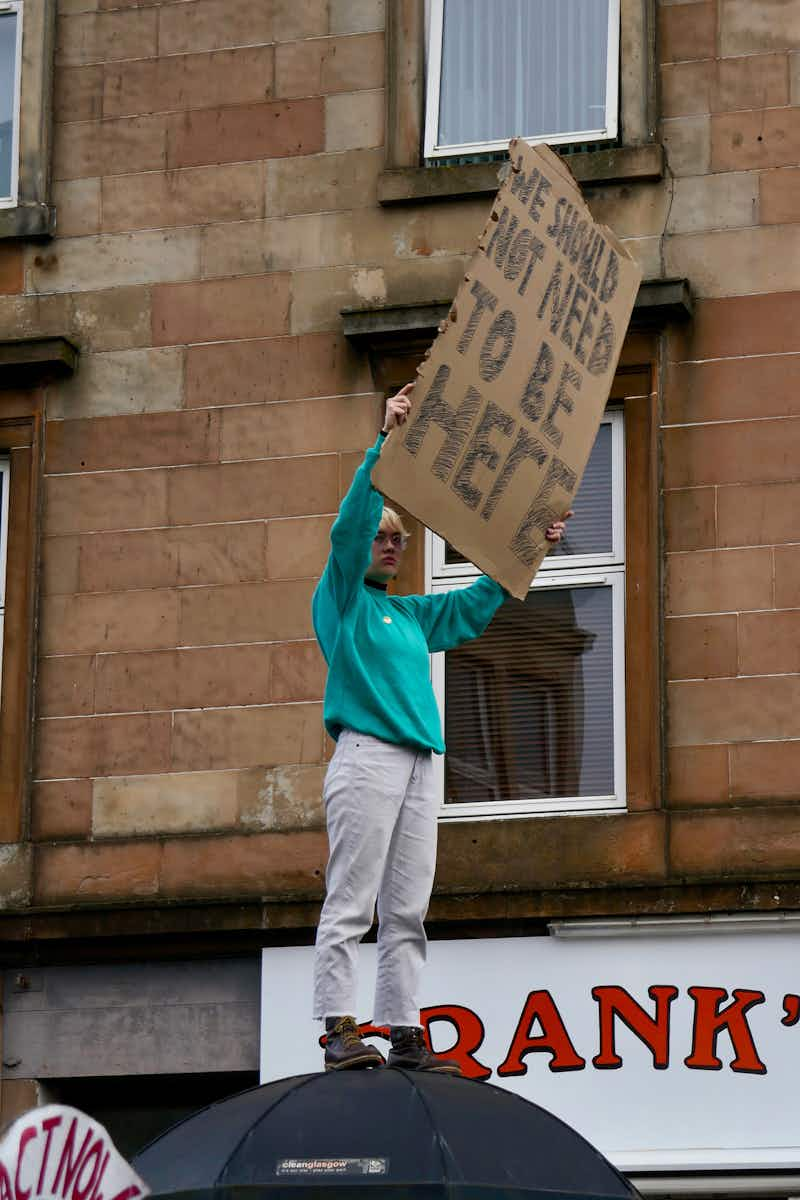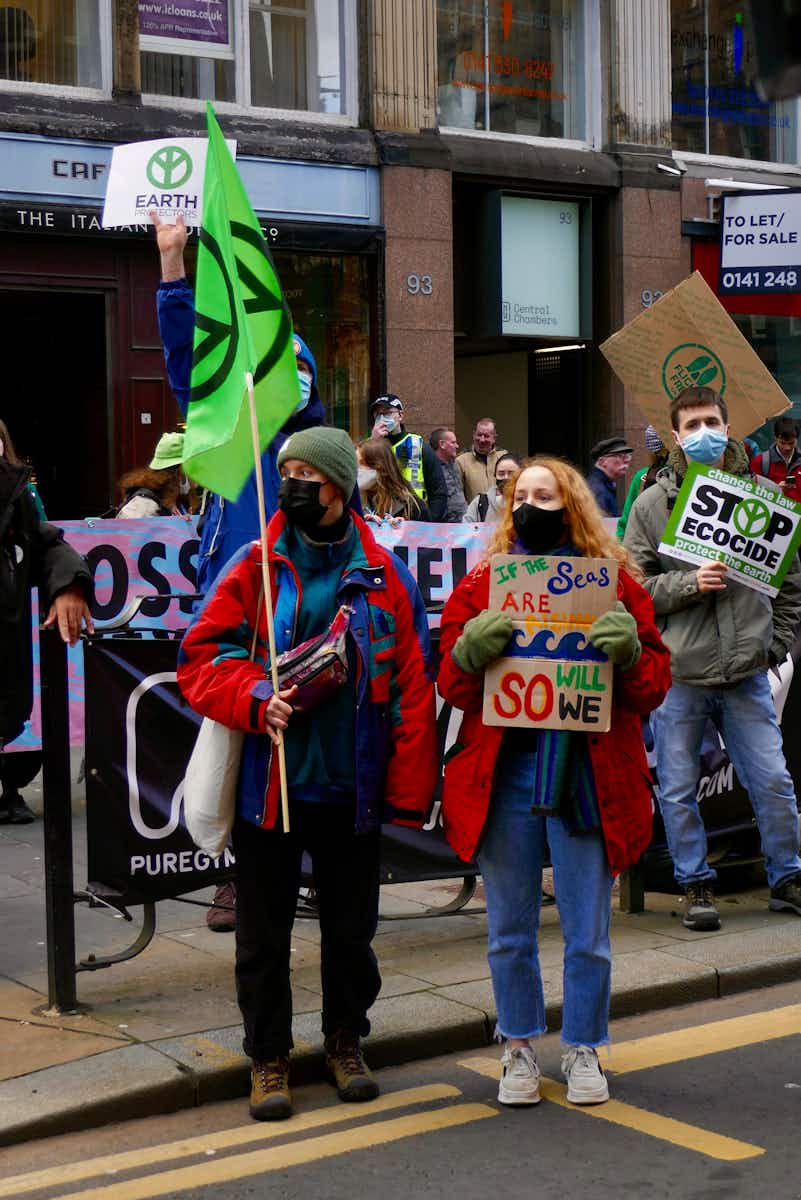 On the surface, this is an exciting claim, except for the fact that a similar one was made in 2014, and deforestation has increased since then. Still, Brazilian president Jair Bolsonaro is the biggest offender in this destruction, yet he was a signatory of this new COP26 agreement.
A reason for hope? I doubt it. Dr Nigel Sizer, former president of the Rainforest Alliance, made his views clear: ​"We're facing a climate emergency, so giving ourselves another 10 years to address this problem doesn't quite seem consistent with that."
Despite all that top-down gloom, the people out and about and protesting in Glasgow – and those who couldn't make the trip to Scotland but still managed to make their voices heard online – put on a tireless and history-making show of defiance and determination.
The messages coming up from the streets were clear. You can't push effective climate reform without intersectionality. Without listening to the voices of marginalised communities. Without learning from indigenous people who have the solutions, and have had them for thousands of years. Harmony with nature is our only chance at a fair future for all.
Until this is achieved, it doesn't look like we-the-people will stop marching.


More like this