The people vs. Jeff Bezos: inside the mission to unionise an Amazon warehouse

Former Amazon employee Christian Smalls is campaigning to unionise the Staten Island warehouse where he used to work. THE FACE joined him last month to found out exactly how he's planning to beat Bezos.
The David and Goliath metaphor of the ongoing efforts to unionise Amazon's JFK8 warehouse in deep Staten Island is apparent the moment you arrive at the facility. In the long shadow of the sprawling campus – as big as the once-thriving strip malls that many abandoned thanks to the omnipresence of Jeff Bezos' company – is a small blue tent, the province of the Amazon Labor Union (ALU).

It's a hot, hazy summer day and the ALU is throwing a barbecue-meets-informational-event-meets-protest. It's also Juneteenth, an event that commemorates the emancipation of slaves in the United States. It's been a long battle to make Juneteenth a federal holiday in the US, but victory was finally won just a few days ago. As the ALU knows only too well, the uphill struggle for basic human rights can be a frighteningly common occurrence in American activism.

It's a joyous celebration, complete with food and a playlist that ranges from the new Drake and Migos song to Marvin Gaye's What's Going On. A brief blast of Chief Keef's I Don't Like provides a boos of defiant energy.

Helming the event is former Amazon employee Christian Smalls. He's been in the spotlight since last April when he was fired by the company for organising a group of his co-workers to protest a Covid-19 response that they deemed insufficient and potentially hazardous for those working in the building. All Smalls and his colleagues wanted was for their Staten Island facility to be closed and sanitised due to at least one confirmed case of the virus among employees. ​"We're not just doing this for our building. We're doing this for all of the Amazon buildings around the nation," Smalls said at the time, noting that another warehouse in Queens was closed for only one day due to a confirmed case. It's worth noting that the effects of deep cleaning and sanitisation on an airborne illness like Covid may not be as significant as many have been led to believe.

Damningly, internal Amazon memos published by Vice revealed that the company's general counsel referred to Smalls as ​"not smart, or articulate." They claimed it would be beneficial for Amazon if, through the press, he became ​"the face of the entire union/​organizing movement."

And he pretty much has. His Twitter account (@Shut_downAmazon) has amassed nearly 20,000 followers, his firing drew the attention of the New York Attorney General, Letitia James, and his story has been picked up by nearly every major news outlet in the country. He has been called Jeff Bezos' ​"worst enemy".

Smalls had worked at Amazon for five years and, by all accounts, was a well-respected supervisor and colleague at JFK8. Given his quick transformation into a labour movement leader, many people assume he's had organising experience in the past. But Smalls' campaigning is simply a natural extension of his own morals.

"Everybody asks [if I've done this before]. That's the million-dollar question," he says with a laugh. ​"I literally was just a concerned supervisor and parent trying to do the right thing last year. Putting the responsibility on me as a leader at Amazon, I just felt like it was the right thing to do."

Five minutes of watching him preside over the Juneteenth event, it's abundantly clear how wrong Amazon's assessment of Smalls as a ​"not smart, or articulate" leader is. Arriving at JFK8 with his two young children in tow, he's thoughtful and measured, but also affable. He instantly takes over grill duty, giving the event the charm of a holiday cookout, even while the ALU team is busy providing crucial details about the unionisation efforts to uninitiated workers.

"We tell the workers, ​'Hey, for every ten of y'all that they're hiring, they're firing 15 of y'all.' And, when I say ​'Y'all,' the majority of that is Black and brown people," says Smalls. ​"That just tells you right there that they have no real respect for our culture and for our community and for our class."

Amazon's own data supports Small's statement. In 2020, the company reported that its employees were 26.5 per cent Black, 22.8 per cent Latinx, 13.6 per cent Asian and 5.1 per cent multiracial/​Indigenous, compared to 32.1 per cent who are white. Notably, the Black and particularly the Latinx percentages have increased since 2018, while the white workforce declined by more than 6 per cent in the same timeframe.

Dana J. Miller, another activist with the ALU, joined the company after being laid off from her job at a museum during the pandemic. One of many workers who started at Amazon in the last year, she notes that the company's astronomical turnover rate, recently estimated at 150 per cent annually, is both a striking symptom and cause of the problem. Most companies have a rate of turnover (employees that leave) that varies between 12 and 20 per cent.

"There was a huge influx of quality people, but when you run them down, they don't last," she says. ​"And when you don't value them, they're not going to stay. They know their value and, eventually, they'll get the point."

During the worst and most uncertain stretches of the pandemic, there was plenty of rhetoric around celebrating essential workers – the people with unglamorous jobs at hospitals, grocery stores and, yes, Amazon fulfilment centres. But now that vaccines are widespread in most communities and the pots-and-pans tributes are no longer clanging away, ALU organisers like Tristian Martinez say that there's been no meaningful improvement in their treatment.

"It's insane how much they needed us when everything was going down [with the pandemic], but now that we're going back to normal, we're still just regular, unintelligent people, because we didn't go to college, because we don't work in some big business office building," Martinez says. ​"I feel like we're still looked down on."

Lorie Honor, a candidate for Staten Island Borough President, shows up at the rally with lively energy, standing in the road to wave a sign encouraging passers-by to honk if they support unions. The occasional blast from a truck or bus driver does a lot to boost the group's spirits.

"Amazon employs more Staten Islanders than any other company. They're our greatest hope for people to enter the middle class," Honor says. ​"So as a third-generation union person myself, this is essential. Every good thing I have in my life is because my family was in a union and it shouldn't stop because unions look different now."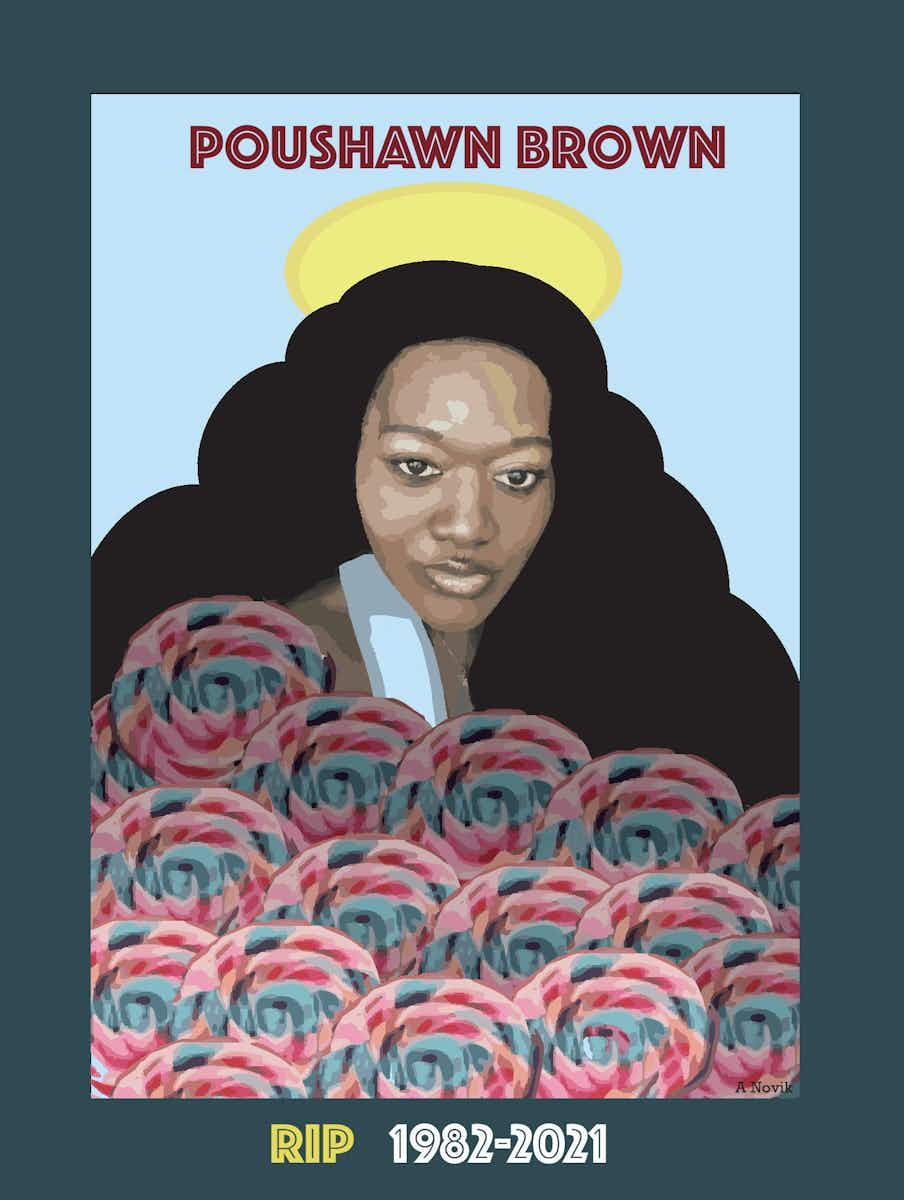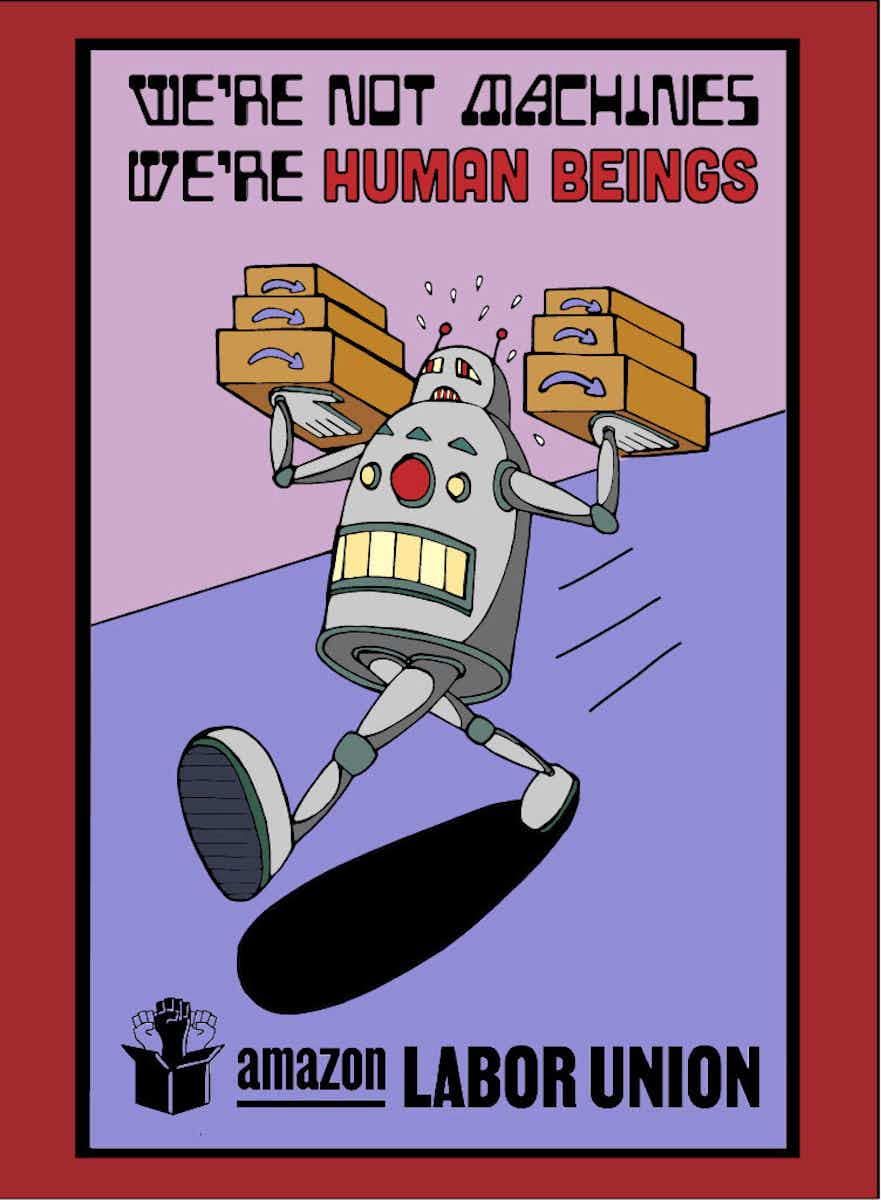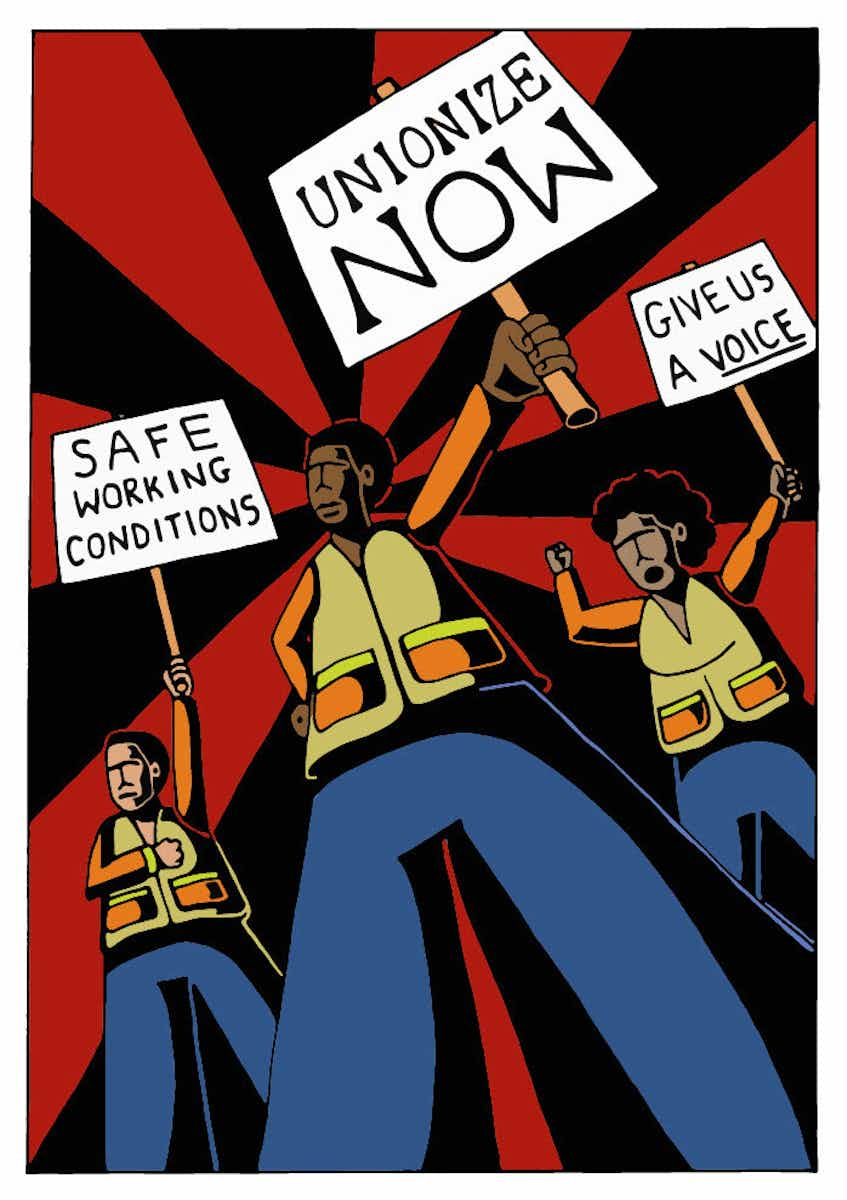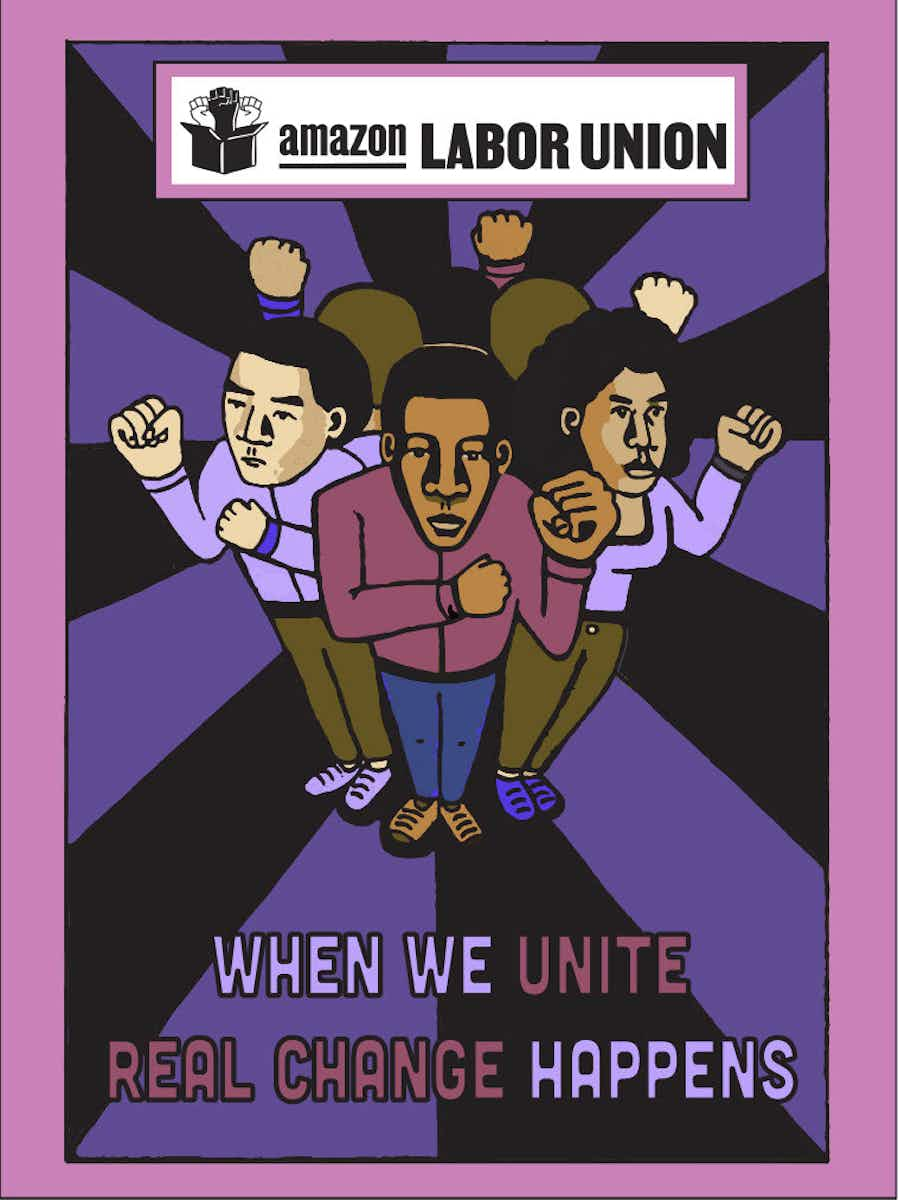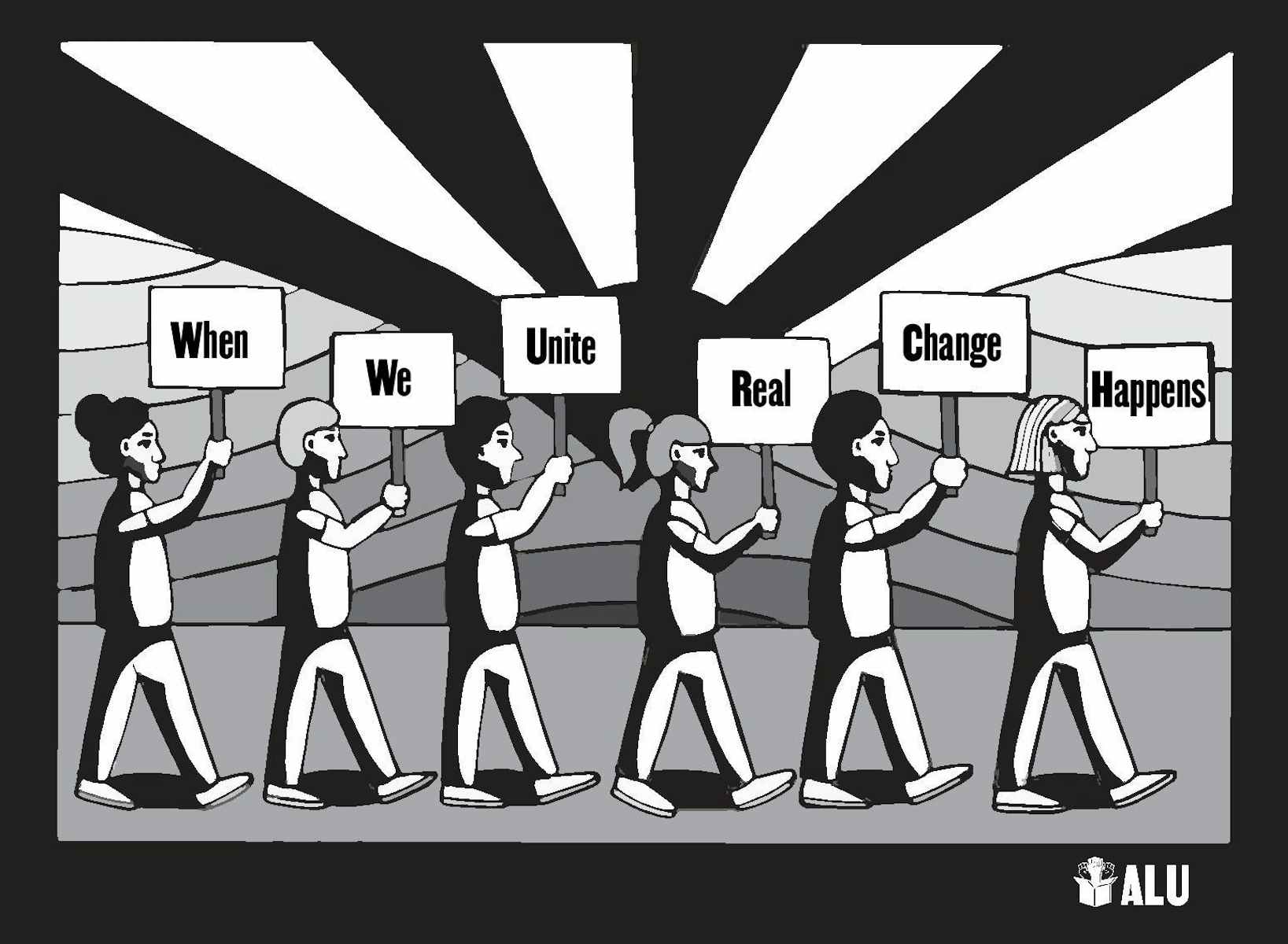 At the June 19 organising drive, several posters are hung on the fencing that were designed by ALU volunteers. They invoke the imagery of the WPA Federal Art Project, part of the United States' successful New Deal programme, which aimed to help struggling citizens in the wake of the Great Depression and shine a light on the company's many Black and brown employees.

One particularly devastating piece is a tribute to Poushawn Brown, an Amazon worker in Virginia who died suddenly earlier this year. Brown was tasked with testing her coworkers for Covid-19 but was provided with insufficient PPE. Her cause of death remains undetermined, due to the costliness of a full autopsy. Brown's sister, Christina, also worked at Amazon for a time, but left the company when her manager threatened to dock her pay if she didn't finish a delivery despite having had a car accident on an icy road on the way. ​"When you work for Amazon, you pay for it emotionally, physically and mentally," she said.

Indeed, past and present workers for Amazon have many harrowing stories about mistreatment at the company. Miller says she struggled with smoke inhalation when a fire broke out in the factory and the staff were pushed to keep working.

"I was in the building on the top floor. There was smoke, alarms. We could barely understand the PA system until people started walking by saying, ​'We've got to evacuate. We've got to go,'" she recalls. ​"Everyone's outside, standing around. [Several] minutes later, we get the call to go in. I pull back slightly because I'm a little unsure if it's safe or not. I go back to work, but the smoke inhalation was a little much."

In Kentucky, an employee named Nicholas Stover who suffers from Crohn's disease sued the company, because they would not allow any leeway in their strict bathroom schedule. At a fulfilment centre in California, former employee Lovenia Scott sued Amazon as well, claiming that they didn't allow adequate break time for the workers.

A key aim for Smalls and the ALU organising team is to divorce unionisation from a political context. The workers at the Amazon facility have a range of ideologies and reaching a critical mass of support to make the union a reality requires moving past partisanship. Smalls, who handles the majority of the effort's media appearances, has taken that to heart.

"People say, ​'Why did you do an interview on [conservative news outlet] Newsmax? That's a Trump[-supporting] station." I'm like, ​'Well, [their viewers] work, too,'" Smalls says. ​"Trust me, when I was getting emails, they weren't saying, ​'I'm a Democrat and I'm a worker.' It wasn't, ​'I'm a Republican and I'm a worker.' It was, ​'I'm a worker and I'm in trouble. I saw your story and I need your help.'"

Fundraising and media outreach among populations that are more likely to be liberal and inherently pro-union are important for bolstering awareness and gaining additional resources. But ultimately, organizers like Smalls need to reach out directly to their fellow employees who identify more on the conservative side of the political spectrum if they want enough affirmative votes to win an election.

As far as the broader population goes, many first became aware of the efforts to unionise Amazon when a facility in Bessemer, Alabama staged an organising effort that eventually failed by a margin of more than 1,000 votes. The work there, which was done in conjunction with the well-established Retail, Wholesale and Department Store Union (RWDSU), was something Smalls followed closely. He went down to Alabama and particularly respected the work of Amazon employees Darryl Richardson and Jennifer Bates, but has also looked to differ the approach of the ALU.

"It got too politicised. They didn't have the workers' influence. Just think about it: JFK8 has been around for three years. That building was only there for a year, so how much worker influence do they really have?" Smalls says. ​"I didn't see how the organisers, who were non-Amazon workers, were convincing workers to vote yes. They weren't talking to the workers."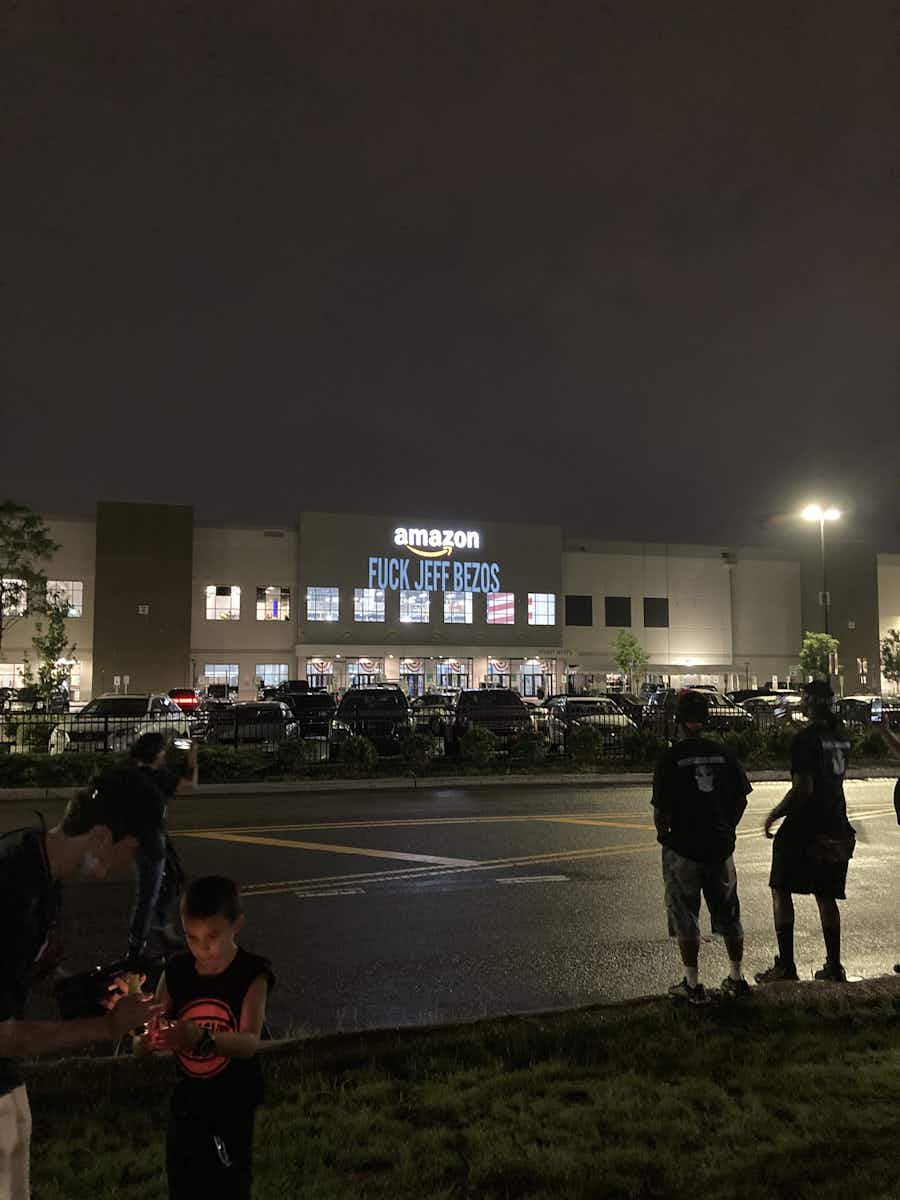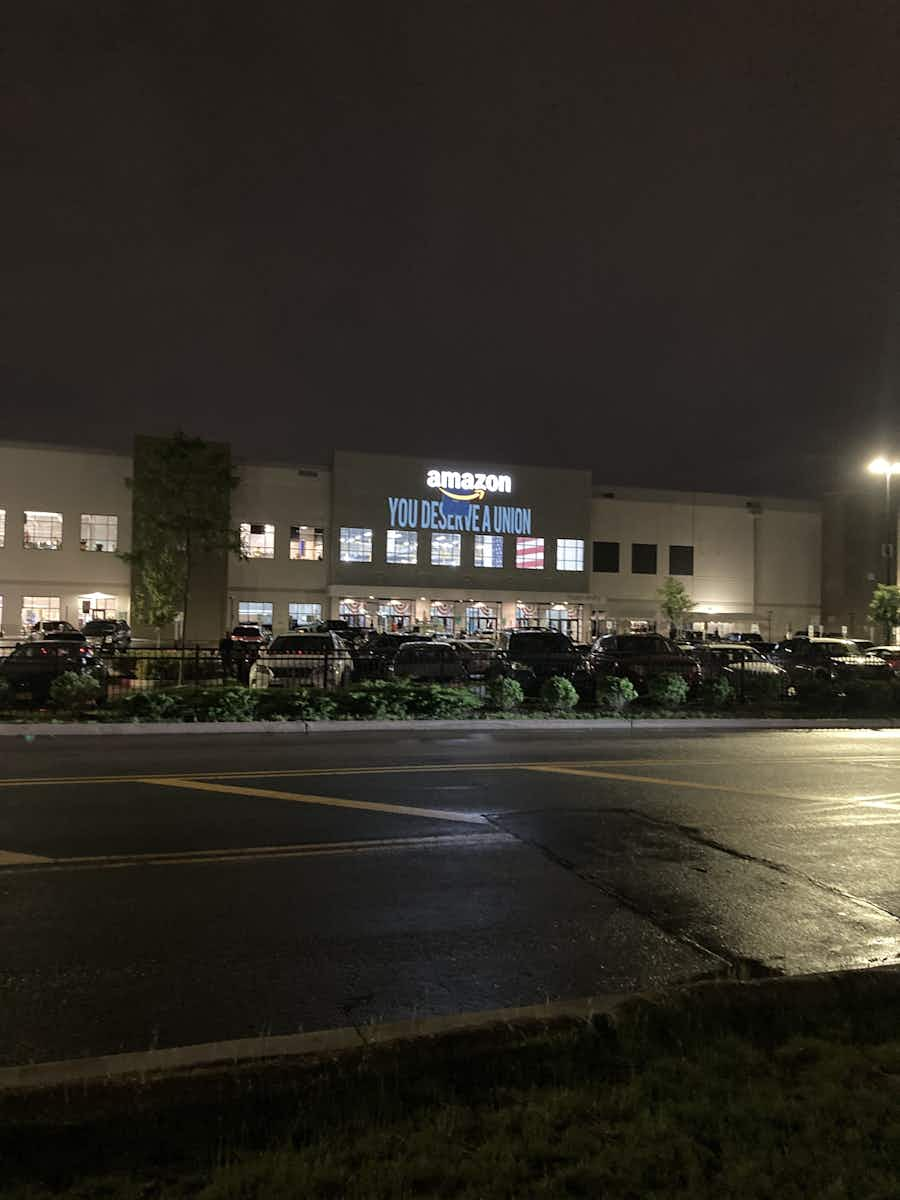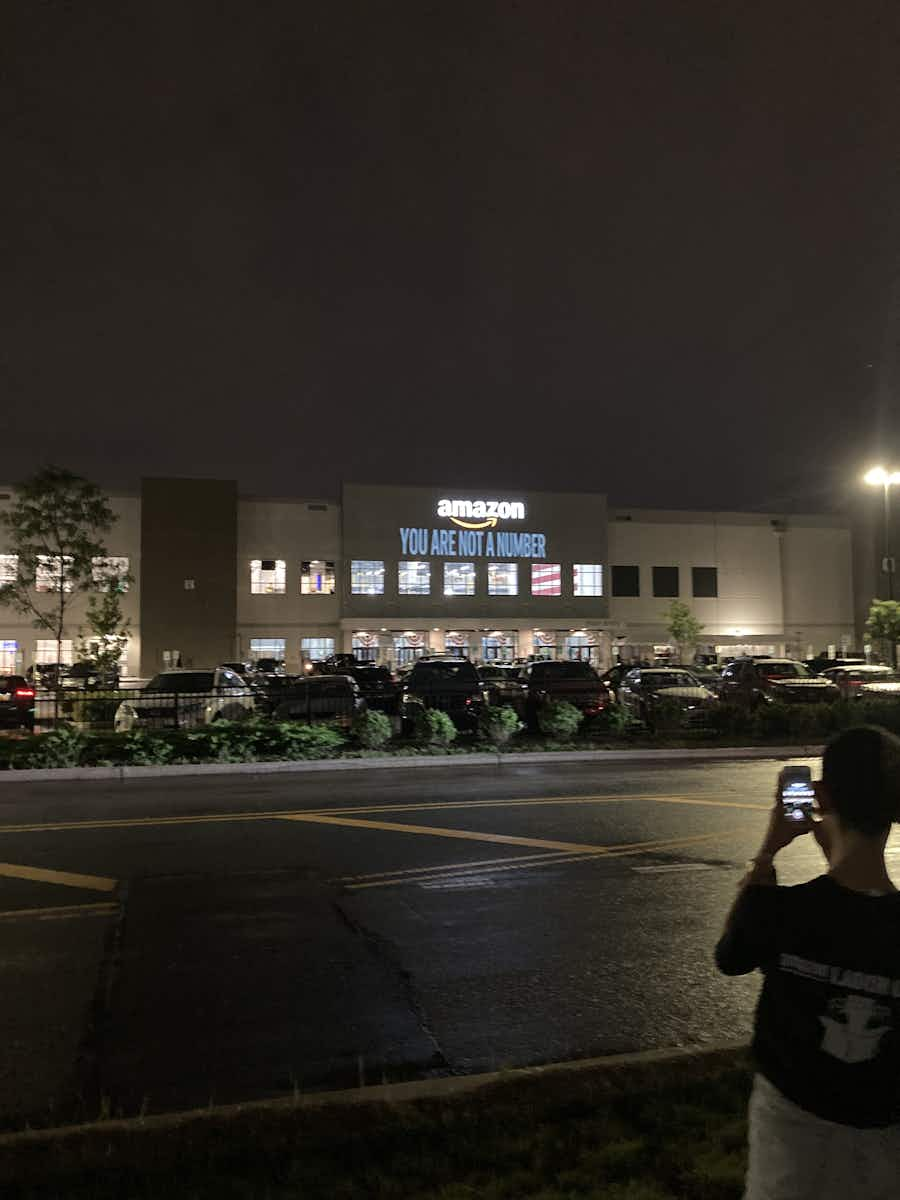 Over the last few decades, unionisation has increasingly become another tug-of-war in America's political splintering. This year, Democrats are pushing to pass the PRO Act (Protecting the Right to Organize), which would help workers to form unions, protect themselves against anti-union tactics and collect dues from people outside the union in order to increase their funds.

"The PRO Act is the most significant piece of labor legislation since the New Deal," law professor Veena Dubal tells The Verge. ​"It really addresses the ways that workers' rights to organize have been eroded, which is why we see these huge misinformation campaigns and well-funded propaganda."

Senate Republicans and some centrist Democrats are not supporting the bill. In the mid 20th century, Republicans had a more stable relationship with labour and American workers more broadly, though that deteriorated through the actions of right-wing figures like Ronald Reagan and Newt Gingrich. Because of this right wing-left wing bifurcation, there are people in strongly conservative parts of the country, like the south, where unions are erroneously equated to communism and socialism.

Notably, the ALU will be an independent union, unaffiliated with a larger body like the RWDSU. Smalls also says that Amazon has ramped up its union-busting tactics more quickly at their warehouse than they did in Alabama. He shared that ​"professional union busters" were walking around the facility ​"scaring employees" and that anti-union signage was posted in spaces like bathrooms (THE FACE did not enter the Amazon warehouse during the reporting of this piece).

"The reason why [we're succeeding] is because we know how to counterpunch," says Smalls. ​"Everything that they've done, we've either filed a lawsuit for or got the workers inside on our workers' committee addressing it directly with management. Calling them out, putting them on notice in front of everybody."

As the evening and a chilly rain both start to fall outside of JFK8, Smalls and the ALU make good on that more confrontational approach. They use a mounted projector to show a myriad of phrases on the front of the warehouse, right below the omnipotent Amazon logo. These range from statements of affirmation, such as ​"YOU ARE NOT A ROBOT" and ​"YOU DESERVE A UNION", to the more blunt ​"FUCK JEFF BEZOS". They use the projector to once again honour Poushawn Brown and, eventually, the 20 or so remaining ALU members bust out in chants both specific to their struggle ("Tax Jeff Bezos") and more universally progressive ("We keep us safe").

Most of the people involved in the ALU are still active employees of Amazon, though several, like Smalls, have been dismissed. But even after the treatment he's faced at the hands of Bezos' company, Smalls says that there is a possibility he could return to Amazon, depending on the outcome of a pending lawsuit. If he does return, it will only be because the ALU has won a massive victory for the workers.

"For full disclosure, if I do get reinstated, it will only be to unionise," Smalls says. ​"That's it."

Amazon did not respond to a request for comment on this story.


More like this