How bad is Christmas for the environment?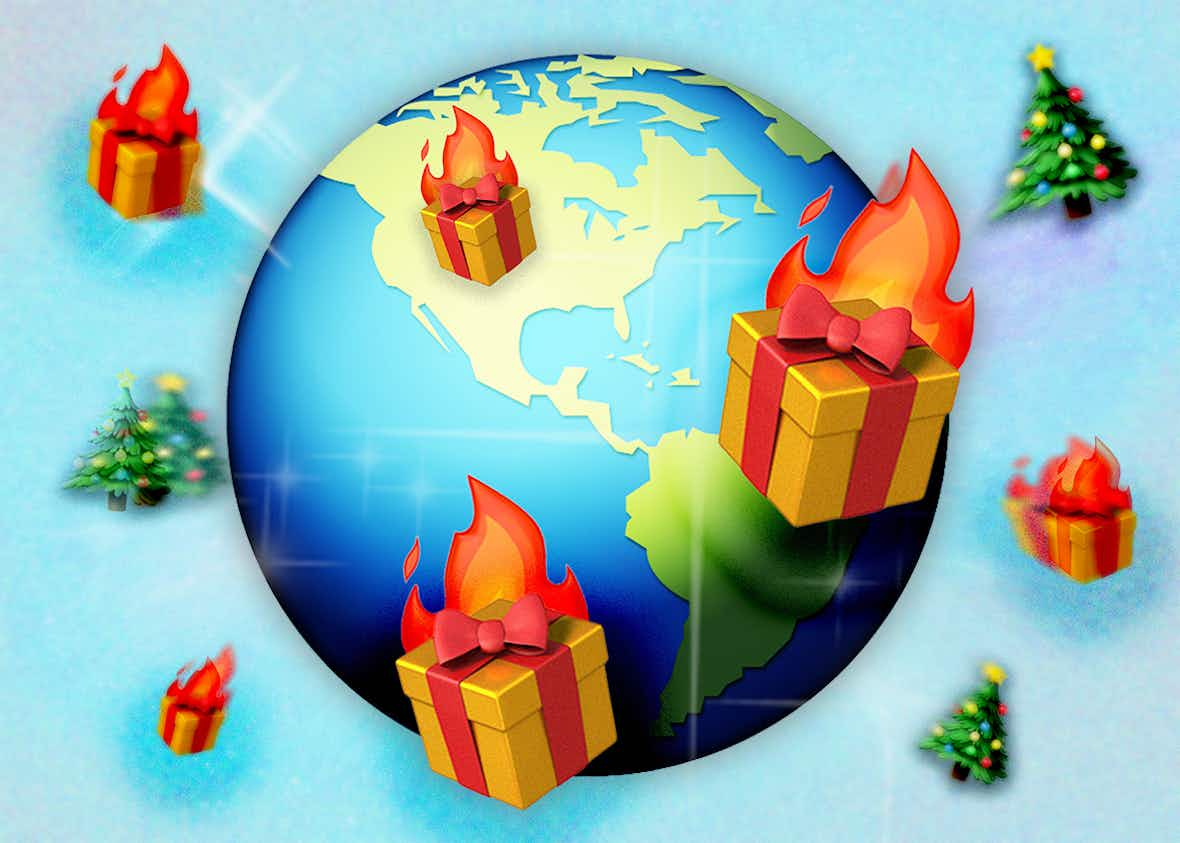 Deckin' those halls, wrapping up presents and indulging in excess may seem like harmless festive fun, but Christmas hits the environment hard.
It's the most wonderful time of the year! Shops are trying to lure us in with fairy lights and twinkly Christmas music. Office managers are frantically planning their boozy end of year parties. Love Actually plays on our screens for the thousandth time. What could possibly break us out of this jolly, mulled wine-filled festive mood? Ah, climate guilt of course!

Now, just because the planet is becoming an actual incinerator, it doesn't mean we can't enjoy celebrating Christmas. However, the winter festive period is a huge source of overconsumption and waste. Not only do we continue to pollute our planet for the occasion, but we also use up limited energy reserves and natural resources to make the things we buy.
For the past three months, THE FACE has uncovered that (shock) a lot of things are bad for the environment. But just how terrible is Christmas for our carbon footprints? And is there anything we can do to have a more sustainable holiday season?
Every year, there's a debate on whether people should buy fake or real Christmas trees to be more eco-friendly. But as around seven million trees are thrown out every year, the best option may be to go completely tree-less, unless you can reuse the plastic tree that's already hiding in your attic somewhere, or even rent one as Greenpeace suggests.

If you are going to buy one, know that the carbon footprint of a real tree is way lower than a plastic one. The Carbon Trust estimates that a two-metre plastic tree has a carbon footprint of around 40kg CO2, more than double that of a real tree that ends its life in a landfill. However, if you re-use your plastic tree over the years, that will end up being more environmentally friendly, as you won't keep buying fresh trees. An alternative to both of these choices is a potted Christmas tree, which can be replanted and reused as it grows.
After disposing of Christmas trees improperly, as many people do, greenhouse gas methane is released from the tree when it's in a landfill. If you're still going ahead with purchasing a real tree, make sure to either dispose of it properly by getting it recycled, reusing it or even replanting it (if the tree is not in a pot, make sure it hasn't been indoors for more than 10 days).
Do you know how many trees it takes to make a tonne of paper? About 24. So it would have taken around 24 million trees to make the one million tonnes of paper and card collected for recycling over the Christmas period in the UK in 2018. That's not including the estimated 9.6 million trees used to make the 400,000 tonnes of card packaging that was not collected for recycling that same year. Of course, a portion of the paper and card bought would have also been recycled, which slashes the number of trees used, but wrapping paper, Christmas cards and cardboard packaging still produce a shocking amount of waste. According to the Government Department for Environment, Food & Rural Affairs, we regularly consume enough card packaging to cover Big Ben nearly 260,000 times at Christmas. Maybe those annoying e‑cards and text messages are better for the planet after all…
Avoid the Boxing Day food coma by not buying more than you need. It's estimated that 270,000 tonnes of food are wasted in the UK each year at Christmas. According to The Big Issue, we throw away two million turkeys, five million Christmas puddings and over 74 million mince pies. And if that statistic isn't shocking enough, the government also estimates that enough poultry is thrown away to make 800 million Boxing Day curries, while the amount of carrots thrown away weighs the same amount as a herd of 636,000 reindeer.
You can also make more sustainable choices by cutting out meat from your Christmas dinner this year (which is a lot more costly to the environment to produce) and shopping locally. And if you do end up with leftovers, donate untouched food items to a food bank or give them to someone on Olio, the free food sharing app.
It's hard not to feel pressured to buy everyone you know a Christmas present, especially when the holiday has become so commercialised. But with a survey finding that over 21 million people (50.77 per cent of British adults) receive a present they don't like over the holidays, it might be time to think really hard about what type of gifts you give this Christmas. Unwanted ones are wasteful and environmentally costly to produce, so why not reduce the number of gifts exchanged this year with friends and family? Or even better, opt for zero-waste alternatives like experience gifts or consumable gifts.
Many of us will be travelling to see our friends and families, which depending on which mode of transport you choose and how far you're going, also adds to our Christmas carbon footprints. If you're planning to drive, you can always swap to public transport to save on those car emissions. And if you're flying, well, there's not a huge amount you can do to mediate the impact apart from trying to offset your air miles (and it's debatable how helpful that actually is to the environment).
So, do we have to cancel Christmas to save the planet?
That's a tricky one. In the end, our individual Christmas carbon footprints will only be as big as we want them to be. Yet collectively, the waste we produce through overconsumption does make this time of the year especially bad for the environment.
It's crucial to get clued up on having a more sustainable holiday, but remember that individual action alone isn't going to save us from the climate crisis. Do as much as you can this Christmas. But most importantly, rest and recuperate over the holidays, because there's a lot more collective climate action to be taken in 2022.

More like this