Faster, furi­ous and more dan­ger­ous: how the gam­bling indus­try went hyperspeed
This July the gov­ern­ment intro­duced one of the most sig­nif­i­cant anti-gam­bling mea­sures in years, after a hard fought bat­tle to clamp down on the elec­tron­ic slot machines known as fixed odds bet­ting ter­mi­nals (FOBTs).

With their car­toon graph­ics, flash­ing lights and Super Mario-esque sound design (imag­ine the elec­tron­ic clink of gold coins and you get the idea), reports on the high­ly addic­tive machines – often described as the ​"crack cocaine of gam­bling" – have shone a spot­light on the indus­try, pro­vok­ing renewed debate over how it should be regulated.

Restrict­ing the max­i­mum bet from £100 per spin to £2, the leg­is­la­tion could lead to a quar­ter of the UK's 8,000 plus bet­ting shops to close. It's a tes­ta­ment to how lucra­tive these machines are to book­ies (they pull in £1.7bn each year), as well as how far our gam­bling habits have drift­ed from the tra­di­tion­al flut­ter on a horse race or a foot­ball match.
The final days of the Great British betting shop: a photo series
A quar­ter of British bet­ting shops are at risk of clos­ing. Here pho­tog­ra­ph­er Danyelle Rol­la delves into the unique cul­ture of the local bookie.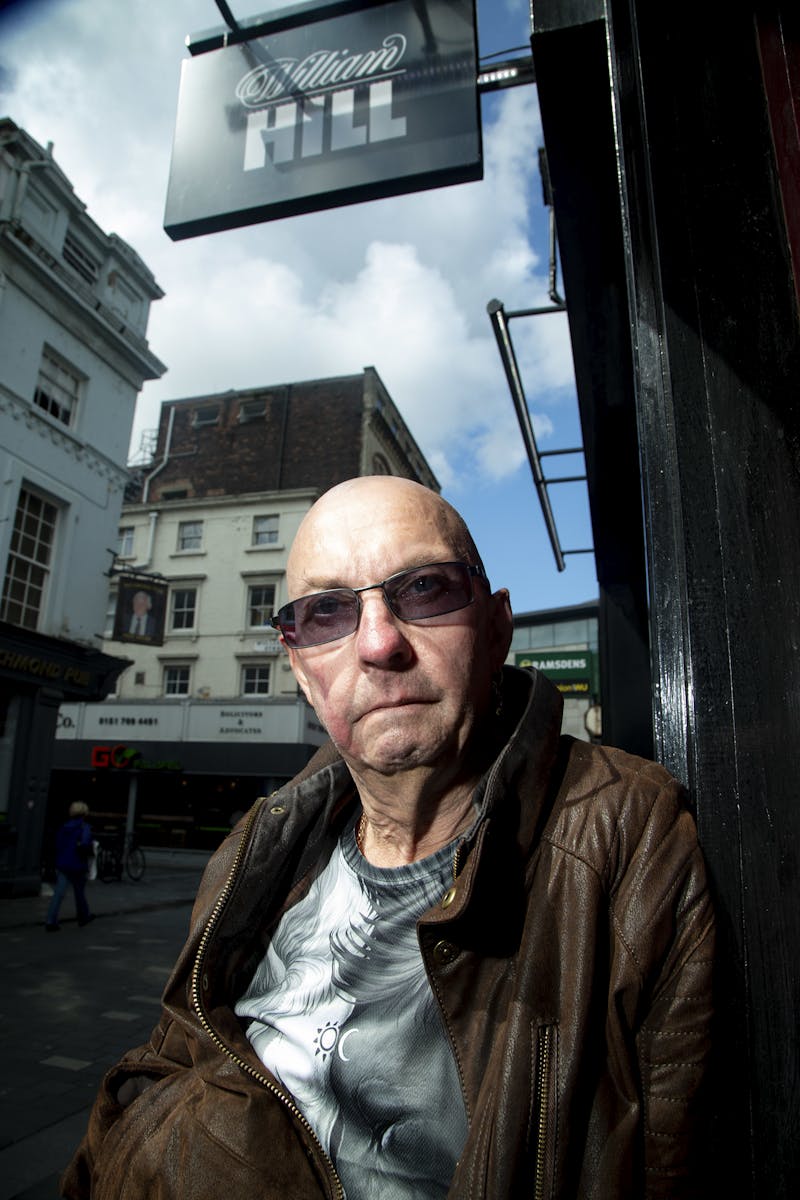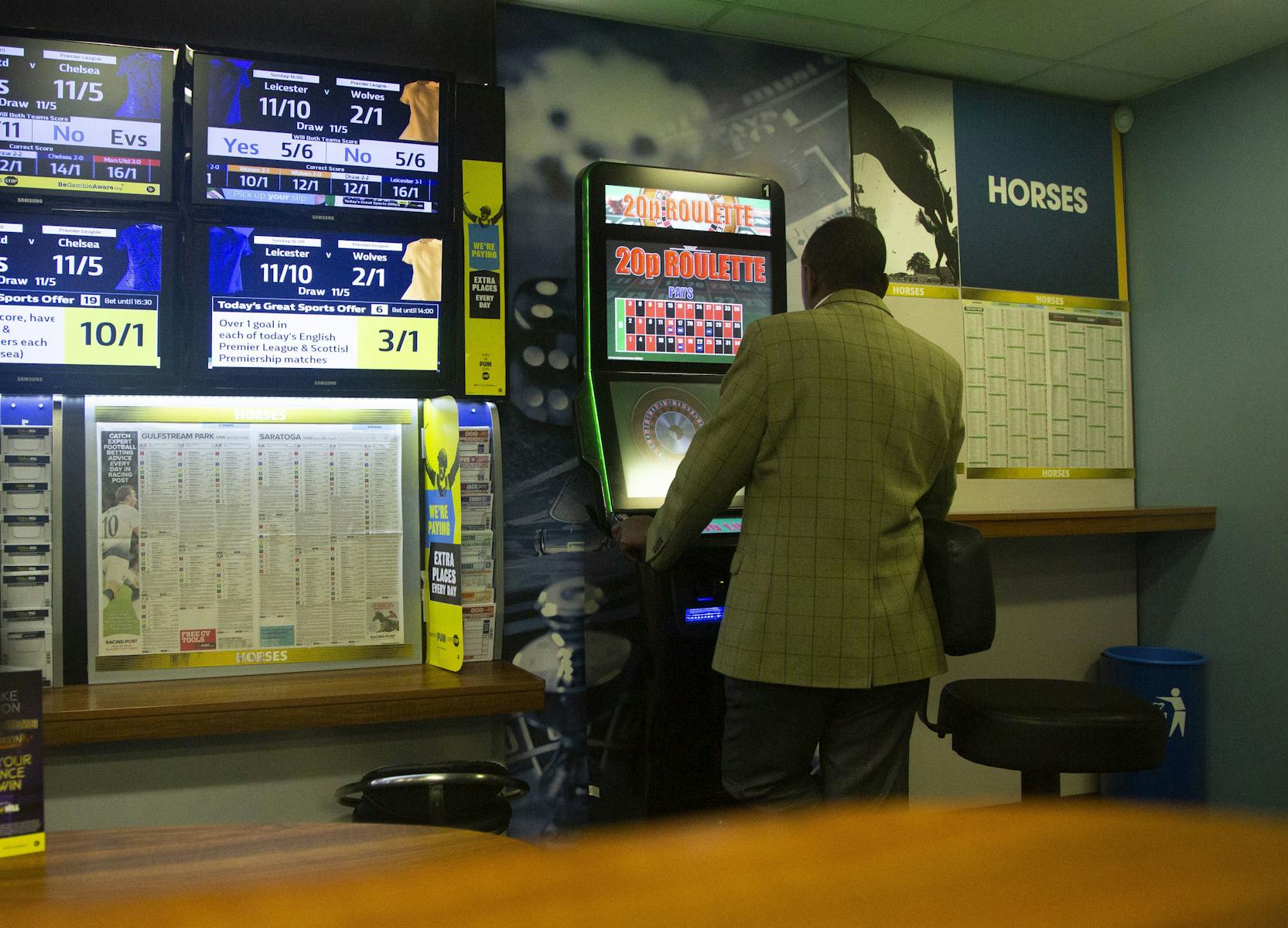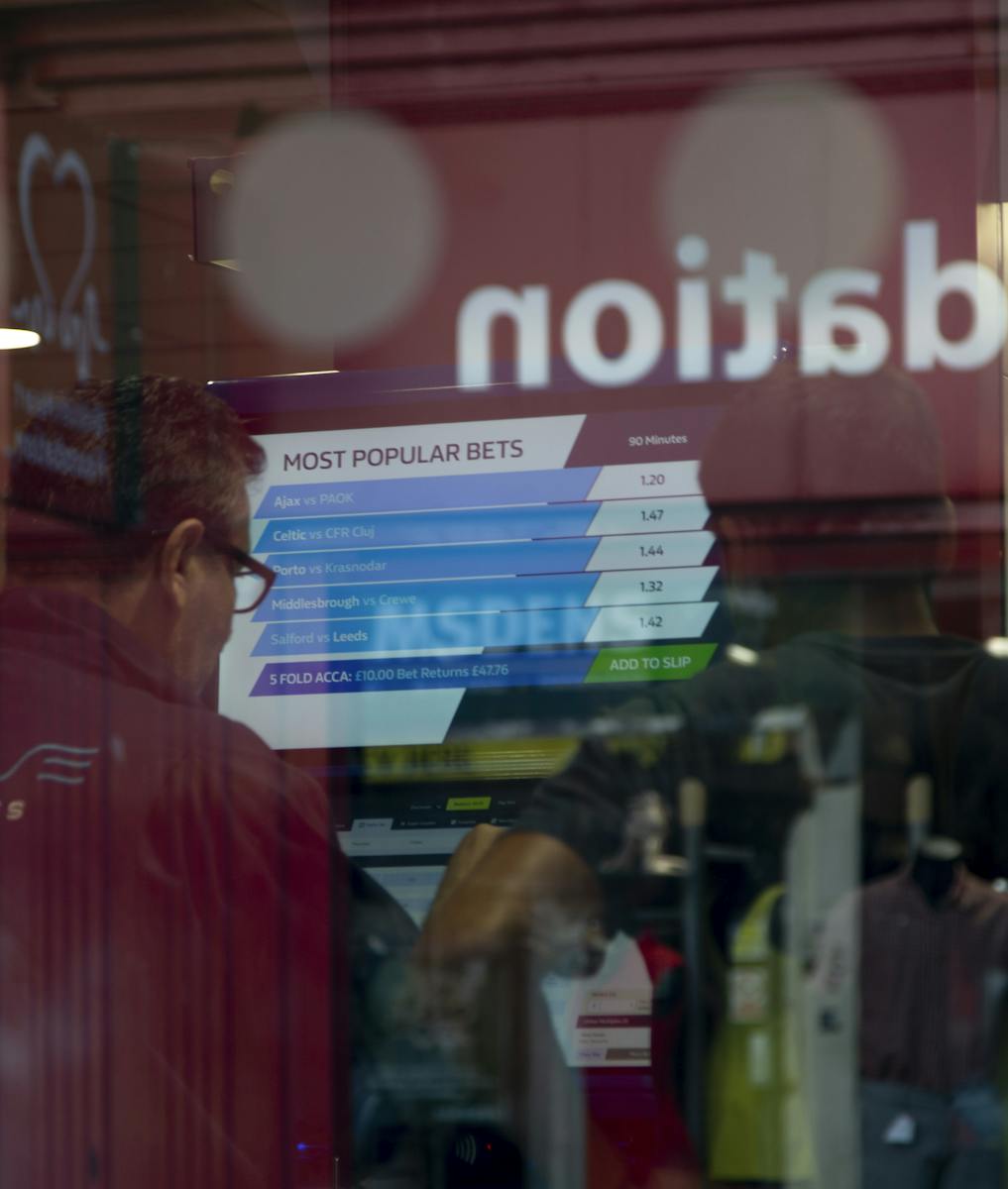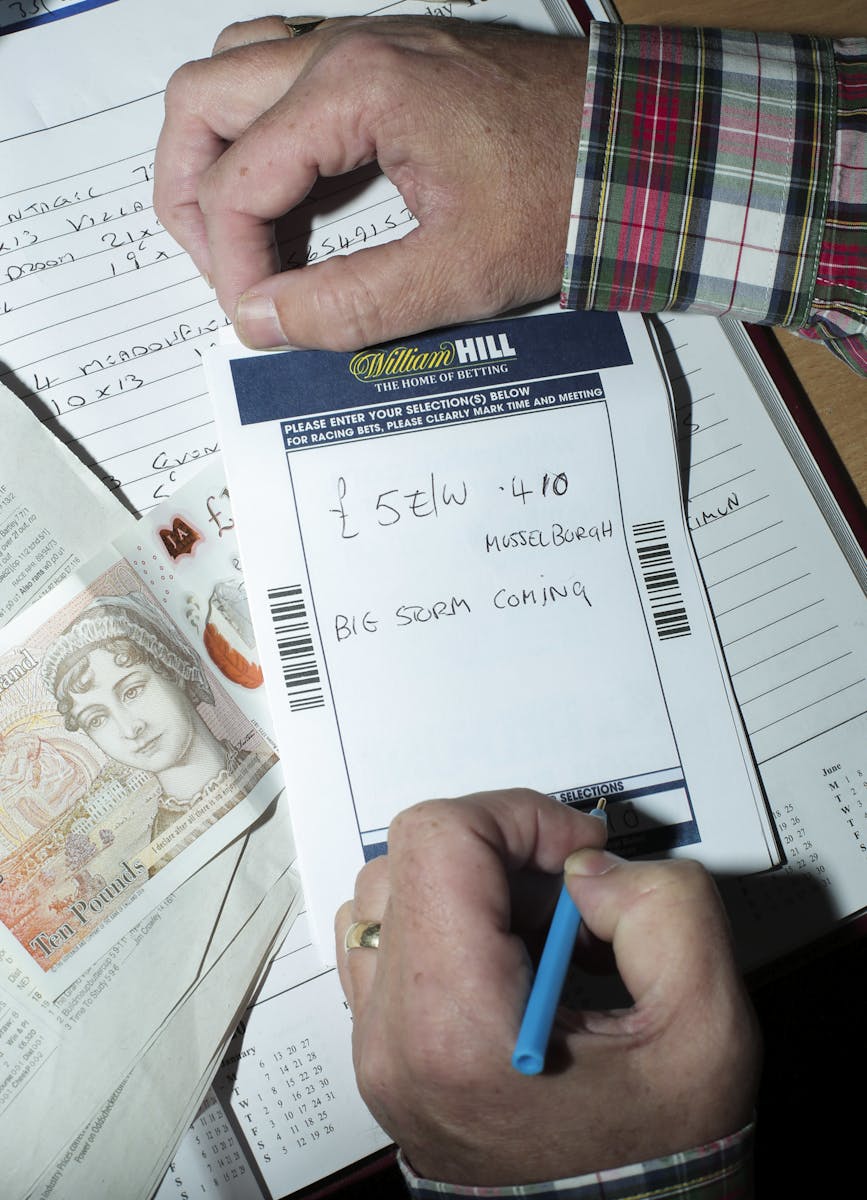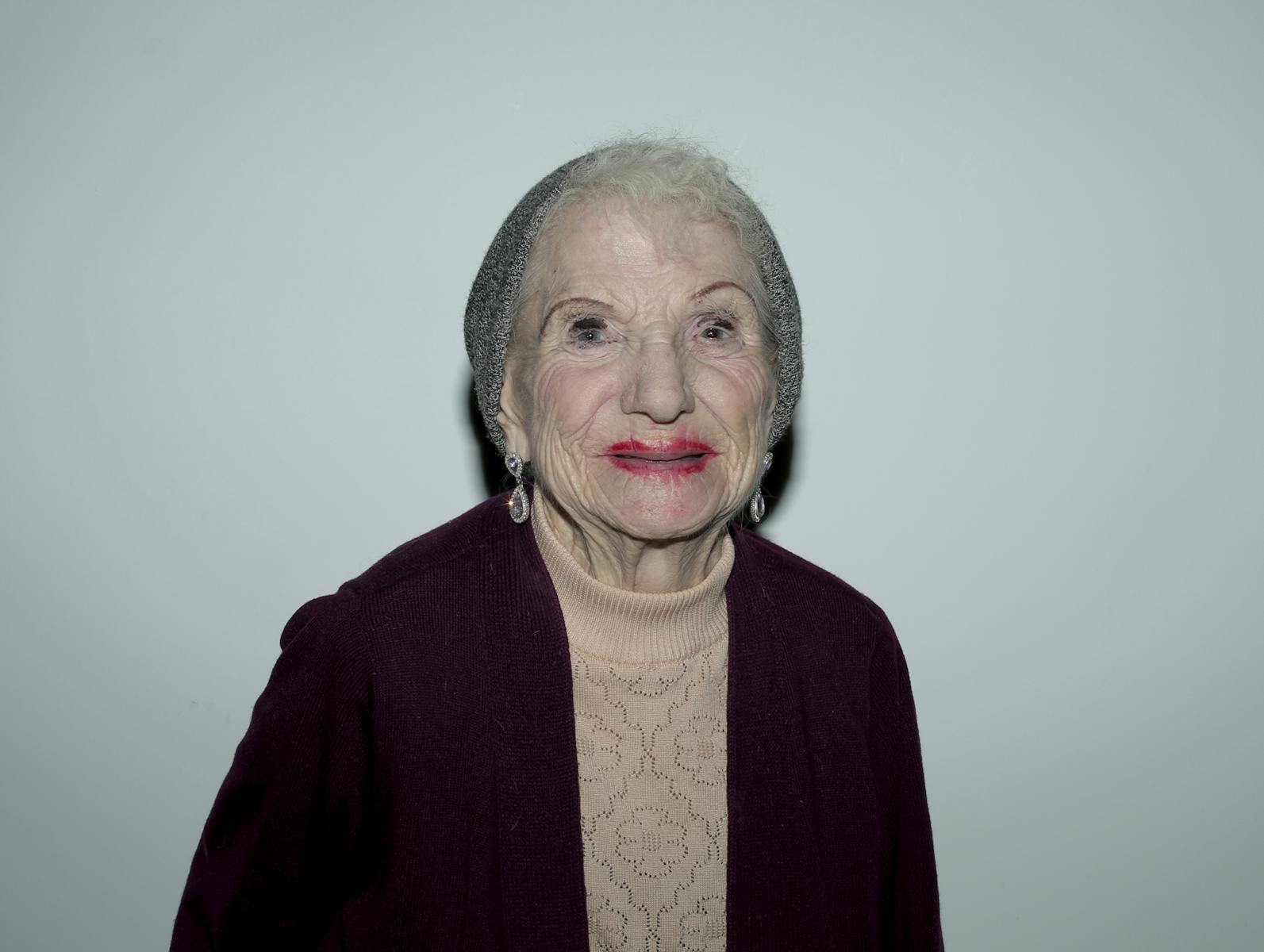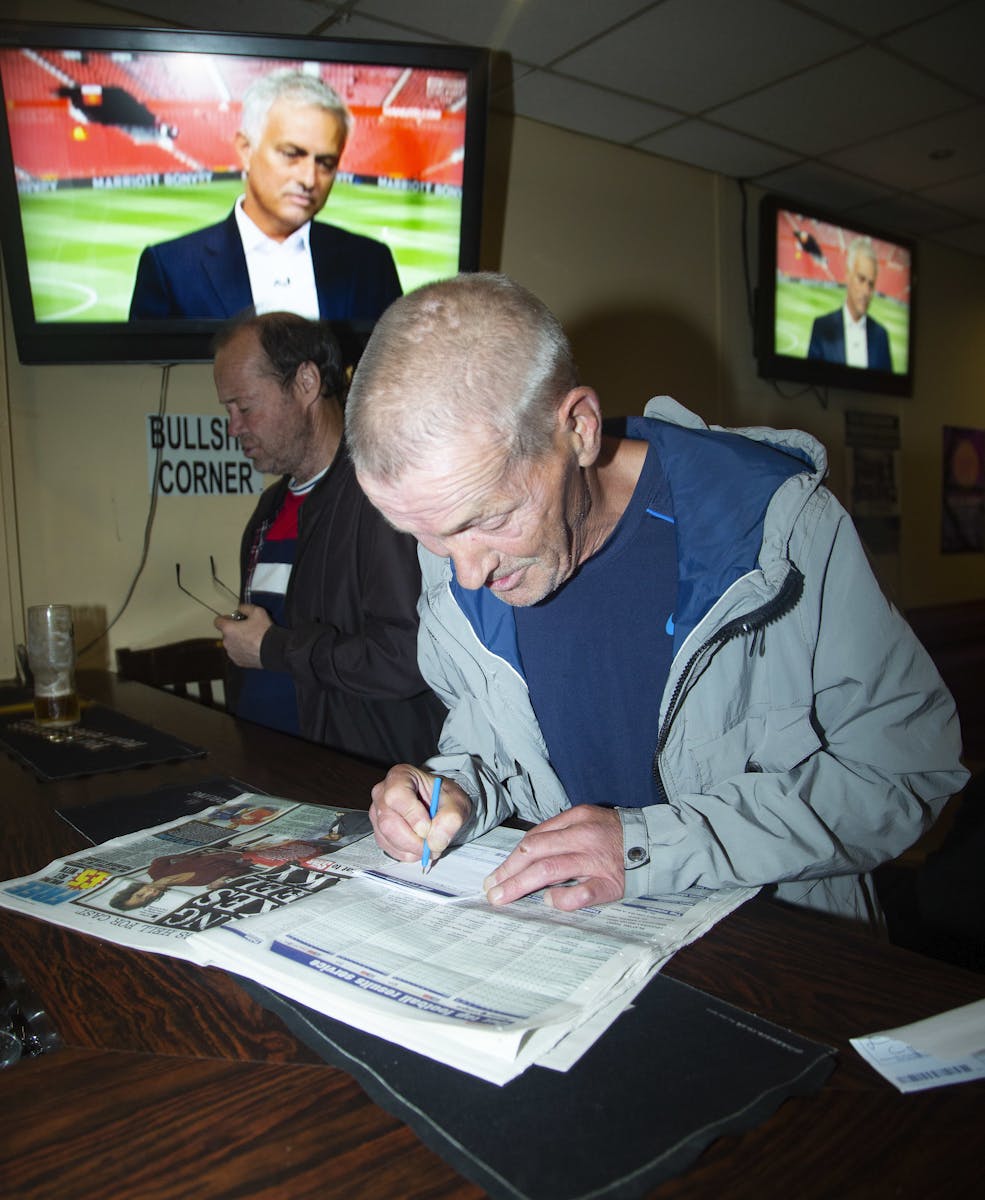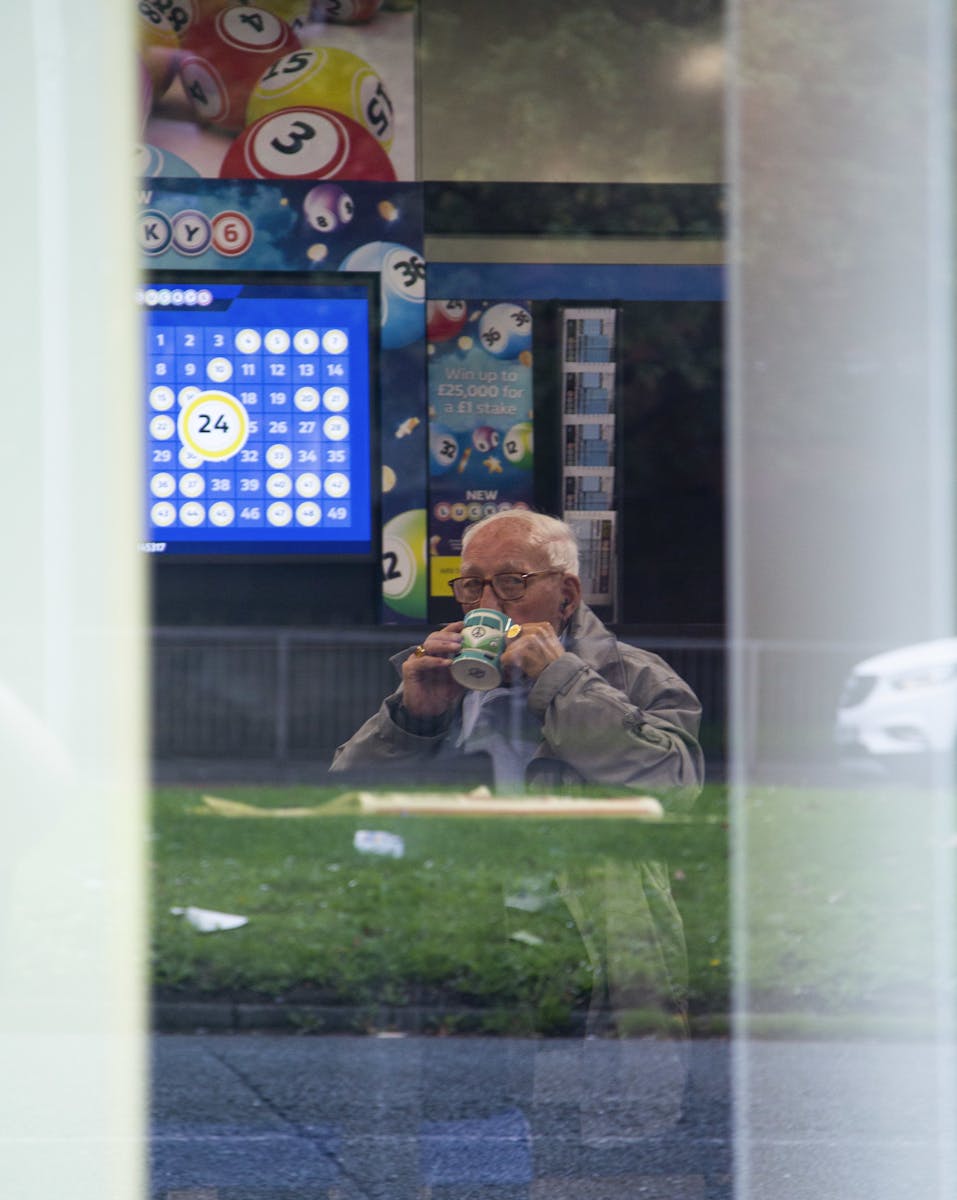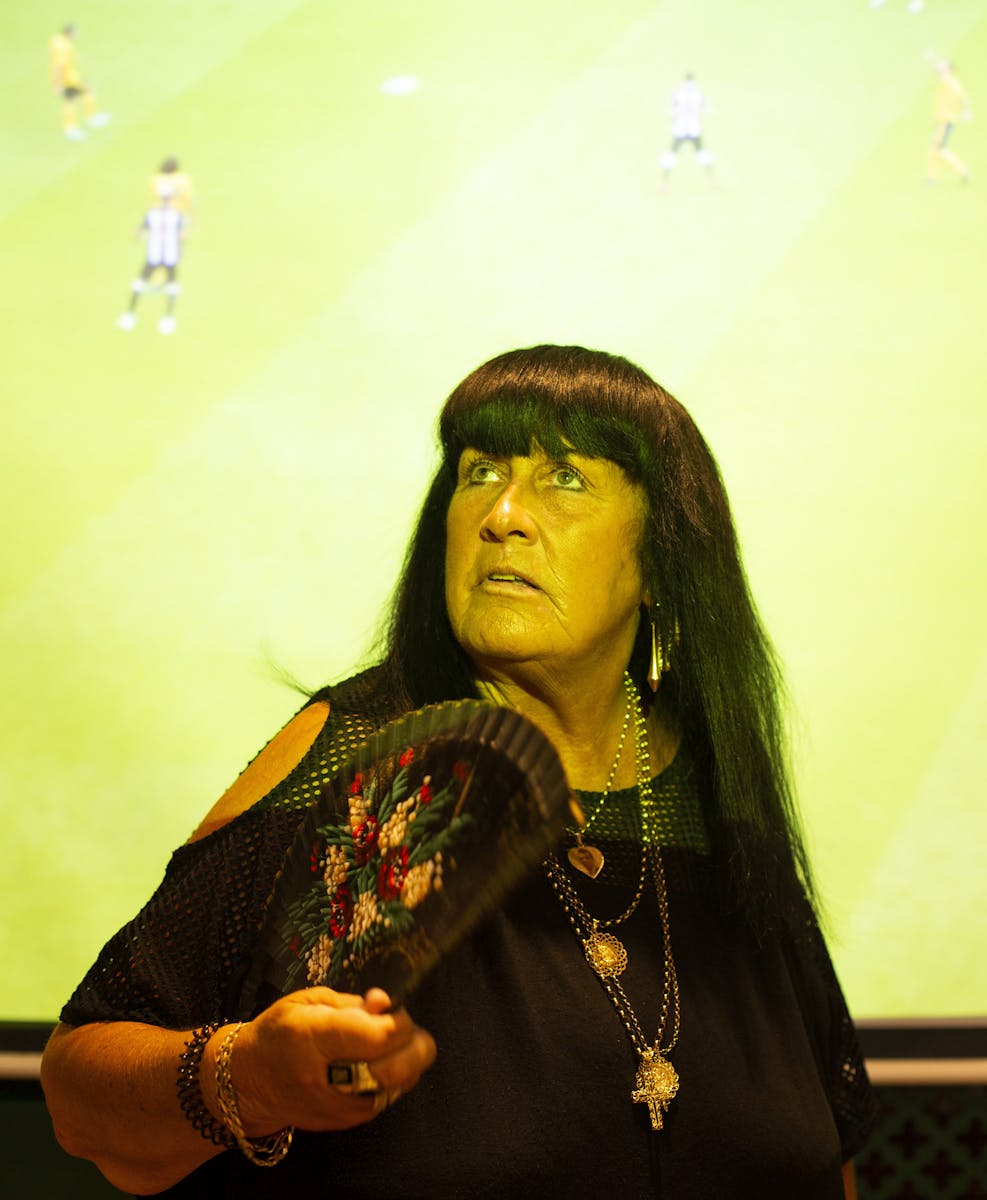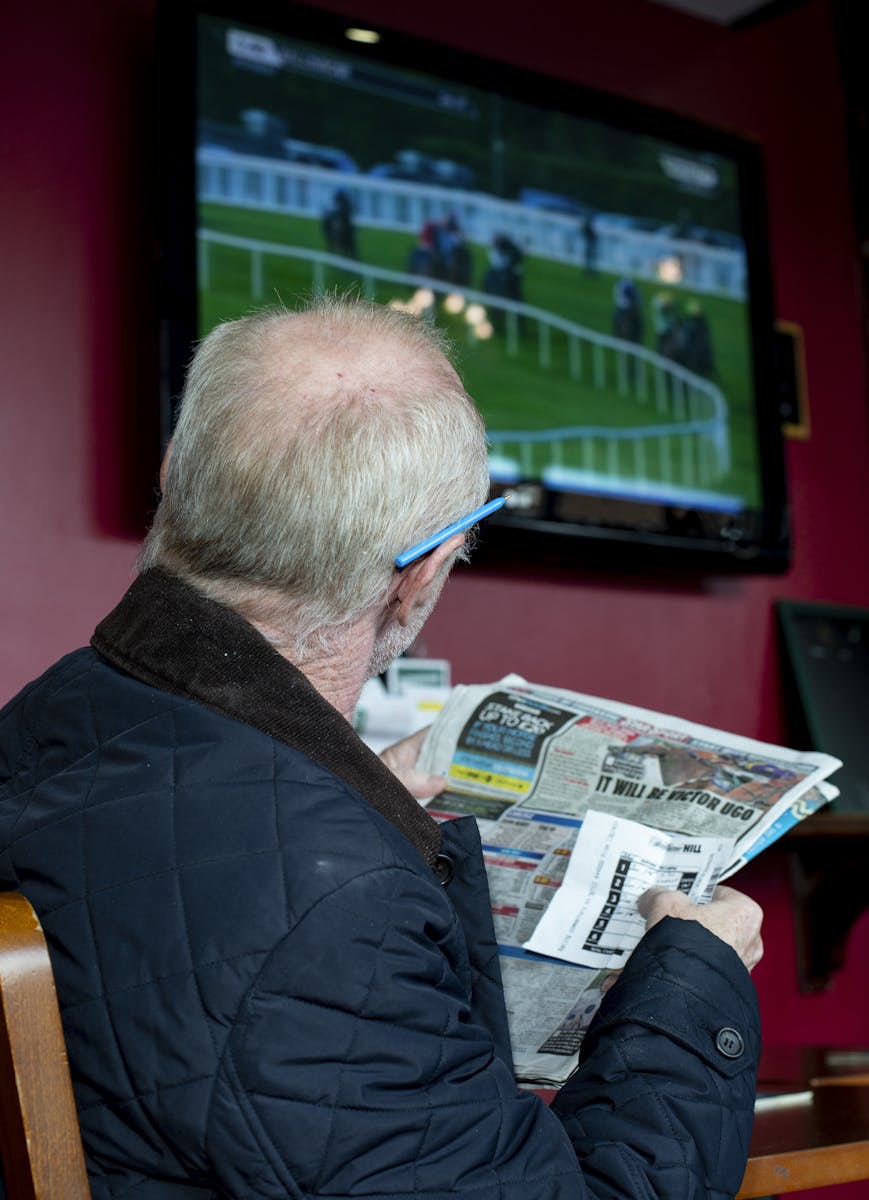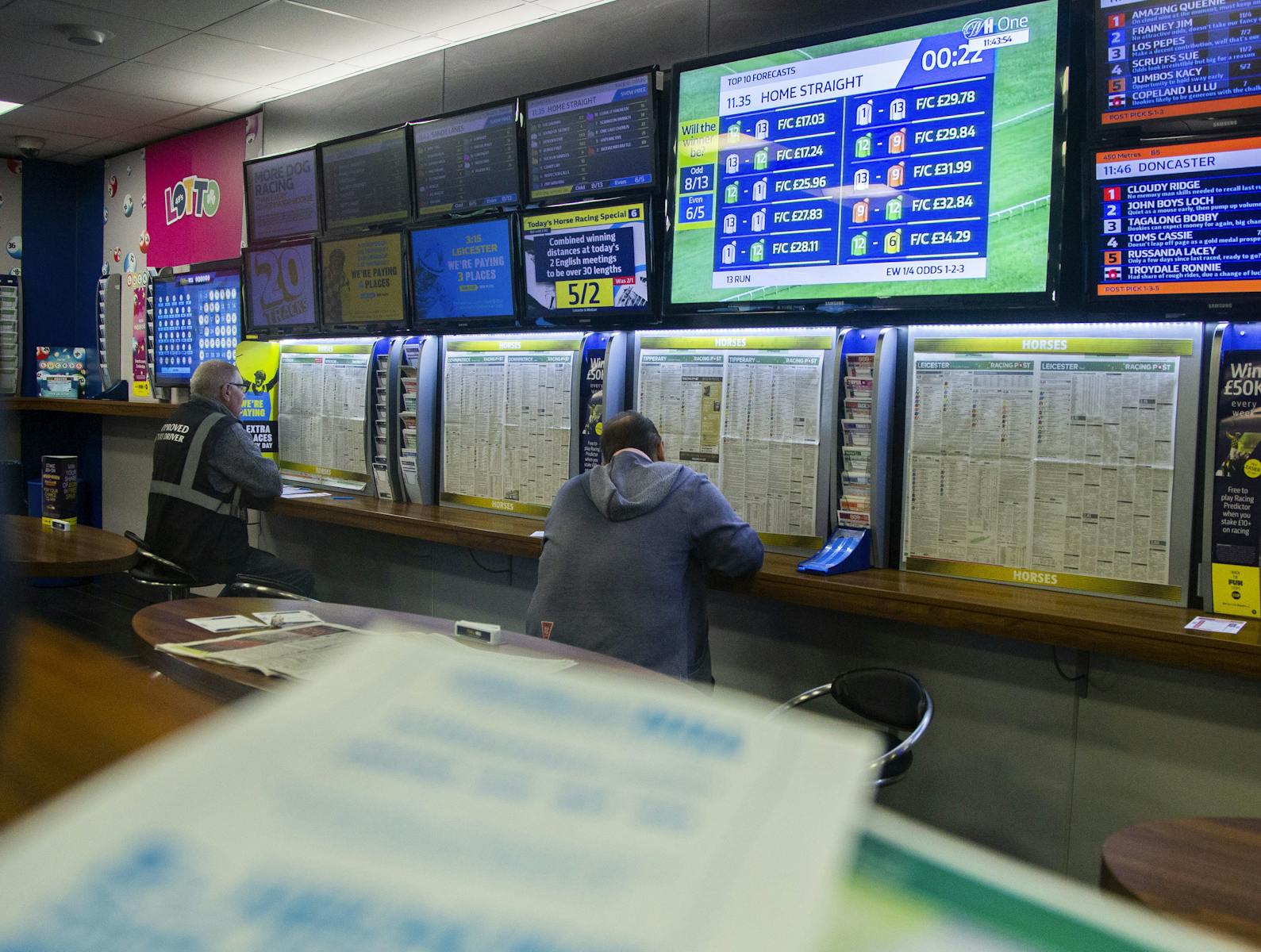 It comes as the scale of prob­lem gam­bling in the UK is just being recog­nised: sta­tis­tics from indus­try reg­u­la­tor the Gam­bling Com­mis­sion show more than 2 mil­lion peo­ple in the UK are either prob­lem gam­blers or at risk of addic­tion.

With the rise of online casi­nos, smart­phone apps, fan­ta­sy sports and a grow­ing num­ber of online games entic­ing play­ers to chance real mon­ey on vir­tu­al ​"loot box­es", tech­nol­o­gy means that young peo­ple are increas­ing­ly affect­ed too: one in sev­en aged 11 – 16 bet ​"reg­u­lar­ly" and the num­ber of chil­dren classed as hav­ing a gam­bling prob­lem is 55,000. In June, the NHS announced the UK's first spe­cial­ist gam­bling clin­ic for young peo­ple, part of a net­work of four­teen new NHS clin­ics to sup­port prob­lem gam­blers across the coun­try.

Fears of the social cost of gam­bling may be at a high, but the activ­i­ty con­tin­ues to evolve into new and unfa­mil­iar ter­ri­to­ry for leg­is­la­tors. If gam­bling is an ice­berg then FOBTs are the tip; even if they were to dis­ap­pear com­plete­ly, there's still a hell of a lot of ice.

One per­son who's been pay­ing close atten­tion to these changes is Dr Heather War­dle, a pro­fes­sor at the Lon­don School of Hygiene & Trop­i­cal Med­i­cine cur­rent­ly research­ing youth gam­bling behav­iour and its rela­tion­ship with chang­ing technology.
"Every time there's any change in the infra­struc­ture of tech and com­mu­ni­ca­tion, the gam­bling indus­try expands and you can trace that back to the 19th cen­tu­ry," she says, describ­ing how the intro­duc­tion of the telegram in the 1840s swift­ly led to the emer­gence of off-course bet­ting, paving the way for the mod­ern bet­ting shop.
"If you think about what's com­ing down the line with tech­nol­o­gy – if it's any­thing the gam­bling indus­try can take advan­tage of, it will."
For War­dle, online gam­bling – worth £5.6bn in the UK and anoth­er rea­son high street bet­ting shops are in decline – has already trans­formed the expe­ri­ence and made it even more entic­ing to at-risk players.
"It's no longer like hav­ing a book­mak­er at the end of your street," she says. ​"It's like hav­ing a book­mak­er stand­ing at the end of your bed all night say­ing: ​'Go on, do anoth­er bet.'"
She believes it's time that gam­bling was recog­nised as a pub­lic health issue. But while the last two years have seen the con­ver­sa­tion move in that direc­tion, large­ly thanks to cam­paign­ing groups like Gam­bling With Lives, led by bereaved par­ents where gam­bling has con­tributed to the deaths of their chil­dren, the indus­try con­tin­ues to flex its muscles.
When it comes to mar­ket­ing, the Gam­bling Act 2005 was the moment that the UK real­ly opened itself up to indus­try. While the leg­is­la­tion includ­ed require­ments to pro­tect chil­dren and make gam­bling social­ly respon­si­ble, it also dereg­u­lat­ed it, allow­ing casi­nos, book­mak­ers and online bet­ting sites to adver­tise on TV and radio – some­thing that had nev­er been per­mit­ted before. It saw an end to smokey, dark, win­dow­less bet­ting shops and brought gam­bling out into the open. The leg­is­la­tion, which effec­tive­ly treats gam­bling like any leisure activ­i­ty, made the UK one of the most lib­er­al gam­bling regimes in Europe. It's a big rea­son why gam­bling has become so per­va­sive today.
One area that has seen the most vis­i­ble con­se­quences of this is foot­ball. When Wayne Rooney returns from the US to play for Der­by FC in Jan­u­ary, he'll be sport­ing the num­ber 32 on the back of his shirt. It's a mar­ket­ing stunt bankrolled by the club's lead spon­sor, book­mak­er 32red. This sea­son alone, half the Pre­mier League foot­ball clubs are spon­sored by gam­bling com­pa­nies, with brands from around the world pay­ing up to £10m at a time to take advan­tage of the UK's lib­er­al laws, as well as the poten­tial reach offered by spon­sor­ing pop­u­lar teams.
But as well as going to imag­i­na­tive lengths (and pay­ing huge fees) to plas­ter their logo on kits, and hav­ing adverts shown through­out TV inter­vals dur­ing match­es, sports bet­ting com­pa­nies are offer­ing increas­ing­ly com­plex – and addic­tive – oppor­tu­ni­ties to bet on the action. Smart­phone apps in par­tic­u­lar have enabled this; rev­enue from mobile gam­ing increased from £1.2bn in 2007 to £5.5bn in 2018.
"The diver­si­ty is enor­mous and the type of bet­ting has changed," says Jim Orford, pro­fes­sor of psy­chol­o­gy at Birm­ing­ham Uni­ver­si­ty and founder of Gam­bling Watch UK.
He describes how book­mak­ers work hard to entice play­ers to make com­plex, mul­ti-bets in a quick fire way – dif­fi­cult bets to win that make the book­ies a lot of mon­ey. ​"The inplay on live action bet­ting means it's not just about whether Chelsea beat Arse­nal, or how many goals, it's when the first cor­ner appears or the chance of win­ning 2 – 1 in the sec­ond half with a cer­tain scor­er. The odds are on the move con­stant­ly through­out the game."
He adds: ​"Things have got faster, furi­ous, more acces­si­ble and poten­tial­ly more dangerous."
The Gam­bling Com­mis­sion has acknowl­edged that pub­lic opin­ion is hard­en­ing. Gam­bling adverts will no longer be able to appear on child-friend­ly online games and duties on online casi­no style games have been increased from 15 to 21 per cent.
For Eva Kara­gian­ni-Goel, chief com­mer­cial oper­a­tor at online pools bet­ting com­pa­ny Colos­sus, the indus­try could be tak­ing a much more proac­tive – and assertive – approach in the face of such a crit­i­cal media cli­mate. She feels that some types of gam­bling – such as FOBTs or online casi­no style games – are far more risky than oth­ers and reg­u­la­tion should take this into account rather than com­ing up with blan­ket policies.
"It would be a lost oppor­tu­ni­ty if we don't recast gam­bling to be the poten­tial­ly pos­i­tive enter­tain­ment option it should be in soci­ety," she says. ​"I'm hop­ing that the future of gam­bling looks like low impact enter­tain­ment peo­ple can opt for, as opposed to high impact prob­lem­at­ic gambling."
03:46am: ​"I've lost all my win­nings – and blown my entire month­ly salary. I have noth­ing in my account for the next four weeks but I have rent and bills to pay, plus pay­day loan com­pa­nies and loan sharks chas­ing me..."

Beyond the famil­iar for­mats and plat­forms, a new home for gam­bling – par­tic­u­lar­ly among young peo­ple – has emerged with­in the expan­sive new dig­i­tal realm: gaming.
One fea­ture of this is the rise of loot box­es and skins gam­bling. Loot box­es, found in games like Star­wars Bat­tle­front, Over­watch and FIFA, are in-game pur­chas­es where a play­er pays real or in-game cur­ren­cy for the chance to win a vir­tu­al item that could ben­e­fit them with­in the game. These include ​"skins", graph­ic files which can change the cos­met­ic appear­ance of a play­er, or oth­er vir­tu­al goods.
A bit like scratch­cards, you could spend a cou­ple of pounds on a loot box and get a new item, or spend hun­dreds and gain noth­ing of any worth (though you always get some­thing you can use in the game).
Since it's not pos­si­ble to cash out your win­nings, loot box­es are not cov­ered by exist­ing gam­bling leg­is­la­tion. How­ev­er, you can prof­it from loot box­es thanks to a lucra­tive online mar­ket where play­ers sell on items they've won and with an esti­mat­ed 6bn items list­ed at once, the poten­tial for finan­cial reward is very real. Researchers have found a link with loot box­es and prob­lem gam­bling and have called for it to have age restric­tions in line with gam­bling law.
For Archie Cochrane, who has inves­ti­gat­ed this area for ven­ture cap­i­tal firm Anthemis, where he is an asso­ciate, it rep­re­sents a col­li­sion of two indus­tries that fos­ter very dif­fer­ent per­cep­tions from the pub­lic. While gam­bling, par­tic­u­lar­ly sports bet­ting, is increas­ing­ly seen as prob­lem­at­ic, gam­ing is not tra­di­tion­al­ly viewed as a preda­to­ry prod­uct. Instead, it's con­sid­ered good clean fun, ​"some­thing that chil­dren do". As the gam­ing indus­try seeks to mon­e­tise its prod­ucts, the line between the two has become increas­ing­ly fuzzy.
"For a long time the gam­ing indus­try wasn't mak­ing any mon­ey – it was just sell­ing games con­soles, or games," says Cochrane. ​"But there's been a mas­sive shift in the busi­ness mod­el. Everything's online, on the cloud, you can lever­age net­works and com­mu­ni­ties online and you don't need to sell hard­ware. A lot of the cost has gone and a whole bunch of poten­tial rev­enue streams have shown up."
He adds: ​"Peo­ple in the gam­ing indus­try have looked to lever­age the learn­ings and tech­niques that exist in the gam­bling indus­try and embed them in their own prod­ucts. Sud­den­ly it looks a lot like the online gam­bling model."
Last year Juniper Research released a report pre­dict­ing loot box­es and skins gam­bling will gen­er­ate $50bn in world­wide con­sumer spend­ing by 2022, up from around $30bn in 2018. Cit­ing a report from the Gam­bling Com­mis­sion that found 11 per cent of 11 – 16-year-olds in the UK (about 500,000 chil­dren) had engaged in skins bet­ting, it ​"strong­ly rec­om­mend­ed" reg­u­la­tion of this activity.
This is a con­cern that Cochrane flags up, ​"Things that were pre­vi­ous­ly a gam­bling issue are now a gam­ing issue and gam­ing is com­plete­ly unreg­u­lat­ed," he says. ​"You have young peo­ple learn­ing how to game and being exposed to gam­bling tech­niques. Then they grow up and have the poten­tial to get involved with main­stream gam­bling. It's a gate­way drug – it's teach­ing peo­ple what's possible."
He adds: ​"The gam­ing com­pa­nies can take two paths; the first is they make a ton of mon­ey now and then get clamped down on. The oth­er is they reign them­selves in and devel­op their own safe­guards and con­trols, which is more sus­tain­able long term. Then it could essen­tial­ly become the future of gam­bling, where peo­ple gam­ble through these gam­ing environments."
So, gam­ing is turn­ing into gam­bling and tra­di­tion­al gam­bling has gone hyper­speed. As the harms begin to be recog­nised – par­tic­u­lar­ly for young peo­ple – is this the moment we see a crack­down akin to the pub­lic health cam­paigns on smoking?
Ulti­mate­ly it all depends on the pol­i­tics. Experts like War­dle and Orford believe the only way sig­nif­i­cant change will come about is if we see com­pre­hen­sive reform on a gov­ern­ment lev­el. We've seen the con­se­quences of the lib­er­al­i­sa­tion of gam­bling and now it's time for the Gam­bling Act to be rewrit­ten to bet­ter reflect the dig­i­tal landscape.
The Labour par­ty – in par­tic­u­lar Tom Wat­son – have shown sup­port for this, as well as cre­at­ing a pub­lic health based approach to gam­bling pol­i­cy, but right now, it's not in pow­er. And since Boris John­son became PM the chance of stronger reg­u­la­tion is low – he's already said he plans to scale back on finan­cial tax­es, so the chance of a levy is unlike­ly. As it has done so far, pub­lic opin­ion will con­tin­ue to be a pow­er­ful play­er in the debate.
Still, the gam­bling indus­try remains under pres­sure. ​"I don't think they could believe their luck with the 2005 Gam­bling Act," says Orford. ​"They know they've been on bor­rowed time ever since."
But when you con­sid­er the pace of mod­ern gam­bling, even bor­rowed time means bil­lions gained – and bil­lions lost.
---