Off-White™'s is providing fundamental support for marginalised communities

Designer Virgil Abloh and activist Trinice McNally have teamed up to create a Pride capsule collection featuring a T-shirt and industrial belt that commemorates 52 years since the Stonewall riots, with 100 per cent of the proceeds going to Black LGBTQIA+ Migrant Project.

Last June, designer and Off-White™ CEO Virgil Abloh had his attention grabbed by a CNN news segment. On-screen was queer activist and educator Trinice McNally, front and centre at a mobilisation event defending Black lives. Following the murders of George Floyd, Tony McDade and Breonna Taylor, McNally was marching for the rights of Black women, girls, trans and gender non-conforming people who have been subjected to police violence.
"I was talking to an anchor who was trying to push me on abolition but I was like, ​'No, it's patriarchy that's at the root of racism and white supremacy as well," says McNally. ​"We had a back and forth and the clip that Virgil saw, that's the one that went viral." It wasn't long before Abloh reached out, ​"I want to learn more about your work", he commented via Instagram.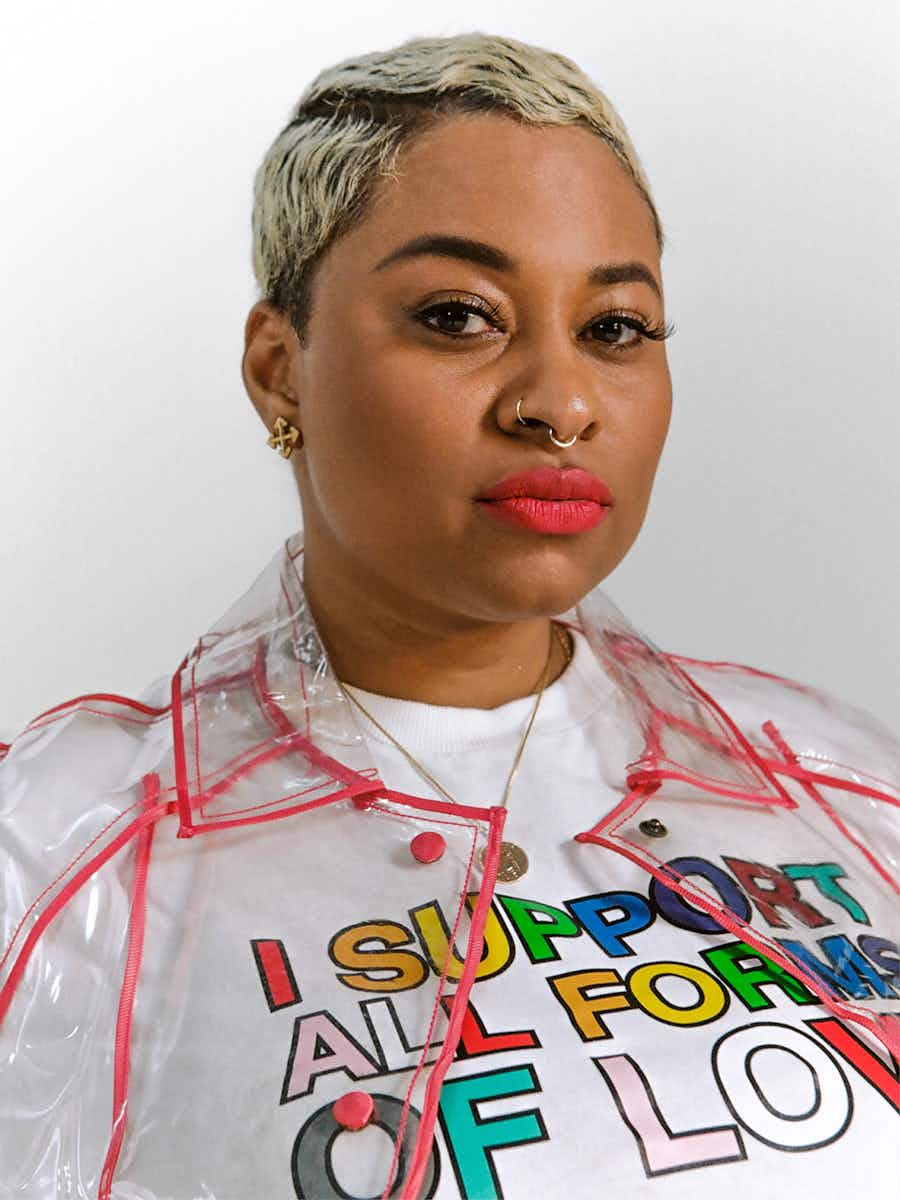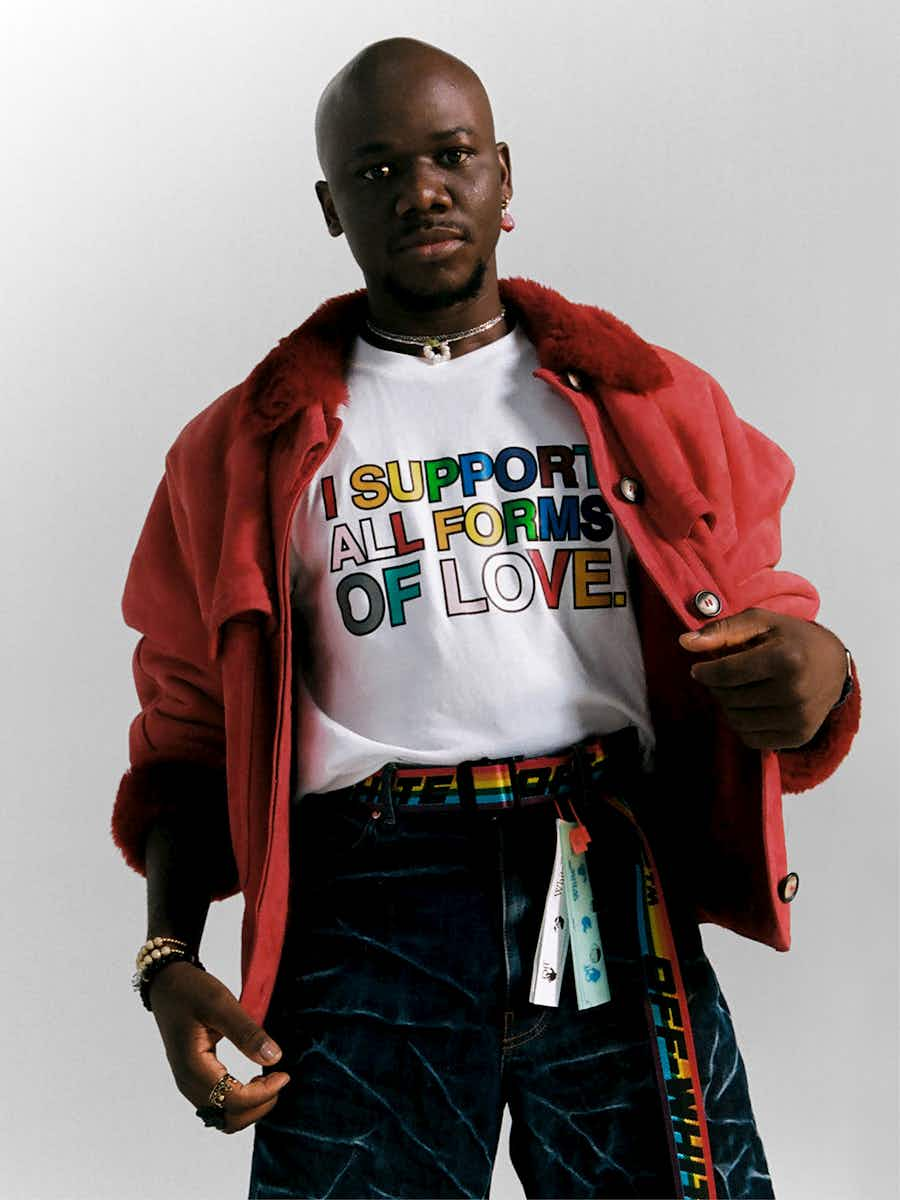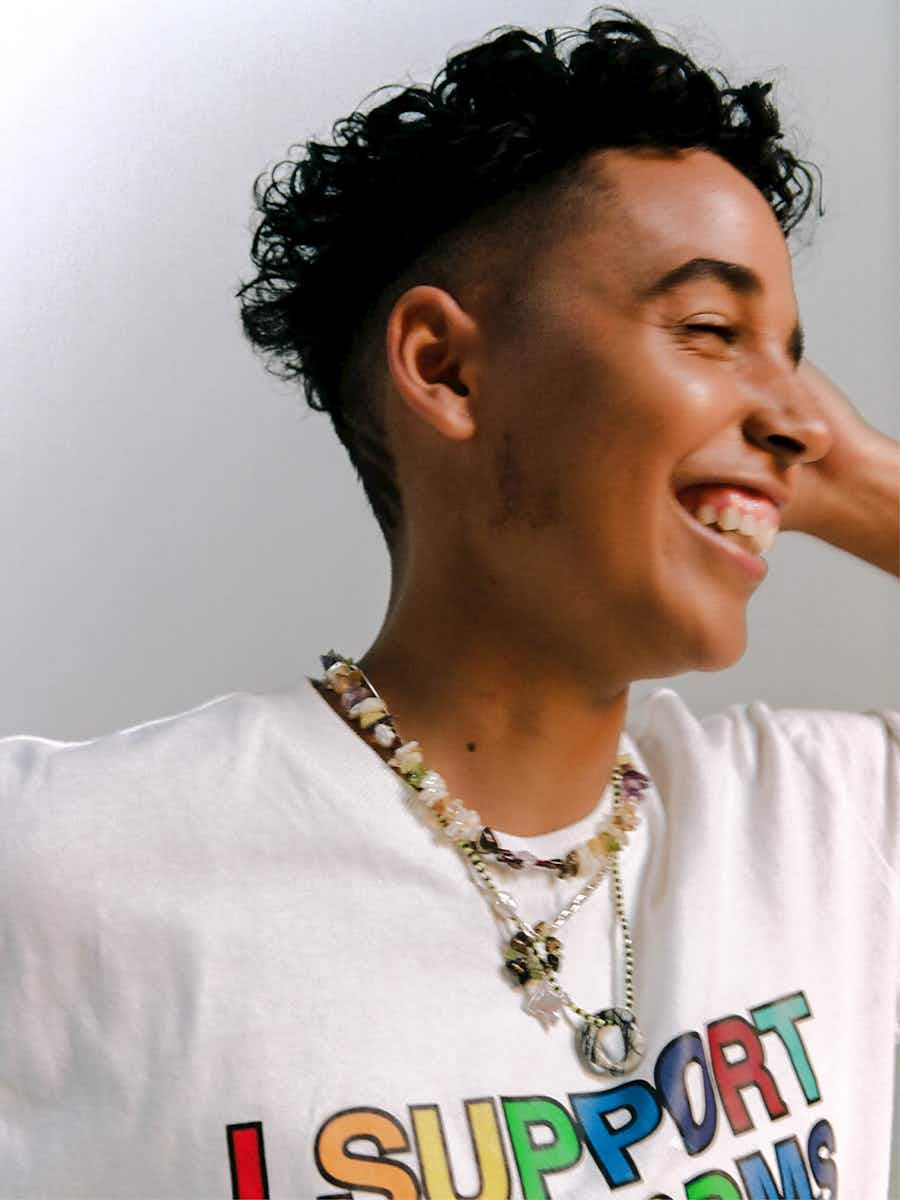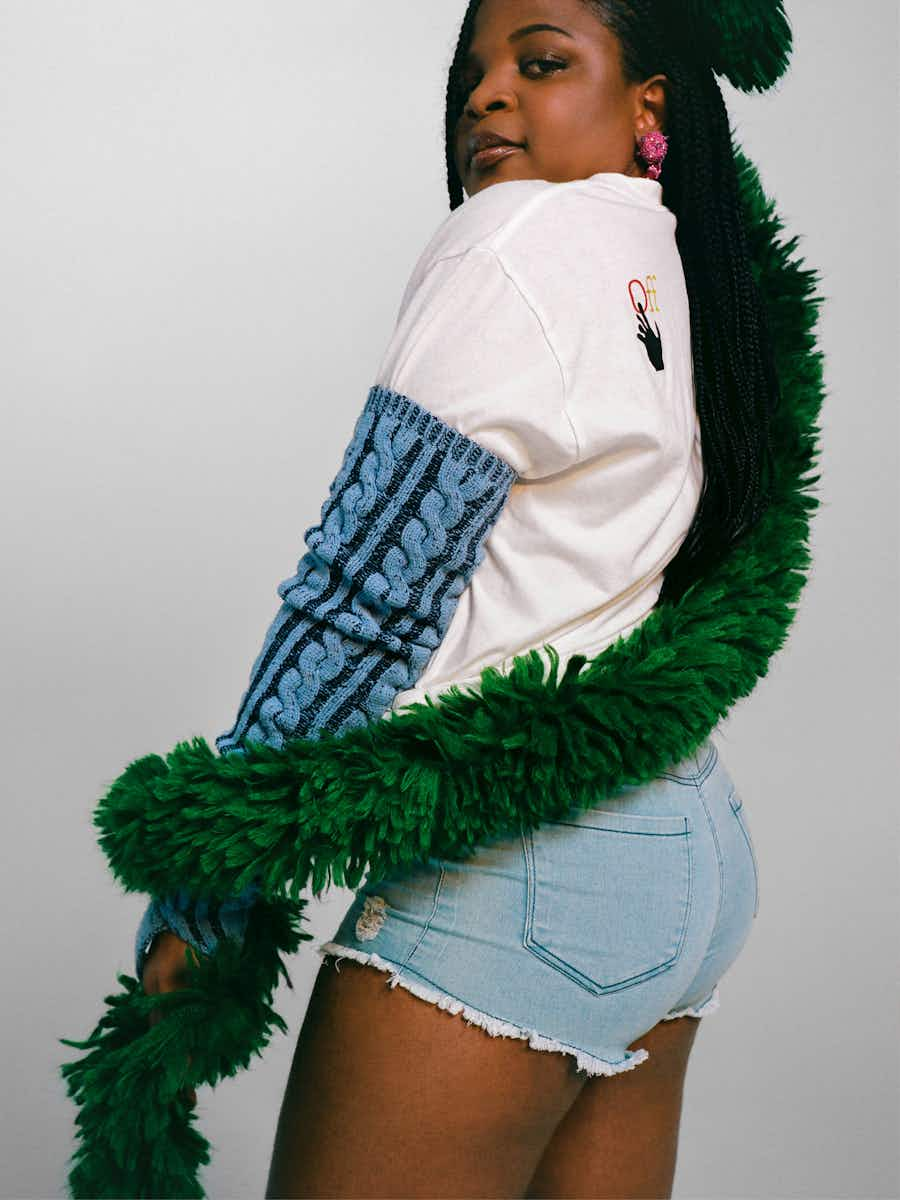 Sixteen months later, Off-White™ is launching an LGBTQ+ Pride capsule collection entitled: I Support Black Women. The project marks 52 years since the Stonewall riots and aims to amplify the work of the Black LGBTQ+ Migrant Project, one of the only queer and trans migrant-led organisations currently mobilising grassroots support for Black LGBTQIA+ migrants. The project is working towards the liberation of all Black people through community-building, political education, organising across borders and and by creating access to direct services.

The capsule collection marks the start of LGBTQIA+ history month in the US and pays tribute to the queer activists, educators, poets and creatives who've fought at the intersection of racial and gender justice. It also highlights Off-White™'s continued drive to fundraise for marginalised people. For the last three seasons, Abloh has sought to use fashion as a tool to help others and, following McNally's sound advice, this October, 100 per cent of the proceeds from this capsule will go to the LGBTQIA+ Migrant Project.
"For queer people, fashion has always been used as a [powerful] tool," says McNally. ​"It's like a safety and a way that we really get to show our gender expression. It's not just clothing." The bold logo rainbow belt and crisp white slogan tees emblazoned with the words ​"I Support All Forms of Love" encourage others to be more open-minded.
"I appreciate [Virgil's] openness and willingness to learn and centre marginalised people," continues McNally. ​"If more people who had access to power and resources would do that, we could really live in a different world."
Watch the video below, in which McNally and her fellow BLMP members Kade Cahe, Aneiry Zapata and Uchechukwu Onwa discuss the importance of visibility and the reality of life as a queer Black migrant. And following that, read a personal, and powerful, essay penned by Trinice McNally.

A letter from Trinice McNally
"At the root of discrimination against LGBTQIA+ and Non-binary people is the lack of acceptance and the refusal to grapple with the tenacity that Queer and Trans folks must have to persevere and navigate a world that has erased and diminished our brilliance, beauty and contributions.
Since the early ​'90s in the USA, LGBTQIA+ history month (taking place each October), has been designated as the month to honour the activists, creatives, artists, poets and scholars who have contributed to liberation movements. It's a time to be reflective of folks who live on the margins of race, gender, sexual orientation and sometimes class and immigration status, as well.
As popular as the Stonewall riots are, 52 years later it is more important to acknowledge that, like most revolutions, it started as an act of defence and rebellion against colonisation and state-sanctioned terror. To think that even in some places now, LGBTQIA+ people dancing, defying gender norms and setting fashion, dance and cultural trends is seen as deviant and/​or unworthy.
What is also beneath this assessment are the factors that race and class specifically played. The gay rights movement was not founded by rich, white, gay men of Fire Island. But, it was started by people like Marsha P.Johnson and Sylvia Rivera: two Black and Brown, working class Trans women. Because of their leadership and audacity, a series of demonstrations were led in direct confrontation with the police, who had been raiding and harassing LGBTQIA+ community members.
Building community at a nightclub was seen as a nuisance by the police and by homophobic and transphobic community members. People who couldn't fathom our ability and right to perform, enjoy and explore our gender expression through fashion and dance.
Much like nightclubs, such as the Stonewall Inn, fashion has always been a tool of resistance and solace for Queer and Transgender people. Ballroom provided a space for those living on the margins to access their authentic selves and saved thousands of young people's lives. It wasn't just about dancing and dressing up, but about building community and organising against oppressive systems. Still, fashion played, and continues to play, a significant role in terms of style, gender expression and resistance for LGBTQIA+ folks.
From Cristobal Balenciaga to Alexander McQueen, some of the most iconic fashion designers have been gay. While there is much truth to this, this notion could also fail to recognise the intersections that require us to go deeper when we think about creation and access.
Arguably, the relationship between Black culture and the fashion industry are tangled up in its domination of Black and Brown people from all across this globe. Yet, house-ballroom culture is largely made up of Black and Brown LGBTQIAP+ folks who have utilised fashion as a tool of resistance and expression.
Africa has contributed to the hallmark of just about everything we view as both luxury and necessity. The continent that birthed this world is yet still economically disadvantaged because of colonisation, imperialism and racism. In this same sentiment, same-sex relationships are legal in only 22 of Africa's 54 countries and can be punishable by death or lengthy prison terms in some nations. These horrific sanctions have created terrifying conditions in which it is virtually impossible for LGBTQIA+ people to thrive, much less survive.
Whether from gender-based violence, sex-trafficking and slavery, or natural disasters, migrants flee from their countries to the USA, not because they want to, but because of the paralysing fear of persecution in their homeland. This reality forces many Black LGBTQIA+ migrants to leave their country in search of freedom and autonomy here in the US.
Interestingly enough, 52 years after the Stonewall riots, Black LGBTQIA+ migrants are also met with homophobia, transphobia and xenophobia if and when they make it to American soil. As if the horrors in their own colonised homelands haven't traumatised them enough, racist immigration policies force many into detention centers and similar conditions that they bravely left.
This is why the Black LGBTQIA+ Migrant project is so critical. BLMP is the only Queer and Trans migrant led organisation that is building power for Black LGBTQIA+ migrants to ensure the liberation of all Black people through community-building, political education, creating access to direct services, and organising across borders. Their global analysis has pushed the larger movement to interrogate their approach and commitment to the liberation of oppressed people. From leading campaigns that have led to the freeing of Zsa Zsa, a Black Jamaican Transgender woman who had been detained for close to ten years after fleeing the violence she encountered in Jamaica, to amplifying the targeted brutal attacks on LGBTQIA+ refugees on Kakuma Block 13 in Kenya. They are on the front lines of this mission, through lived experience and collective commitment to envisioning a world where no one is forced to give up their homeland. A world where all Black LGBTQIA+ people are free and liberated.
Still in 2021, some are still fighting to survive and thrive. The ​"I Support All Forms of Love" Pride capsule collection is a demonstration of commitment, from Off-White™ c/​o Virgil Abloh and myself, to creating societal change through fashion, arts and culture. In honour of LGBTQIA+ History Month, the Pride capsule will feature special edition merchandise to raise awareness about LGBTQIA+ history, uplift diverse Black LGBTQIA+-identified activists contributing to social change and raise funds to support the Black LGBTQIA+ Migrant Project. We are committed to seeing a world where a statement like ​"I Support All Forms of Love" is a transformative, and dominant frame of thinking, one where LGBTQIA+ people of all races and genders across the globe are centred, supported and affirmed."
– Trinice McNally

VISIT IN-STORE
Off-White™ EM PTY Gallery
51 Mercer St, New York, NY 10013

Off-White™ Las Vegas
3121 S Las Vegas Blvd, Las Vegas, NV 89109

Off-White™ Miami
127 NE 41st St, Miami, FL 33137