The ultra-modern menswear of Aaron Esh

We caught up with the designer on his SS23 collection, the modern man, and how he wants his frilly bomber jackets to be worn to Arsenal games, the pub and beyond.
Back in early 2021, when we gathered a group of the most exciting emerging designers coming out of the UK for our sixth issue, there was one person who sort of stood for everything THE FACE does. At the time, Aaron Esh, who graduated from a BA in Fashion Design at London College of Fashion in 2019, was in his second year of Central Saint Martins' MA Menswear course.

Stood unassumingly in the photo studio, fairly shy, wearing an oversized Telfar hoodie and with acid green hair, Esh's graduate collection was ​"a commentary on inner-city living". From his perspective as a young man growing up in East London, near Islington's Essex Road, the Arsenal supporter's tailored, sliced trousers, undone buttons on jeans and purposefully-broken boots sought to reflect on the daily grind of modern life: paying rent, communal living, getting dumped, hangxiety and surviving in a city that, in a moment, could swallow you whole. The dishevelment was the perfect embodiment of young people living in the age of austerity.

Since then, he's been on a turbo-fuelled upward trajectory, joining the likes of Bianca Saunders, Saul Nash and Stefan Cooke in redefining British menswear for the modern man. In-keeping with the open conversations of the past few years, the runways have been subtly political, playful at times with winks to sexual liberation. As the doors opened for men to become more vocal about their feelings, so too have the collections created by young British designers.

"When you start a fashion brand, you sort of build the world around your work," Esh says. ​"The thing that's most engaging is authenticity, right? It's not about me particularly, but rather speaking about my people and community, and the visual identities of the people that live in my city around me. That is most important to me."

Having officially established his namesake label in late 2021, just after graduating from CSM, the designer has chipped away at whatever ​"Aaron Esh" stands for.

Right now, it still retains the hangover of his first graduate collection. But these days, it's refined. While it was a can of Stella at the regrettable afters in 2019, two years later it's a decent red wine at the pub. But not the pretentious posh stuff – Esh still maintains the attitude of his initial references. Now, the raw realism bleeds into precise tailoring and a balancing of masculine and feminine cuts, nuanced in their retelling of manhood.

For his most recent collection – a continuation of last year's graduate collection that was bought by SSENSE – Esh watched ​"a lot of Alain Delon films." The French sex symbol was known for acclaimed roles in Purple Noon and Le Cercle Rouge in the 1960s and ​'70s.

​"There was this whole romantic film movement around that time, and it was about finding something in terms of mood and energy that we could reference," Esh says. But not just aesthetically. For the designer, it was about embodying the attitude of the smooth-talking romantic. He read through hand-written letters Delon wrote to his then-girlfriend Romy Schneider, digging into his character and applying it to the fabrications of Aaron Esh SS23.

"It was about finding what made this alluring man, then differentiating that with this modern East London boy in Hackney, Dalston or whatever," Esh says.

Where Esh's previous collection was a subversive spin on tailoring with pointed lapels, double darted shirts and slouchy cord trousers in lilac, this collection introduces athletic elements, namely in its technical use of nylon: a poplin-mix shirt, zip-up vest and nylon satin-mix jacket all produced at an Italian mill. And amongst the wide, double-pleat cotton trousers and a slick, off-white suit, the influences are reminiscent of ultra-modern ​'90s Prada and Helmut Lang – and the boys who'd wear it. Aaron Esh's man feels as at home in the inner-city pub as he is at a fancy fashion party, where he's likely to have sunk a few too many free bevs.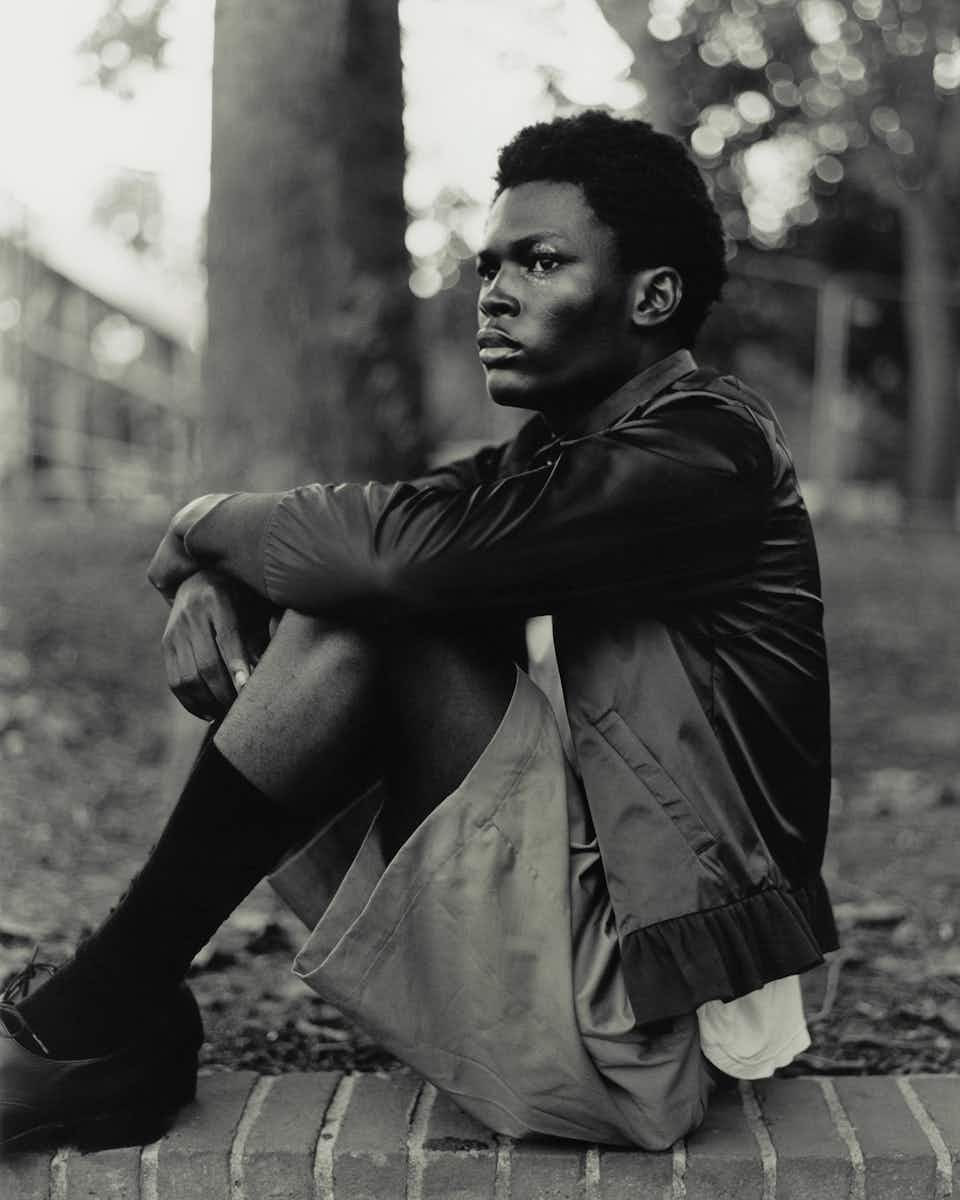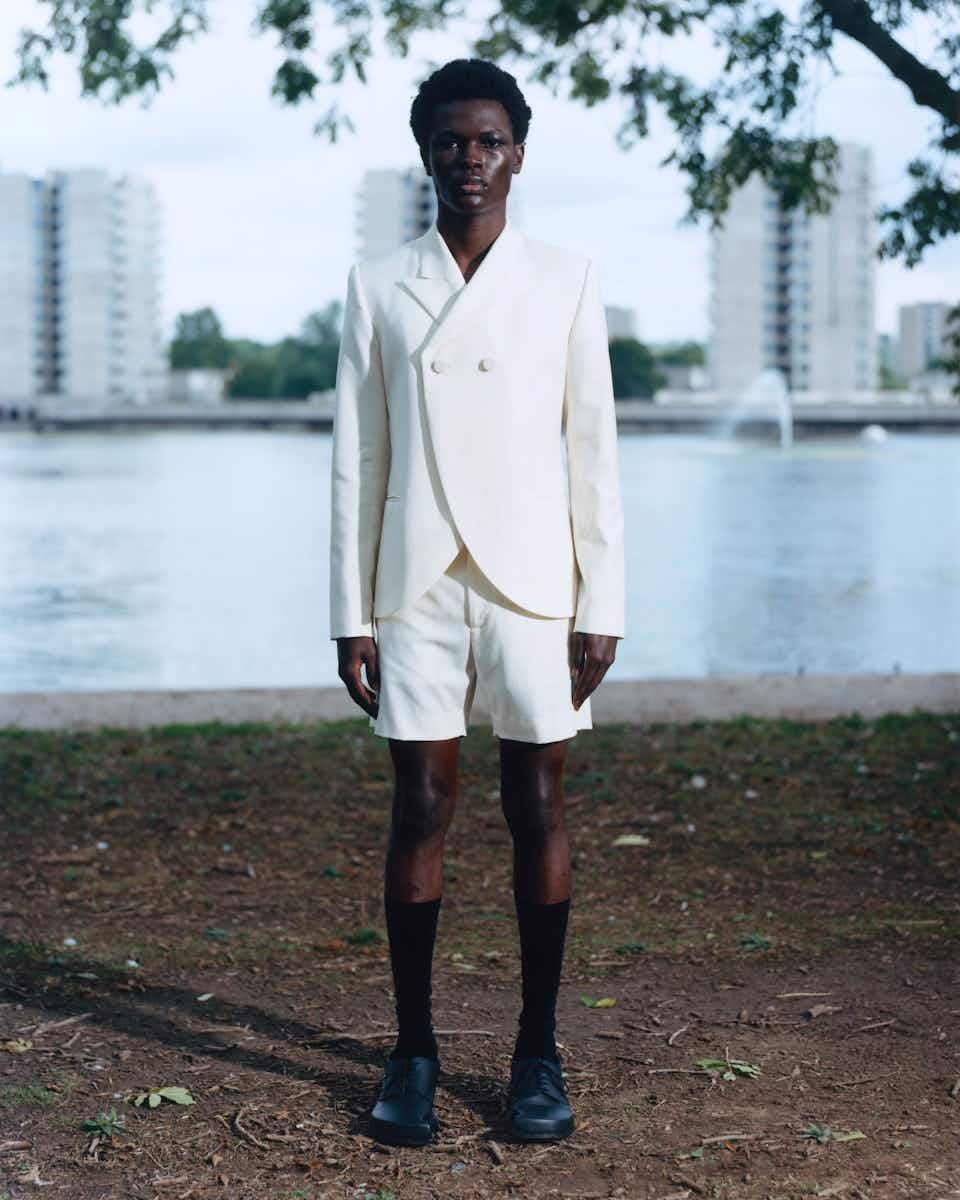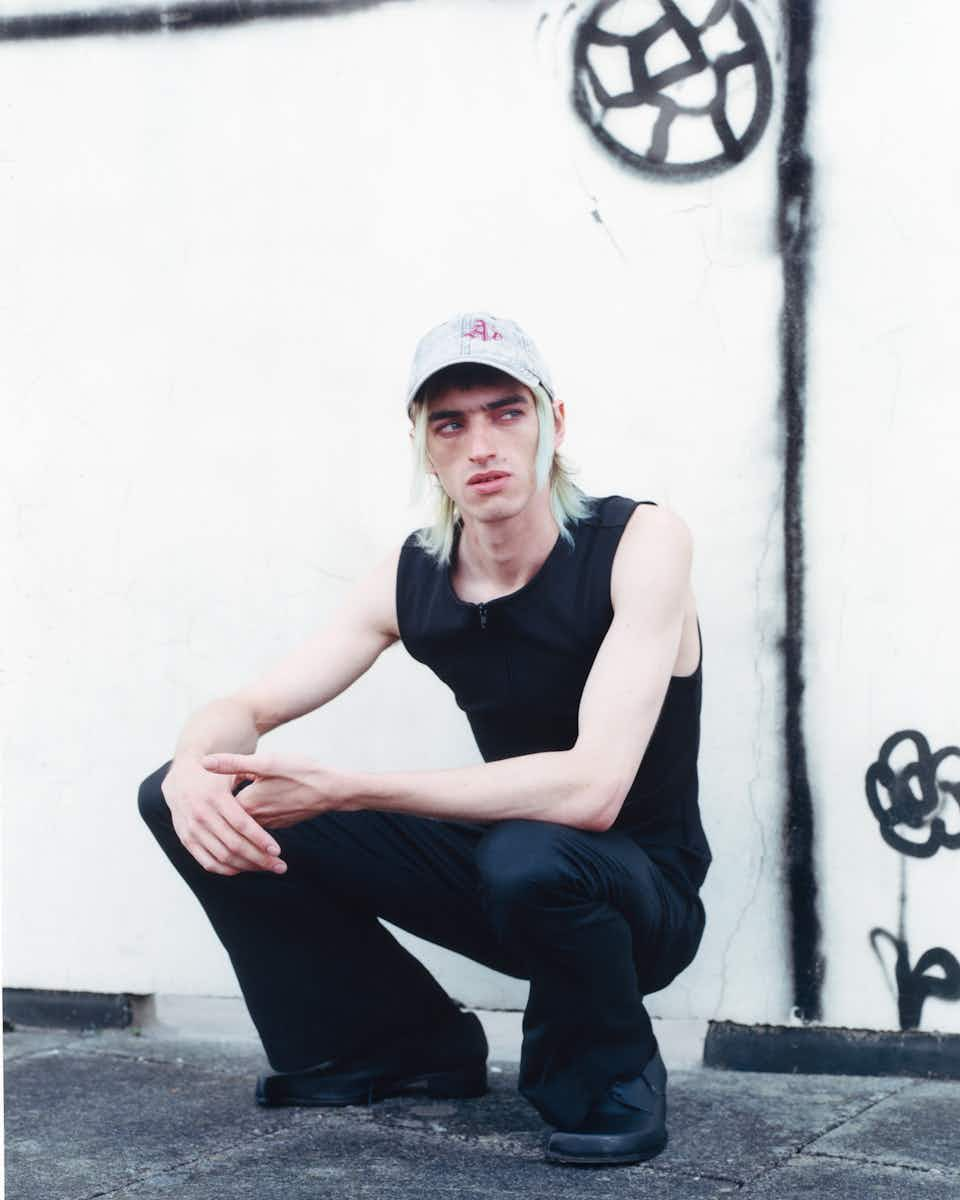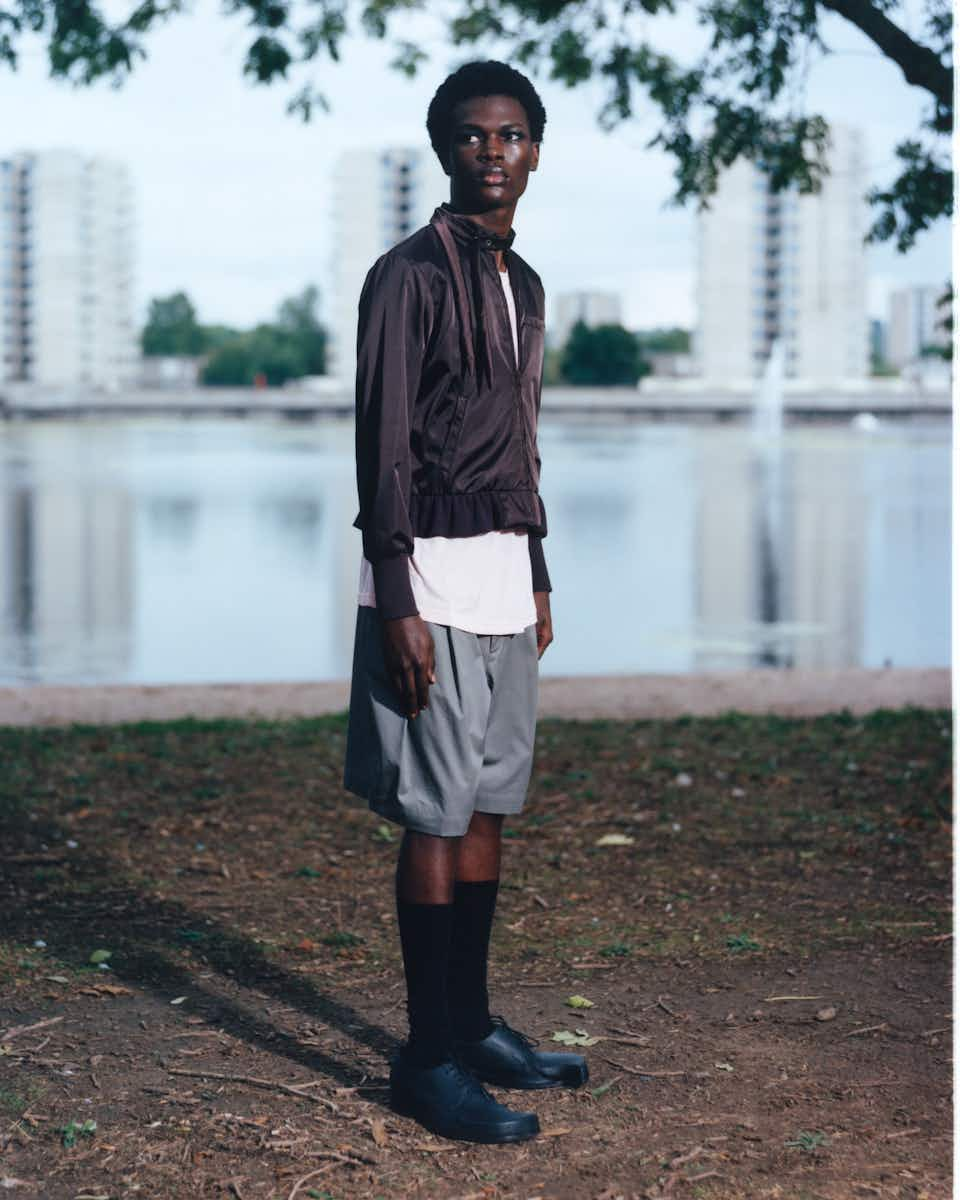 "It's not so much about being fucked up at a party, but also… being fucked up at a party," he says. ​"I think London has a very specific nightlife and social dynamic that we are a part of. The clothes that people wear at an after party or to a club or on a date are very specific, and the way we wear it is very specific. That's what I find most interesting, those style codes of London."

The collection is accompanied by a lookbook shot at the Thamesmead Estate, the backdrop of 1971's dystopian classic, A Clockwork Orange. A proper team effort, most of the people he's worked with have been collaborators from the beginning: Jack Collins on styling, Ana Takahashi on make-up, John Allan on hair, Najia Li Saad on casting. There's an old school style to the way Esh works, bringing his mates together, huddling in a car and pressing on the pedal. ​"Everyone's within our social circle, and it's not like I have to overly explain anything to anyone," he says. ​"They all just get it, and it feels natural."

New to the team this season, though, was art director Jamie Reid – who has worked with Martine Rose, Chopova Lowena and Kiko Kostadinov – as well as photographer Chris Lensz. When Reid and Esh met for the first time, they spent about an hour chatting about Arsenal. As for Lensz, the designer had been playing XBox with him for some time, and asked him if he'd like to shoot the lookbook mid-game. ​"It's like a community," Esh says. ​"We were all there to do our work, obviously, but for the same common goal."

There's a nuanced, sociopolitical undercurrent throughout Esh's work. As conversations around masculinity have reached fever-pitch over the past few years, the designer has responded through his collections – even if he hates cliche phrases like ​"redefining masculinity". The ultimate goal is to have ordinary men wear his designs – whether it's the bomber jacket with frill detailing, the halter-waistcoat, the trousers with an attached overlay skirt or neck ruffle – to traditionally masculine spaces like the pub or football terraces.

"There's a lot of stuff about masculinity that's often negative," Esh says. ​"For us, it's about having that conversation, but keeping it authentic."

And there he is: the Aaron Esh man is caring, romantic and beautiful. But he can still handle himself in a fight if he had to.

Photography: Chris Lensz, Art direction: Jamie Reid, Styling and consultant: Jack Collins, Make up: Ana Takahashi, Hair: John Allan, Casting: Najia Li Saad, Production: TIAGI, Producer: Mica Kossakowska at TIAGI, Runner: Gabriela Solomacha, Photo assistant: Finn Waring, Styling assistant: Yuriko Takiguchi, Make up assistant: Chloe Palmer, Hair assistant: Harriet Beidleman, Studio: Lulu Bullock, Kai Ghattaura, Special thanks: Fiona Hartley, Emmanuel O'Brien.

More like this