The superstar crews changing the game
To celebrate 50 years of their iconic Superstar shoe, adidas spotlights seven collectives that are pushing change forward.
During its 50-year history, the adidas Superstar has become synonymous with change, kitting out legendary trailblazers from the worlds of style, music and sport. From the formidable hip-hop trio Run-DMC, who loved the sneaker so much they namechecked it in their track My Adidas, to pop hitmaker Pharrell Williams, whose slick iterations top teen wishlists across the globe, the shelltoe is the go-to silhouette for cultural frontliners.
To honour the shoe's boundary-pushing heritage, adidas has tapped seven tribes that share its game-changing attitude. Shot by Berlin-based photographer Alex De Brabant, the black and white portraits introduce seven collectives who are positively impacting their community. Redefining the term ​"Superstar" for a new decade, these collectives place emphasis on working as well-oiled teams who create new opportunities for the people around them.
From a counselling collective giving girls the tools to talk about their mental health, to a French football club formed to take a stand against homophobia, meet the next generation game changers.
Souvenir Official, Berlin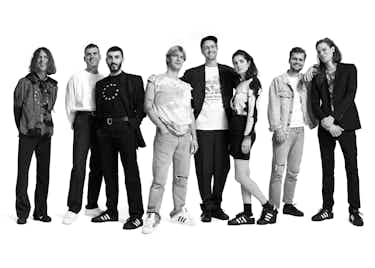 Founded by Karin Oender and David Mallon, Souvenir Official is a Berlin-based fashion label that champions self-dubbed ​"opinion-wear". Think: graphic tees featuring a broken European Union flag design and ​"WELOVEU" slogans worn by the likes of Virgil Abloh, Dev Hynes and Adwoa Aboah.
Known for their regular collaboration with local artists, the brand is a platform for creatives and activists alike. A nod to their belief that, ​"the world is filled with young Superstars who are shining bright for a cause".

As the driving force behind the first events platform to invite Stormzy and Post Malone to perform in Berlin, Einhundert co-founders Nicolas Adomako and Flo Hettenbach are seriously big hitters in the club scene.
But to them, ​"a Superstar is anyone that puts their heart and soul into whatever they are doing, not only for themselves, but for others around them as well". They don't let their popularity prevent them from reinventing themselves, and instead, constantly move past outdated definitions, labels and genres to create a forum to bring people together.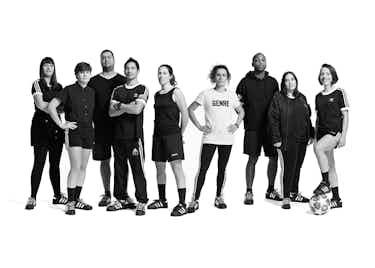 For FC Paris Arc En Ciel ​"a team is made of different people who aim together at the same thing". United by their joint love of football, the club's 130 members are making a stand against homophobia. Founded in 1997, it's the first French football association to do so, and is open to anyone that shares their belief in tolerance.
"Through the same passion we fight against discrimination and for equal rights for the LGBT community, between women and men," the squad say. ​"That is the Superstar future."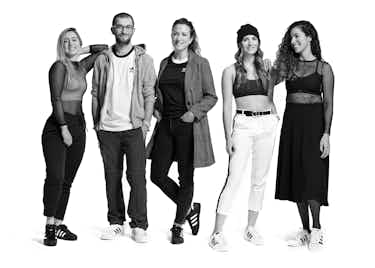 "True Superstars are people who act with passion, courage and determination in support of the wellbeing of individuals,society, or the planet," says Shapin', the online sports platform that strives to make sports accessible to all.
Started by Justine Renaudet, a former Ex-PR & Com Manager, the website offers live online classes in yoga and pilates, which allows those in small towns or without the means to pay for gym subscriptions the opportunity to exercise.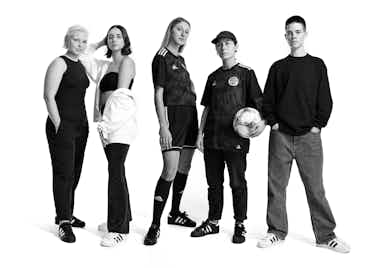 Born out of the inspiring Wonderkid, a short film that depicts the struggles of a gay professional footballer, Wonderkid FC is a Hackney-based LGBTQ+ inclusive women's footie team.
"We value passion for the game and creativity, and combine the two to help create an inclusive, safe and exciting place for all Superstars, no matter how you identify," say the squad, who work tirelessly nationwide to improve the game for minorities.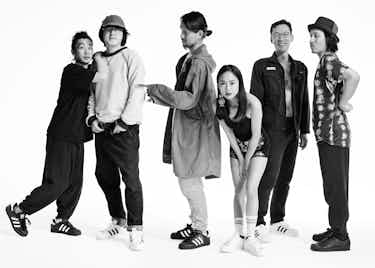 First gaining attention with a 2006 installation of taxidermied rats found on the streets of the Shibuya district, Chim Pom are a Tokyo-based artist group that use their work to comment on contemporary society. They regularly explore themes such as the life and death of animals and wider taboos in cities such as border control in America.
Established in 2005, the six group members are seasoned pros. Proud of a unflagging work ethic that motivates and inspires one another: ​"As long as the team members stay active and hard-working the crew continues to live because we are each others' motivation," they say. ​"This is why we believe one can achieve more through team work rather than doing it all alone."


Community-driven online group Sad Girls Club is breaking down mental health stigma one Instagram post at a time. Founded by Elyse Fox, a New York-based filmmaker, the forum invites millennial and Generation Z women of colour to ​"create a better future for the youth" by igniting important conversations both on and offline. For them, this is what makes a future Superstar.