Ahluwalia x Mulberry looks to Black liberation and joy for SS22

...and introduces womenswear for the first time, while taking the gong for the BFC/GQ Designer Menswear Fund this year, announced today.

For Priya Ahluwalia of namesake menswear label Ahluwalia, stepping into womenswear was a no-brainer. ​"I've always wanted to do womenswear," she says, ​"but when you start a brand, you only have so many hours in the day and only so much resource to do something new."
Having been designing irresistible menswear over the past few years – clothes men actually want to wear – the designer's collaboration with Ganni felt like the ​"perfect time" to introduce Ahluwalia womenswear, thanks to a whole new audience she had reached. But how did she find the transition?
"Honestly, it came naturally," she says. ​"While designing, I was thinking: what would I want to wear on a date, or to the club, or a meeting. I was really self-invested, putting myself and my friends into situations." It was also about making the clothes her and her friends have wanted for years, but can't find. ​"I was thinking about that, as well," she adds.
Each of Ahluwalia's past collections have been a sensitive exploration into her Nigerian-Indian heritage, but this season, Parts of Me, seems her most personal yet. Her research started with Black and Brown hair, and the beauty and complexities that presented while growing up. ​"I've had such a hair journey like so many Black and mixed-raced people have," she says. ​"As I've gotten older, I've become much more confident in my hair and where I'm from."

With that confidence came a collection of research into hair, like salon posters from the ​'60s with models sporting afros, or portraits of men and women with sculptured, braided hair. But the designer was also keen to present Black joy, a result of the traumatic events of the past year. ​"There has been a lot of conversation around Black trauma," she says. ​"I wanted to do something important and to spark conversation, but there can be joy in doing that, as well – Black hair is so joyful."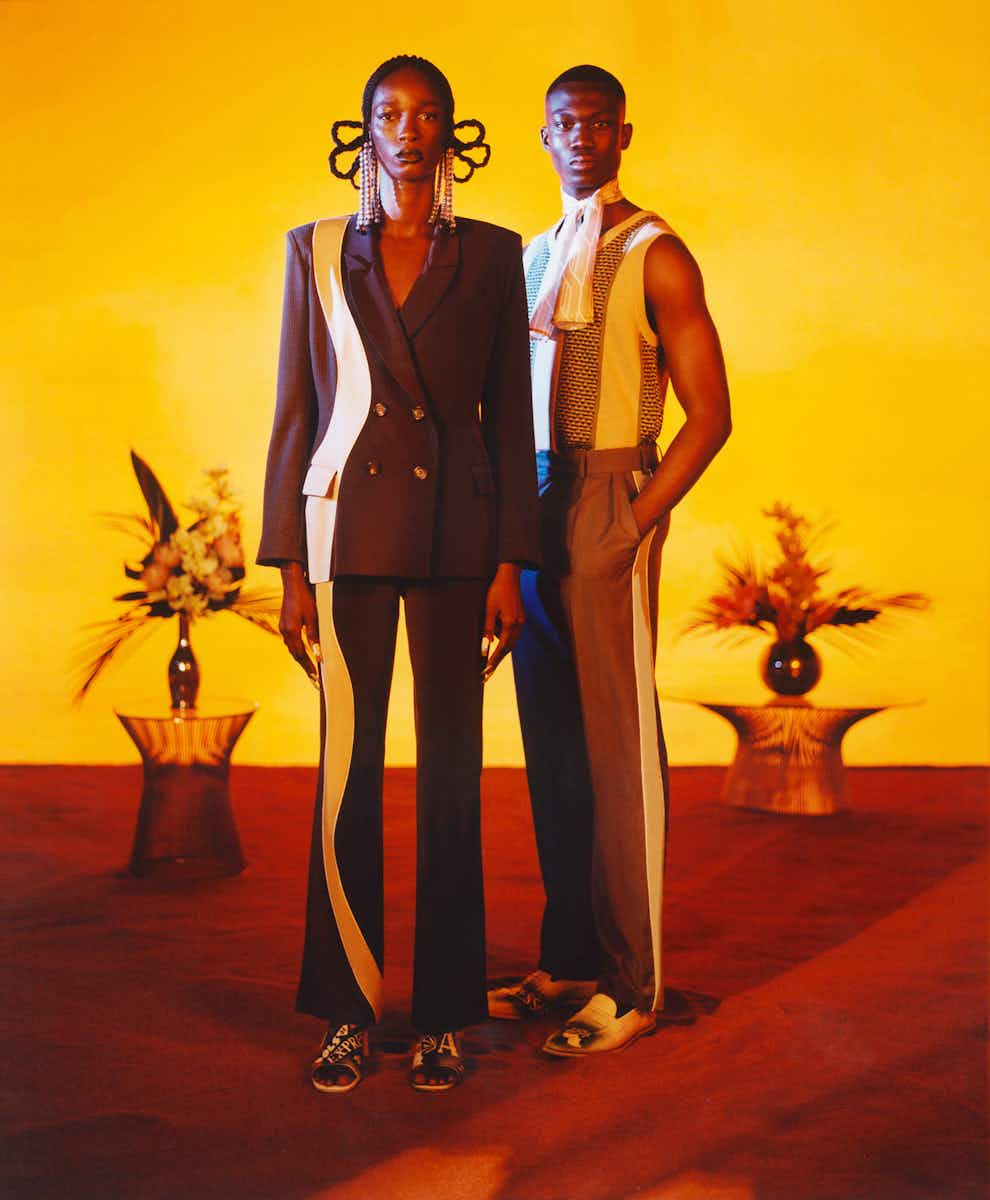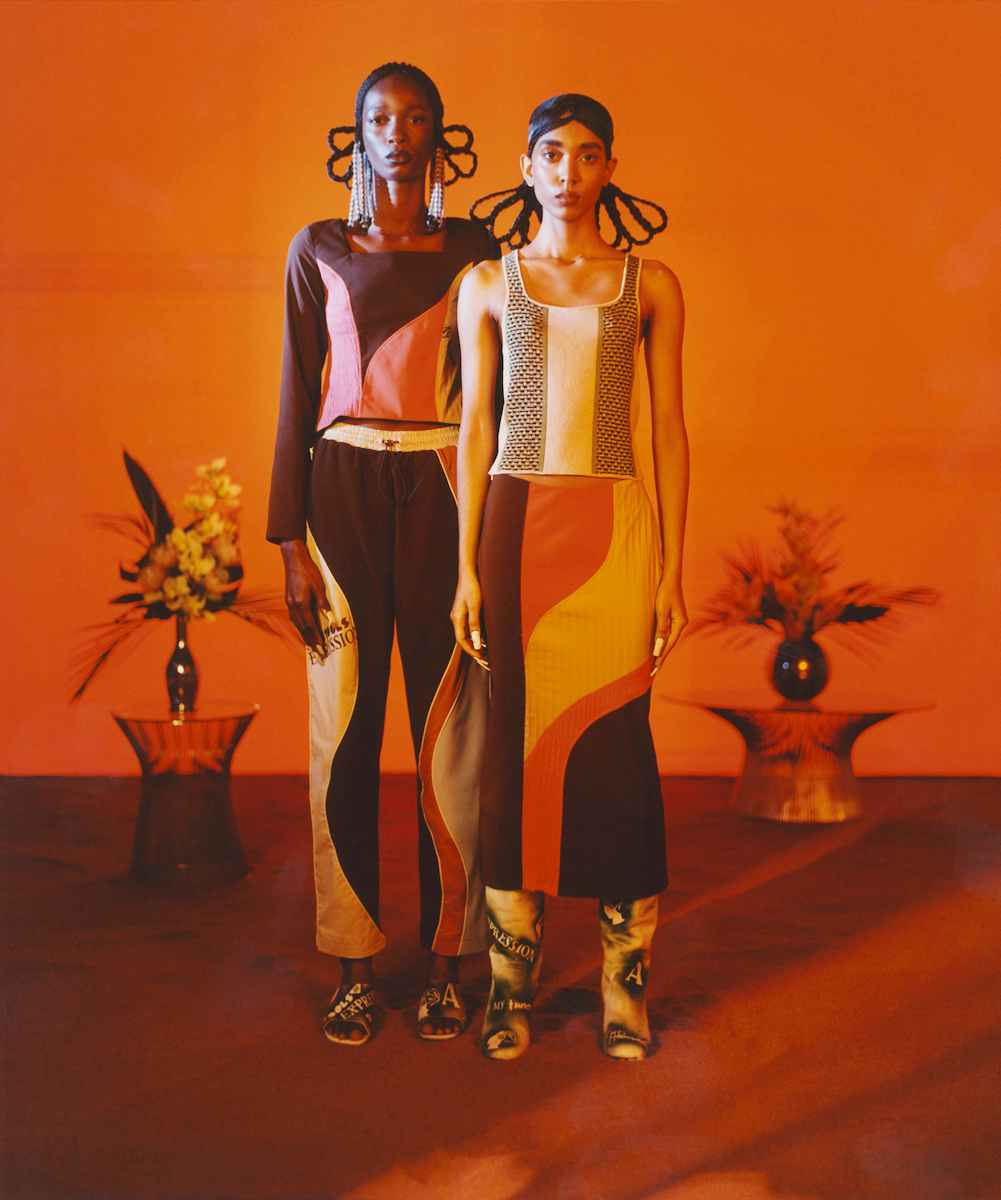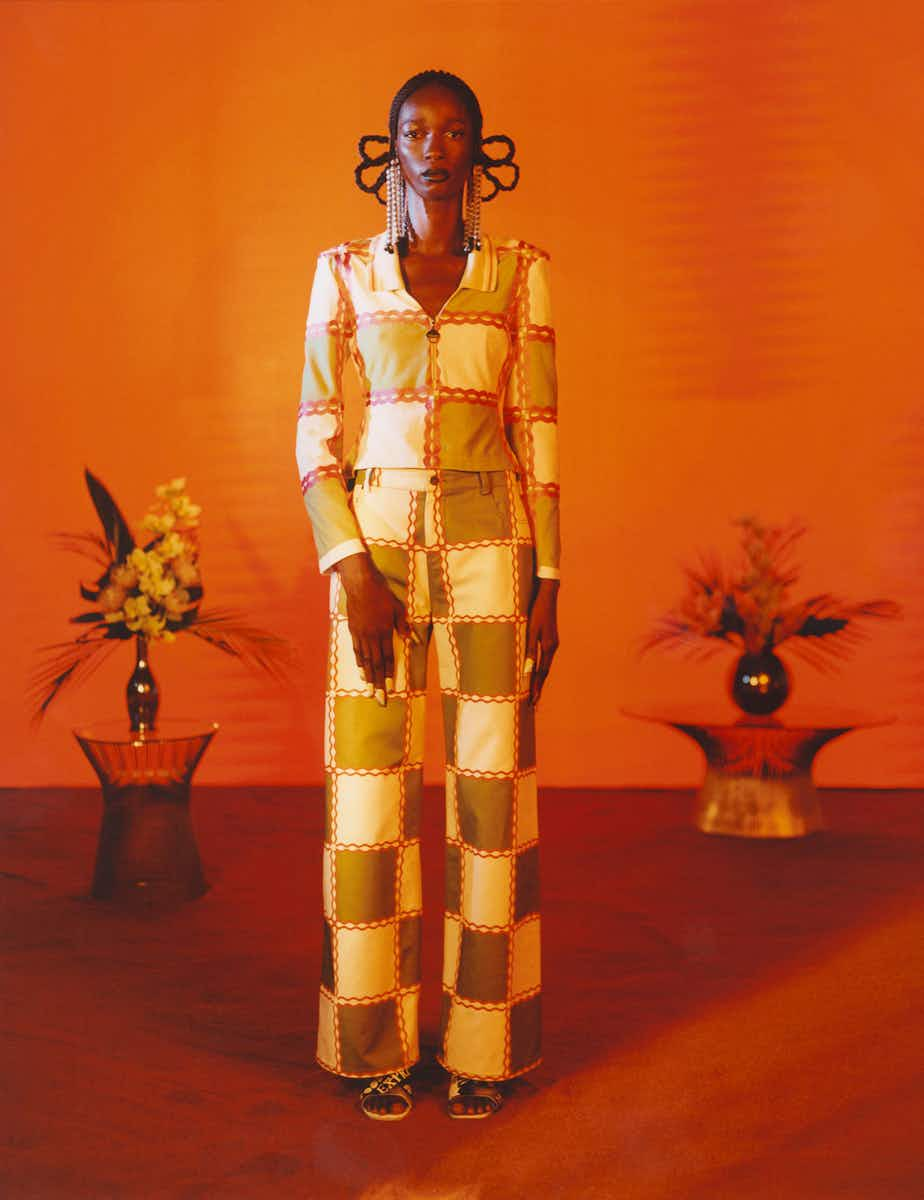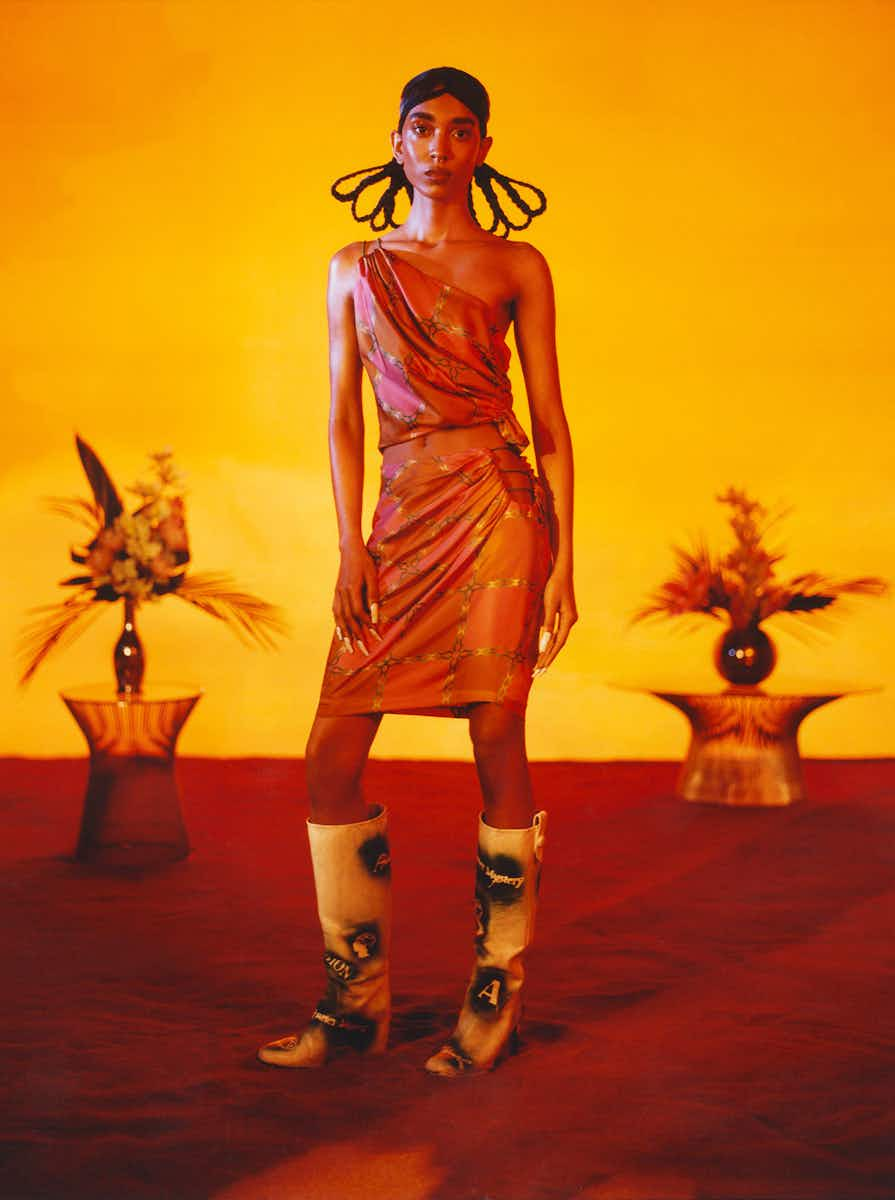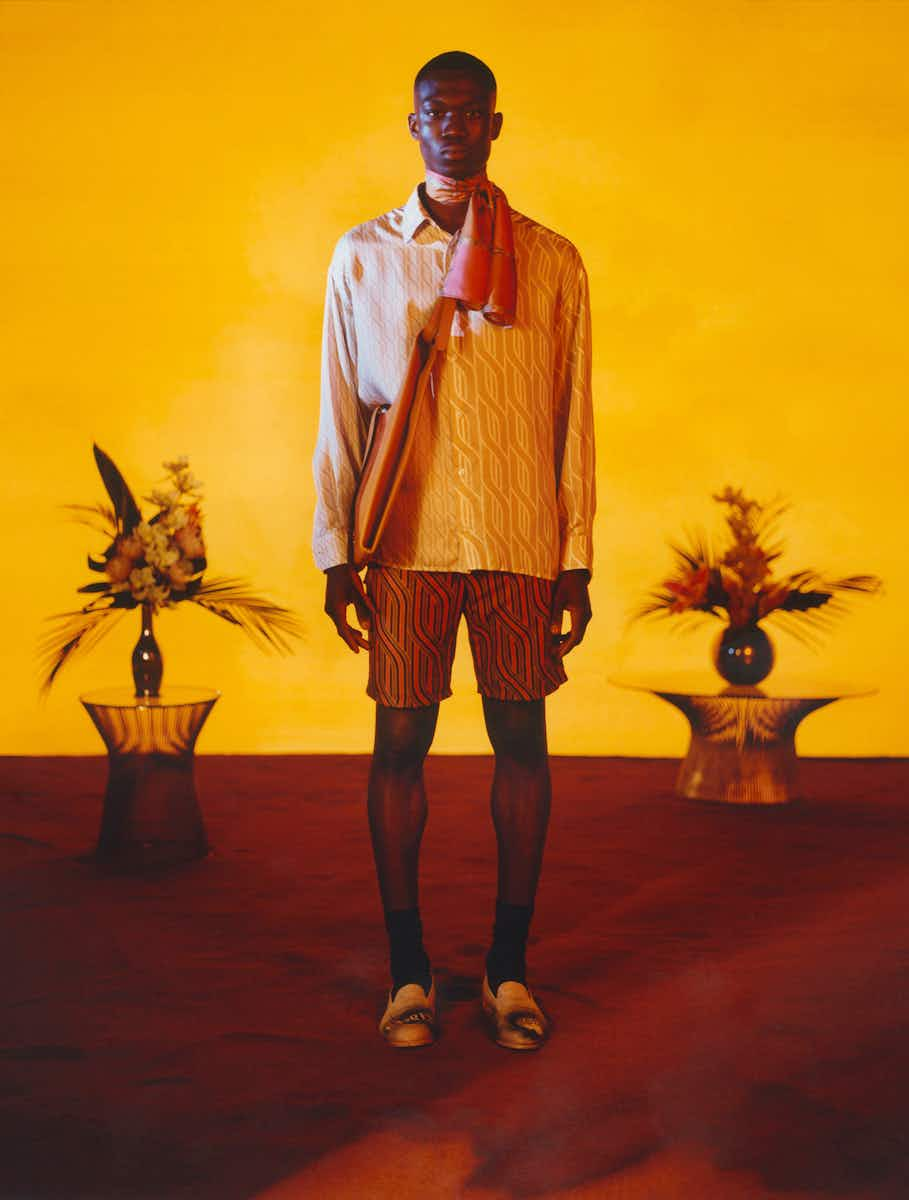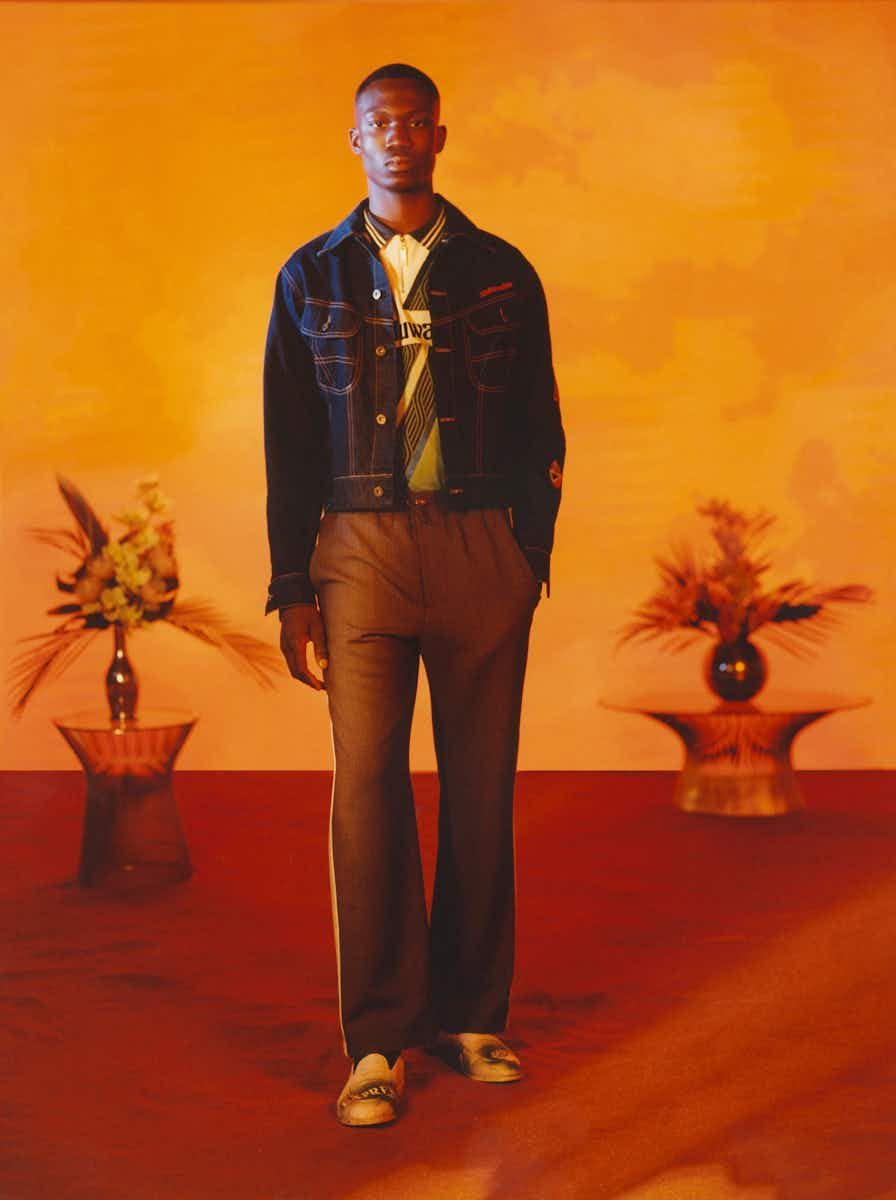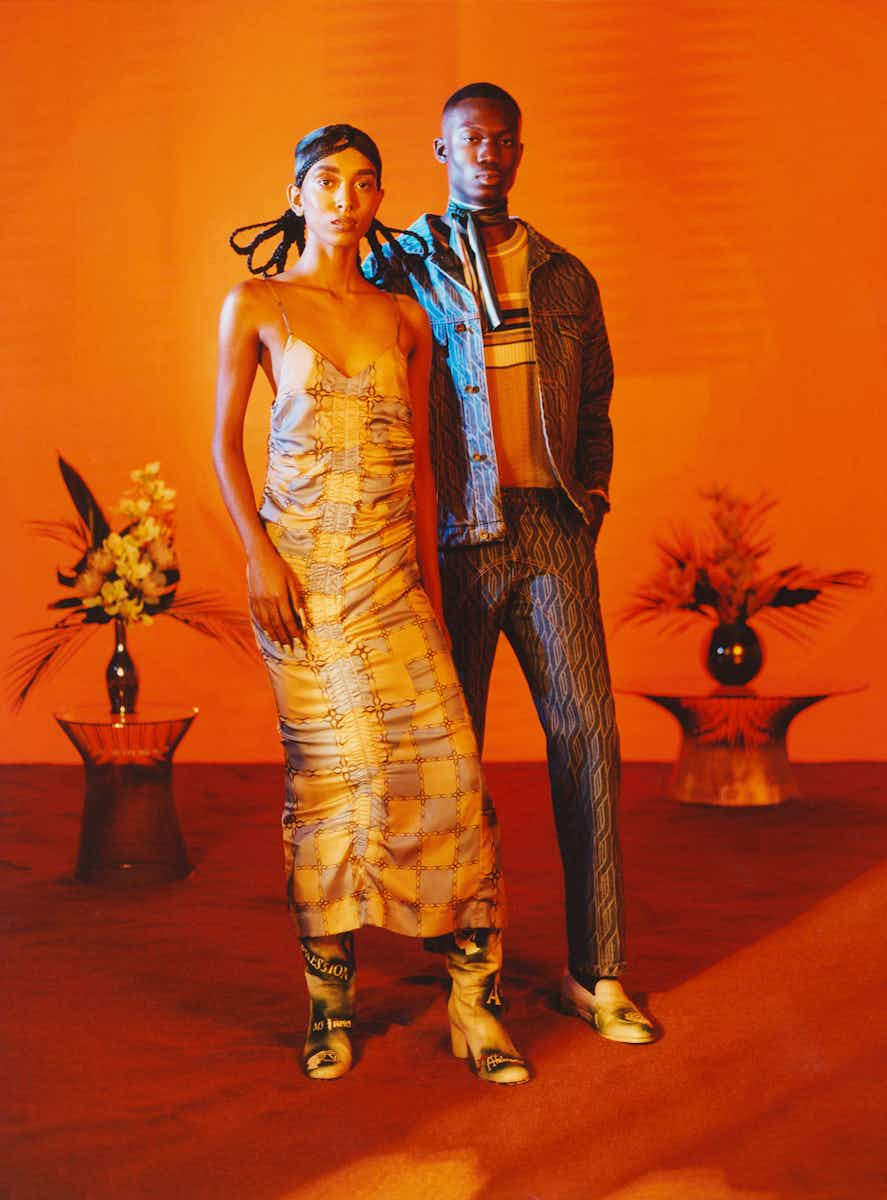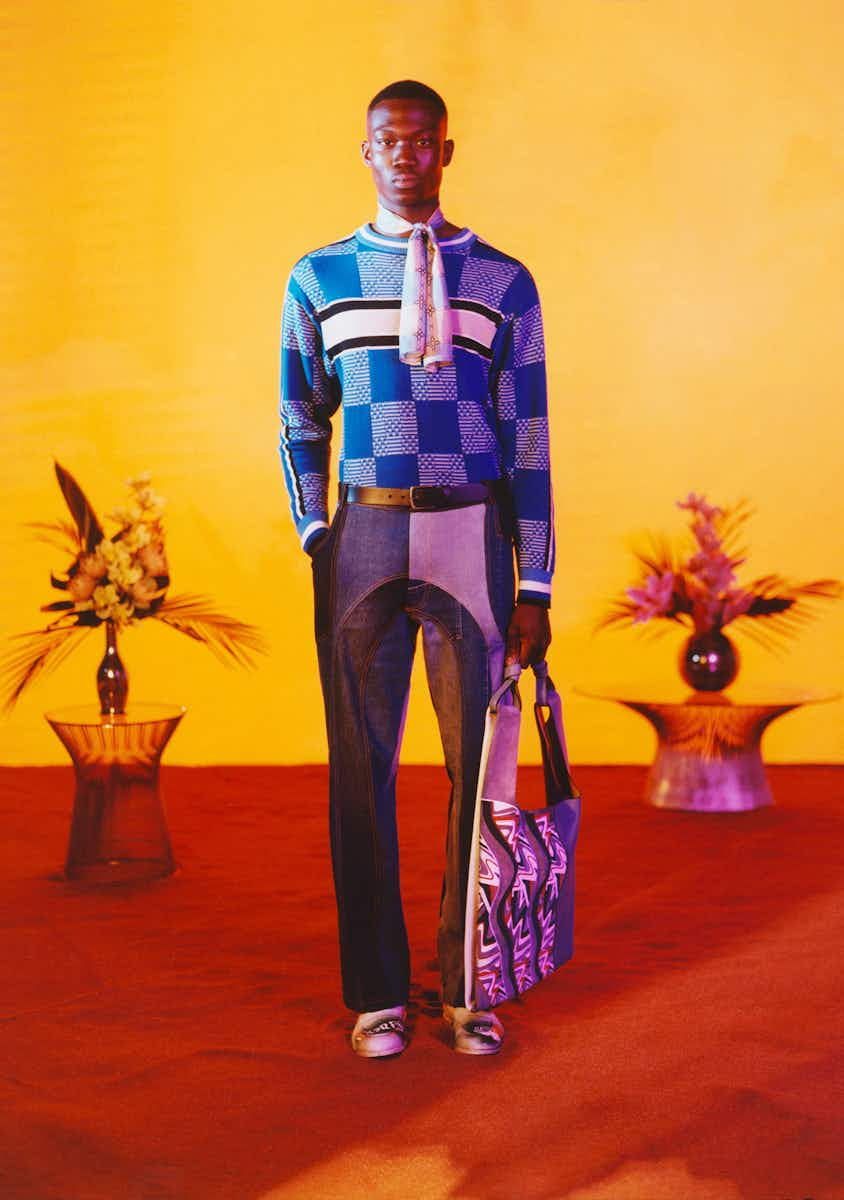 And so patterns, prints, laser artwork and embroidery details span the collection, taking Black liberation protest symbols from ​'60s and ​'70s posters – like an afro comb and braided hair silhouettes – reworked into embroidery badges placed onto pieces throughout. It also features the black and white imagery of Nigerian photographer J.D. Okhai Ojeiker, who documented sculptural hairstyles worn by Black women throughout the 1960s.
Denim, an ever-present Ahluwalia feature, is built into sporty, tailored pieces using braid-inspired motifs and heavy, processed dying and printing techniques. As for the womenswear, the designer looked to old school music videos by Missy Elliott and Aaliyah for tight-fitted sex appeal – and the club, which she admits to missing a lot.
"When you look at images of people in the club, that's where they show their best looks, right?" she says. ​"People really show up when they go out." But there was one book in particular that had her looking at the killer looks of Britain's early-'00s garage movement: Ewen Spencer's UKG.
"When you go to the club and there's a man in a silk shirt and he's ordered a bottle of champagne, it's like the apex of showing off," she says. ​"I think it's funny in a way, but I love it. It's all about trying to be sexy."
From there, the designer started thinking about the types of tropes attached to sexy nightlife. ​"I was thinking about someone meeting their dream girl or guy on a night out." As well, it was important for her to dispel stereotypes attached to her Indian heritage. ​"I wanted to show the South Asian models in a way that they are in a club and being sexy, because that's something in our culture that we never talk about, or that we're not ​'allowed to'".
With two short films already under her belt from the past year, Ahluwalia presents the third: a collaboration with filmmaker Akinola Davies Jr. to accompany the collection. In partnership with Mulberry, Parts of Me is a dreamy transcendence: a boat journey softly choreographed to meditative effect.
"I love doing films and I think it will definitely be a part of my practice moving forward," Ahluwalia says. "[Davies Jr.] pushes a lot of technology in the film, so it feels like we're in different worlds throughout. It has been a great experience."
But don't worry, she's ready to get back into shows when she can. ​"Throughout the pandemic, I've done things I never even dreamed of. I never thought I'd make three films in six months," she says.
"I do miss that human connection. I don't know how I'll be presenting my next collection, but I hope I can do a show!"


More like this