Dive into Gucci's Mémoire d'une Odeur campaign starring Harry Styles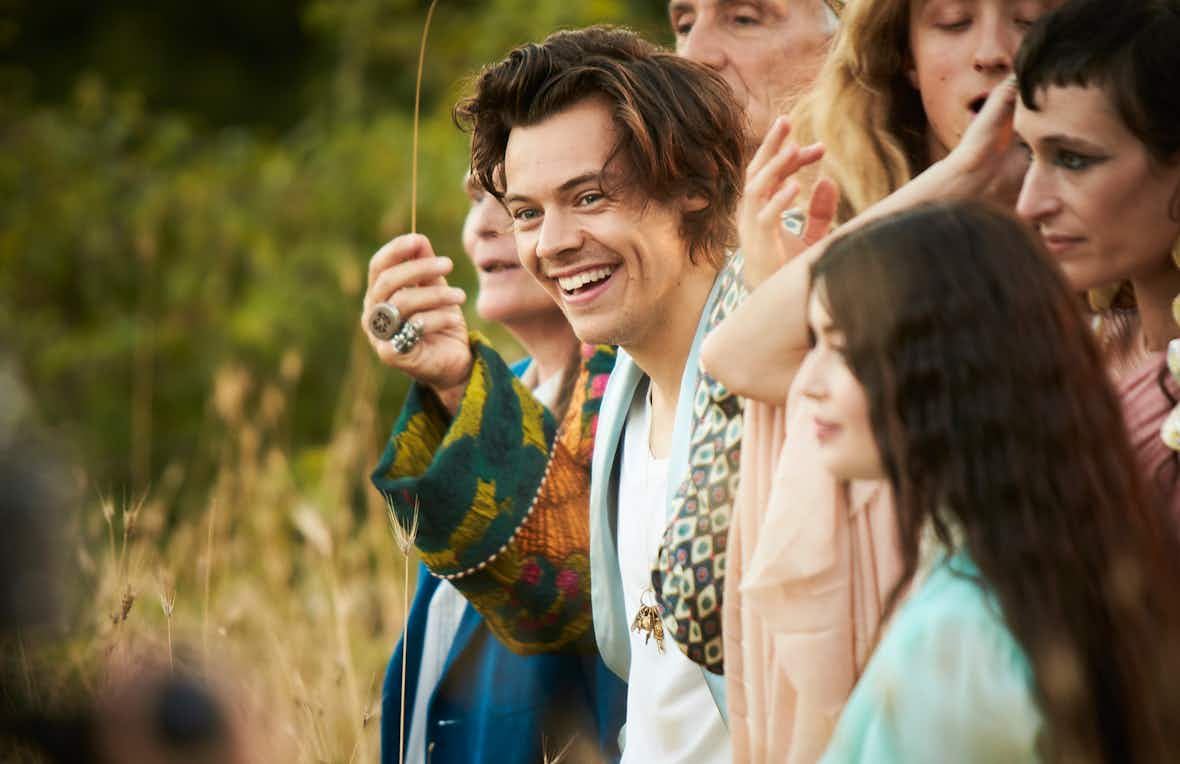 To celebrate Gucci's new genderfree scent, artists and rock stars come together for a wild, bohemian ride.

The campaign shoot for Gucci's new ​"universal" fragrance, Gucci Mémoire d'une Odeur (Memory of a Fragrance) just dropped. And let us tell you, it's as pretty as a summer's day in Venice (and it smells a whole lot better).
For this genderfluid fragrance Gucci's creative director, Alessandro Michele worked with master perfumer Alberto Morillas, the ​"nose" behind the first and most iconic unisex fragrance, CK One. ​"Back in the ​'90s… the gender question was different from today," Alberto says. ​"We were searching for simplicity and comfort – the androgynous look was super trendy and this movement was expressed through unisex fragrances. Today, [the question] is all about inclusivity, acceptance of pluralities, different sexualities and styles that cannot be defined," he says, ​"And the Gucci house under Alessandro Michele's creative direction completely embraces these phenomena."
The fragrance and campaign are closely tied to the themes of the Cruise 2020 collection, which was shown among ancient Roman statues in May. It's all about cherished memories, the fluidity of time, connections through generations, and the togetherness of all beings.
In the run up to today's launch @guccibeauty Instagram ran a series of childhood snaps of their campaign faces, including cute-as-a-button actor and pop star Harry Styles.

The other faces included designer Harris Reed, musician Zumi Rosow, artist Ariana Papademetropolous, and former model and trip-hop pioneer Leslie Winer (all also very cute ​'n' talented). At the press launch in May, they each enthused about the week-long shoot with Glen Luchford in the countryside north of Rome.
"Everybody who worked on the [campaign], all the cast, we immediately felt like we knew each other, forever, and that we were like a family from the moment that we met," says musician Zumi Rosow, of Crush and The Black Lips. ​"It was very powerful. We felt connected; and it totally made sense that he cast all of us." Leslie Winer, who now lives in rural France and rarely collaborates with fashion brands, agrees. ​"I gained even more respect for Alessandro, just because who would get that group of people together, you know? Seriously, herding cats!" she says. "[Alessandro] is a fucking genius. It's art, it's performance art, and it's theatre. And also, just the idea that he would notice the great beauty in Zumi; I thought the [cast were] going to be those regular [models] when I came, but no, Alessandro likes individual people."

"The guiding element of the entire campaign is the idea of freedom," Alessandro says of the Gucci Mémoire video and campaign imagery premiering today. ​"I pictured a world that was a fresco of a ​'mythological' life in which the family is a private community with its own social framework where total freedom of expression prevails and where the roles of people and things aren't clear."
In Glen Luchford's film, the ​"family" are seen picnicking in the sunshine among the ruins of Canale Monterano, cavorting around their family home (a medieval castle, of course), and dancing wildly around a bonfire under the night sky. Zumi reminisces about driving a drop-top VW beetle through the countryside. ​"We drove right past a cafe and there were all these beautiful old men wearing suits, sipping espresso, out front. And they all were blowing us kisses and waving to us, like, ​'Ciao! Ciao!' and I mean, we already were feeling like complete bliss, but it was so cinematic and like, a purely joyful, beautiful moment."
Presenting Gucci Mémoire to press in an old Roman public library, Alberto explained the scent's unique use of chamomile flowers – something that's very rare in perfumery – on Alessandro's request, ​"I had to think quite carefully about why he chose chamomile. When I started to work with the scent itself, then I understood: no one had done it before. Chamomile is known all over the world. Everyone has smelt it at some point, but as a dream, a memory of childhood, something timeless, and never in a fragrance." A green, aromatic scent, the Roman chamomile is paired with Indian Coral Jasmine, musk, sandalwood and cedarwood to create what Alberto describes as an ​"elemental", ​"mineral" scent. The bottle, a green glass column updated from Gucci's archives, reinforces the historic themes and universal spirit of the fragrance.
Gucci Mémoire d'une Odeur is available now at Selfridges


More like this